Submarine Atlantis Tour
October 28, 2010

Sun: Radisson Aruba Resort, Passions Beach Bar & Restaurant
Mon: ABC Jeep Tour & California Lighthouse, Alto Vista Chapel, Natural Bridges & Gold Mine, Ostrich Farm & Baby Beach, sunset cruise & Smokey Joes
Tue: Ayo Rock Formation & Donkey Sanctuary, Boca Prins & Fontein Cave, Guadirikiri Cave, Café Rembrandt, Bon Bini Festival & El Gaucho
Wed: SNUBA on the Antilla shipwreck, Pelican's Nest & Aqua Grill
Thur: Fort Zoutman Museum, Submarine Atlantis, Amazonia Brazilian Steakhouse
Fri: Aruba Aloe Factory, Palmera Rum & Zeerover Bar, cemeteries, churches & Casabari Rock, Screaming Eagle
Sat: Old Dutch Mill & Bubali Bird Sanctuary

Previous page Next page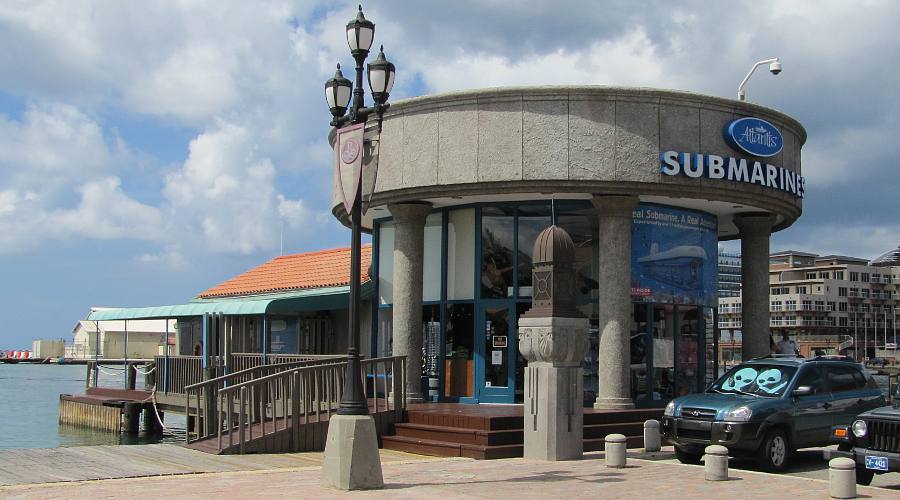 Thursday continued
I took an Atlantis submarine tour a few years ago in Cozumel, but Linda had never been in a submarine before, so we decided to to take the tour here at Aruba.
Following lunch, we checked in and paid for our tour at the Atlantis Submarines Adventure Center. The price is $89 for adults and $5 off coupons are available several places.
The Tour began with a brief orientation dockside, followed by photographs of every party which were available for $10 when the tour returned. We boarded the Subseeker to travel a few miles to meet Atlantis VI near the Aruba saltwater desalination plant.
Atlantis VI can haul 48 passengers and has a crew of 3. The seats are very close together and every couple of seats share a circular glass porthole. Plastic cards next to the windows have the names and photos of many of the fish commonly found on Aruba's reefs.
The 50 minute underwater portion of the tour began in shallow water where first one side and then the other side of the submarine could get a good view of the sloped reef. The water was clearer and we saw much more sea life than I did in Cozumel. As we continued deeper, we passed two ships which have been purposely sunk at this site by Atlantis Submarines.
We continued to a depth of about 130 feet, by which time there was little to see but sand and rock. We finally briefly touched the ocean floor at a maximum of 141' (35' deeper than my previous submarine dive).
When we returned to the surface, we were met by the Subseeker and tender. We were then much closer to Oranjestad.

Subseeker - shuttle boat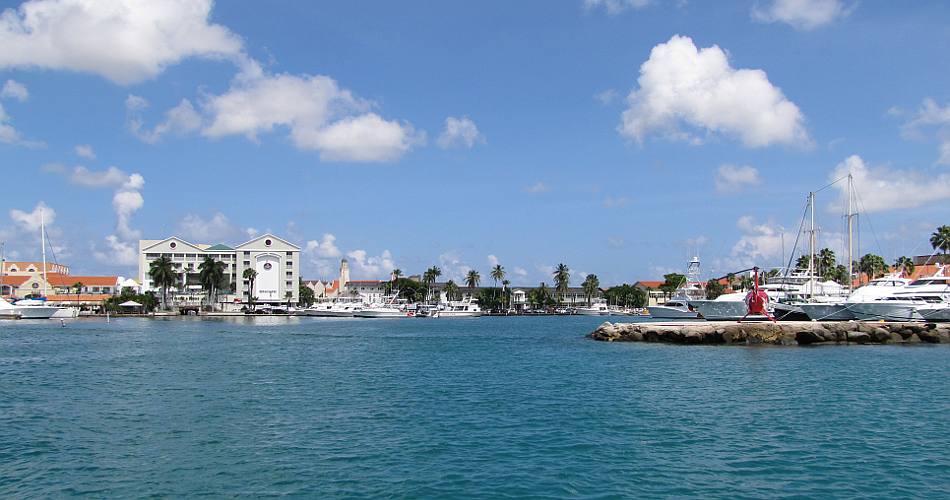 Oranjestad Harbor - the gray building at the left is the Renaissance Aruba Resort which uses shuttle boats to transport its guests to a private island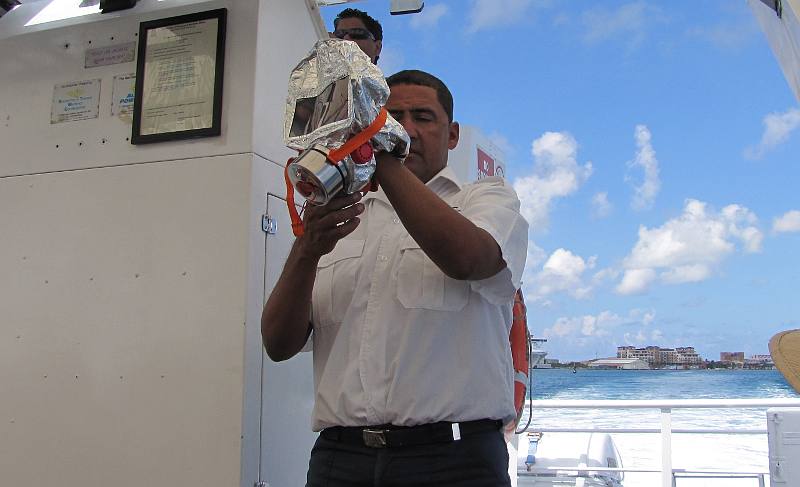 The Captain of the Submarine Atlantis VI explains how to use emergency breathing equipment
if the Atlantis is filled with smoke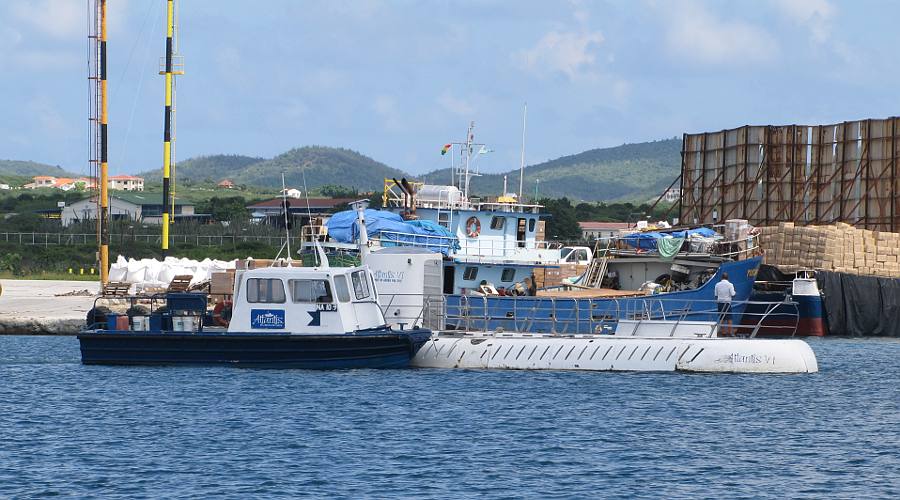 Submarine Atlantis VI and tender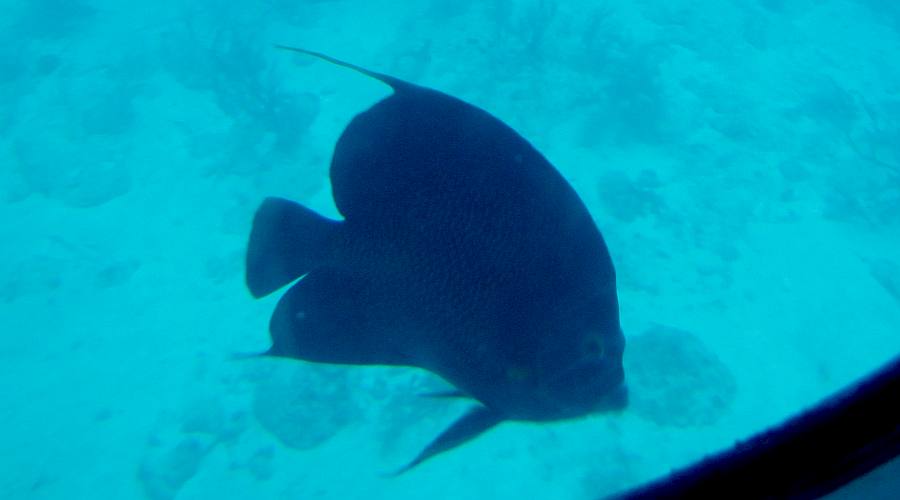 Many fish seemed interested in the submarine - this is a French Angelfish (Pomacanthus paru)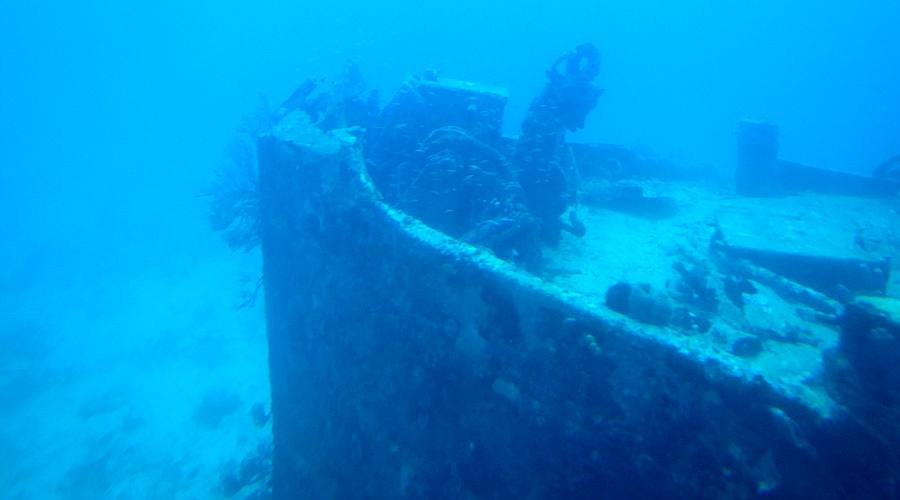 The 120' long Morning Star was sunk on purpose in the mid 1980s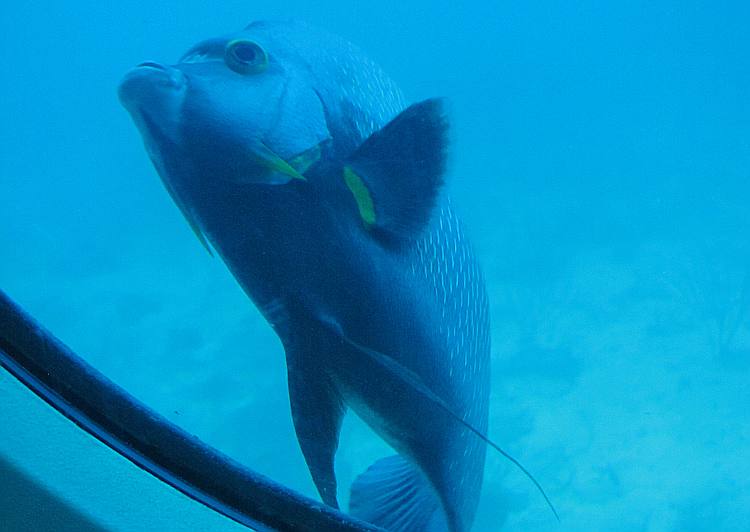 I think this is a blue tang (Acanthurus coeruleus)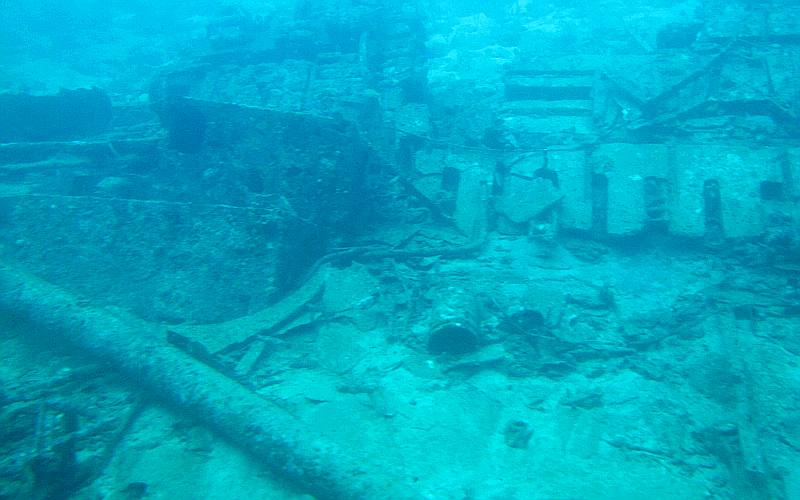 Wooden ship sunk by Atlantis Submarines in the mid 1990s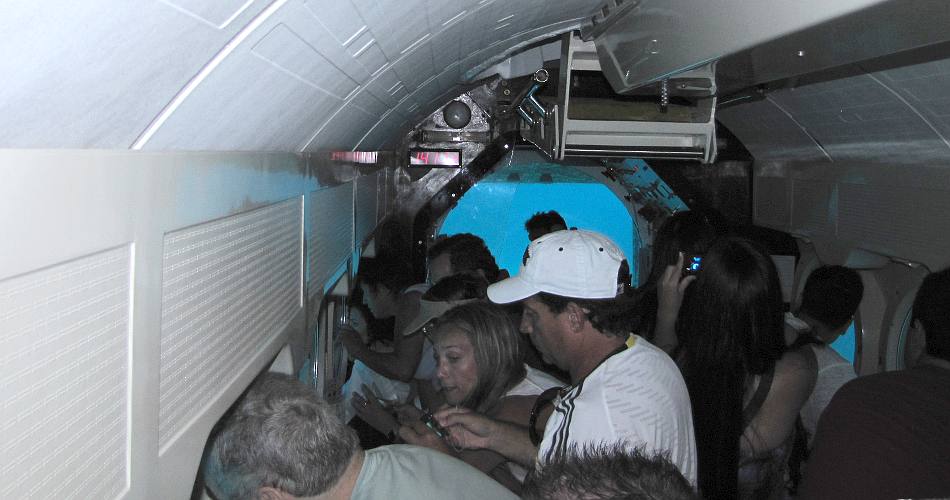 The depth gauge at the end shows that we are down 141 feet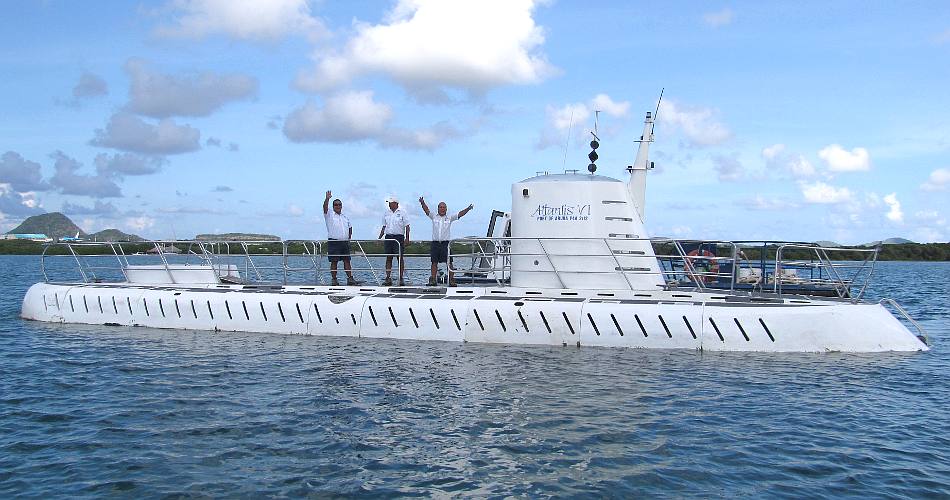 The crew of the Submarie Atlantis VI wave goodbye