Aruba Aloe Factory, Palmera Rum & lunch at Zeerover Bar
October 29, 2010

Sun: Radisson Aruba Resort, Passions Beach Bar & Restaurant
Mon: ABC Jeep Tour & California Lighthouse, Alto Vista Chapel, Natural Bridges & Gold Mine, Ostrich Farm & Baby Beach, sunset cruise & Smokey Joes
Tue: Ayo Rock Formation & Donkey Sanctuary, Boca Prins & Fontein Cave, Guadirikiri Cave, Café Rembrandt, Bon Bini Festival & El Gaucho
Wed: SNUBA on the Antilla shipwreck, Pelican's Nest & Aqua Grill
Thur: Fort Zoutman Museum, Submarine Atlantis, Amazonia Brazilian Steakhouse
Fri: cemeteries, churches & Casabari Rock, Screaming Eagle
Sat: Old Dutch Mill & Bubali Bird Sanctuary

Previous page Next page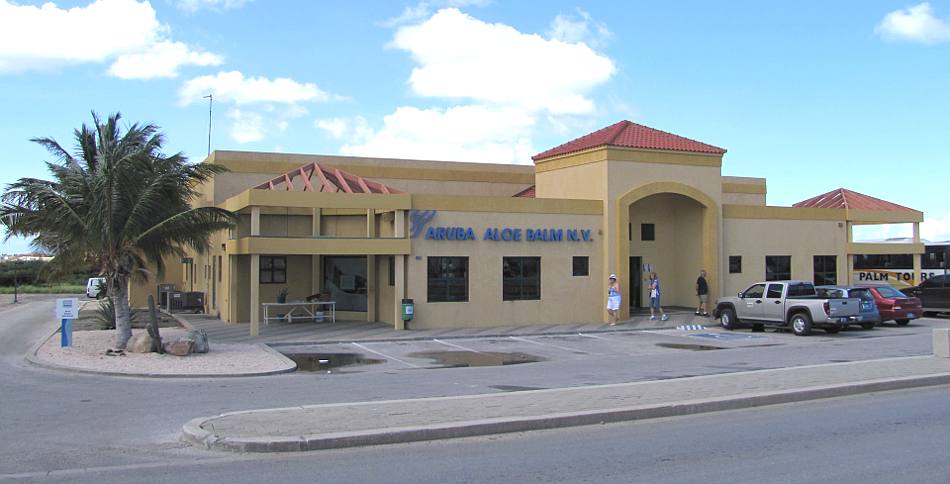 Aruba Aloe Museum and Factory
Friday, day 7
For our last day on the island of Aruba, we decided to rent a 4x4 so we could visit the Natural Pool, which we had missed during our other tours earlier in the week. The rental car company at the hotel was out of 4x4s, but I called Amigo Car Rental and they said that they had a 4x4 pickup truck available for $75 for one day.
Amigo was nearly 20 minutes late picking us up, but were otherwise courteous and friendly. When we filled out the paper work back at the office, I was disappointed to be told that we were not permitted to drive the truck to the Natural Pool or to any place where we really would have needed a 4x4, but we took it anyway.
The compact Chevy pickup was not in very good condition. The anti lock brake warning was on the entire time we had the truck and there was a shake in the front end.
With the National Park being off limits, we visited some other places which we had missed during our visit to Aruba. Our first stop was at the nearby Aruba Aloe Factory & Museum.
A tour bus arrived just after us and we joined the tour of the manufacturing facility. Aruba Aloe Balm N.V. has been in business since 1890. They originally sold a condensed version of the aloe sap, which is a powerful laxative. But today they use only the sloe gel and manufacturer their own lotions and cosmetics.
In addition to the free factory tour, there was a small museum and a factory store. The prices at the store were the same as we saw at shops around Aruba.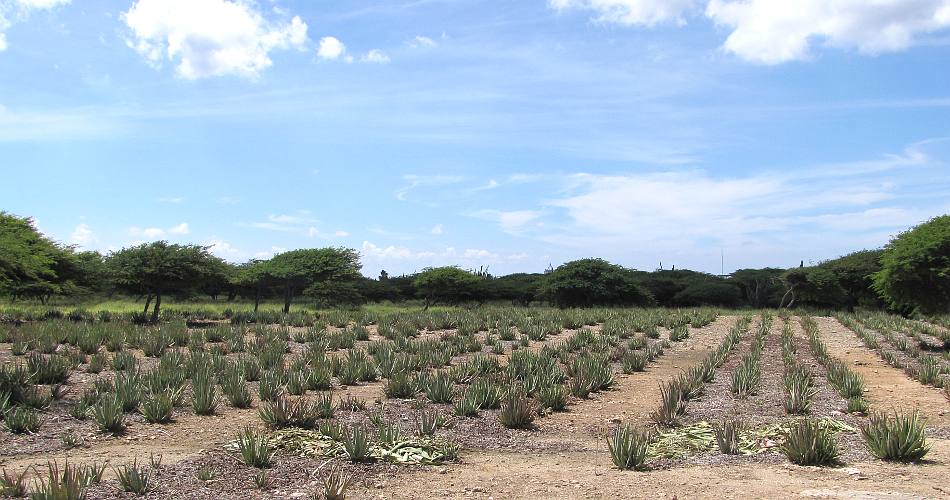 Aruba Aloe Museum has 150 acres of field devoted to aloe production
Our second stop was at Palmera Quality Products, where Palmera Rum and other liquors are produced. We were surprised to learn that they are no factory tours, but there is a small liquor store in the building where tasting of Palmera's many products and some other liquors is provided. Along with another couple who were also on their honeymoon, we sampled several products and ended up buying bottles of Coconut Rum and Palmera Limon.
The nice lady in the shop carefully bubble wrapped the bottles for our transporting back home. She also suggested a place for us to try for lunch - Zeerover, which she said means Sea Pirate.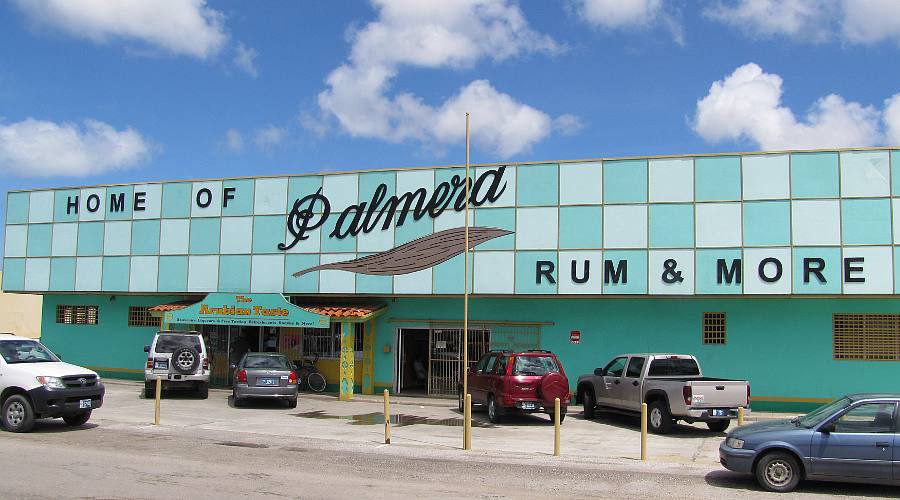 Palmera Rum - the Arubian Taste
We headed south through Oranjestad and on along the coast toward Zeerover Bar, stopping wherever something interesting caught our eyes. Coming to the small community of Savaneta, I was surprised that I remembered enough of the directions to locate Zeerover. It turned out to be located midway between two much more famous Arubian restaurants: Flying Fishbone and The Old Man and the Sea. Flying Fishbone's web site has a map that will also lead you to Zeerover.
Zeerover is a little, local gathering spot where they cook whatever fish the boats leaving from the same pier bring back to shore. There is no menu and on this day the choices were shrimp, snapper and barracuda. We ordered snapper & shrimp and they were fried in the tiny outdoor kitchen. We got three small, whole snappers, a mess of shrimp, fried plantains, and French fries. It was served all together in one large basket.
The meal really wasn't expensive, but at $21 before drinks, it was more expensive than I expected. The pricing was unusual - the meal was priced in Dutch guilders (which are no longer used - the Netherlands uses the Euro) and that price was converted to dollars.
I thoroughly enjoyed this friendly neighborhood bar. The food was simple, but good, and the view was wonderful. We watched handmade fishing boats floating in the foreground and Venezuela in the distance. I intend to revisit this restaurant if we go to Aruba again.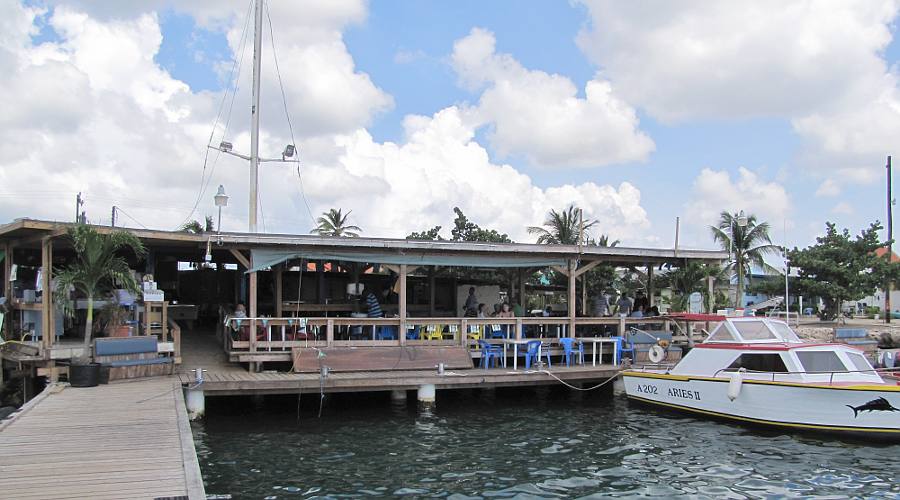 Zeerover Bar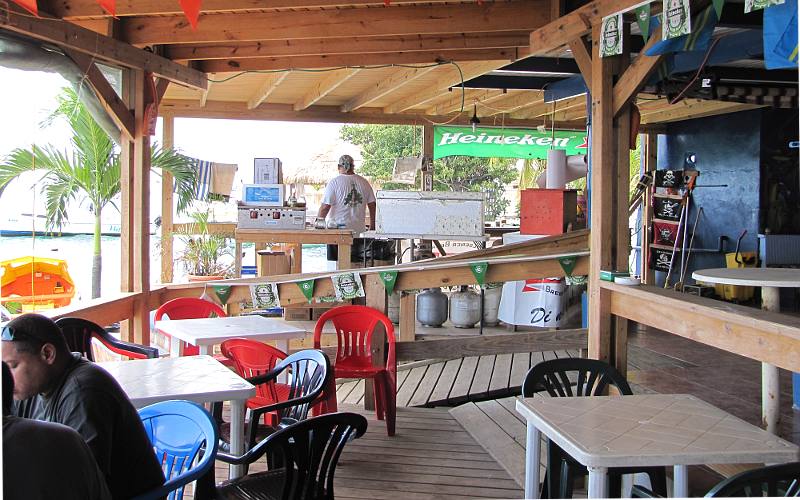 Those tables on the far side of Zeerover's dining area are the kitchen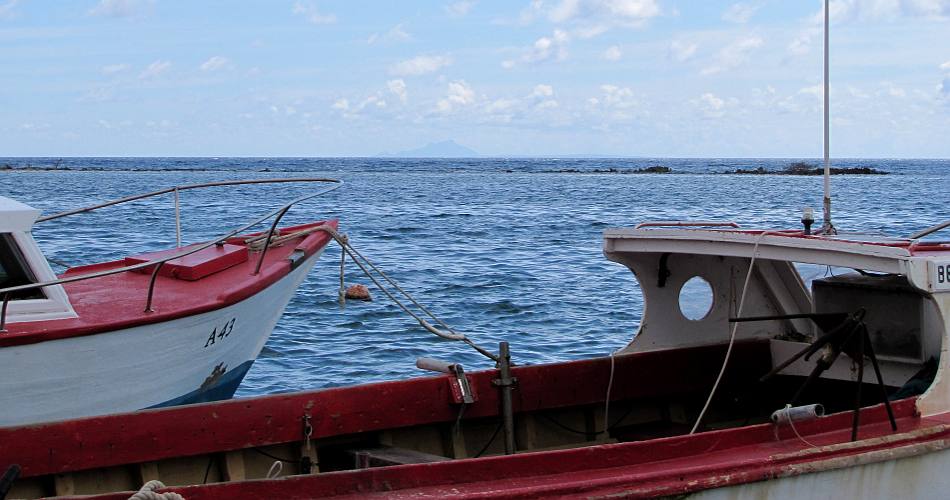 The view from our table, with fishing boats in the foreground and the low silhouette of a mountain in Venezuela in the distant haze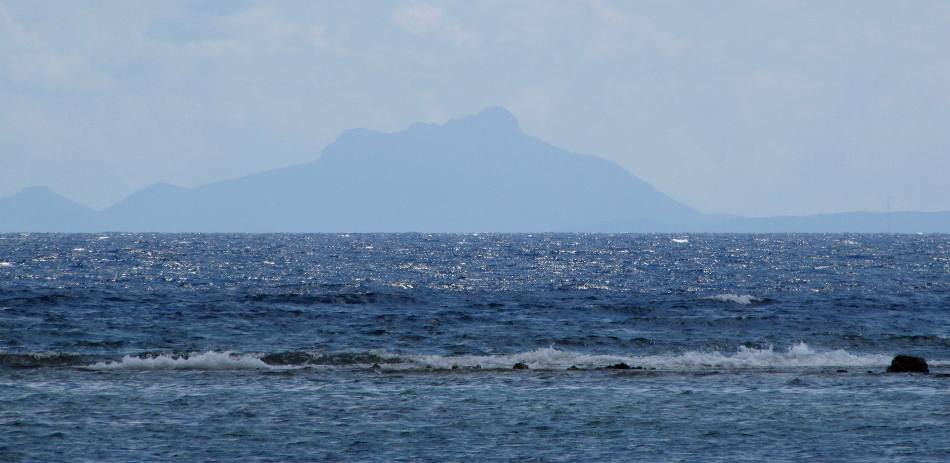 Venezuela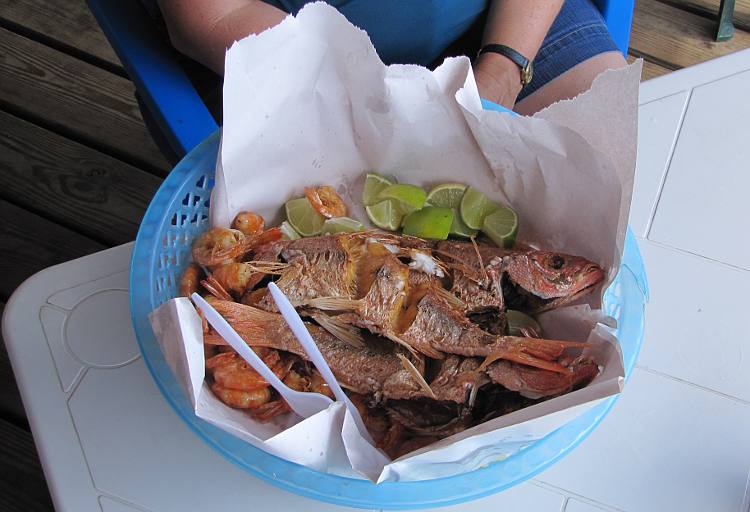 Shrimp, red snapper and lime - the fries and fried plantains are under the paper in the bottom of the basket