Screaming Eagle restaurant & lounge
October 29, 2010

Sun: Radisson Aruba Resort, Passions Beach Bar & Restaurant
Mon: ABC Jeep Tour & California Lighthouse, Alto Vista Chapel, Natural Bridges & Gold Mine, Ostrich Farm & Baby Beach, sunset cruise & Smokey Joes
Tue: Ayo Rock Formation & Donkey Sanctuary, Boca Prins & Fontein Cave, Guadirikiri Cave, Café Rembrandt, Bon Bini Festival & El Gaucho
Wed: SNUBA on the Antilla shipwreck, Pelican's Nest & Aqua Grill
Thur: Fort Zoutman Museum, Submarine Atlantis, Amazonia Brazilian Steakhouse
Fri: Aruba Aloe Factory, Palmera Rum & Zeerover Bar, cemeteries, churches & Casabari Rock
Sat: Old Dutch Mill & Bubali Bird Sanctuary

Previous page Next page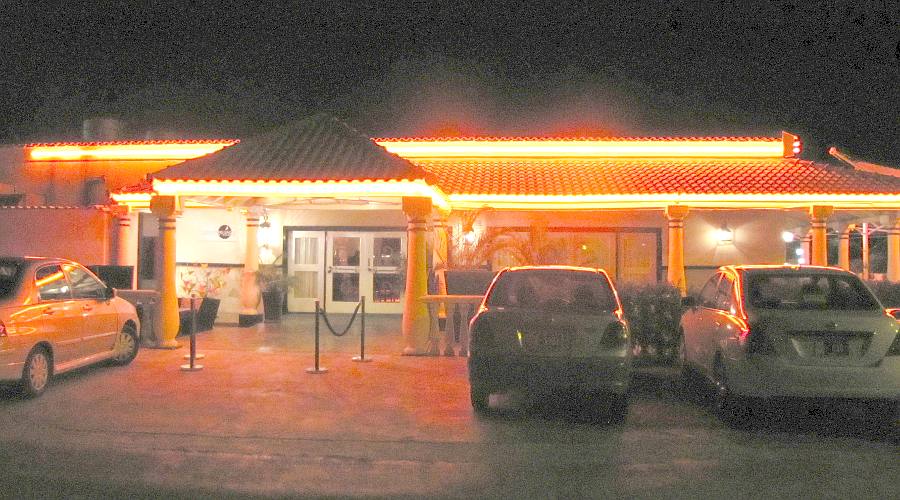 Screaming Eagle Restaurant
Friday continued
For our final meal on Aruba, I selected the Screaming Eagle, which is owned by the same folks who have the Flying Fishbone. The Screaming Eagle is not on the water, but has a handsome building which offers dining inside, outside, or in bed. The bed sounded like a more romantic option and I wasn't disappointed. This was the most expensive meal of the trip, but I felt it was worth it.
In addition to one of the best Caesar salads I have ever had, I tried Kurobuta Pork for the first time. In Japan, Kurobuta (Black Hog) is regarded on nearly a par with Kobe beef. In the United States, it is called Berkshire pork.
The only dish that I did not care for was the lobster bisque ($13.50).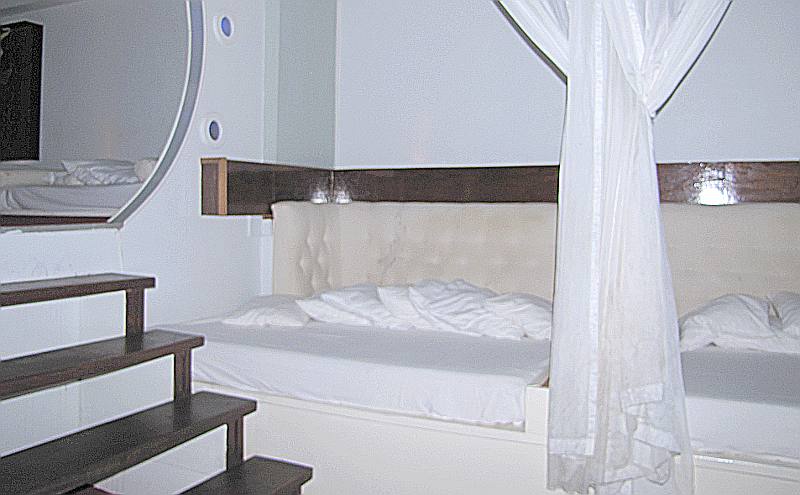 Canopy beds strewn with white pillows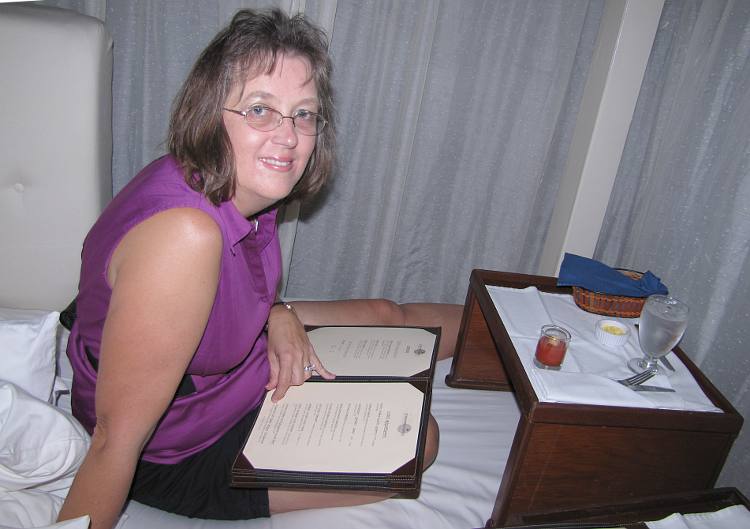 Linda is looking over the menu - the small glass has a complimentary gazpacho (chilled vegetable soup)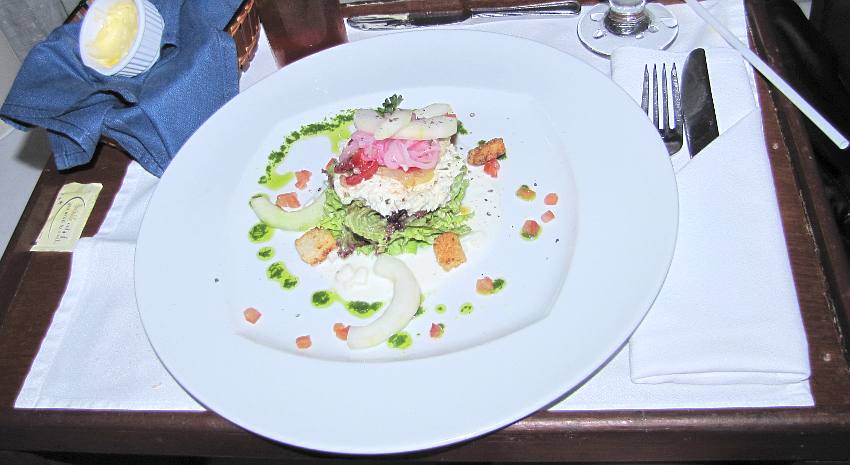 Alaskan snow crab meat on salad with light Tzatziki Dressing ($17)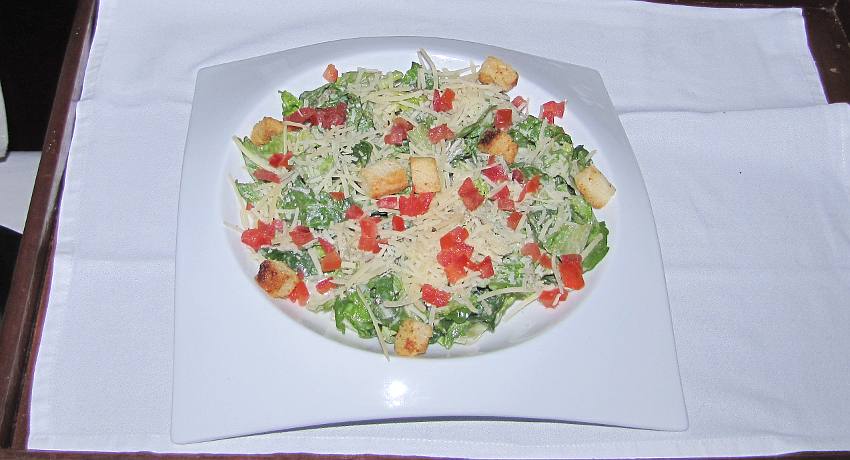 This Caesar salad ($11.50) was spectacular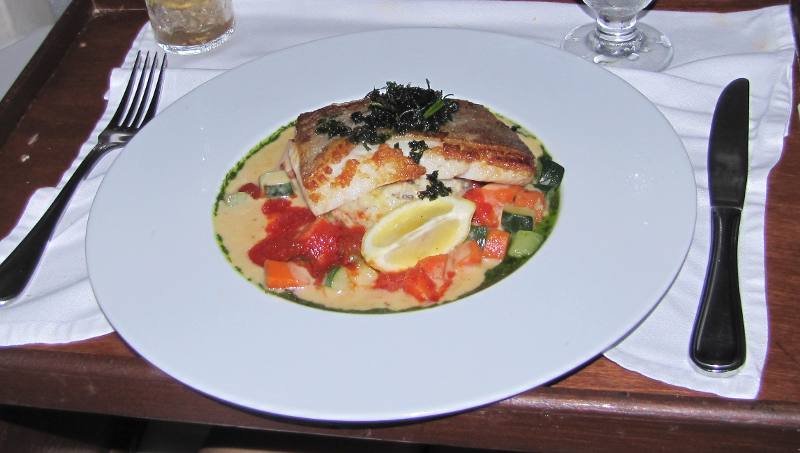 Alaskan halibut with truffle risotto, mixed vegetables and champagne sauce ($34.50)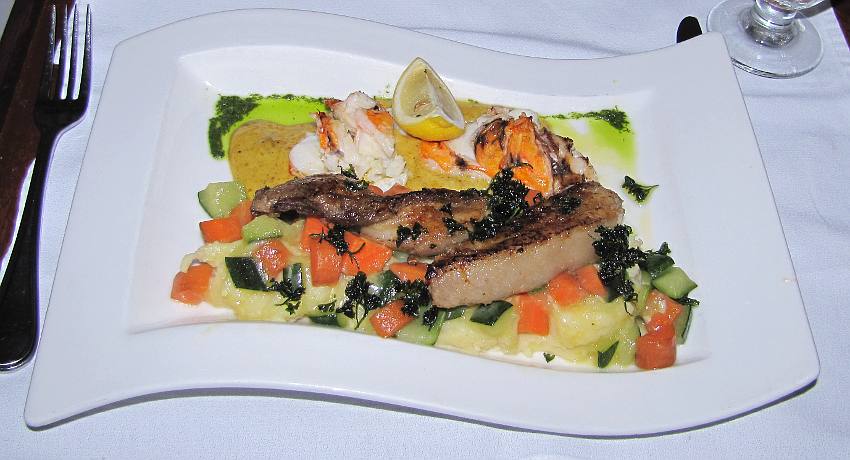 Kurobuta pork belly and lobster - caramelized pork belly and steamed aruban rock lobster, mashed potatoes and curry sauce ($39.50)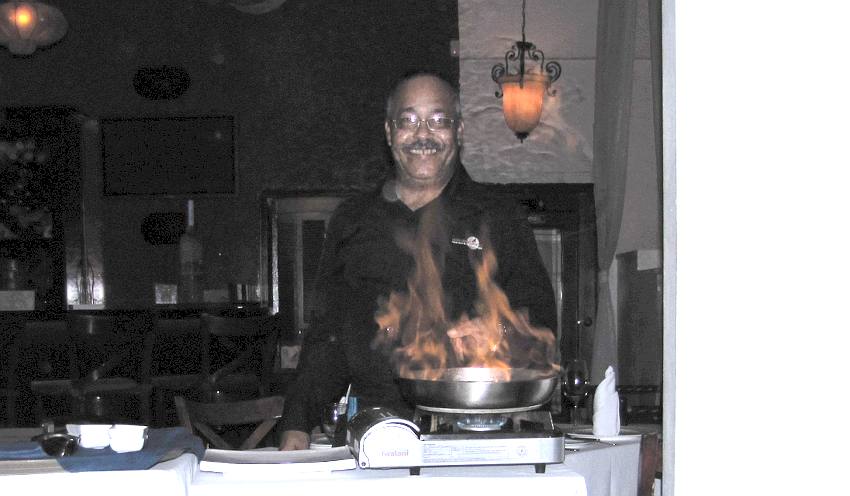 Crepe Suzette being prepared "table" side with orange sauce and flambé with orange liquor -
three crepes were served with vanilla ice cream ($14.50)