Atlantis submarine cruise
February 13, 2006

Day 1 - Cozumel
Day 2 - Tulum, Coba & Playa del Carmen
Day 3 - Isla Cozumel, Coconuts & San Gervasio
Day 4 - San Miguel, El Mercado & presentation of
Carnival Royal Court
Day 5 - Atlantis submarine dive
Wilma damage
Previous page
Next page
Monday was the final day of my visit to Cozumel.
Traffic still had me awake long before the alarm went off. I suppose it is less of a problem for the divers that are preparing to go out early in the morning. Or perhaps the doors fit better on other units - there is a gap at the bottom of my room's door, and the doors are only a few feet from the street.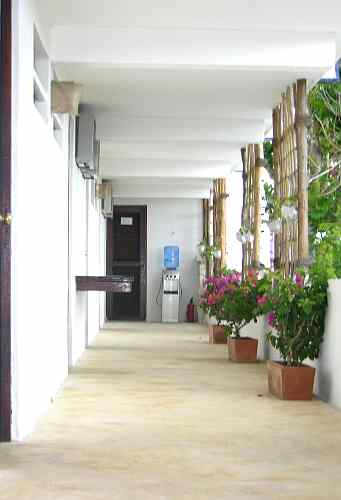 Open hallway outside my room at Hotel Caribe Blu
After a couple of hours of web work, I walked south along the water, about a mile, to Atlantis Adventures. The morning was overcast and windy - long pants and light jacket weather. This area is still showing a lot of huricane damage. In addition to the buildings (many of which were only shells), some sidewalk and a fair amount of seawall is torn up.
The windows have been replaced in the building used for the base of the Atlantis Submarine Expeditions, but it is only being used as a place to get out of the wind. Except for the dock, none of the facility is in operation. Work was being done to the sea wall next to the dock.

The Ana shuttled us south meet the submarine and its tender.
There were about 40 people in our group, mostly from a cruise ship. The instructions and guiding were done first in English and then in German. The boat ride south to the Chankanaab marine park was interesting as we passed several hotels that you can still see through.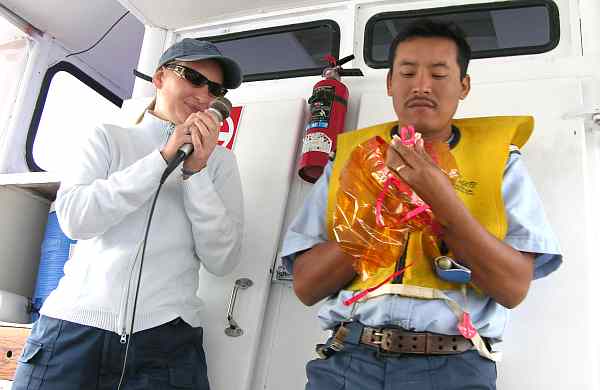 Explaining (this time in German) how to use the emergency breathing aparitus on the submarine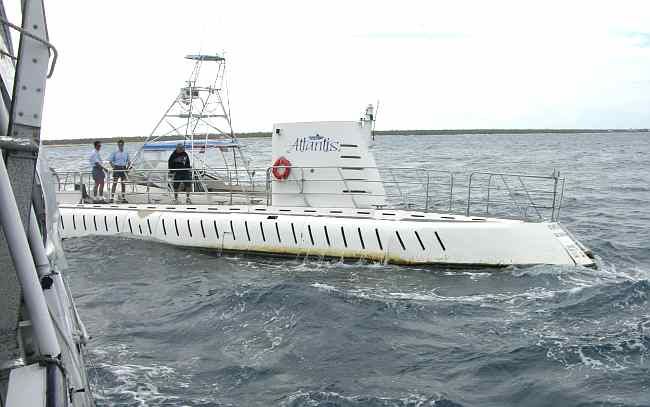 Atlantis submarine
In about 15 minutes we met the Atlantis submarine and its tender and boarded the sub for the 45 minute dive. Most of the dive was spent between 45 and 105 feet down with much of the time following the reefs. Viewing was better than I expected, though it was too dark for good photography. Lots of coral and various types of fish up to about 18" long.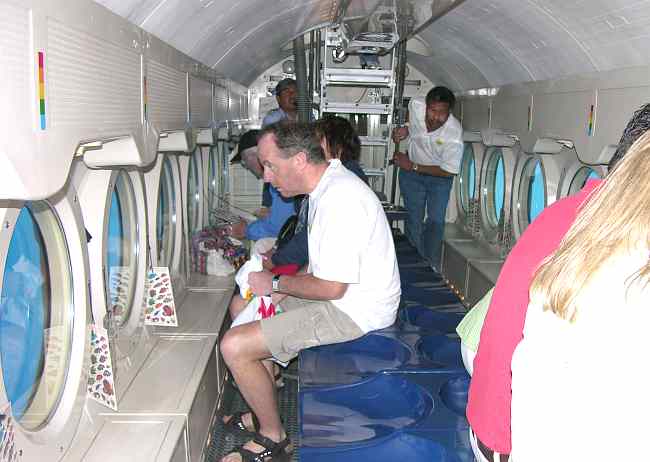 The seats are narrow and very close to each other - two to a porthole.