Red Sail Sports Sunset Cruise Aruba
October 25, 2010

Sun: Radisson Aruba Resort, Passions Beach Bar & Restaurant
Mon: ABC Jeep Tour & California Lighthouse, Alto Vista Chapel, Natural Bridges & Gold Mine, Ostrich Farm & Baby Beach
Tue: Ayo Rock Formation & Donkey Sanctuary, Boca Prins & Fontein Cave, Guadirikiri Cave, Café Rembrandt, Bon Bini Festival & El Gaucho
Wed: SNUBA on the Antilla shipwreck, Pelican's Nest & Aqua Grill
Thur: Fort Zoutman Museum, Submarine Atlantis, Amazonia Brazilian Steakhouse
Fri: Aruba Aloe Factory, Palmera Rum & Zeerover Bar, cemeteries, churches & Casabari Rock, Screaming Eagle
Sat: Old Dutch Mill & Bubali Bird Sanctuary

Previous page Next page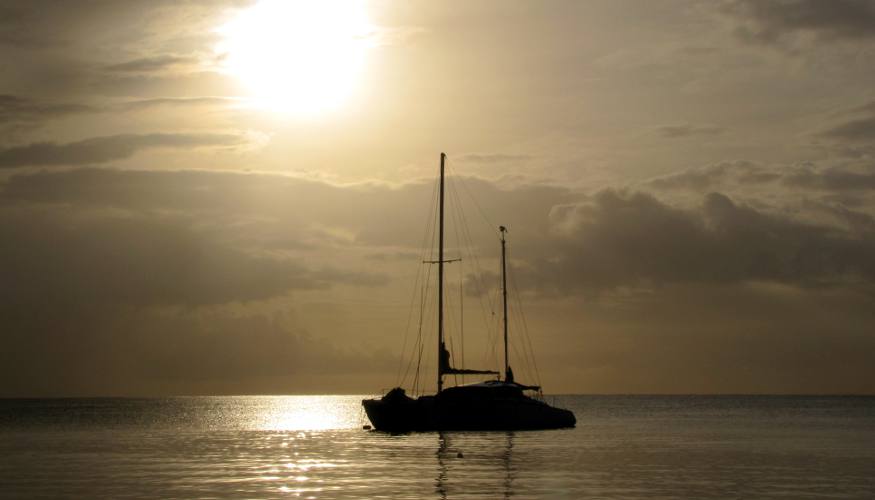 This sailboat was moored near the Red Sail Sports pier
Monday continues
After relaxing at the Radisson for a few hours, we walked about 60 yards east to the Red Sail Sports pier, near the Hyatt Resort. The 2 hour sunset sail was $45. Well, it wasn't exactly a "sail"; I don't think that they ever stopped using the motor, but the sails were up and at least helping.
The sunset cruise included an open bar featuring beer and cocktails, mostly rum drinks. The bar opened as soon as we were underway. About 2/3 way through the cruise they also set our some hors d'oeuvres including fruit, cheese, fried shrimp and kabobs. The food was all gone before the end of the tour.
We quickly made friends with the people near us on the boat and must have introduced ourselves to half the people on the catamaran by the conclusion of the cruise.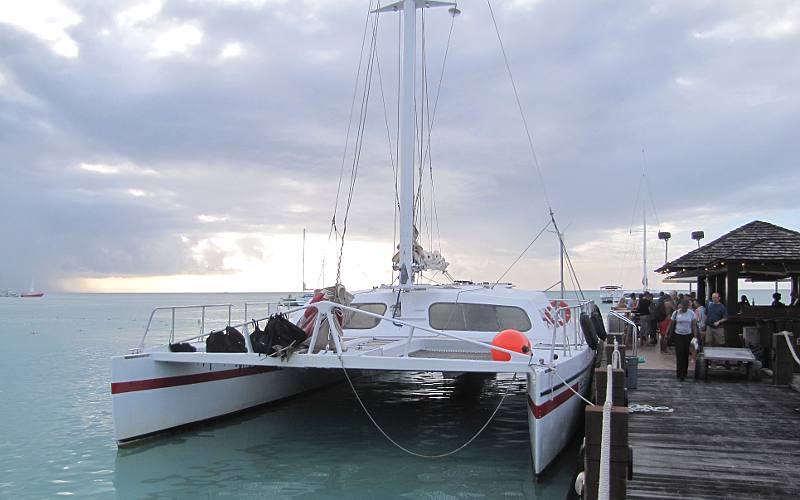 Red Sail Sports catamaran at the Hyatt Pier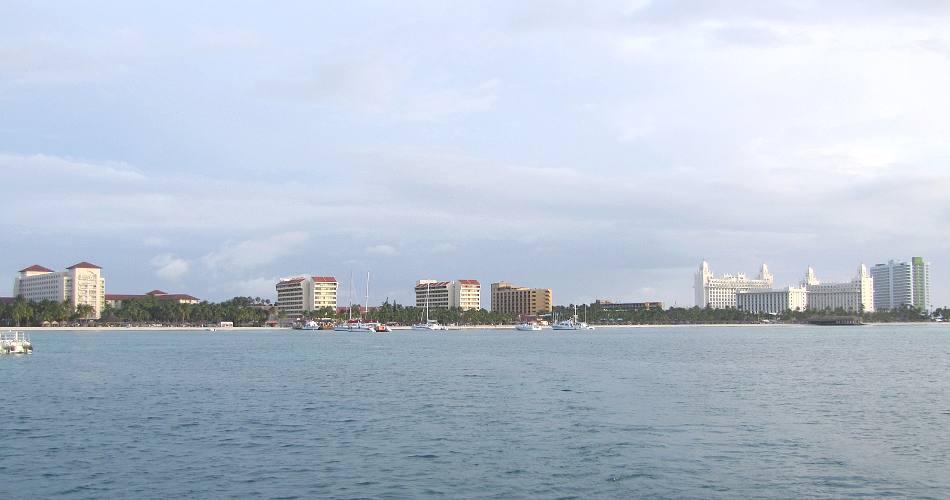 Palm Beach from the Red Sail Sports catamaran - the Radisson is the hotel near center, just right of the hotel with the red roof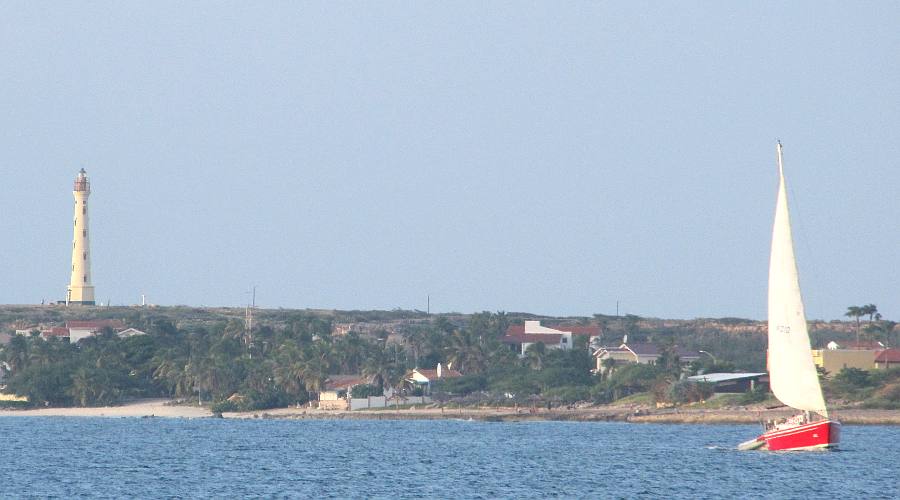 California Lighthouse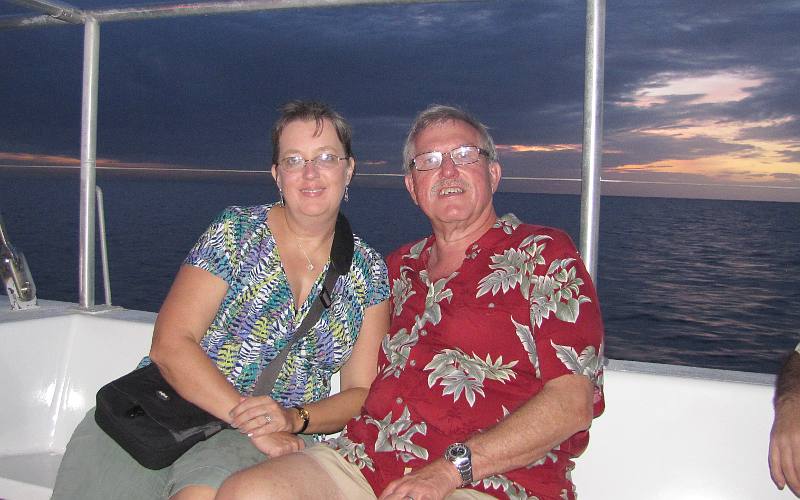 The two of us just after sunset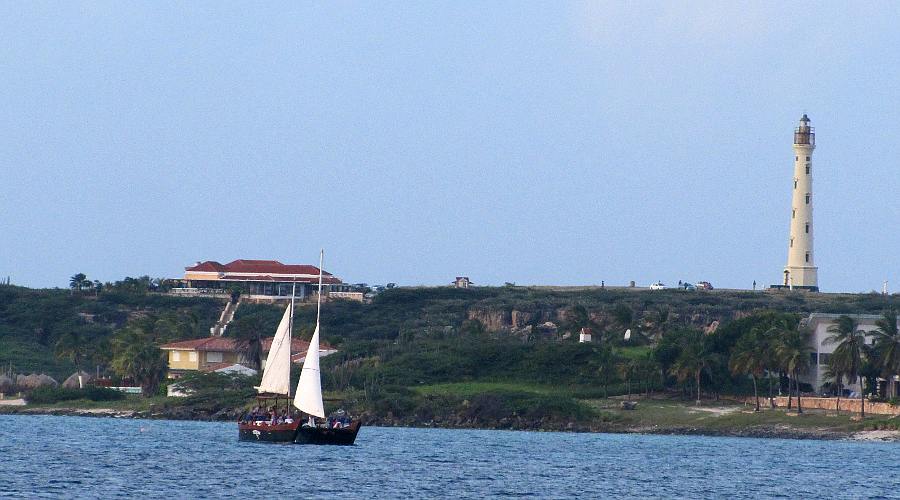 La Trattoria el Faro Blanco, Italian restaurant, and California Lighthouse
Returning front the cruise, we followed the sidewalk which winds along the ocean side of the resorts, then crossed through the grounds of Playa Linda Beach Resort to cross Juan E. Irausquin Boulevard to Smokey Joe's Island Grill which had been recommended by several people on Trip Advisor.
By coincidence, we were seated by a couple from England whom we had met on the cruise. Linda had the Beef Tenderloin Kabobs (an 8 ounce skewer of Argentine filet mingon) served with two sides for $18.95. I tried the ribs that Smokey Joe's is best known for. I had the Jamaican Jerk (3 half racks of baby back ribs spiced with a spicy herbal Jamaican jerk sauce) with fries and Island slaw for $21.95. The ribs had a lot of ginger flavor and kind of grew on me. Overall, I think Linda enjoyed the food at Smokey Joe's more than I did.
You will notice that the prices were quoted in dollars. Other than the supermarket and a couple of other local businesses, every price which we saw was quoted in dollars. Other than a few coins returned to me in change for dollars, I never saw Aruban florins. The florin always has the same value in US dollars - 1.79 florin equals 1 dollar.
Following the late supper, we shopped around the adjacent Paseo Herencia Shopping Mall. Many of the shops were closed, but we visited a few, as well as street venders with permanent carts along the street.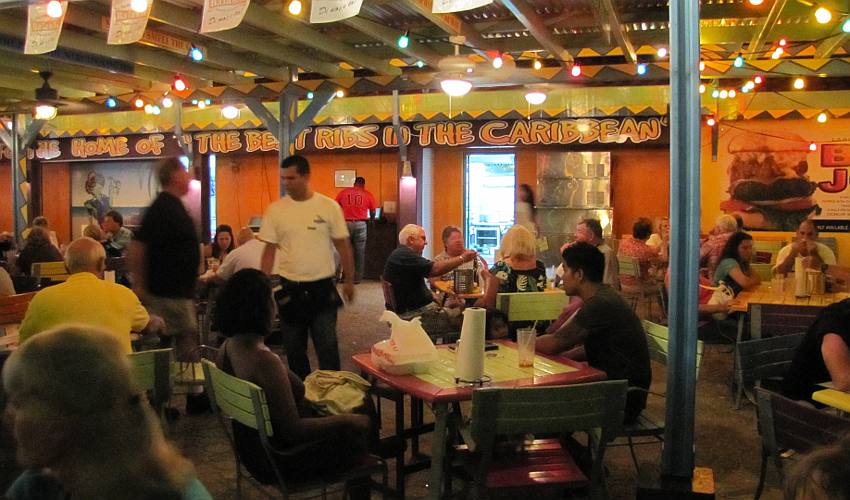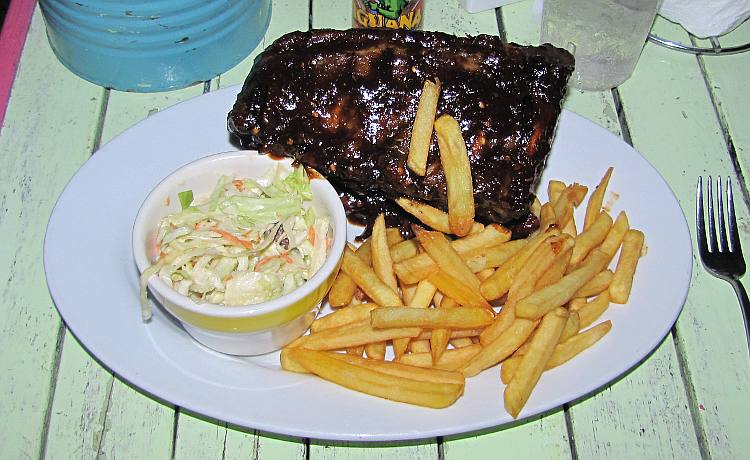 Jamaican Jerk baby back ribs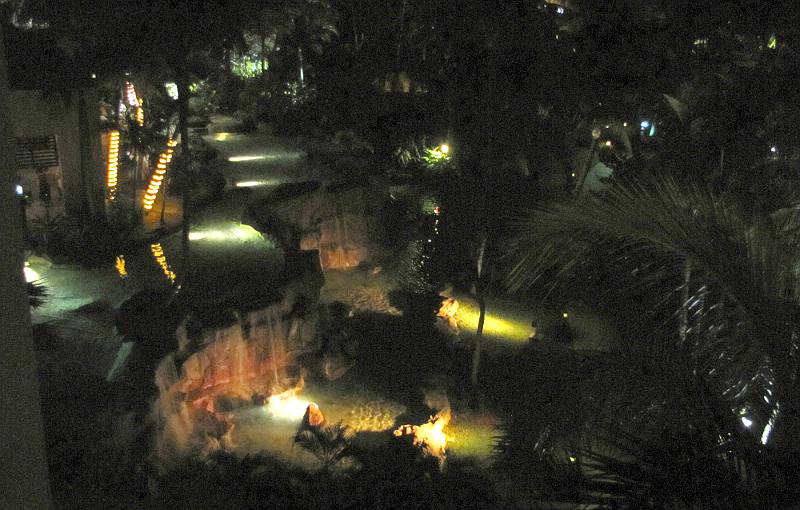 Fountains at the Radisson as seen from our balcony - some nights the music from the Mira Solo
was a bit loud, but it ended by 10:30