Ayo Rock Formation & Donkey Sanctuary Aruba
October 26, 2010

Sun: Radisson Aruba Resort, Passions Beach Bar & Restaurant
Mon: ABC Jeep Tour & California Lighthouse, Alto Vista Chapel, Natural Bridges & Gold Mine, Ostrich Farm & Baby Beach, sunset cruise & Smokey Joes
Tue: Boca Prins & Fontein Cave, Guadirikiri Cave, Café Rembrandt, Bon Bini Festival & El Gaucho
Wed: SNUBA on the Antilla shipwreck, Pelican's Nest & Aqua Grill
Thur: Fort Zoutman Museum, Submarine Atlantis, Amazonia Brazilian Steakhouse
Fri: Aruba Aloe Factory, Palmera Rum & Zeerover Bar, cemeteries, churches & Casabari Rock, Screaming Eagle
Sat: Old Dutch Mill & Bubali Bird Sanctuary

Previous page Next page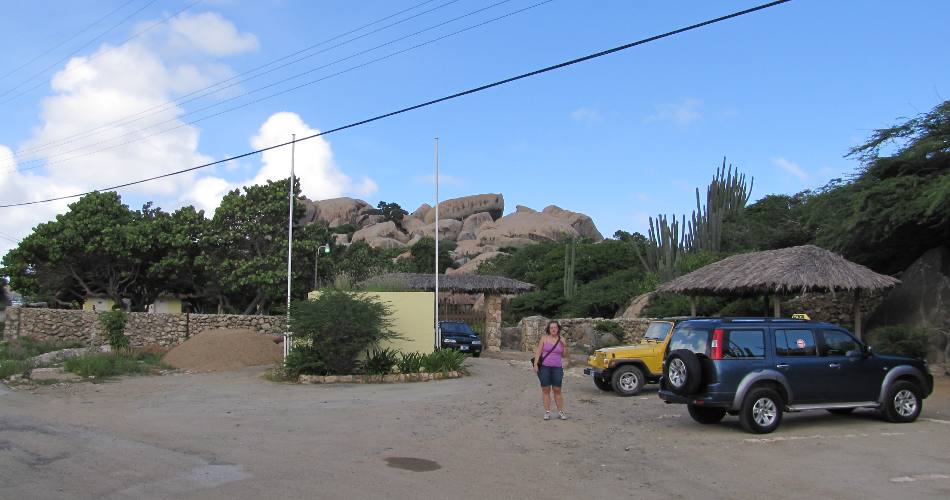 Linda standing in front of Ayo Rock Formation - that is our taxi, a Ford Everest, at the right
Tuesday - day 4
We had booked a car rental for the day with Payless Car Rental Aruba and they were supposed to pick us up a 9 AM. They never showed. When I went back into the Radisson and asked the concierge to call Payless to check on the delay, the concierge said they had no listing for Payless. Rather than go back up to our room and try to figure out what was going on, I decided to hire the next taxi waiting in line for 4 hours.
I asked the driver what the hourly rate was. He said it was $45/hour, but for 4 hours he would do it for $40/hour. So we headed out with George in his nice new Ford Everest, a mid size SUV manufactured in Thailand and unavailable in the United States. As the day progressed, we learned that George has a wife, 2 daughters and a son.
Our first stop was at Ling & Sons supermarket to buy sun block and some more food & beverages to take back to the room. I like to bring back hot sauce from my travels and selected three Aruba hot sauces from the selection on the market shelves. I was amused to find IGA hot sauce on the shelf, while Linda was amused with the bottle of KC Masterpiece BBQ Sauce, which had a label with a a map of the US showing where Kansas City is located. Actually, it looked closer to being in St. Louis.
Our next stop was Ayo Rock Formation in the central part of Aruba. We enjoyed walking the grounds and climbing the rocks, though there were no signs or guides and we couldn't find the rock drawing left by the Arawak Indians who used to inhabit Aruba.
As we got near the highest point on the rock, passing through a sheltered area, there were many paper wasps with nests hanging from the rocks near our heads. A young woman had just been stung and we turned back before going quite to the top.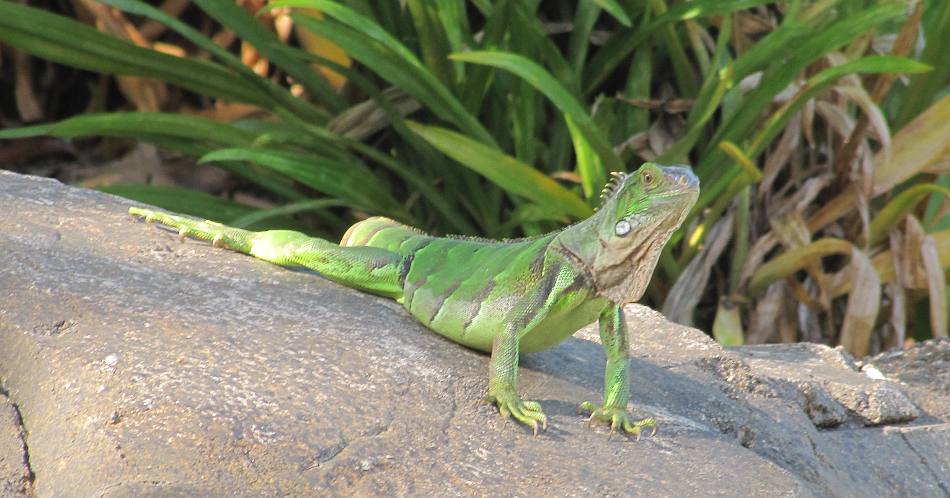 Aruban Iguana (yuana crioyo)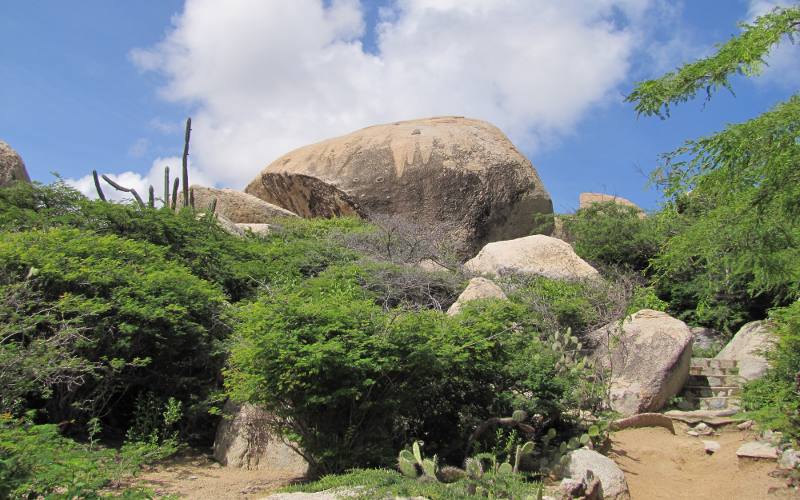 Ayo Rock Formation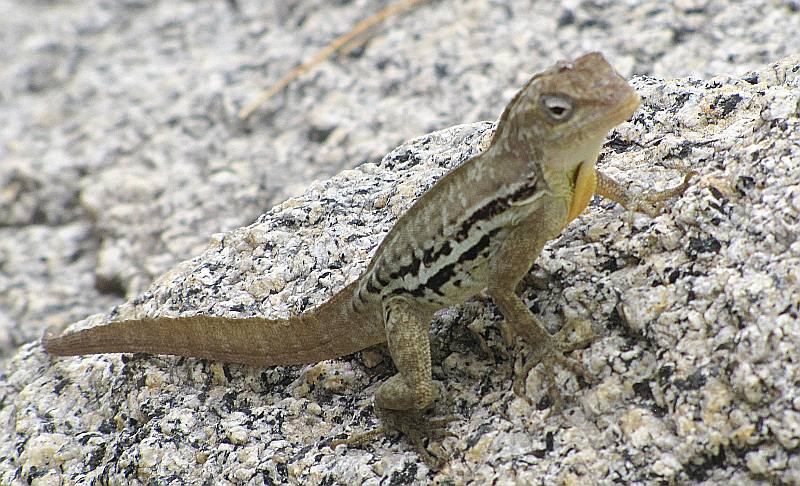 Many species of lizards are found on Aruba and I haven't identified this species yet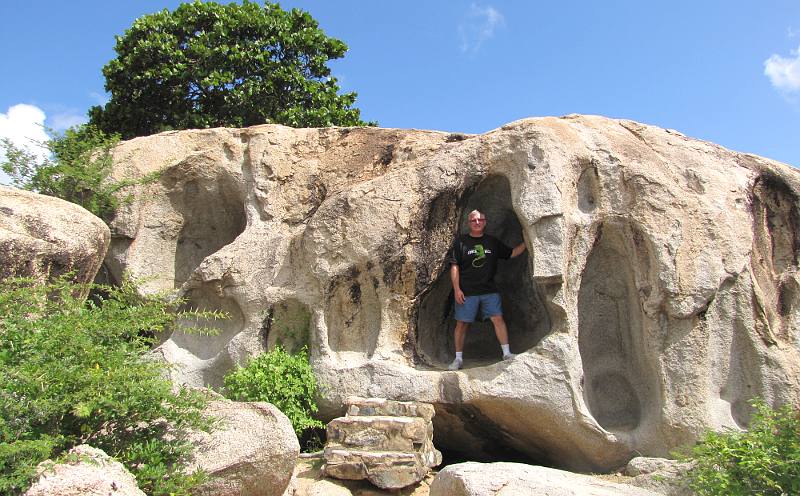 Me standing in an opening in Ayo Rock Formation
Our next stop was at the nearby Donkey Sanctuary Aruba. Founded in 1977, the Sanctuary is a home for about half of the donkeys on Aruba. The first ones were brought to Aruba by Spaniards, about 500 years ago. There is no charge to visit the sanctuary, but there is a $1 fee for a sliced carrot to feed the donkeys or you can make purchases or donations. I purchased a cap, while Linda bought postcards and donkey milk soap made in France.
There are about 90 donkeys at the sanctuary at this time. The males are neutered when they are captured and brought to the sanctuary, but one of the operations didn't take and they are having several colts or foals born each year. One cute baby donkey was born the day before our visit.
They hope to move the donkey sanctuary to a larger location in the next couple of years.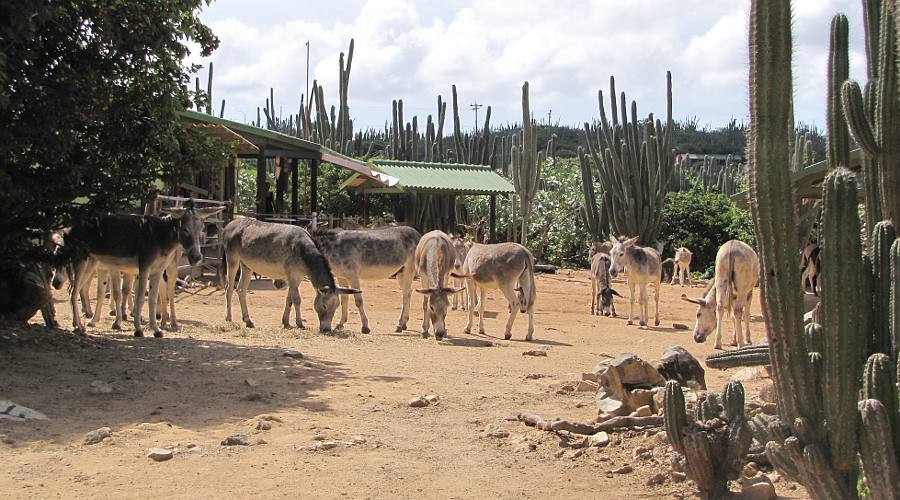 Donkey Sanctuary Aruba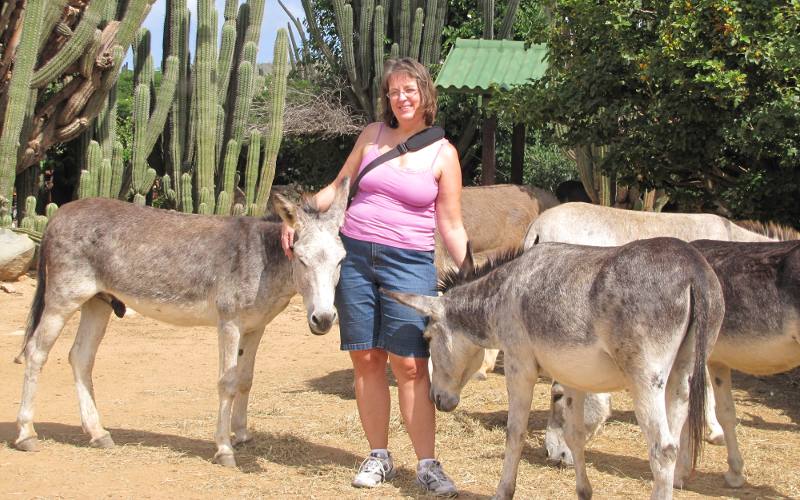 Linda with donkeys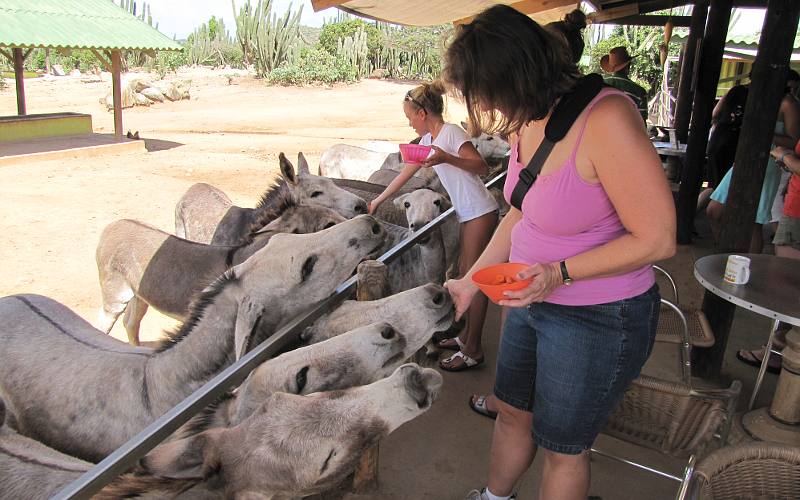 Linda feeding carrot slices to the donkeys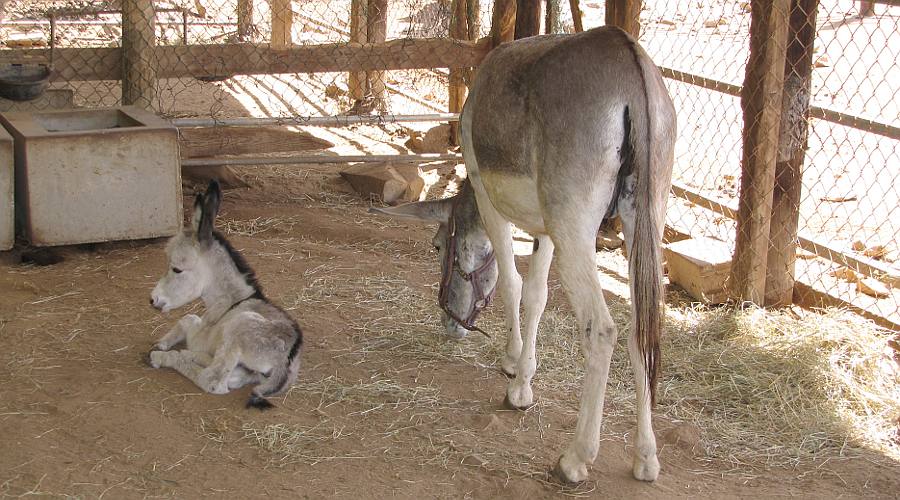 Pegaso was born on October 25, 2010, the day before we took this picture