Sunset at The Pelican's Nest & supper at Aqua Grill
October 27, 2010

Sun: Radisson Aruba Resort, Passions Beach Bar & Restaurant
Mon: ABC Jeep Tour & California Lighthouse, Alto Vista Chapel, Natural Bridges & Gold Mine, Ostrich Farm & Baby Beach, sunset cruise & Smokey Joes
Tue: Ayo Rock Formation & Donkey Sanctuary, Boca Prins & Fontein Cave, Guadirikiri Cave, Café Rembrandt, Bon Bini Festival & El Gaucho
Wed: SNUBA on the Antilla shipwreck
Thur: Fort Zoutman Museum, Submarine Atlantis, Amazonia Brazilian Steakhouse
Fri: Aruba Aloe Factory, Palmera Rum & Zeerover Bar, cemeteries, churches & Casabari Rock, Screaming Eagle
Sat: Old Dutch Mill & Bubali Bird Sanctuary

Previous page Next page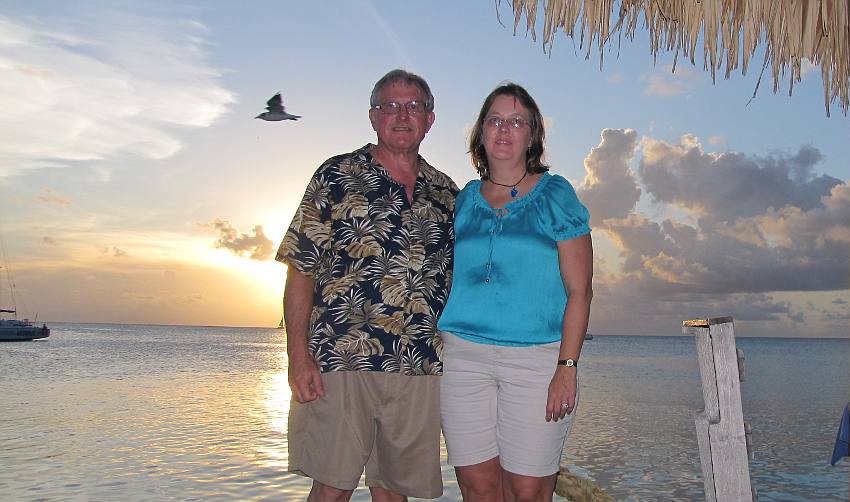 The photo may look like we are standing in front of a screen, but it is the real sunset from the end of Pelican Pier
Wednesday continued
After an afternoon of relaxing back at the Radisson, we went shopping again along Juan E. Irausquin Boulevard, but we were surprised to find that most of the booths along the street were not open in the late afternoon. We decided to take a break, watching the sunset, and wait for the vendors to open.
We crossed over to the ocean side of the hotels and found Pelican Nest Seafood Grill on the end of a short pier between the Holiday Inn and Playa Linda Resort. We explained that we were just wanting to have drinks and maybe an appetizer, and were promptly shown to the table which the hostess thought had the best view.
The next 45 minutes were among my favorite in Aruba. I enjoyed one of the few piña coladas I let myself have during the trip and the $7.25 calamari appetizer which we split.
While we passed the camera back and forth taking many photos, we watched fish (mullet) jumping out of the water near the pier and a cute little crab which passed near our table. Many other people were doing the same things.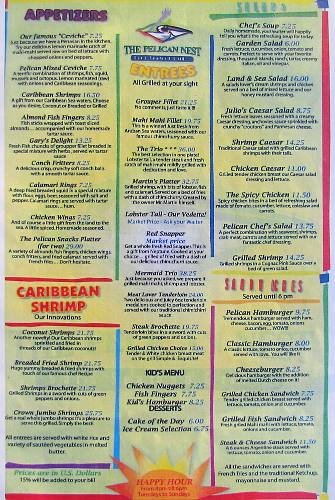 Click on the Pelican Nest menu from October
2010 for a larger image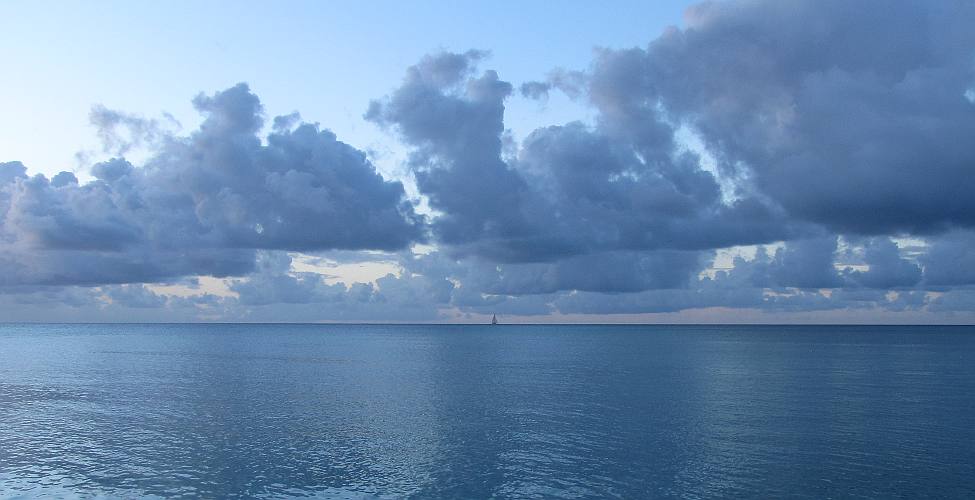 Sailboat on the horizon

Linda enjoyed taking many sunset photos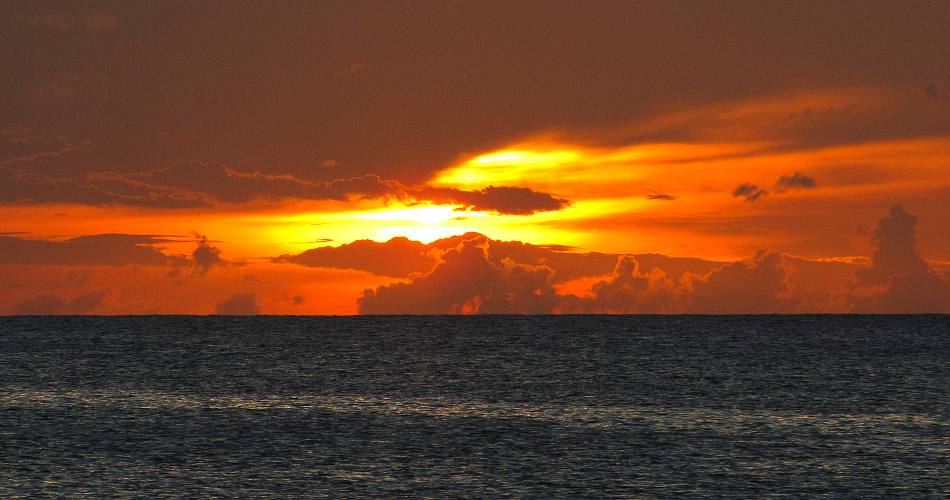 While we were taking pictures, I remembered that my camera has a "sunset setting," which we tried on this and some other photos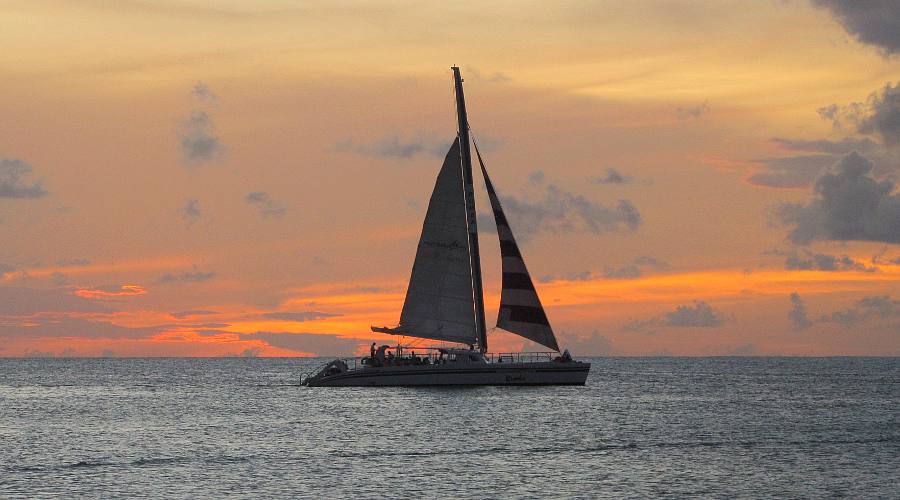 We returned to shopping and found that most of the street vendors opened their shops between 6:30 - 7 PM. We returned to a booth we had seen earlier in the we, where Linda purchase glass necklaces for herself and her daughters. They were made by the husband of the woman who ran the booth.
We finally made our way back toward our hotel, turning off to go look for a restaurant for supper and settling on Aqua Grill, after we found that Wacky Wahoos would not have at table free until after 9:30 PM.
The entrance to Aqua Grill is at the back of the restaurant, near the parking lot, and we noticed many people going first one direction and then another, trying to find their way in. Aqua Grill offers a number of coupon specials various places and we used one of those to each have a free glass of house wine.
Linda had shrimp with a caper pimento remoulade ($26.25), while I did a fisherman's platter with fried shrimp, scallops, haddock & calamari ($29.25). I know it isn't as sophisticated, but I love fried fish. The meals came with a small serving of vegetables and a very tiny serving of good garlic mashed potatoes wrapped in a cucumber slice. Our check came with a coupon good for 10% off at their other restaurant (Amazonia), next door.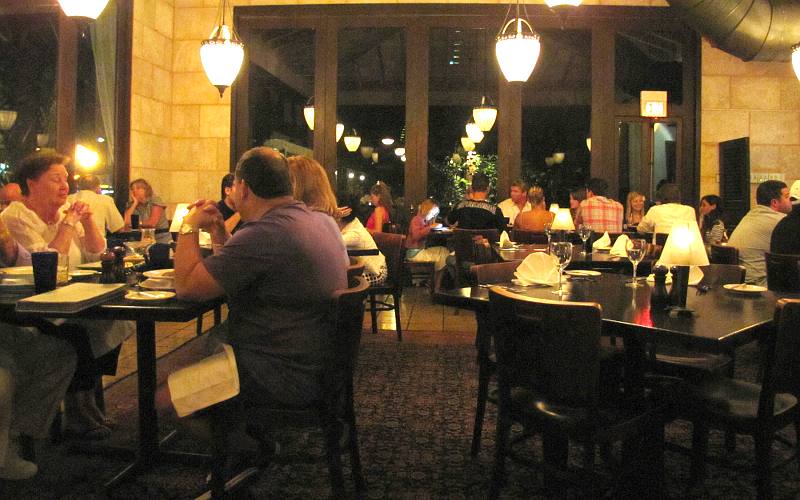 Aqua Grill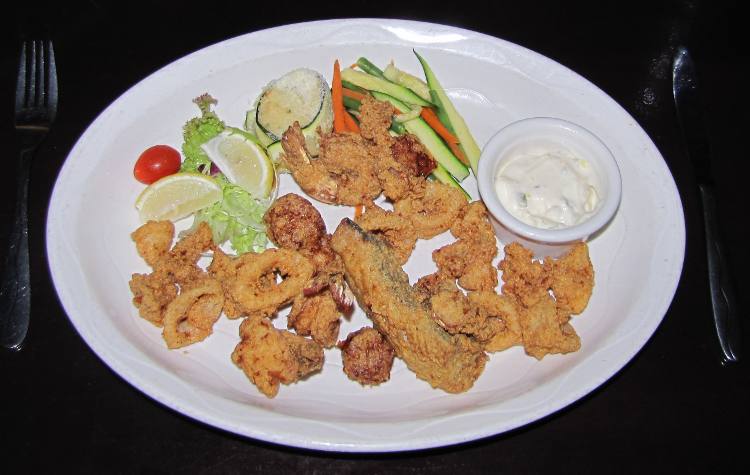 Fisherman's Platter (shrimp, scallops, haddock & calamari)