SNUBA on Aruba's 397' long shipwreck Antilla
October 27, 2010

Sun: Radisson Aruba Resort, Passions Beach Bar & Restaurant
Mon: ABC Jeep Tour & California Lighthouse, Alto Vista Chapel, Natural Bridges & Gold Mine, Ostrich Farm & Baby Beach, sunset cruise & Smokey Joes
Tue: Ayo Rock Formation & Donkey Sanctuary, Boca Prins & Fontein Cave, Guadirikiri Cave, Café Rembrandt, Bon Bini Festival & El Gaucho
Wed: Pelican's Nest & Aqua Grill
Thur: Fort Zoutman Museum, Submarine Atlantis, Amazonia Brazilian Steakhouse
Fri: Aruba Aloe Factory, Palmera Rum & Zeerover Bar, cemeteries, churches & Casabari Rock, Screaming Eagle
Sat: Old Dutch Mill & Bubali Bird Sanctuary

Previous page Next page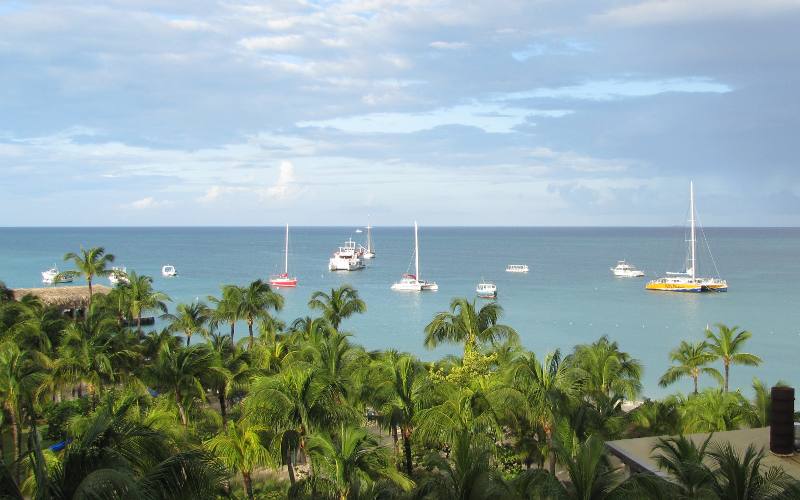 In this early morning photo taken from our balcony at the Radisson, the Palm Pleasure is moored at the right
and the dock used for the De Palm charters has the thatched roof at the far left
Wednesday - day 5
This morning we went sailing with De Palm tours on a large catamaran named the Palm Pleasure. It docks less than 100 yards from our room and we could see the boat loading each morning from our balcony.
The Palm Pleasure made three snorkeling stops. The first was above the wreck of the 397' long German freighter Antilla. It was sunk by its crew during WW2 to prevent Dutch marines from capturing it. The Antilla is in about 65' of water and one of the masts comes close to the ocean surface.
Most of the passengers snorkeled above the Antilla, but Linda, Boris (a Russian from NYC), and I paid for the SNUBA option. A fourth man signed up to do SNUBA, but backed out shortly after we entered the water.
SNUBA is a mixture of SNorkeling + scUBA. We had air hoses leading down from two small rafts which had our air supply. We could go down about 20 feet.
I loved it - we spent about 40 minutes underwater. Linda had a problem staying under water. Even with the weight belts we were wearing, she would float back to the top. Bart, our guide, said it was because of improper breathing.
There were many fish, plus there were corals, sponges and other things growing on the ship. The water is quite clear and I could see over 60 feet. Bart photographed our dive while watching over us. I purchased a CD with photos and a brief video of our time underwater for $30. The underwater photographs on this page were taken by Bart.
Following our dive, the Palm Pleasure went on to a reef near shore for another hour of snorkeling. It was easy and we saw a different group of fish species than we did at Baby Beach on Monday.
Palm Pleasure had an open bar for the entire tour. Sandwiches and fruit were provided after the first stop, and this 2nd snorkeling period was followed by lunch (potato salad, cucumber salad, mixed vegetables, Caesar salad, grouper, chicken and roasted potatoes). Given that the food had to be prepared ashore before our departure, I think the meal was pretty good.
The final snorkeling of the day was at Arashi beach near the California Lighthouse and California Point. This was the roughest water of the day, but still not too bad. This was also the most interesting spot, since there were other types of coral and even more different fish species. I saw two barracudas.
I wish that a little more time had been allotted for this final swim.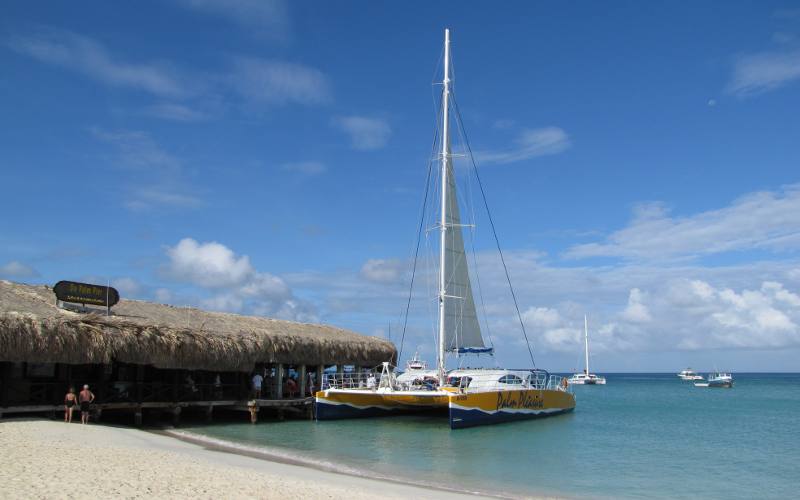 Palm Pleasure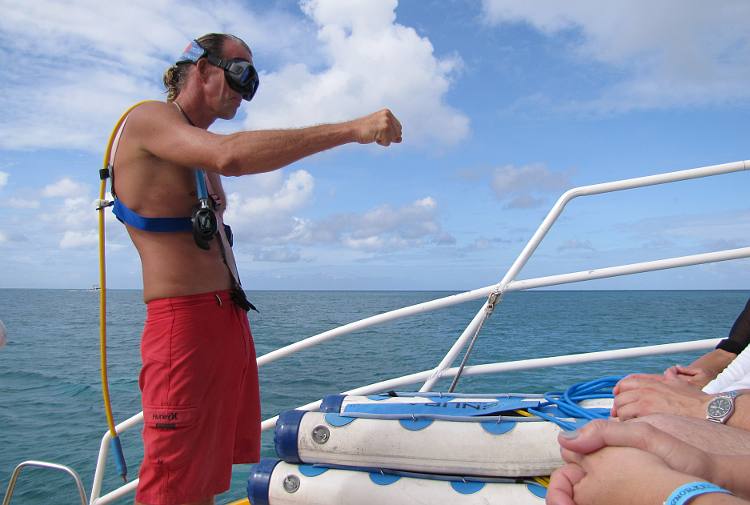 Bart shows us the equipment we will be using and explains the gestures used to communicate underwater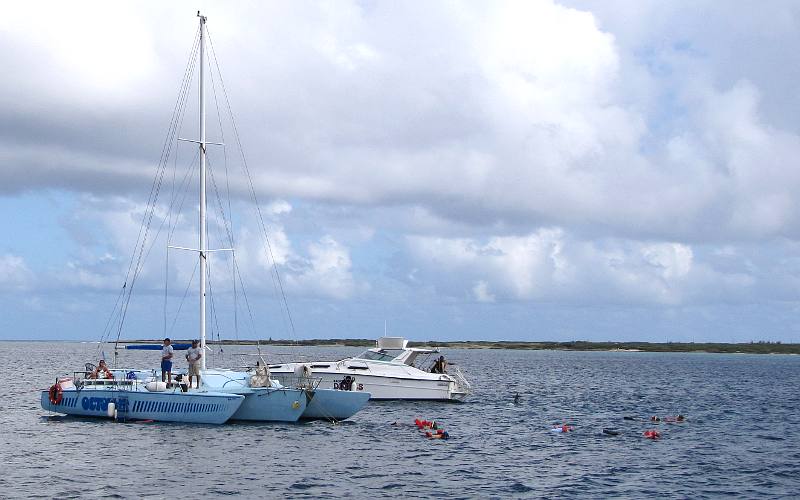 Arriving at the wreck Antilla, the largest shipwreck in the Caribbean, we found other parties already snorkeling


Preparing to enter the water - Linda is at the bottom step, I am above her and Boris is in the red shirt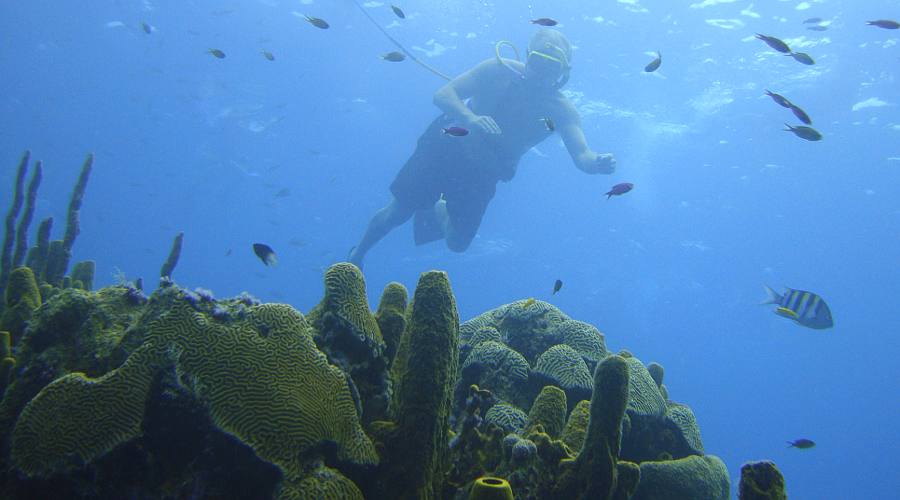 I am approaching some of the corals on the wreck of the Antilla - the fish with the vertical stripes is a Sergeant Major
or píntano (Abudefduf saxatilis), some of the other fish are Bicolor Damselfish (Stegastes partitus)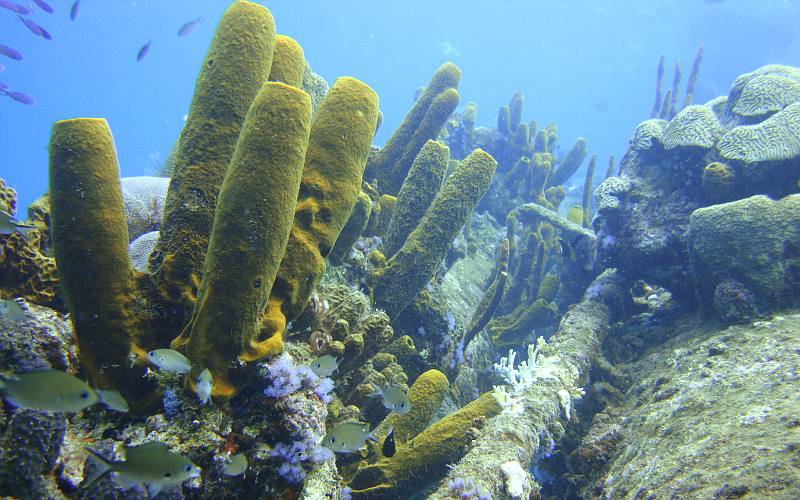 Tube Sponge (Callyspongia vaginalis) and coral formations on the mast of the Antilla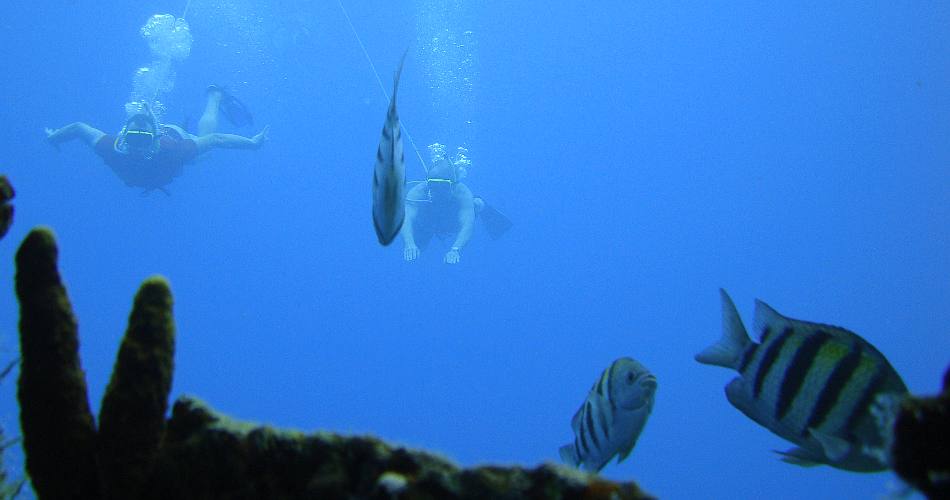 Boris and I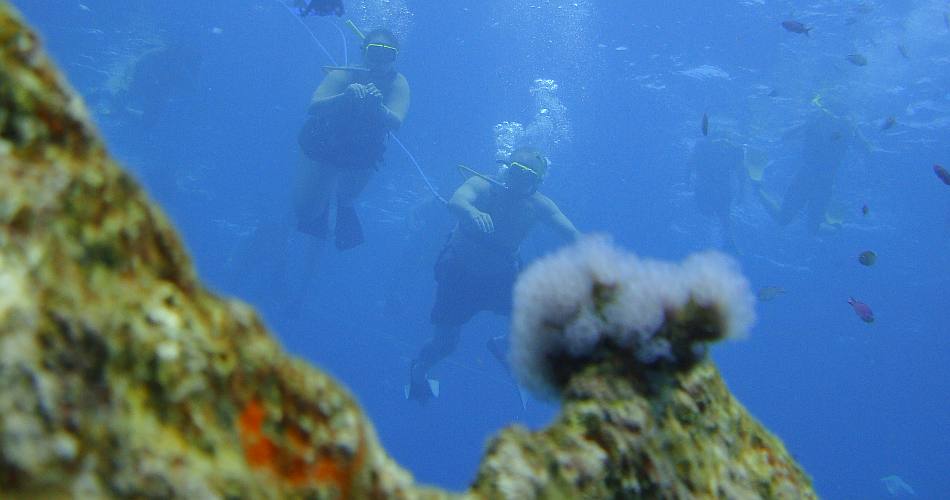 Linda and I - notice the snorkelers on the surface above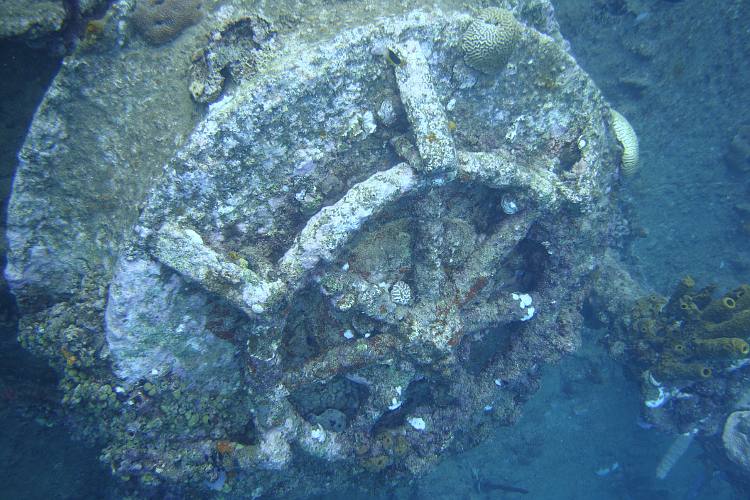 Hatch on the shipwreck Antilla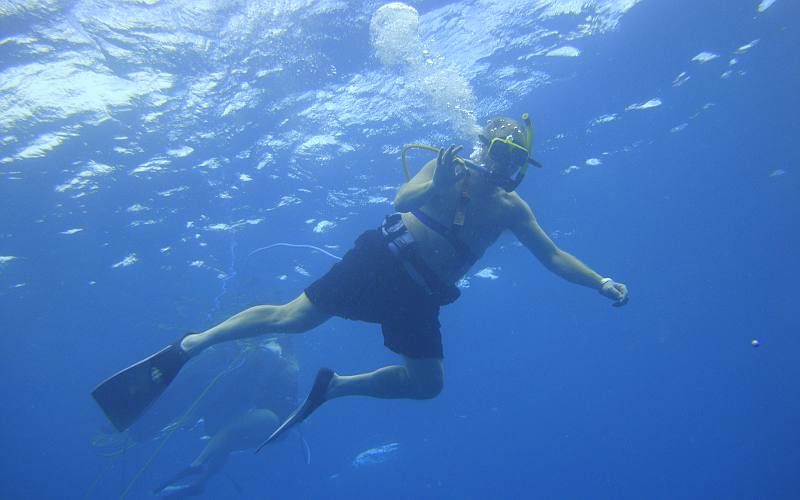 Me signaling that all is OK