Bon Bini Festival & El Gaucho Argentine Grill
October 26, 2010

Sun: Radisson Aruba Resort, Passions Beach Bar & Restaurant
Mon: ABC Jeep Tour & California Lighthouse, Alto Vista Chapel, Natural Bridges & Gold Mine, Ostrich Farm & Baby Beach, sunset cruise & Smokey Joes
Tue: Ayo Rock Formation & Donkey Sanctuary, Boca Prins & Fontein Cave, Guadirikiri Cave, Café Rembrandt
Wed: SNUBA on the Antilla shipwreck, Pelican's Nest & Aqua Grill
Thur: Fort Zoutman Museum, Submarine Atlantis, Amazonia Brazilian Steakhouse
Fri: Aruba Aloe Factory, Palmera Rum & Zeerover Bar, cemeteries, churches & Casabari Rock, Screaming Eagle
Sat: Old Dutch Mill & Bubali Bird Sanctuary

Previous page Next page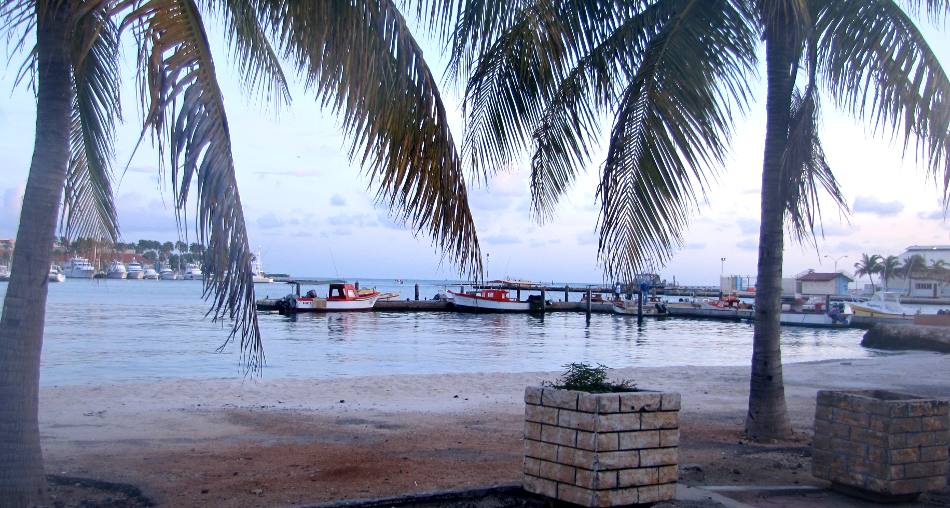 Oranjestad harbor near sunset
Tuesday continued
In the early evening we took a taxi to downtown Oranjestad. Many of the shops and stalls were closing, but we did a little shopping and made our way to Fort Zoutman where the Bon Bini Festival is held from 6:30 - 9 PM on Tuesday evenings. The fee was $3 per person.
When we entered, the program had already started with a Traditional Steelband performing in a corner near the entrance. We checked out the various local craft booths, before finding a seat near the stage.
The main performance began with the playing of three songs on a Caha di Orgel (better known as a "tingilingi box") which is a hand cranked cylinder piano. The organ grinder was followed by dance performances by a children's group called Kids In Action and an older group called Masiduri.
Although we enjoyed the performances, the small crowd seemed to fairly quickly leave during the show and I felt bad when we needed to leave during the performance of the musical group Pegasaya to make our 8:30 supper reservation.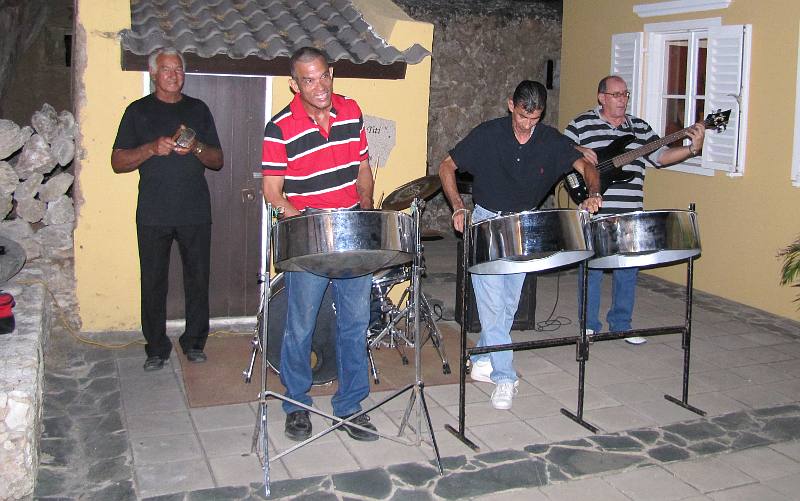 Traditional Steelband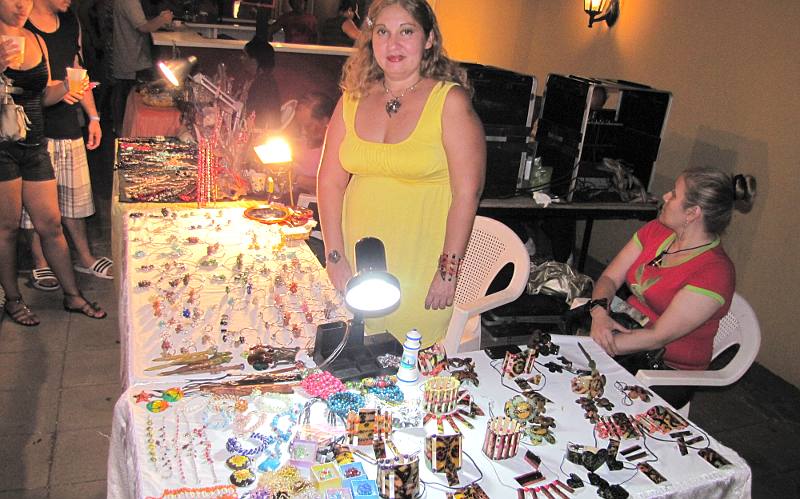 Aruban woman displaying her handmade jewelry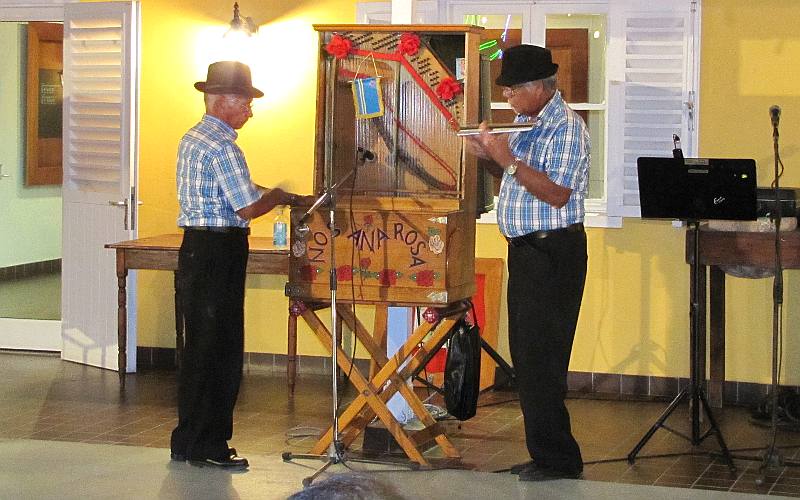 Caha di Orgel "tingilingi box"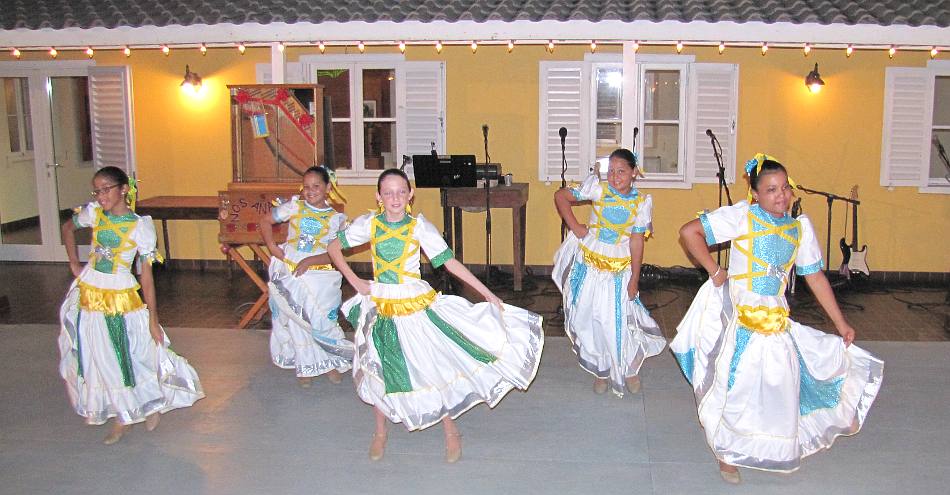 Kids in Action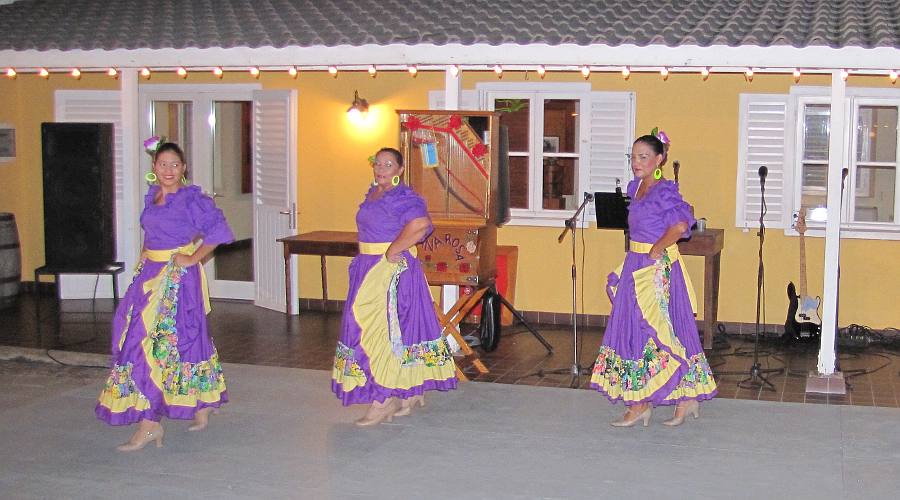 Masiduri
Without street signs, it took us about 15 minutes to find the nearby restaurant, El Gaucho. We asked directions from a man who spoke little English, and when we took a 2nd wrong turn, he ran down to get us and point us in the correct direction.
El Gaucho was huge (over 400 seats) and packed. This late in the evening, we might have found a table without a reservation, but I doubt that would have happened earlier in the evening. The 33 year old restaurant is in a old townhouse and the dining area is spread across many rooms. The entire lower level is nonsmoking and there is a children's playroom with arcade games, videos, drawing tools and legos.
We started with chorizo and morcilla (Grilled pork and blood sausage) which I appreciated more than Linda did. She selected the Bife de Lomito (a 12 ounce tenderloin steak) and I had the Bife Ancho (a 16 ounce rib eye). I liked the flavor, but found the steaks a bit tough.
The meals were all served on large wooden plates. The steaks came with a small serving of potatoes or rice, vegetables, corn on the cob, garlic bread and a side dish. I selected sautéed mushrooms. This was my favorite meal up to this point on the trip.
Two musicians circulated around the tables playing some traditional Argentine songs and popular music by request. They even played Free Bird.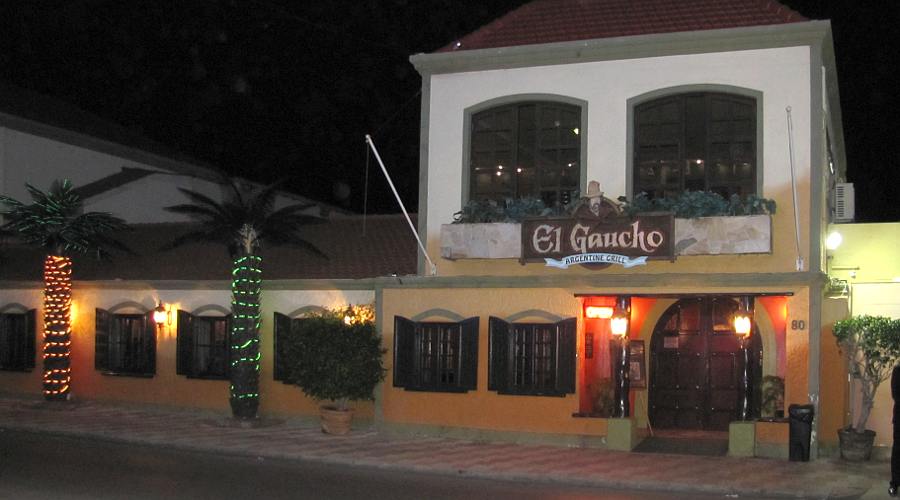 El Gaucho Argentine Grill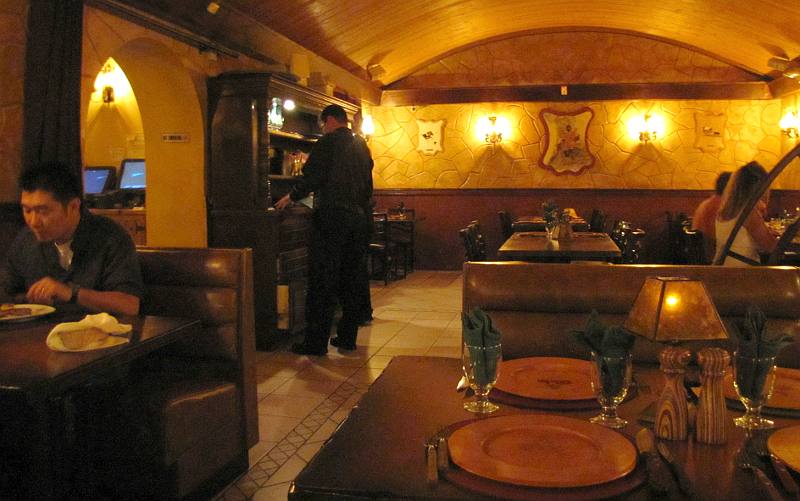 One of El Gaucho's many dining rooms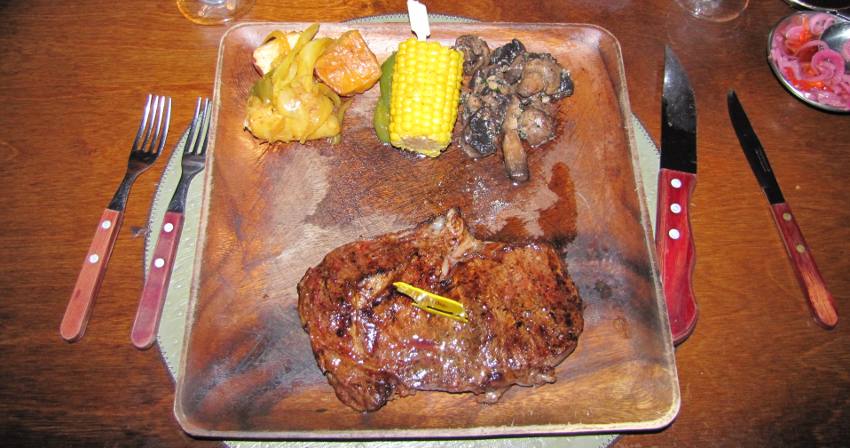 Rib eye steak