Boca Prins & Fontein Cave in Arikok National Park
October 26, 2010

Sun: Radisson Aruba Resort, Passions Beach Bar & Restaurant
Mon: ABC Jeep Tour & California Lighthouse, Alto Vista Chapel, Natural Bridges & Gold Mine, Ostrich Farm & Baby Beach, sunset cruise & Smokey Joes
Tue: Ayo Rock Formation & Donkey Sanctuary, Guadirikiri Cave, Café Rembrandt, Bon Bini Festival & El Gaucho
Wed: SNUBA on the Antilla shipwreck, Pelican's Nest & Aqua Grill
Thur: Fort Zoutman Museum, Submarine Atlantis, Amazonia Brazilian Steakhouse
Fri: Aruba Aloe Factory, Palmera Rum & Zeerover Bar, cemeteries, churches & Casabari Rock, Screaming Eagle
Sat: Old Dutch Mill & Bubali Bird Sanctuary

Previous page Next page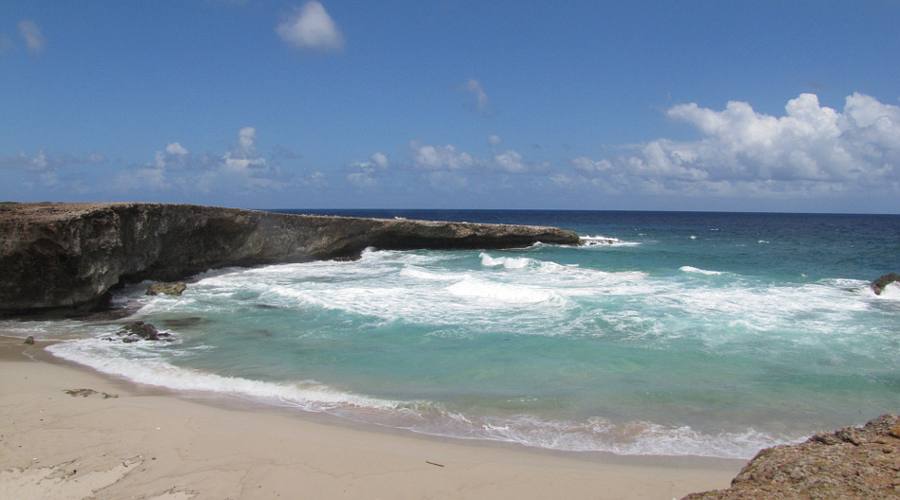 Boca Prins
Tuesday continued
We continued on (more or less) toward Arikok National Park. The roads in Aruba are not marked and our taxi driver lost the way a couple of times, but we finally found our way to the park. We stopped first at the Visitor's Center to get a map and purchase post cards. I tried to pay the new conservation fee to enter the park, but was told that they would not start collecting the fee until a few days later on November 1, 2010.
Entering the park on the brick road, we had to go very slow - there are rain gutters every couple of hundred feet. It created an unpleasant rocking motion in the midsize SUV.
Our first stop in Arikok was at Boca Prins. Although Boca Prins does not get the level of recognition that many Aruba attractions get, the beach cliffs, dunes and rocky shore may have been the most beautiful spot which we visited on Aruba. There were signs posting no swimming because of the undertow, but George (our taxi driver) said he remembered swimming at Boca Prins as a youth.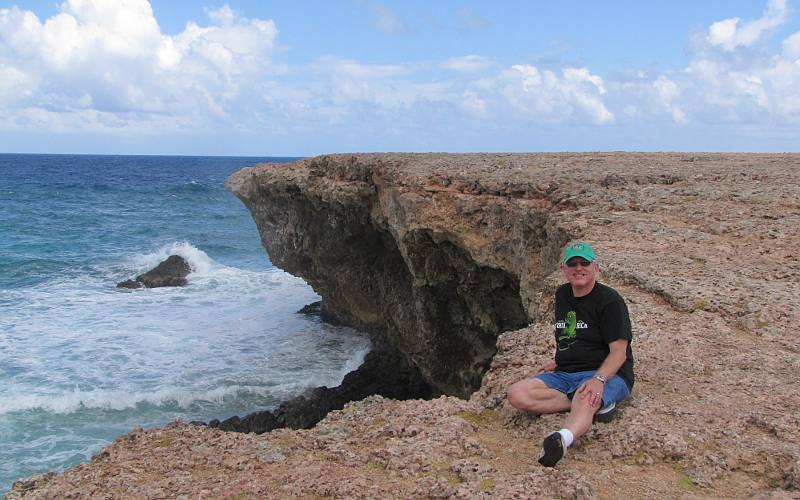 Me next to the Boca Prins cliff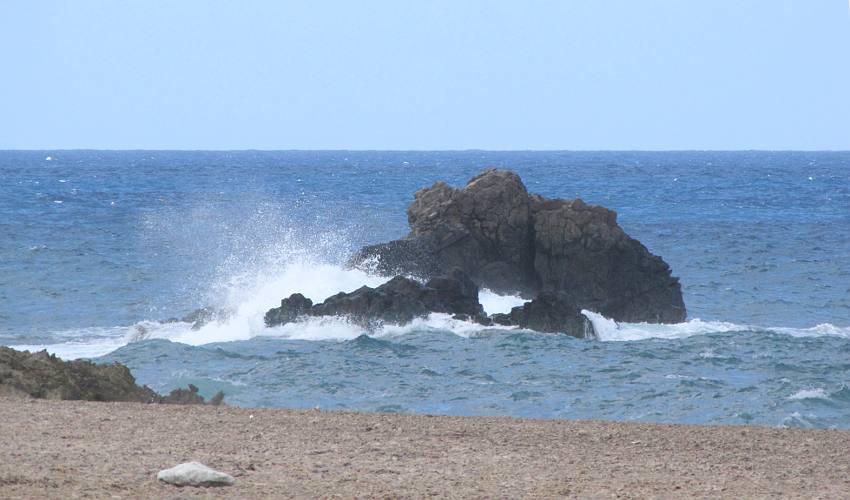 Waves crashing on rocks in the distance
After a brief stop at the nearby Boca Prins Bar, Restaurant and Gift Shop, we continued a short distance to Fontein Cave. As we approached the cliffs, there were goats on the horizon.
The entrance to Fontein Cave is at surface level, going back into the cliff. It is kept locked when not open because vandals were scratching out the Pre-Columbian drawings from the Arawak Indians. We were not permitted to take flashlights into the cave, but a guide took us through the first 30 yards or so of the shallow cave. He said that the Arawak drawings were over 1,000 years old. He also showed us more recent graffiti, going back into the early 1800s and much more recent scratching and painting. There were many Arawak Indian Petroglyphs.
I had told Linda that it would be cooler and dryer in the cave, but there was no ventilation and the temperature and humidity actually went up the farther we went. By the time we returned to the taxi, Linda was feeling some distress and we stopped again at the Boca Prins Bar to get some cold water.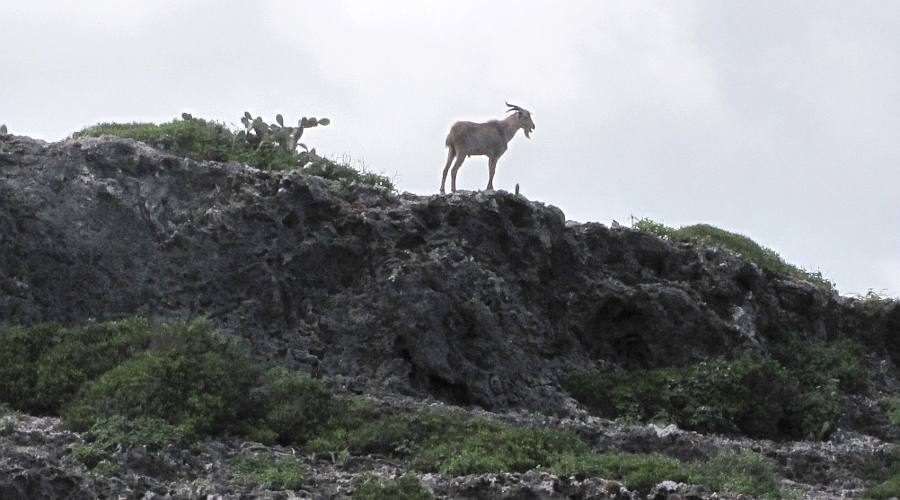 Goat on the cliffs above Fontein Cave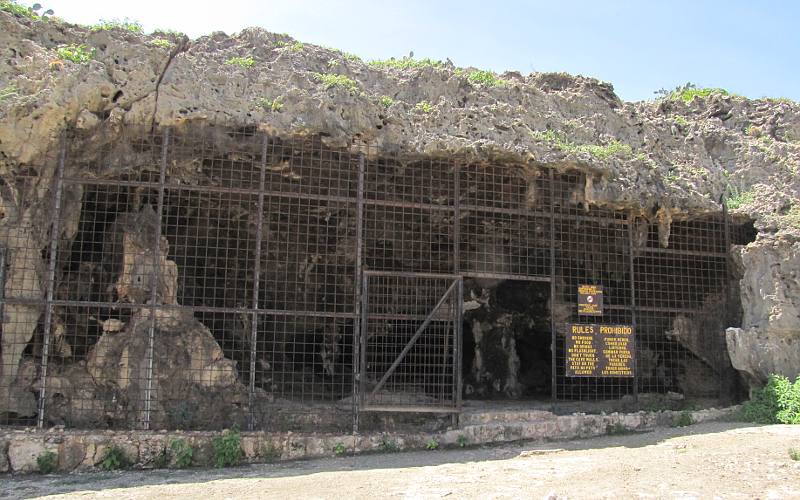 Fontein Cave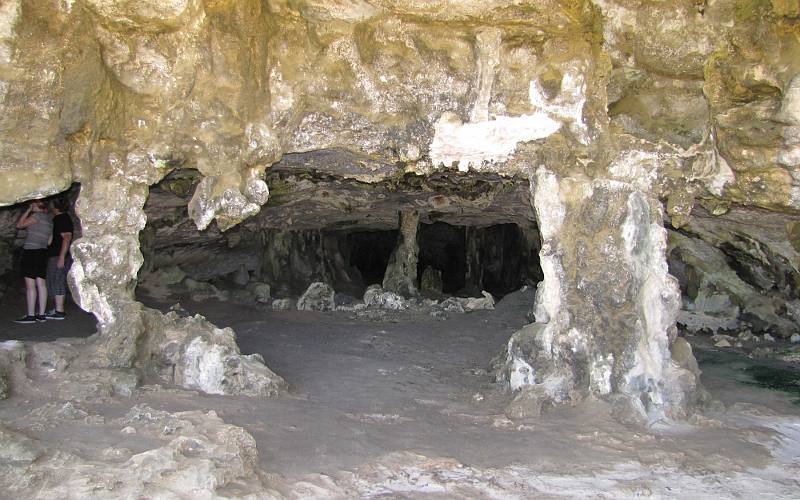 Fontein Cave interior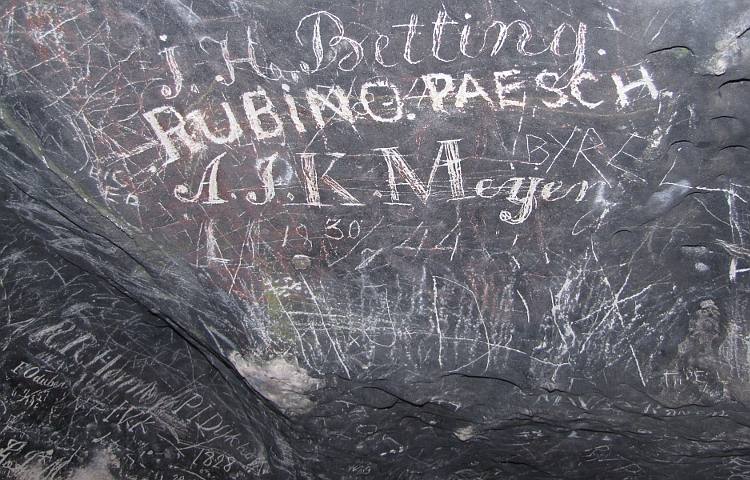 Graffiti in Fontein Cave dating back as far as 1828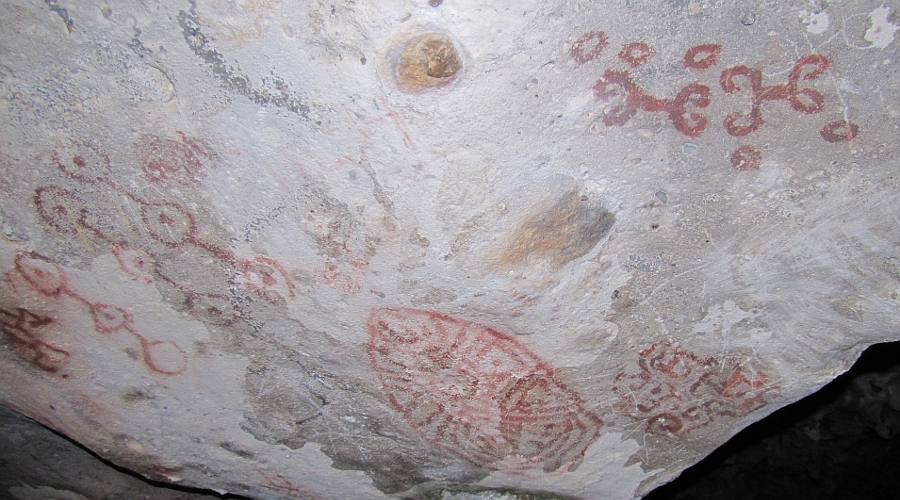 Arawak Indian Petroglyphs