Honeymoon in Aruba
Radisson Resort
October 24 - 30, 2010

Sun: Passions Beach Bar & Restaurant
Mon: ABC Jeep Tour & California Lighthouse, Alto Vista Chapel, Natural Bridges & Gold Mine, Ostrich Farm & Baby Beach, sunset cruise & Smokey Joes
Tue: Ayo Rock Formation & Donkey Sanctuary, Boca Prins & Fontein Cave, Guadirikiri Cave, Café Rembrandt, Bon Bini Festival & El Gaucho
Wed: SNUBA on the Antilla shipwreck, Pelican's Nest & Aqua Grill
Thur: Fort Zoutman Museum, Submarine Atlantis, Amazonia Brazilian Steakhouse
Fri: Aruba Aloe Factory, Palmera Rum & Zeerover Bar, cemeteries, churches & Casabari Rock, Screaming Eagle
Sat: Old Dutch Mill & Bubali Bird Sanctuary

Wedding photos The proposal ath the Eiffel Tower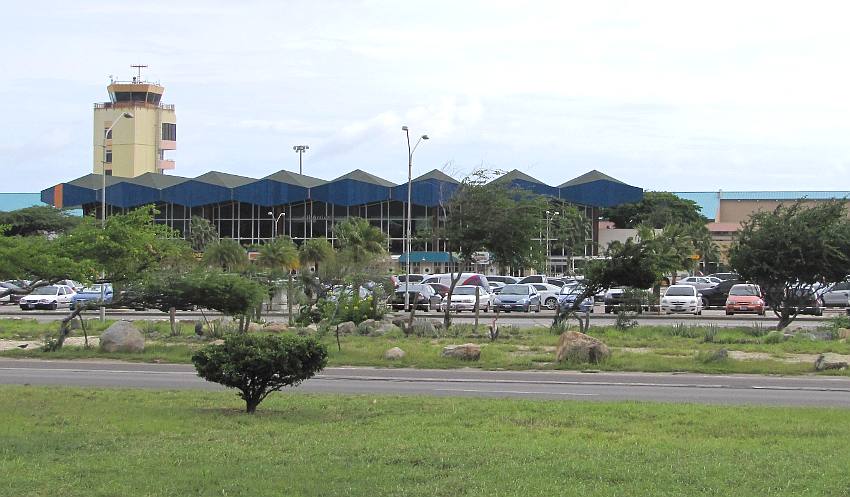 Aeropuerto Internacional Reina Beatrix, Queen Beatrix International Airport
Saturday - day 1
We spent our wedding night at the Kansas City Marriott on the airport grounds. With a 5:55 AM flight, we wanted to be able to just walk down to the lobby 10 minutes before we needed to arrive at the airline check in desk.
We had booked the Marriott's "Wedding Park Here Fly There Package," which included a large suite and came with chocolate covered strawberries & champaign (plus our parking for the week). It was a great deal for $119. We just wished we had been able to arrive before 10PM.
Sunday - day 2
We changed planes in Atlanta and arrived at Queen Beatrix International Airport in Aruba about 2:25 PM. After clearing customs, we took a taxi to the Radisson Aruba Resort. Since I had booked the hotel through a third party, I'd emailed the Radisson directly to confirm the reservation a couple of days in advance. The clerk told us that we would need to wait about an hour for our room to be ready, but that instead of the deluxe ocean view room that we had paid for, we were upgraded to an 1100 square foot suite that takes the entire end of the 5th floor closest to the
ocean.
Since we had only snacked on the airplane, we went out to the hotel's beach grill restaurant - Gilligan's for drinks and a snack.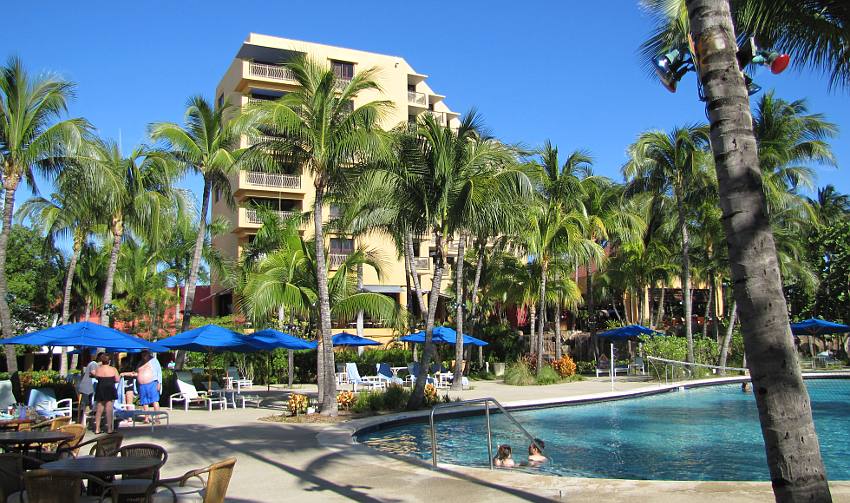 Radisson Aruba - our room has the two balconies on the left, down 3 floors from the top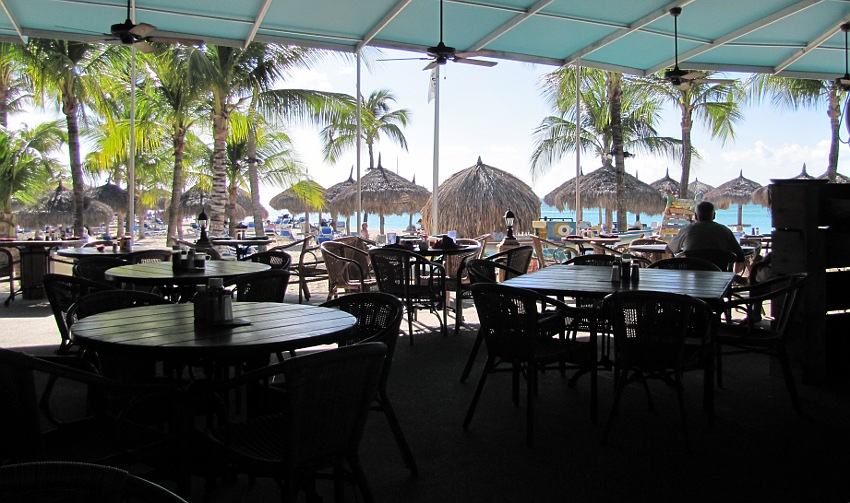 View from our table at Gilligan's Beach Grill Restaurant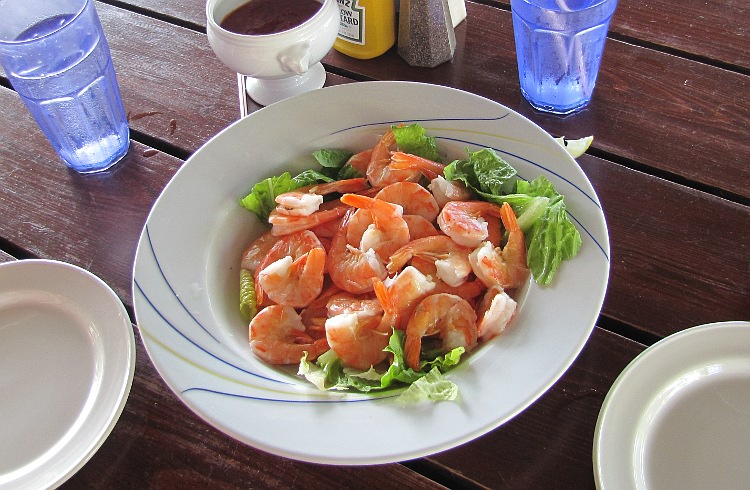 SS Minnow Shrimp Boat - $16

Linda in front of one of the fountains on the Radisson's grounds - the Radisson has arguably the best grounds of any of
the Palm Beach resorts on Aruba
Finally checking in, we were shown to the nicest hotel room I have ever had. There were two marble baths including Jacuzzi & an enormous shower, two TVs, two refrigerators, two balconies. a wet bar, stereo, etc. We would find the service to be excellent as well. They replaced all of the towels, glasses, and ice buckets twice a day. The Radisson also gave us honeymooner T-shirts and champaign.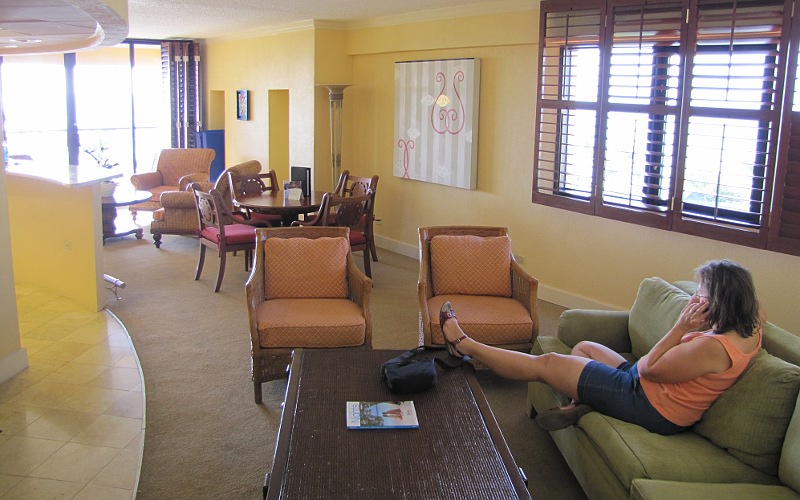 Part of the main room of our suite - the Aruba suites are only in the Aruba Tower at the Radisson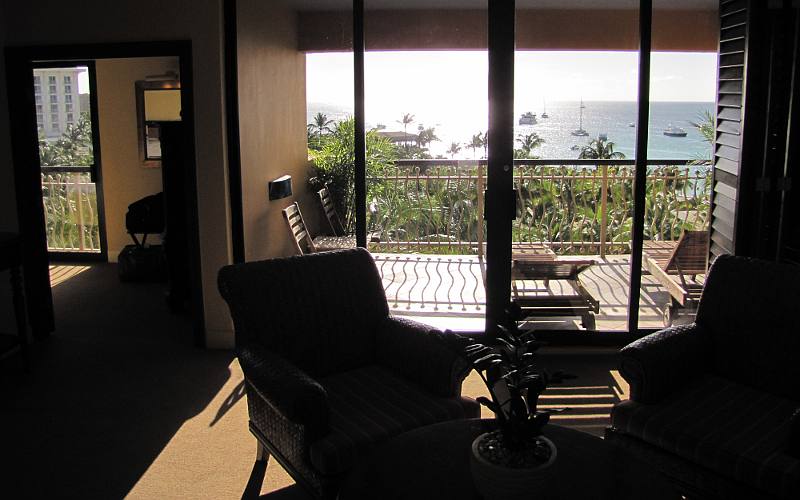 The balcony on the left is in our bedroom - the larger balcony is on the corner of the hotel closest to the ocean
and had a wonderful panoramic view of the ocean and resort grounds