Lunch & a proposal at the Jules Verne Restaurant in the Eiffel Tower
April 30, 2010

Lunch at le Jules Verne restaurant, 125 meters up in the Eiffel Tower, where we became engaged.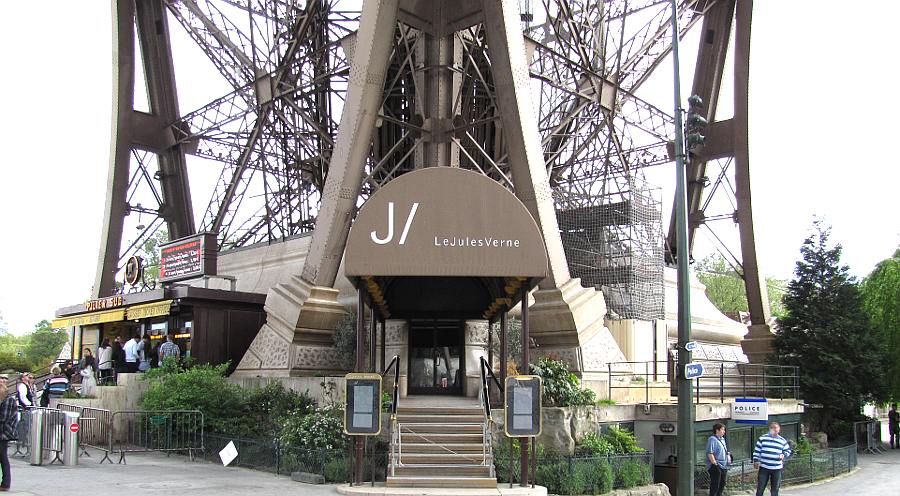 Le Jules Verne restaurant - Tour Eiffel Pilar Sud (Southern pillar of Eiffel Tower)
Friday - day 7 (continued)
It was a short walk from the Port de la Bourdonnais. After dodging the many people trying to sell us cheap souvenirs, we made our way to the South Tower of the Eiffel Tower to the Le Jules Verne restaurant. Le Jules Verne is a one star Michelin restaurant. One star may not sound that good, but only a small number of restaurants of outstanding quality receive even one star.
I gave our name at the entrance and we were showed to a small private elevator which transported us up the 125 meters (410 feet) to the Jules Verne without having to wait in line or pay for the public elevators.
When I made our lunch reservation online, I had requested a table with a good view and included a note that I was proposing during lunch. I don't know if it made a difference (we had a 12:30 reservation and the lunch crowd comes a bit later), but we were shown to the table with the very best view in the entire restaurant.
We both went with the Menu Déjeuner - for €85 each, we selected starters, main dishes and desserts. We added a 26 euro selection of cheeses and the chef sent out a couple of other treats so we had a fabulous, leisurely banquet.
Neither of us are big drinkers, so instead of wine, we had champagne cocktails and Evian water. Including the tip, the meal came to a bit over $300.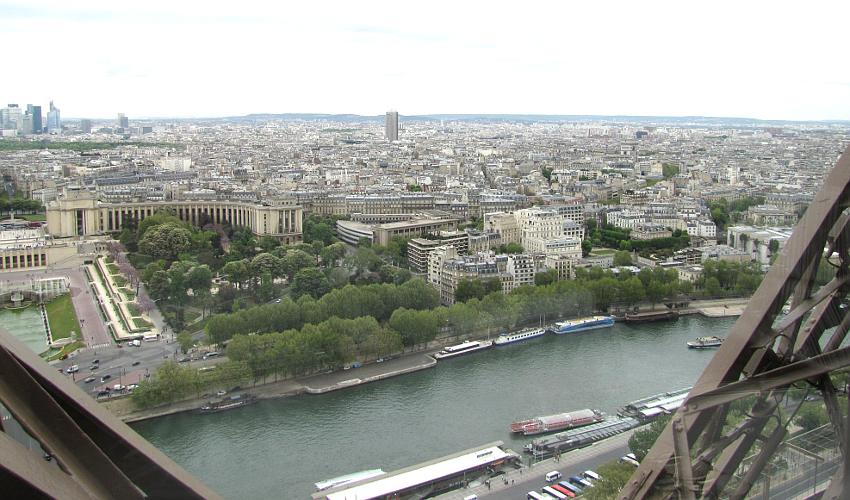 View from Le Jules Verne restaurant private elevator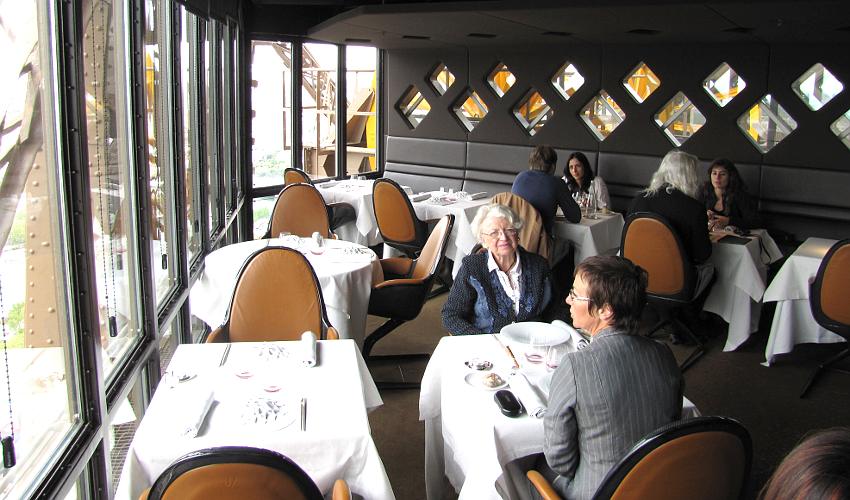 Le Jules Verne restaurant dining room
After we ordered our meal, I quietly said the French words I had been rehearsing for over a week, "Veux-tu m'épouser" ("Will you marry me") which I had learned phonetically as "vuh-tew may-poo-zay." Linda thought I might be saying "I love you" in French and waited for me to say something more in English. I said that I would get on one knee if she wanted, but after looking at the tight space, she didn't think there was enough room.
Linda told me that I should put the ring on her. She had already guessed that I was going to propose, so other than a beaming smile, she didn't have a huge reaction. I don't believe that the people at the next table even knew that I had proposed.
Our food started coming then and we began our meal. Linda attempted to call her two daughters, but we hadn't mastered sending outgoing calls on our cell phones, so she sent text messages asking them to call us. Following the meal, I sent text messages to my closest friends confirming that she had said yes.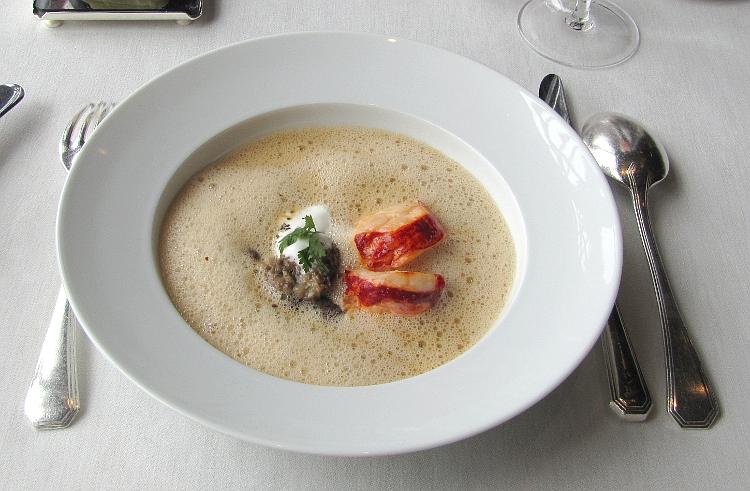 Shellfish velvety soup flavored with mushrooms and chervil - morels and lobster were good
but the broth was incredible - I wanted to lick the bowl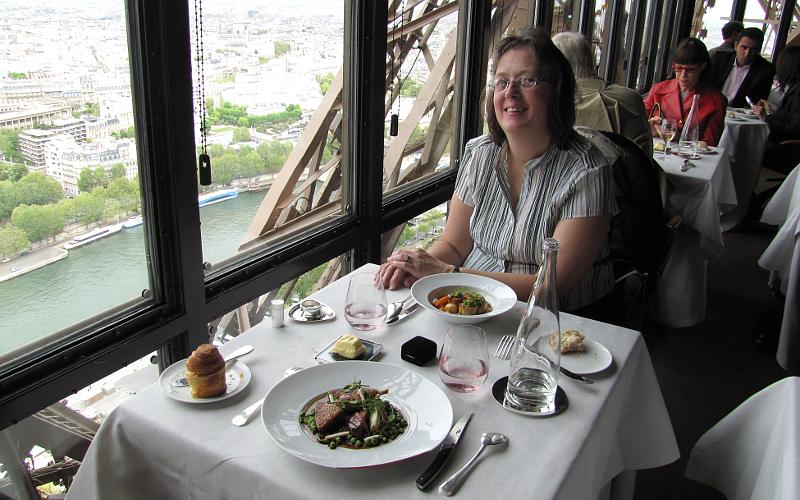 Her main: Volaille de Bresse en fricassée, légumes primeurs, sucs de cuisson marbrés
(Bresse chicken fricassée, new vegetables, marbled cooking juice)
Mine: Canette de Challans rôtie, févettes et petits pois à la Française
(Roasted Challans duckling, French style broad beans and peas)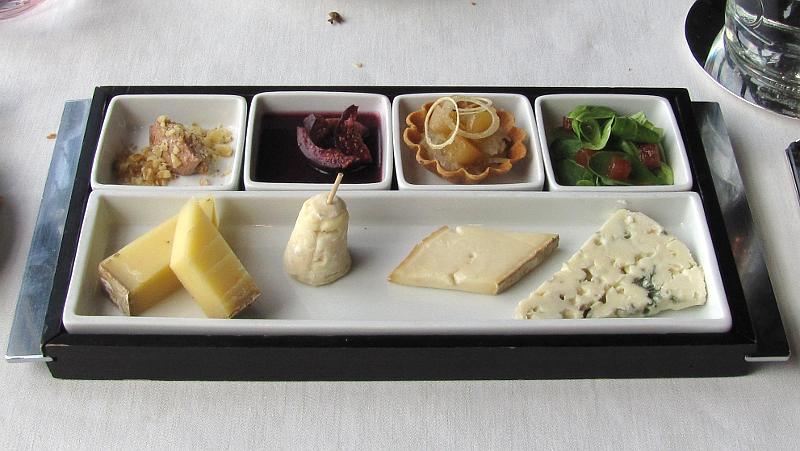 Sélection de quatre fromages de France - four perfectly matured cheeses, each paired with complementary items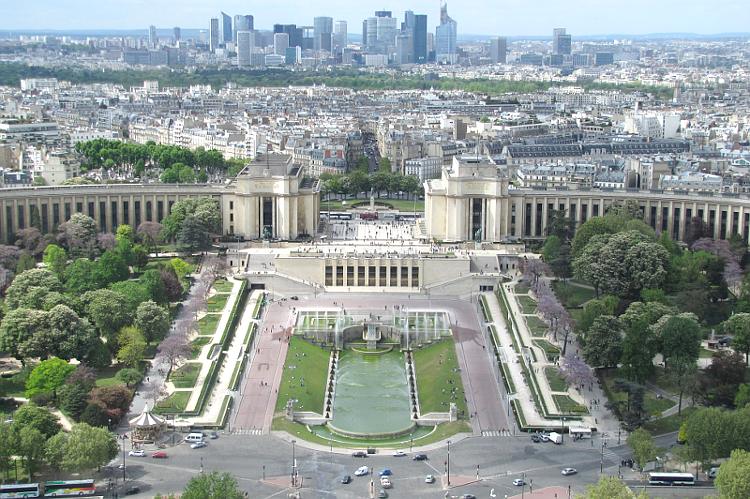 The view from our table at Le Jules Verne restaurant included the Palais de Chaillot and Trocadero fountains