2014 Ireland & Worldcon trip
Connemara
August 13, 2014

Day 1: Trinity, Dublin Castle, St Patrick's Cathedral, Temple Bar
Day 2: Newgrange, Hill of Tara, Winding Stair & Pub Crawl
Day 3: Bunratty Castle, Doolin, Cliffs of Moher, The Burren, Galway
Day 4: Inishmore, Dun Aengus, The Seven Churches
Day 5: Connemara, Kylemore Abbey, Screeb River
Days 6 - 9: World Science Fiction Convention, British Library
Day 10: Malahide Castle, Seabank Bistro
Previous Page Next Page


Lough Bofin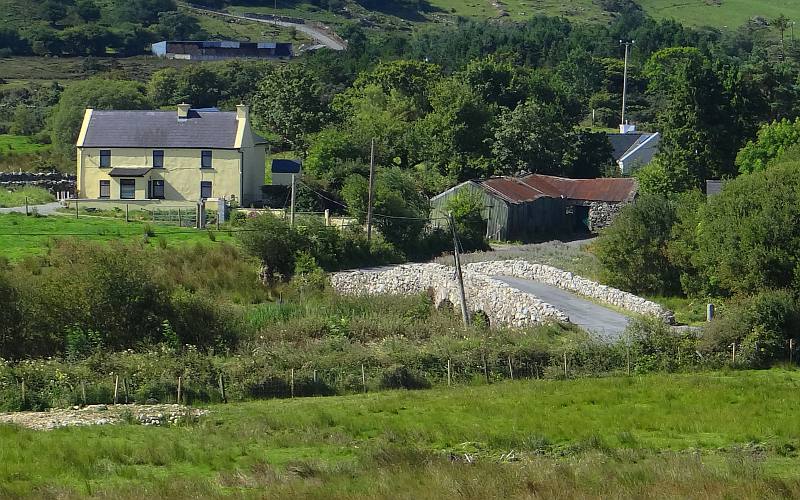 Quiet Man Bridge
Wednesday (day 5)
This was the final day of our three day tour and at 10AM we and the other 5 people were waiting at the station for the train to arrive with the day trippers. There were quite a few of them today and the Yellow Jacket gathered us up and walked us to a nearby half full tour bus operated by Galway Bus Tours. Today guide was Frank and he doubled as the bus driver. Frank did a good job and the only slightly odd thing about the tour was occasional extra stops to pick up or drop people off.
We went in a rough figure eight through Connemara, a beautiful district of west Ireland which does not appear to have suffered as much from the Great Famine as other areas we had visited. There were few ruins and the hills and lakes reminded me of Scotland.
We passed near Cong, a small village which was the location where John Ford's 1952 Oscar-winning film, The Quiet Man (John Wayne, Maureen O'Hara), was filmed, but made no stops. From a distance, we did see the bridge that was featured in the movie.
We did stop in Leenane, a larger village where another movie (The Field with Richard Harris) was filmed. We used the rest rooms in Gaynor's Pub which was the set for "The Field Bar" in the film. It was also a chance to shop, get some cool drinks and photograph Lough Corrib, the second largest lake in Ireland.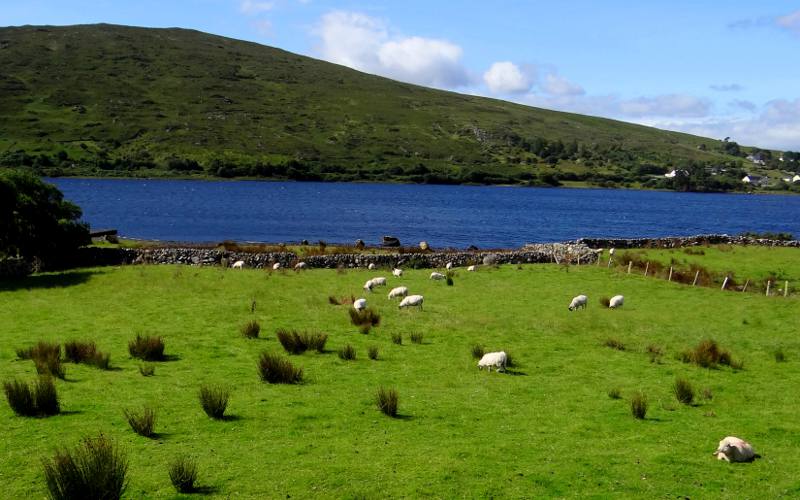 Sheep grazing in a field next to Lough Bofin, near Oughterard in County Galway (Prints & cards)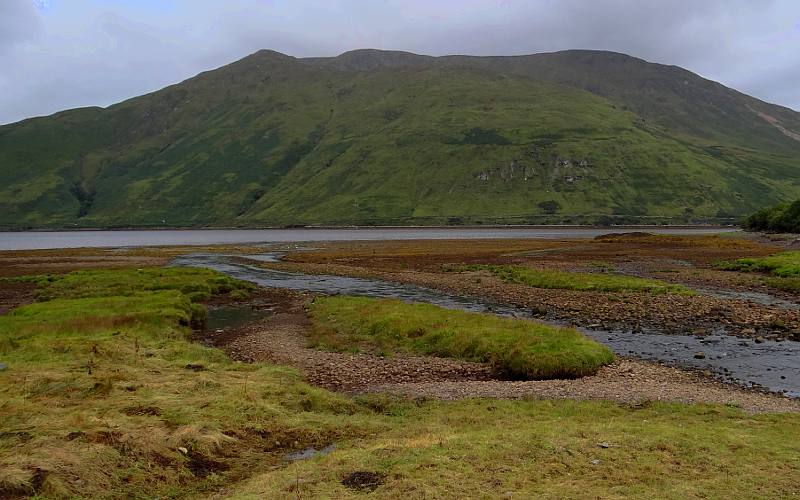 Lough Corrib from Leenane

Leenane with Gaynor's Pub at the left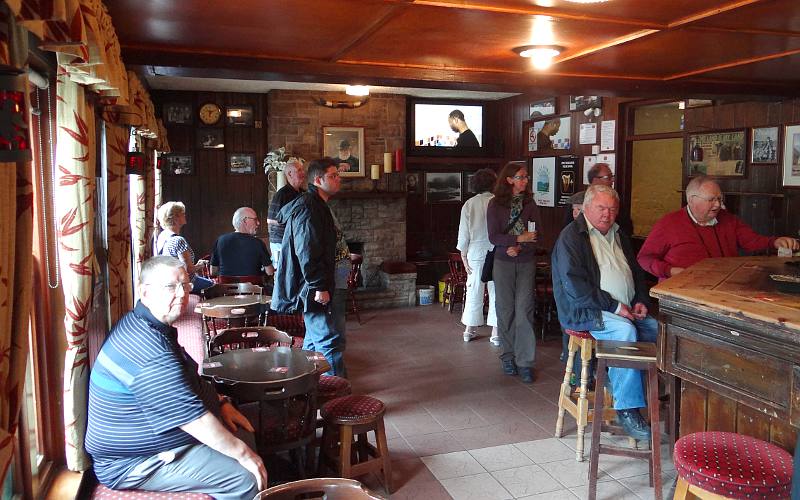 "The Field Bar" also known as Gaynor's Pub
Back in the bus, we drove beside Killary Harbour (in Irish - An Caoláire Rua), Ireland's only fjord. It is about 10 miles long and about 45-150' deep, but often less than 500' wide. Along the way, we passed many buoys with suspended lines for mussel farming. Mussel farming started on Killary Harbour in the 1980s. Natural seeds attach to the ropes and grow to market size over a 2-3 year period.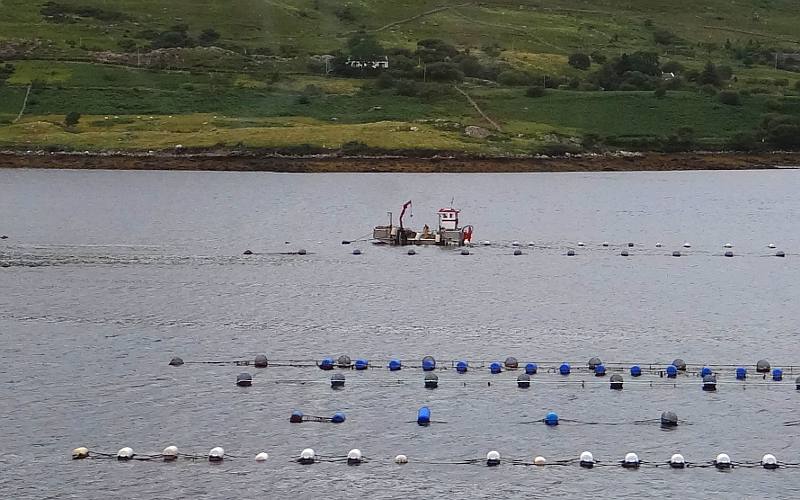 Mussel farming in Killary Harbour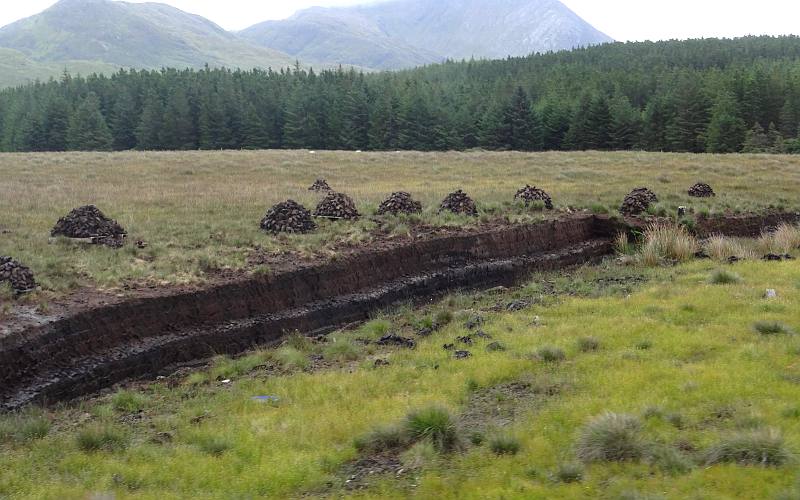 Peat drying in piles next to the bog where it was cut out.