2014 Ireland & Worldcon trip
Newgrange
August 10, 2014

Day 1: Trinity, Dublin Castle, St Patrick's Cathedral, Temple Bar
Day 2: Newgrange, Hill of Tara, Winding Stair & Pub Crawl
Day 3: Bunratty Castle, Doolin, Cliffs of Moher, The Burren, Galway
Day 4: Inishmore, Dun Aengus, The Seven Churches
Day 5: Connemara, Kylemore Abbey, Screeb River
Days 6 - 9: World Science Fiction Convention, British Library
Day 10: Malahide Castle, Seabank Bistro
Previous Page Next Page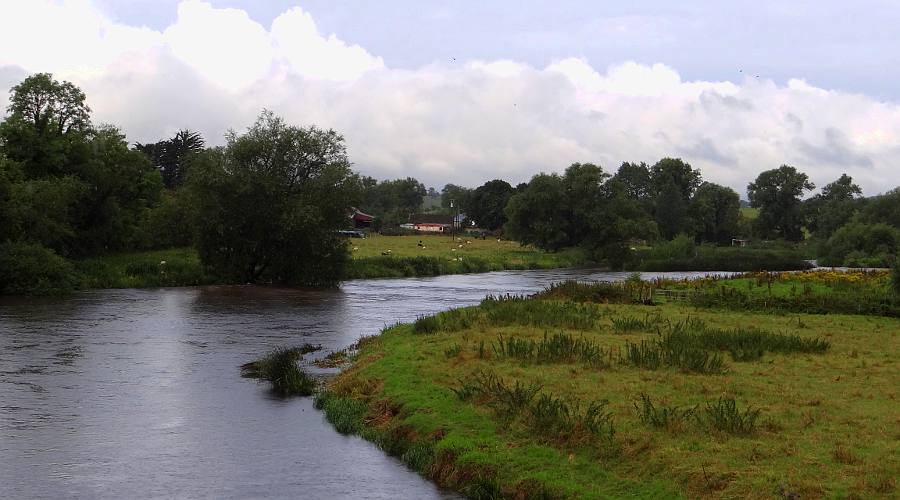 River Boyne
Sunday (day 2)
We were up fairly early to join a tour with Mary Gibbons. We traveled by bus to Newgrange. It was our first glimpse of the Irish countryside. Mary gave a constant commentary. Maybe a little too constant. She tended to repeat herself.
As we approached Newgrange, the road was flooded from heavy rains overnight. The bus got through, but went very slowly through the water. We warned the driver of a small car on the other side of the flooded stretch not to try it.
This is a good time to touch on the weather. The highs in Ireland were in the mid to upper 60s every day and it rained part of every day. Not hard rain, but the longest stretch I recall without some rain was about 6 hours. We mostly ignored the rain and just continued what we were doing. This was normal weather for Ireland. It is a temperate island and the temperatures only break into the upper 80s once or twice a decade.
The winters are also temperate with coastal areas only getting frost only a few times a year.
Getting back to the trip, this day was spent in the Boyne Valley, which is about an hour north of Dublin. It was settled about 4,000 BC and there are many prehistoric structures. Much of the region was part of the Battle of the Boyne in 1690.
There are historic and prehistoric ruins though much of the valley, but the biggest stop of our tour was Newgrange, a stone passage tomb built in 5,200 BC. The stone walled earth mound is over an acre in size and our tour included entering the 62' long passage where light only reaches at sunrise near the winter solstice. After we had a chance to see the prehistoric art and the 19th century graffiti in the end chamber, the lights were turned off and the dawn solstice light entering the chamber through the lintel window box was simulated.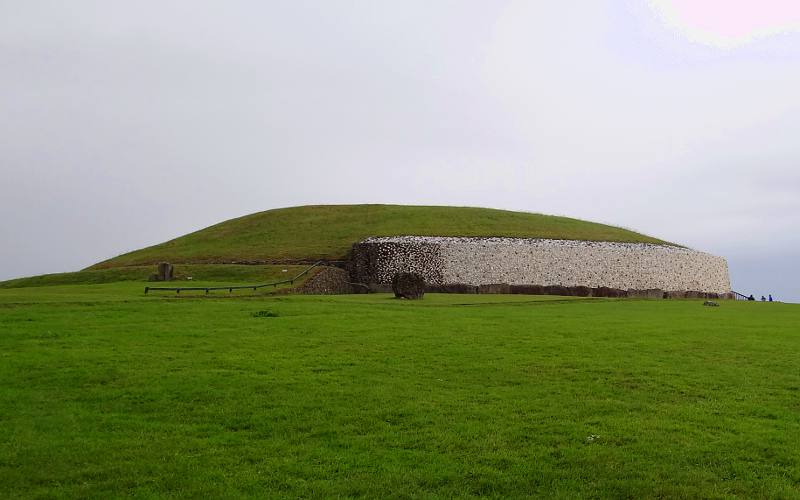 Newgrange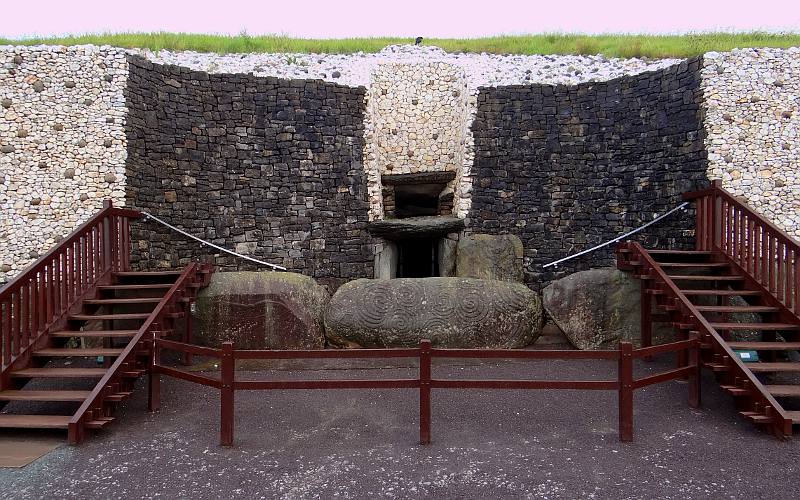 Entrance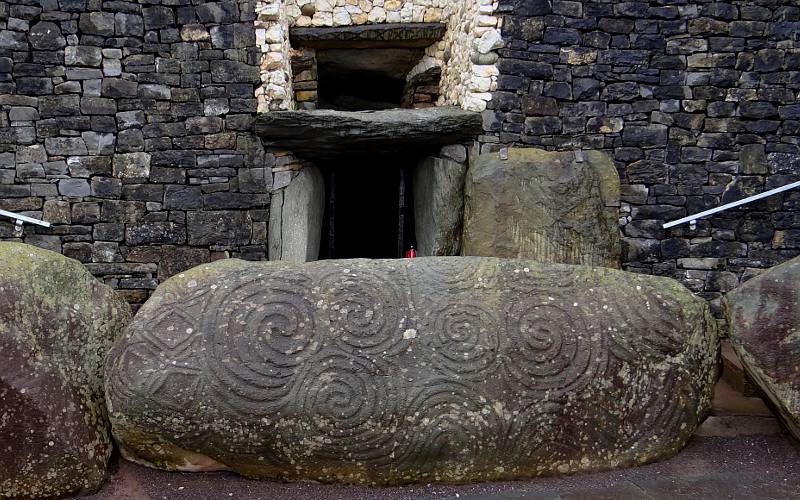 Lintel window box at top, entrance, and Kerbstone K1 - The Entrance Stone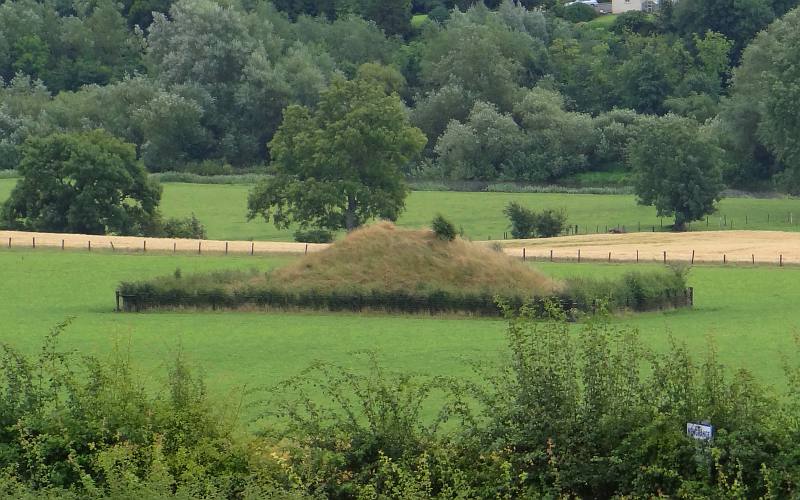 Another nearby passage tomb which has not been excavated.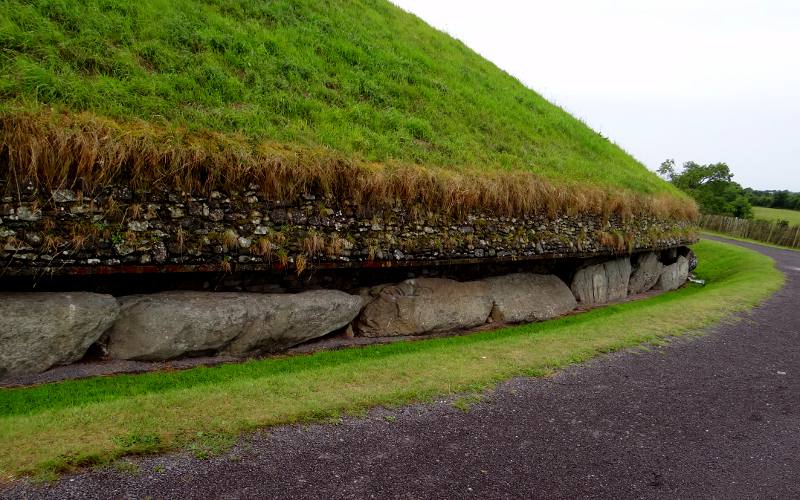 Kerbstones line the entire edge of Newgrange.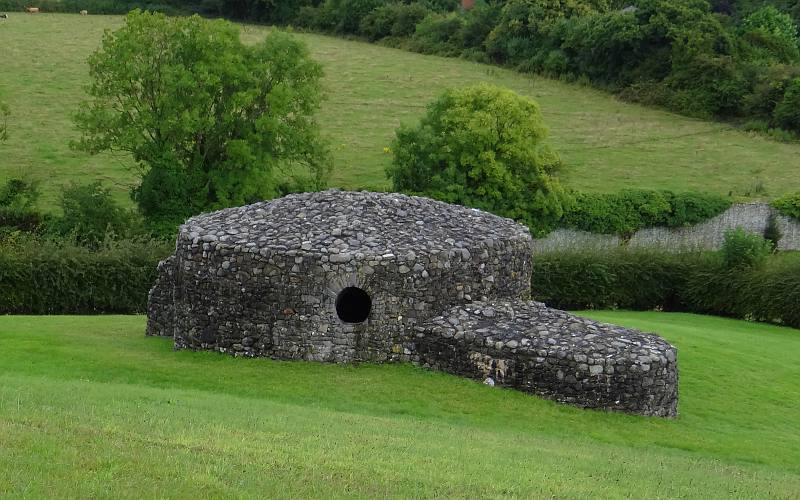 A 'folly" built from stones from Newgrange in the early 19th Century.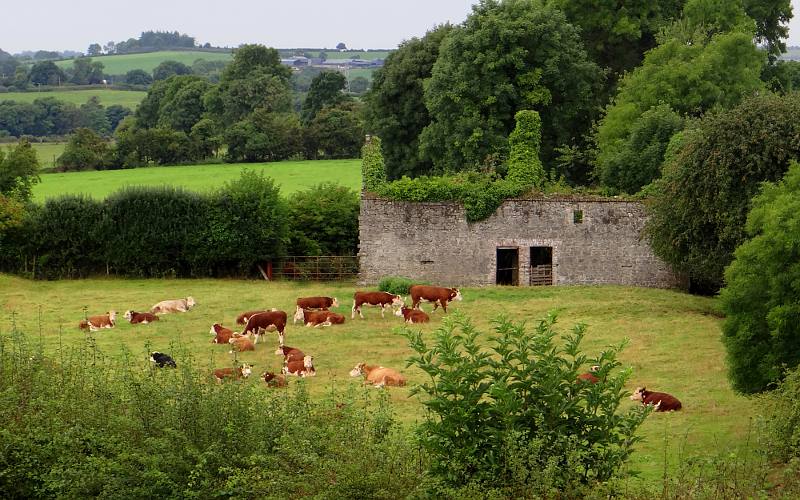 Newgrange Farm is a working farm which is open to the public and surrounds the Newgrange prehistoric monument.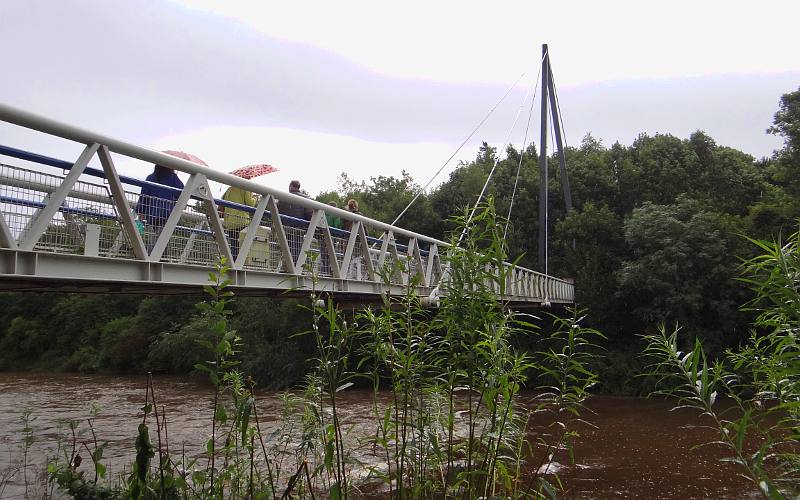 De Lacy pedestrian bridge over the River Boyne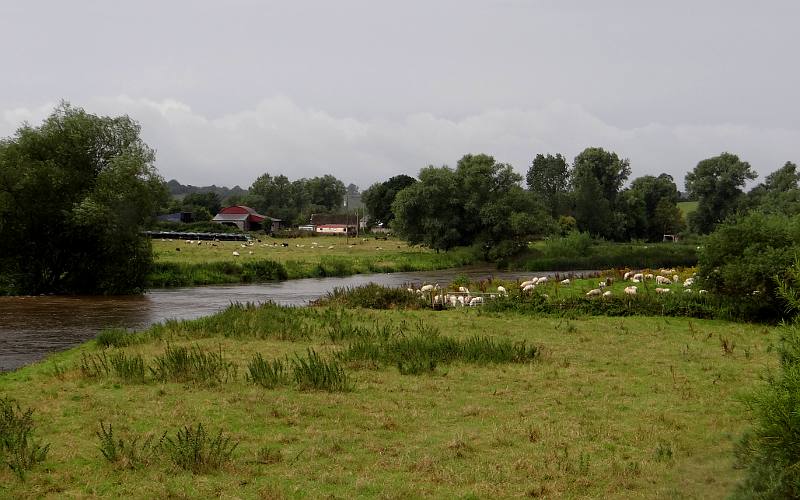 Sheep along the River Boyne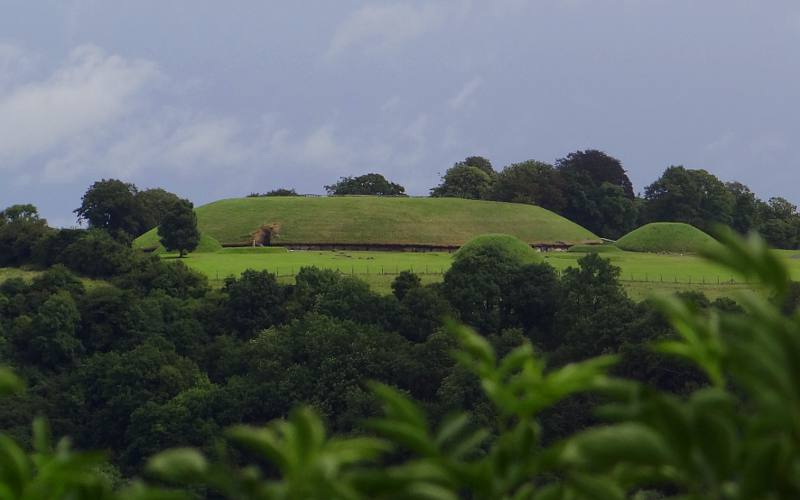 Knowth is another passage tomb. It is a little younger.
Knowth has been estimated to date from between 2500 and 2000 BCE