2014 Ireland & Worldcon trip
Seabank Bistro
Malahide
August 18, 2014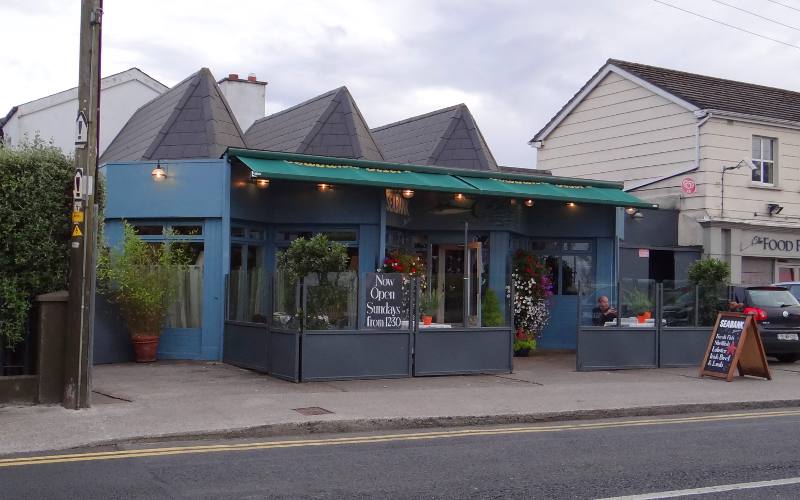 Seabank Bistro
Monday (continued)
We had supper at the Seabank Bistro, on the Coast Road, near our B&B. It is a small place, with a good reputation for seafood. They were busy, but we were able to be seated right away at one of the small tables which were crowded close together.
We began with the Seabank Seafood Platter for two (mussels, oysters, calamari, smoked salmon, fish cake, shrimp and scallops). Linda's main dish was an enormous serving of beer battered haddock and home fries, while I had rack of lamb. All were good and we washed them down with Orpens Fresh Pressed Apple Cider, a medium dry Irish craft cider.
I had a chance to drink a lot of Irish cider this trip. I think I had it a every supper and a couple of the lunches. Usually Bulmers Original Irish Cider on tap, but including several other brands by bottle. The only Irish cider which was familiar, was Magners which we saw just one time at a pub in Dublin.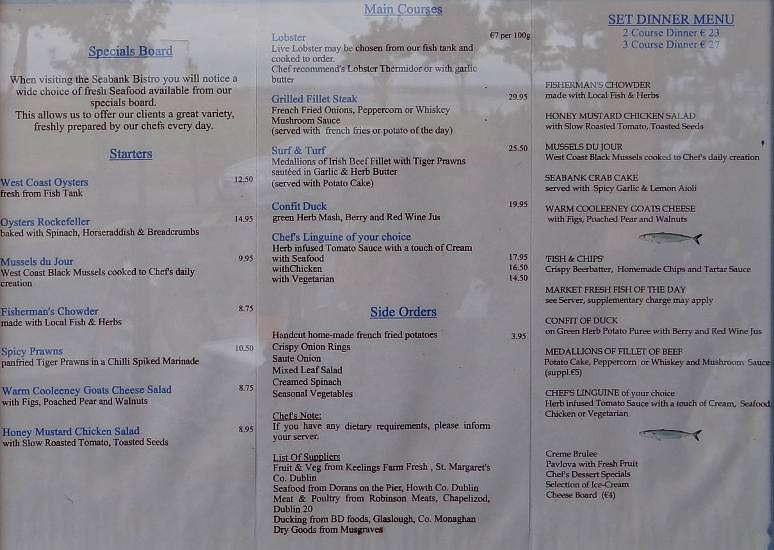 Seabank Bistro menu from August 2014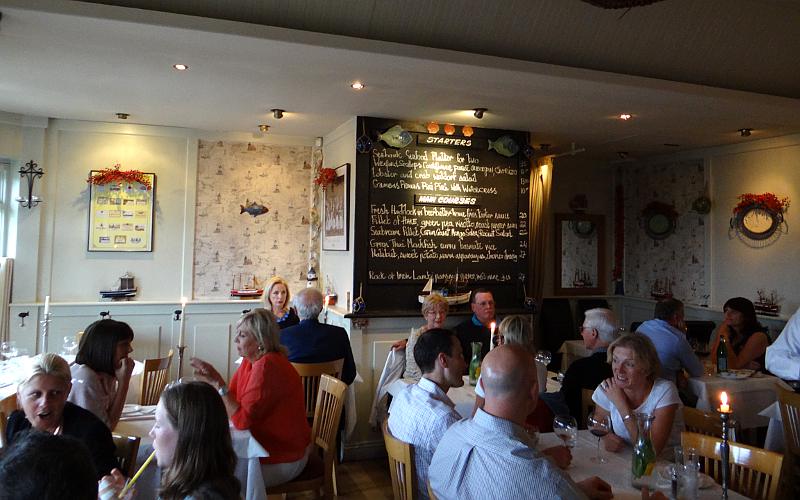 Seabank Bistro dining room and daily specials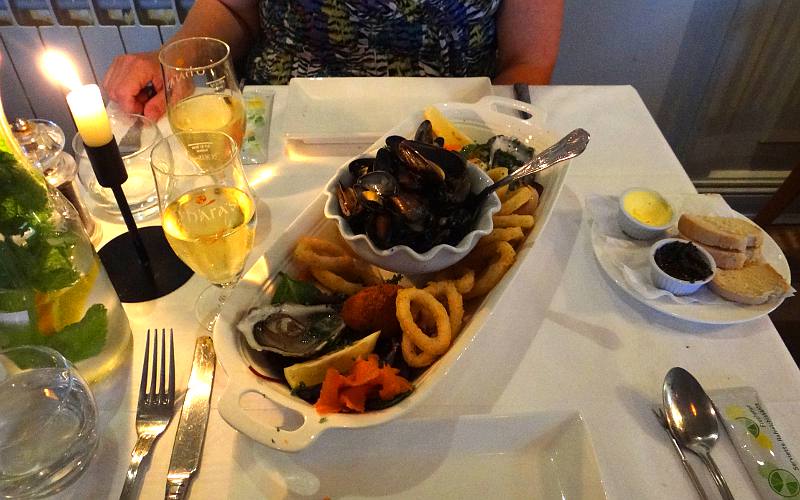 Seabank Platter for two (€35)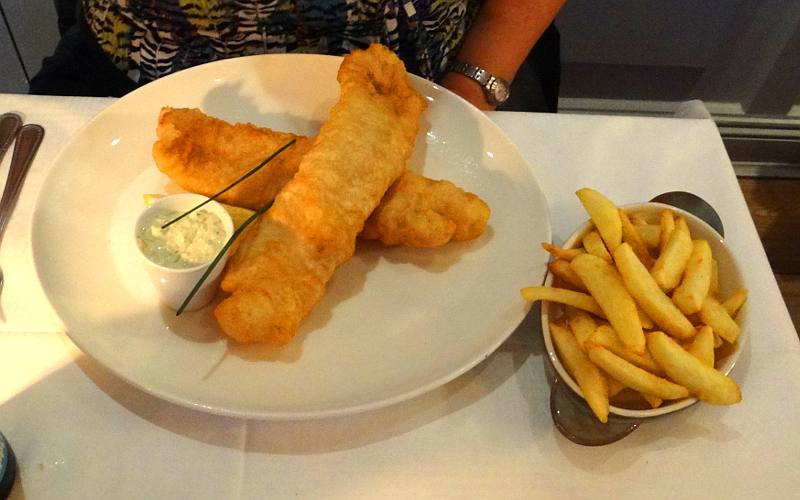 beer battered haddock and home fries (€20)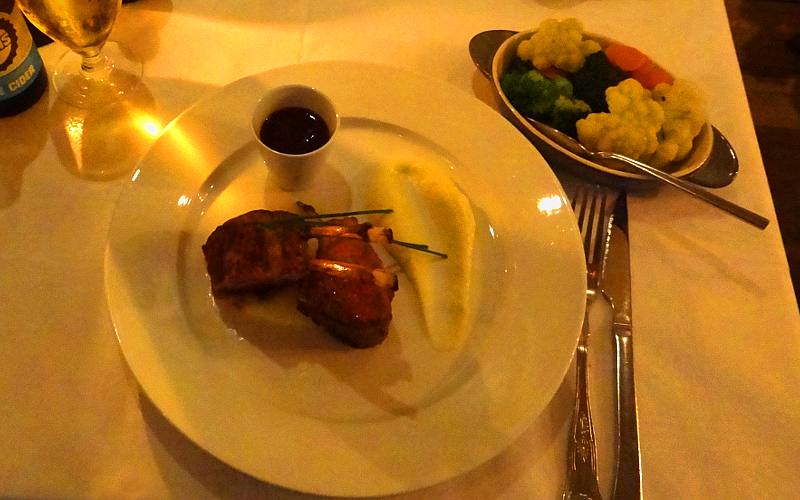 Rack of lamb (€27)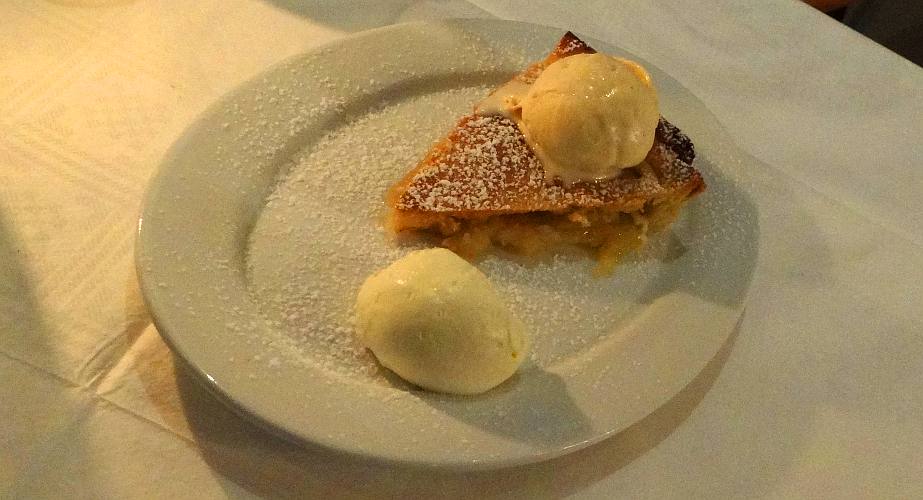 The next morning we had the obligatory full Irish breakfast at Sona's B&B and then returned to the airport by taxi. Our flight wasn't until 11:30AM, but US customs and immigration is at the Dublin Airport and we needed to allow plenty of time.
The return flight was by way of Philadelphia. This was a wide body plane and we were much more comfortable with a pair of seats that were on the aisle on one side and the window on the other. We had individual TV screens and a wide variety of movies to select from on the way home.
The layover in Philadelphia was already going to be a little long and it ended up being about 5 hours, after the flight to Kansas City was delayed. We did have one more good seafood meal at Legal Seafood in the airport, where we split a bowl of steamer clams. Linda had wood grilled rainbow trout and and I had fish and chips.