2014 Ireland & Worldcon trip
Winding Stair Restaurant & Musical Pub Crawl
August 10, 2014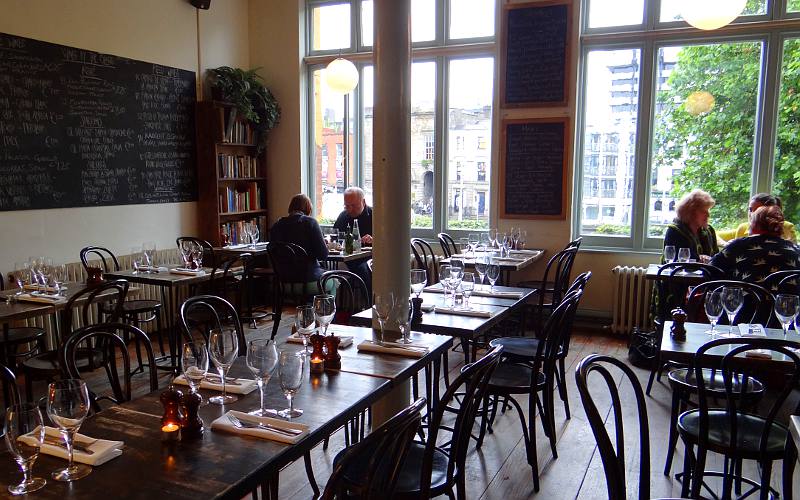 Winding Stair Restaurant
Sunday (continued)
Supper was at the Winding Stair Restaurant, which Linda wanted to try after it was recommended by a taxi driver on the previous day. Located above a bookstore, the small restaurant is not fancy, but the "old-fashioned home cooking" was very good. After a starter of potted Dingle Bay crab and toasted soda bread, Linda had line caught crispy mackerel, piccalilli, fried potato, turnip greens and roast almonds, while I had steamed cockles & mussels with crab, brown shrimp mayo, toast and chips.
Our server was fun and worked to let us dine and get out in an hour for tonight's pub crawl (we had a reservation this time). He is also a musician and had a low opinion of the crawl and the pubs in the Temple Bar region. He did manage to talk us into spitting a dessert Jubilee strawberries, passion fruit custard and homemade shortbread. Linda enjoyed it more than I did, the passion fruit custard didn't work for me.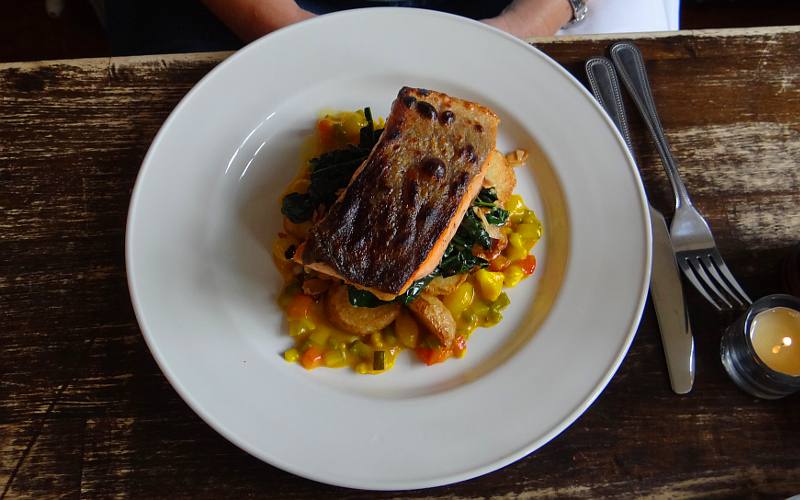 Crispy mackerel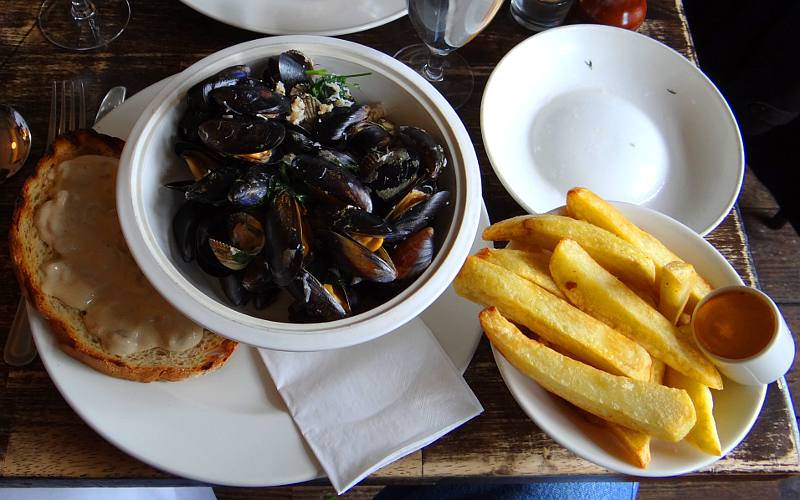 Steamed cockles & mussels with crab
From the Winding Stair, it was an easy walk to Oliver St. John Gogarty's where we met the Traditional Irish Musical Pub Crawl. Conducted by two musicians (one playing button accordion & tin whistle and the other on guitar & the Bodhran drum) They explained the Irish music and pub traditions and played several songs, encouraging the crowd to sing along on the choruses. After a few pieces at this location, we moved along to a private room at the Ha'Penny Bridge Inn for another set and drinks.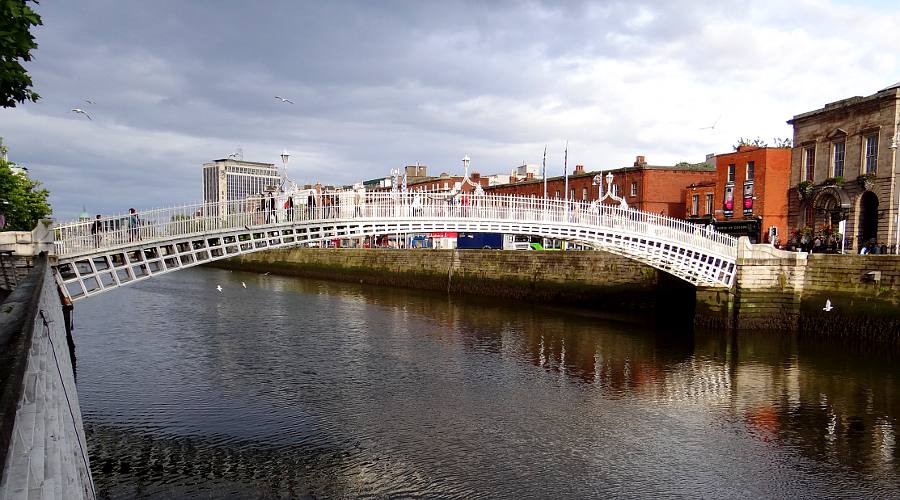 Ha'Penny Bridge was built in 1816. It cost a half penny to cross the bridge until 1919. It is free today.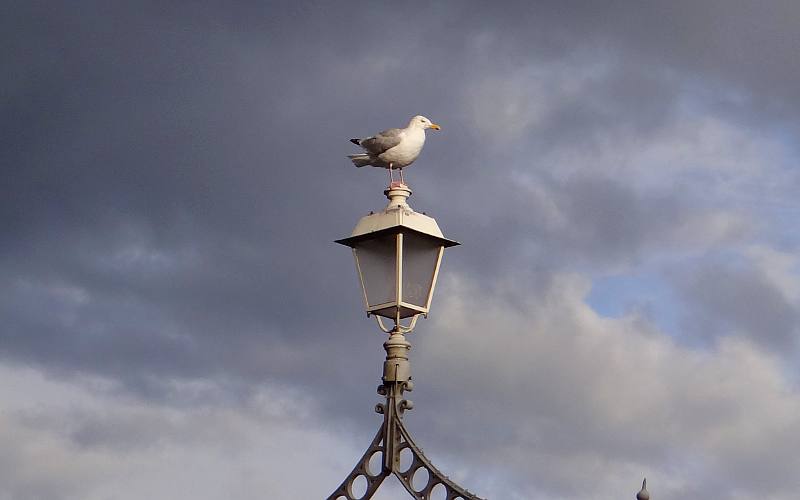 Herring gull has found a fine perch on a light fixture above the Ha'penny Bridge in Dublin, Ireland. (prints)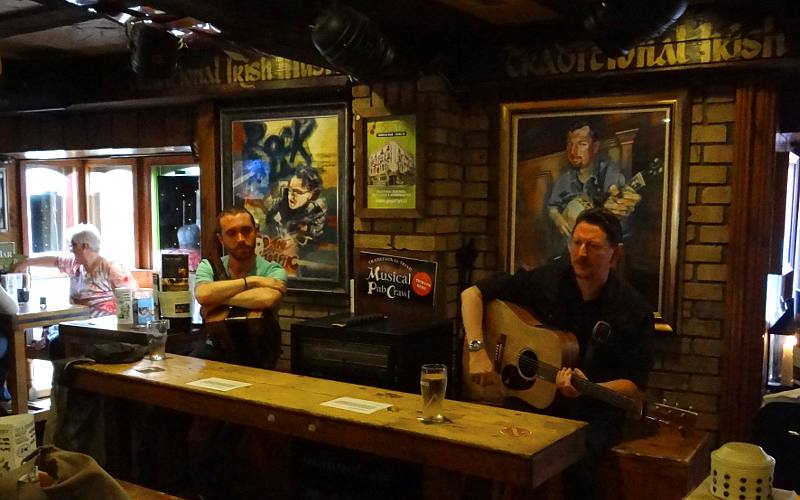 Luke & Anthony in Oliver St. John Gogarty's pub.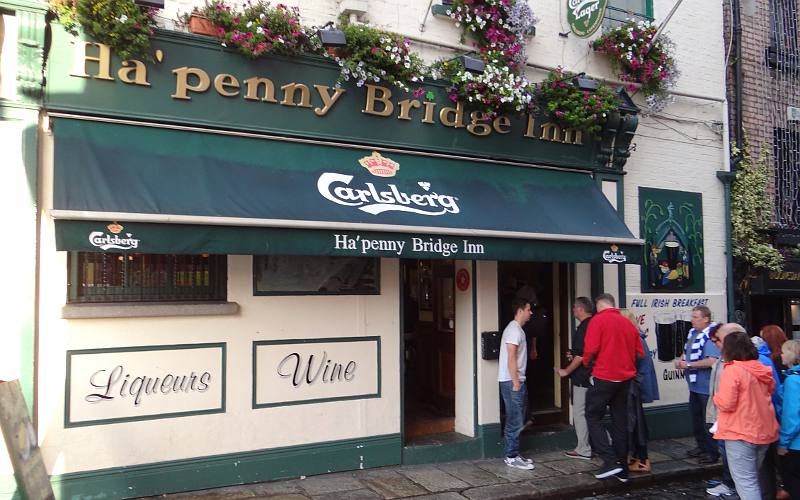 Traditional Irish Musical Pub Crawl moving to the Ha'Penny Bridge Inn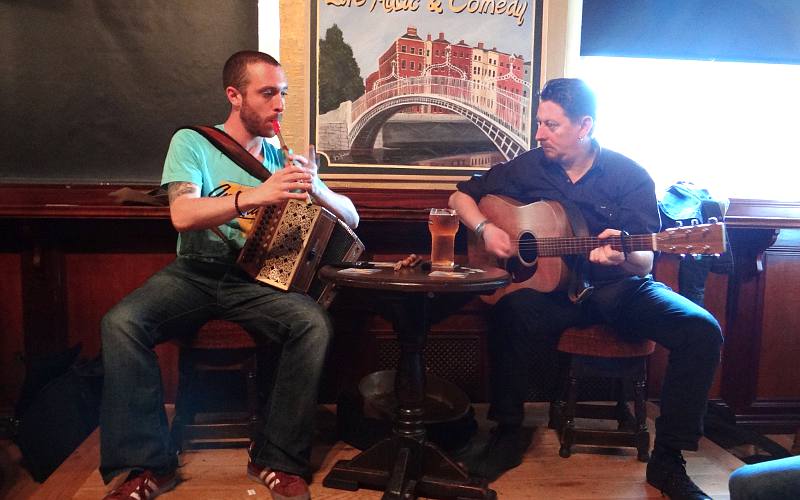 Upstairs at the Ha'Penny Bridge Inn
The Pub Crawl ended up running a little long at this location and when the group moved on for the final stop, we slipped away to return to our hotel and prepare for checking out the next morning.
Since we were leaving early the next morning, we packed up, moving everything we would need for the next three day into one roller bag. We paid for the room and checked the other large roller bag before we went to bed this night.