2014 Ireland & Worldcon trip
The Hotel Meyrick
& a Galway Evening
August 11, 2014


William Street pedestrian mall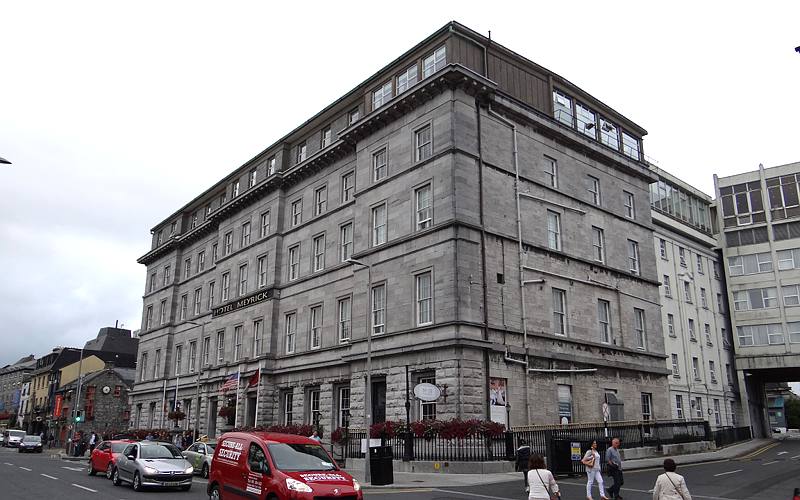 Hotel Meyrick
Monday (continued)
The ride continued on, along the south side of Galway Bay to the train station in Galway. This is where we left the day tour and the seven of us who would be doing two more days went to three different hotels.
Linda and I stayed at the Hotel Meyrick, which was built next to the Galway rail station by the Midland and Great Western Railway Company in 1852. Past guests at the hotel included Charles De Gaulle, the Clancy Brothers, Rex Harrison, Bing Crosby, John Ford, Richard Harris, Fred Astaire, Jack Nicholson, Anjelica Huston, Paul Newman, John Wayne and Maureen O'Hara.
Our tour package included a standard room. They didn't offer other lodging options, but I could have arranged with the hotel for a more expensive room with AC. It didn't seem that air conditioning would be necessary in a town where the temperature rarely rises above the mid 60s. Our room wasn't very comfortable to begin with and it was too warm for me to get quality sleep. Our window opened out only a short distance at the bottom, we couldn't get air flow and there was no fan. At the same time, the noise from outside came in fine. Young people shouting outside nearby bars until late at night, a cacophony of birds as the eastern sky began to lighten, and trucks picking up trash or making deliveries in the early morning. I didn't get a good night's sleep either night.
The wifi was very poor, coming and going for long periods of time, but I was able to connect long enough to find a good place for supper.

Hotel Meyrick standard room

Notice how narrow the bottom of the bath tub is.
We walked to the nearby Brasserie on the Corner. Nice choice! We started with the West Coast Seafood board, which included Connemara smoked salmon, crawfish cocktail, cod tempura, fresh salmon salad and caper mayo. It was all wonderful. The cod was the best I had during our trip, the smoked salmon was lovely and I would have loved having much more of the crawfish cocktail. For our main dishes, Linda had pan fried sea trout and I had a very good ribeye steak.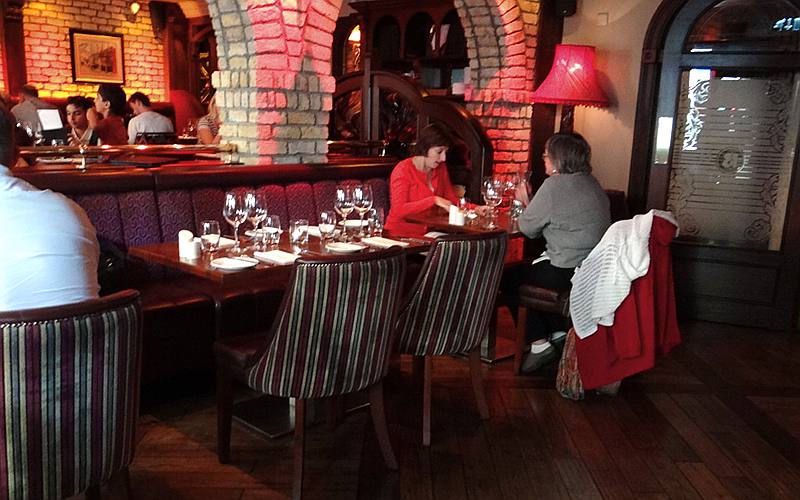 Brasserie on the Corner dinning room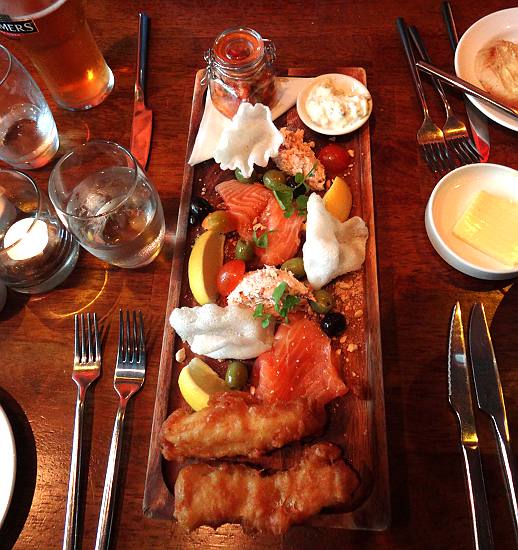 West Coast Seafood board (€14.95)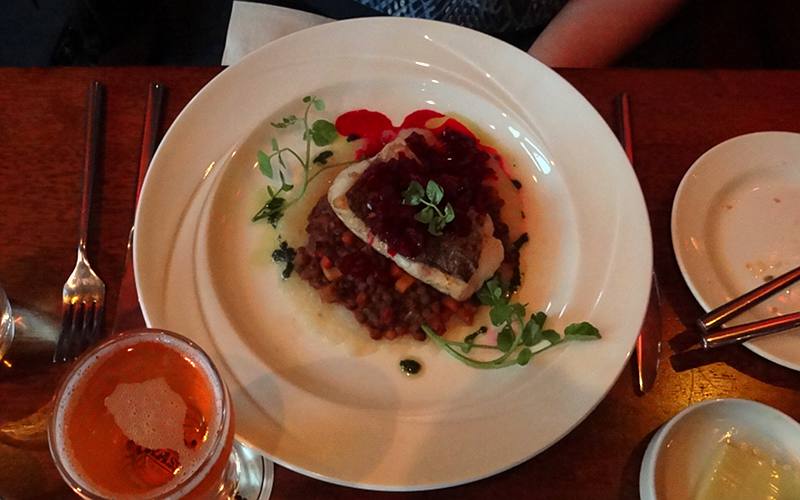 Pan fried sea trout with green pea puree, chili prawn salsa, cucumber pickle and choice of side (€22.95).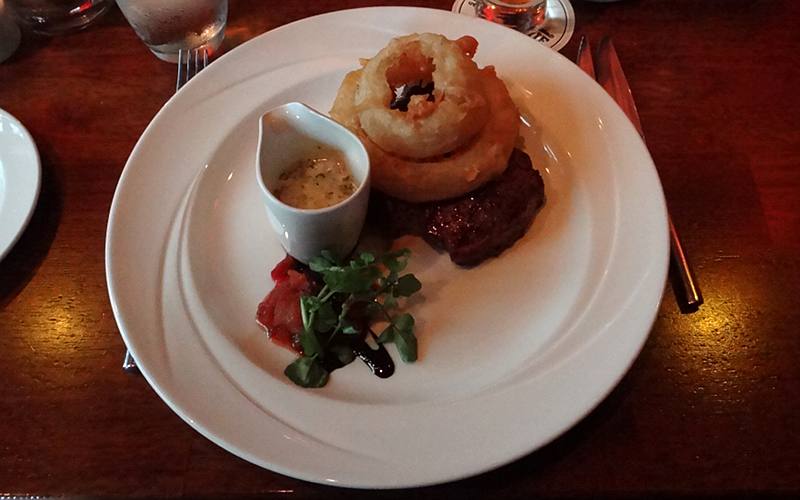 McGeough's 10oz Rib Eye (€25.95)
We finished the evening with a walk along a nearby pedestrian only street, circling around to see the 1584 Spanish Arch and the small portion of the old wall which still remains. The arch was filled with teens having a good time and I didn't take pictures.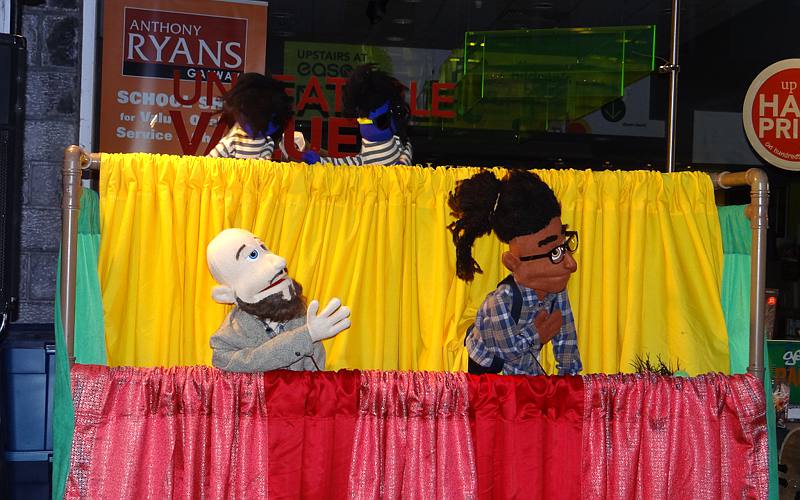 Puppet show on William Street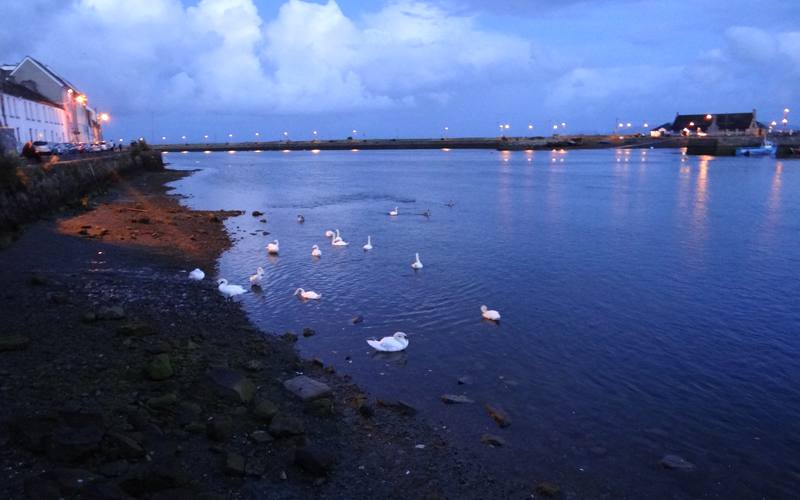 Swans on the River Corrib near the Spanish Arch