2014 Ireland & Worldcon trip
Inishmore
(Árainn Mhór or Inis Mór in Irish)
August 12, 2014

Day 1: Trinity, Dublin Castle, St Patrick's Cathedral, Temple Bar
Day 2: Newgrange, Hill of Tara, Winding Stair & Pub Crawl
Day 3: Bunratty Castle, Doolin, Cliffs of Moher, The Burren, Galway
Day 4: Inishmore, Dun Aengus, The Seven Churches
Day 5: Connemara, Kylemore Abbey, Screeb River
Days 6 - 9: World Science Fiction Convention, British Library
Day 10: Malahide Castle, Seabank Bistro
Previous Page Next Page


Inishmore (Dun Oghil) lighthouse was built in 1818 & has been inactive since 1857.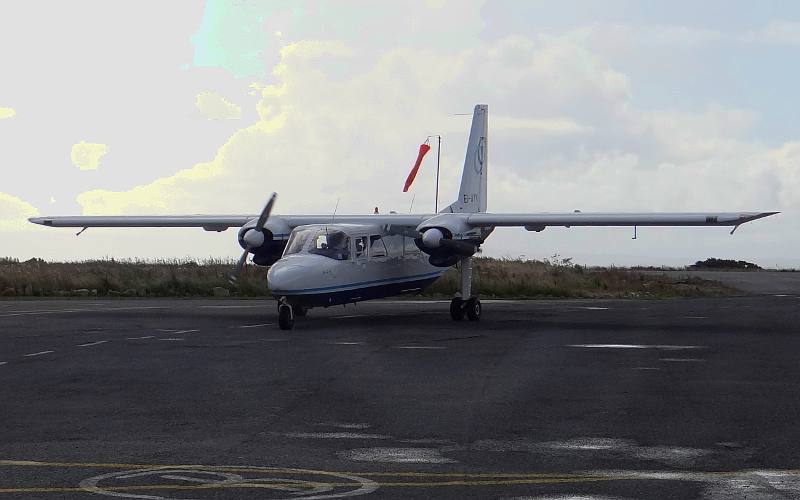 Britten-Norman Islander
Tuesday (day 4)
Since our tour would not start until the train with day trippers arrived at 10 AM, we had a lazy start to the day. Our tour package included a full Irish breakfast and this was the first morning during our trip when we had time to actually sit down to to eat. Breakfast was served buffet style and I had eggs, hashbrowns, smoked salmon, white & black (blood) pudding, sausage and cold cuts.
It turned out that all of the day trippers were doing other tours, so it was just the seven of us from the previous day. Our party included a young American family who are living in Germany while the father serves in the army, and a couple from Singapore who are living in the Netherlands.
Today could have been the high point of the trip, but the way that Railtours Ireland handled this day was not very good. There was no guide and we never spent more than about 45 minutes with the same person anytime during the day. We would be picked up, dropped off, and left for someone else to pick us up. The next person would be late, then when they got there we would have to wait for other people to come or while the driver negotiated for other passengers. A lot of time was wasted and the time we did spend sightseeing was rushed.
But getting back to what we did... we were taken by van to the Connemara Regional Airport in Inverin. We traveled in an eight seat plane on Aer Arann Islands. When we checked in, they weighed each of us and our luggage.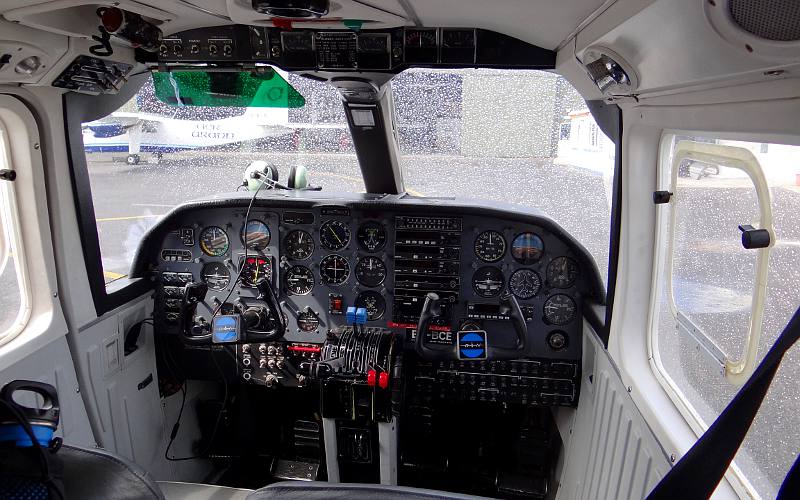 cockpit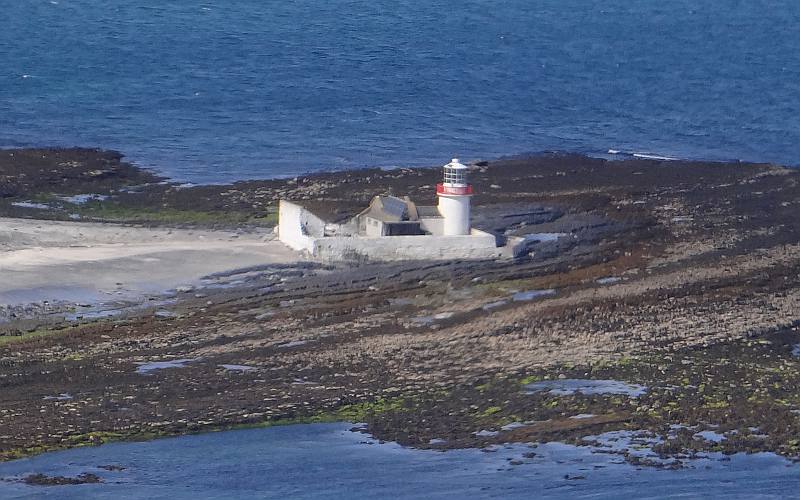 Straw Island Lighthouse was built in 1878 and is active today.
The eight minute flight took us to Inishmore (Árainn Mhór or Inis Mór in Irish, meaning big island) which at 12 square miles is the largest of the three Aran Islands. We had about five hours on the Island and began with a very brief time in Kilronan, which has a population of just under 300 and is the largest of the 11 villages on the Island. A van then drove us to the smaller village of Kilmurvey, with the driver telling us about the many ruins and land along the way. The Aran Islands are an extension of the Burren which we saw the day before. The only soil on the island was made by the Islanders who cleared smaller rocks by piling them into walls, and then piled layers of sand and seaweed on the base rock to build up soil over the years.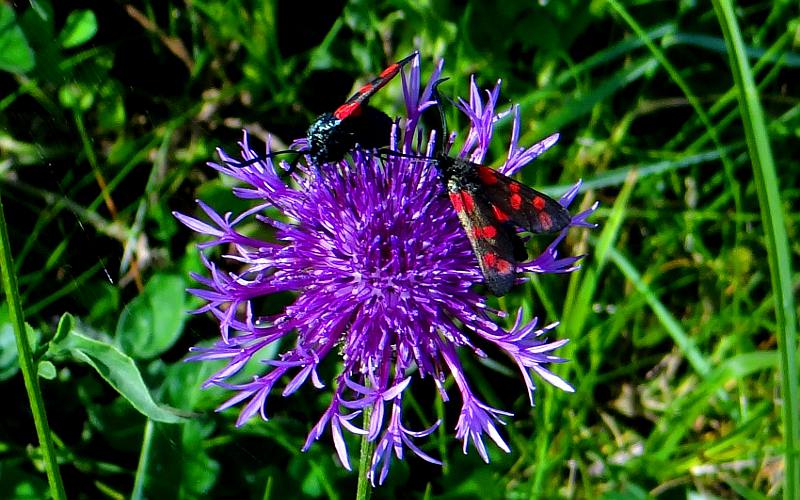 Six-spot Burnet Moths on a knapweed flower (prints or cards)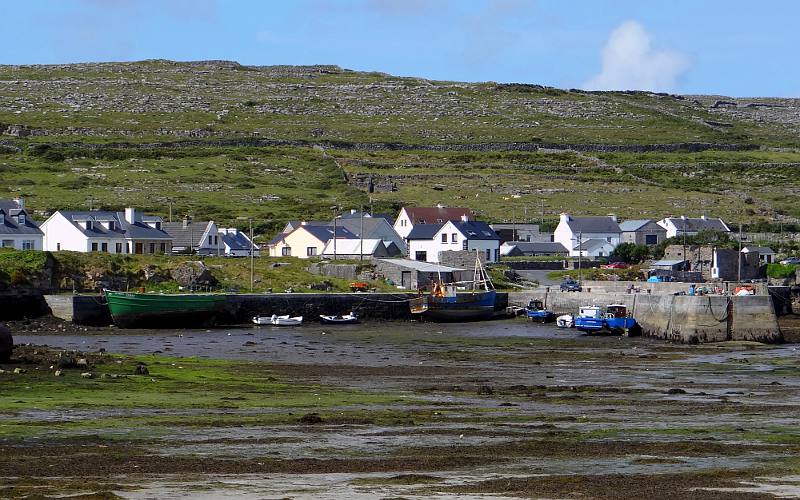 Kilronan Harbour at low tide (prints or cards)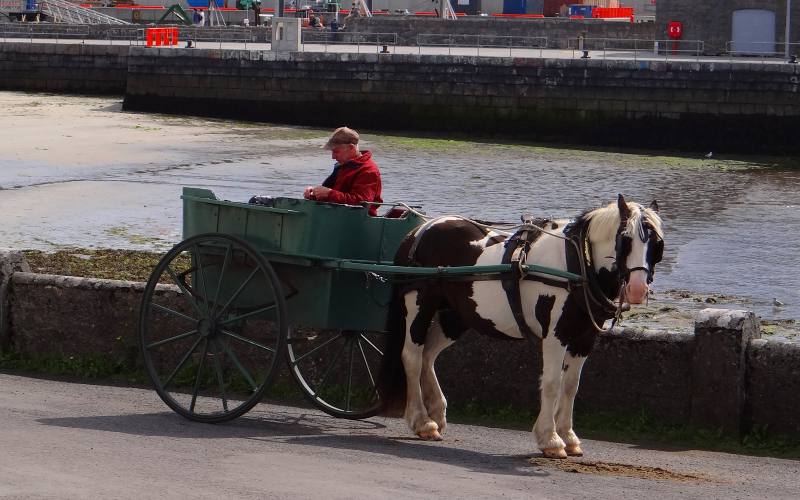 A pony and trap wait for a fare at the Inishmore harbor. (prints or cards)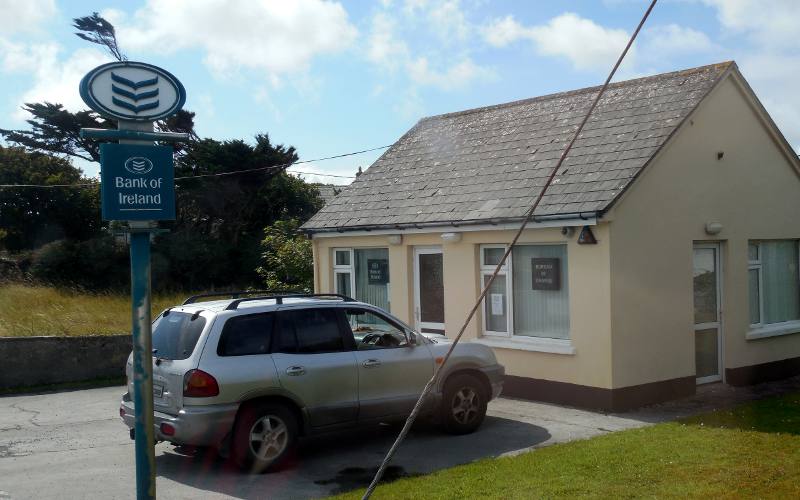 This Bank of Ireland office is the only financial institution on Inishmore and is open only twice a week.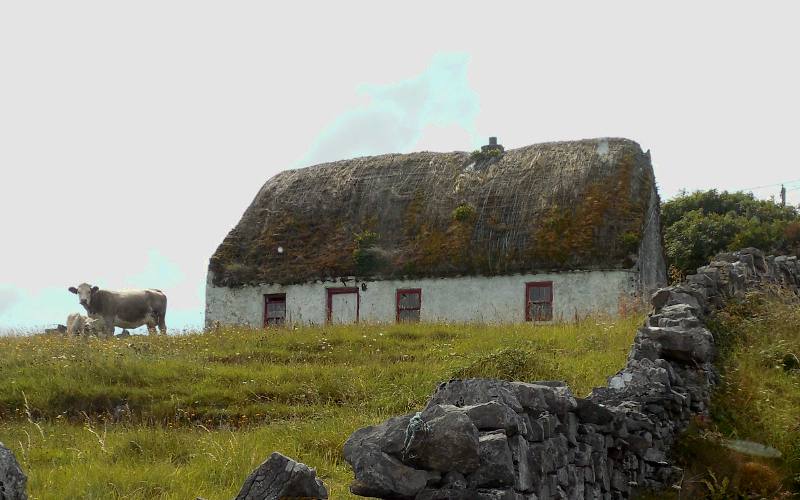 Thatch roof cottage - New layers of straw thatching are placed on top of the old and the bottom layer may
be generations old.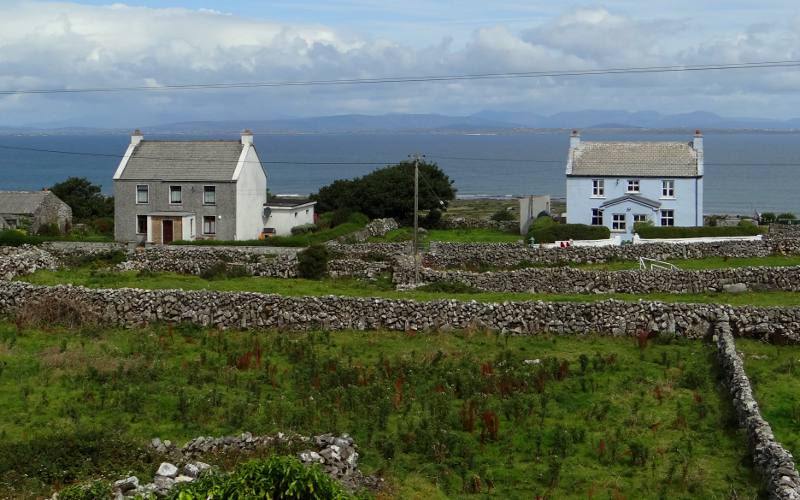 Most of the stone walls were made so there would be a place to put the stones