Day Trip to Windsor
April 27, 2010

Train ride from Waterloo Station to Windsor & Eaton Riverside Station, and photographing the Changing (Mounting) of the Guard at Windsor Castle.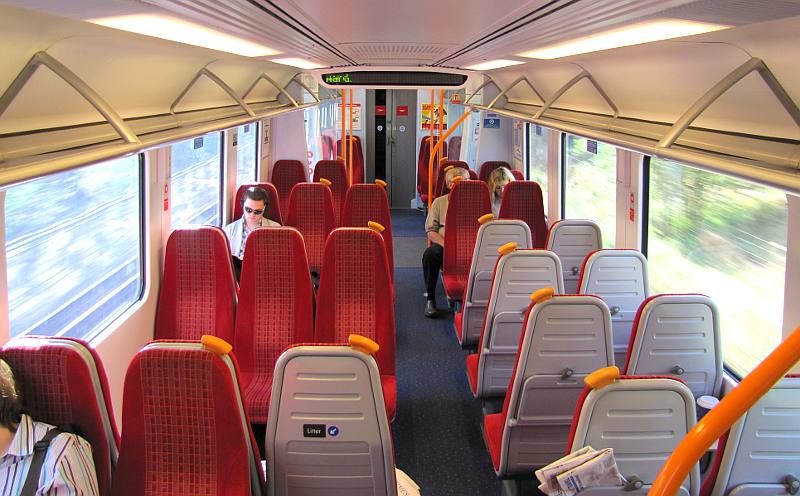 Our car on the South West Train to Windsor
Tuesday ­ day 4
Tuesday morning we were up early and caught the tube to Waterloo Station where we had just enough time to find our way around, purchase tickets and catch the 9 AM train to Windsor & Eaton River Station. It was a pleasant ride, and although the train made several stops, we arrived in Windsor about 50 minutes later.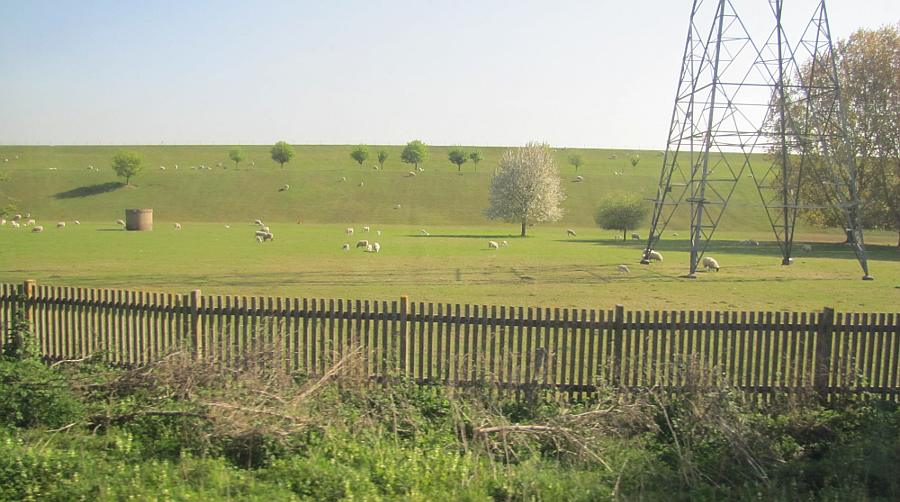 View from the train between Putney and Wraysbury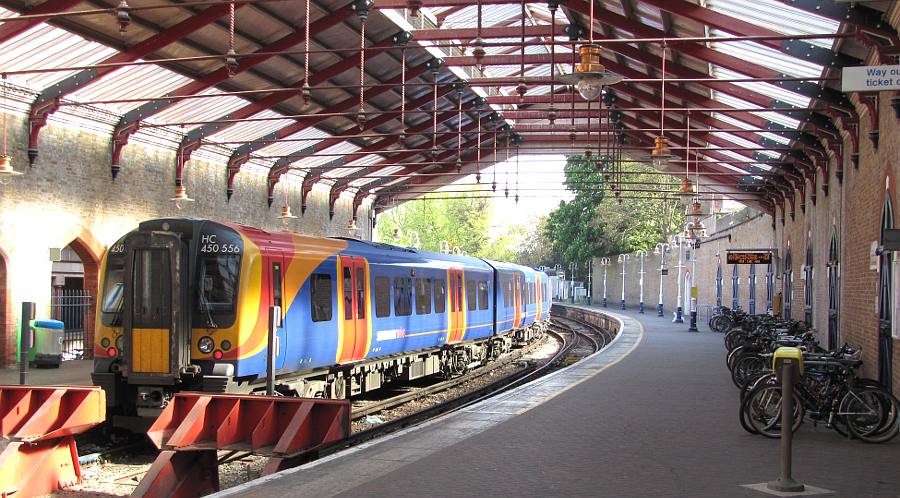 Windsor & Eaton Riverside Station
Windsor Castle was clearly visible on the hill above the town and we took a leisurely walk up to the castle entrance. After consulting with a police officer, we decided to wait until the Changing of the Guard before entering the castle and spent 45 minutes exploring and purchasing souvenirs.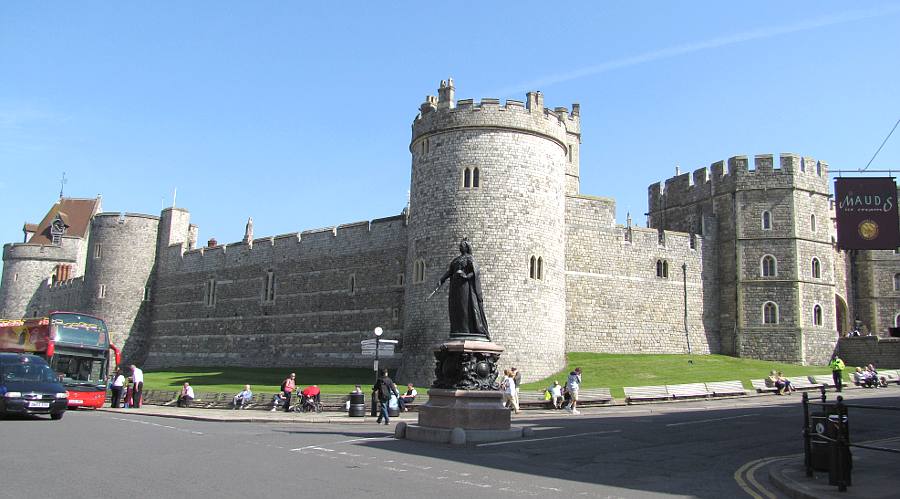 1887 bronze statue of Queen Victoria designed and executed by Sir Edgar Boehm in celebration of the Queen's Golden Jubilee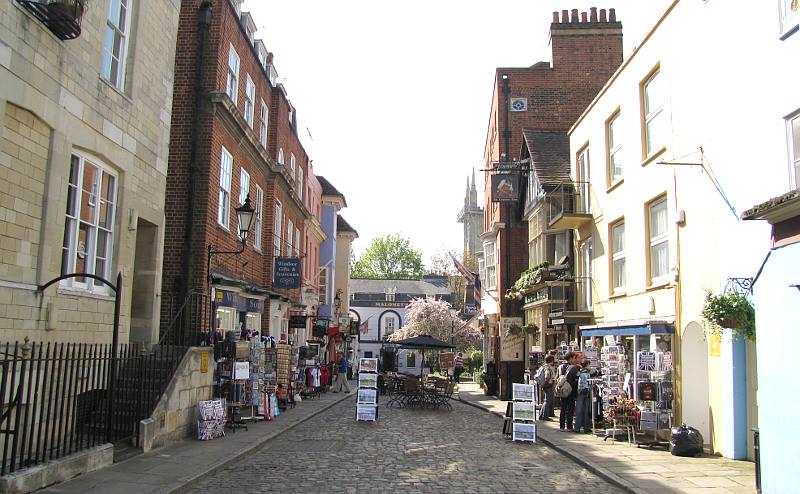 Church Street, across from the Henry VIII Gateway, where we purchased a number of souvenirs
The 11 AM Changing of the Guard (officially called the Guard Mounting) begins at 10:40 when the new guards parade through the streets of Windsor from Victoria Barracks to and into Windsor Castle.
After watching the band & guards enter the castle, we paid our admission and circled around to the foot of Castle Hill to see the last 2/3s of the rather incomprehensible ceremony. It consisted of the band playing several songs (both military and popular), the marching of the colours, the exchange of keys between the Captain of the Old Guard & the Captain of the New Guard, and much saluting with some soldiers marching back & forth several times.
I was a amused when the military band played a medley of Abba tunes.
At 11:30, the Old Guard marched back to Victoria Barracks and the New Guard took over.
The viewing area was fairly crowded, but compared to the Changing of the Guard at Buckingham Palace, the crowd was much smaller and the performance was easier to see.
At Windsor Castle, the ceremony takes place on alternate days for most of the year, but it is performed Monday through Saturday from April to July. When the Queen is not in residence, or in very wet weather, the ceremony is conducted outside the Guardroom near Henry VIII's Gateway. That is where we saw it.
When the Queen is at Windsor Castle, the ceremony usually takes place on the lawn in the castle's quadrangle.
The schedule of the Changing of the Guard can change on short notice. If you are planning to see the ceremony, call 01753 831118 for a recording of current details.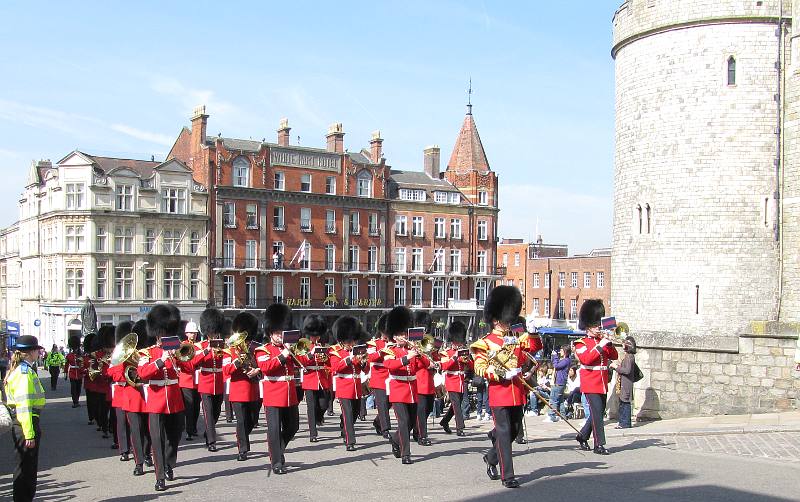 Military band leading the New Guard on Castle Hill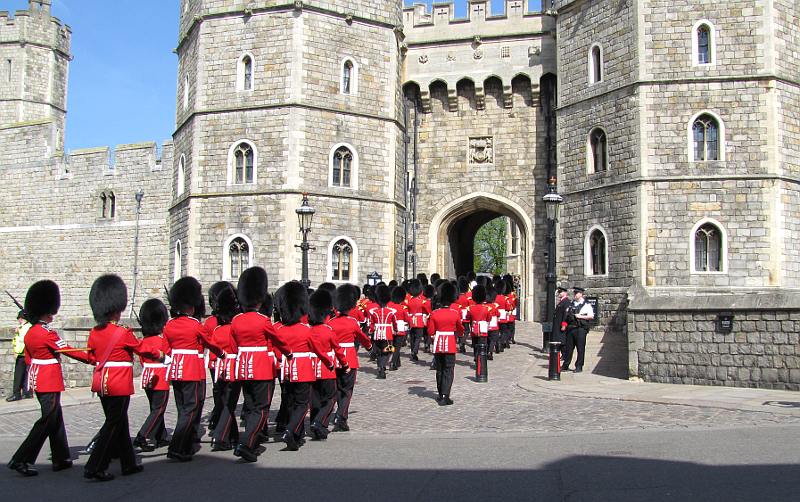 Grenadier Guards in red tunics and bearskin hats (made from Canadian bear fur) marching through the Henry VIII Gateway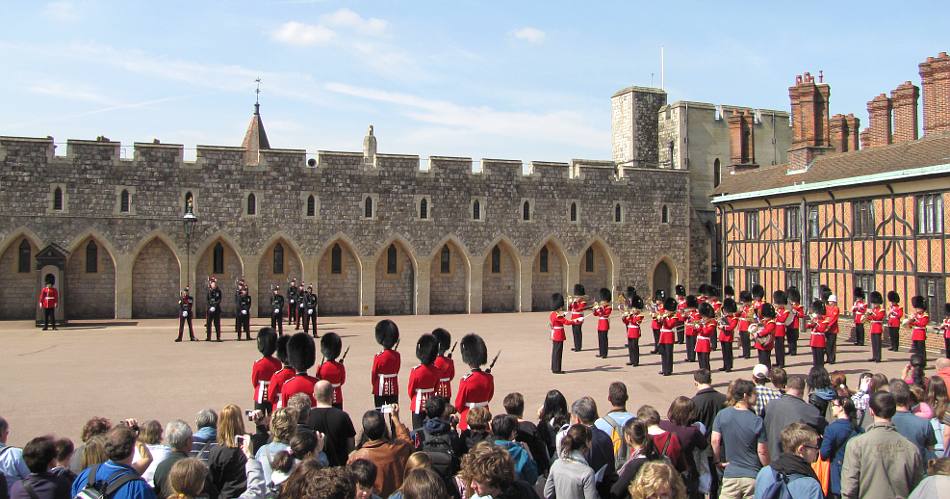 Grenadier band performing on the Lower Ward outside the Guard Room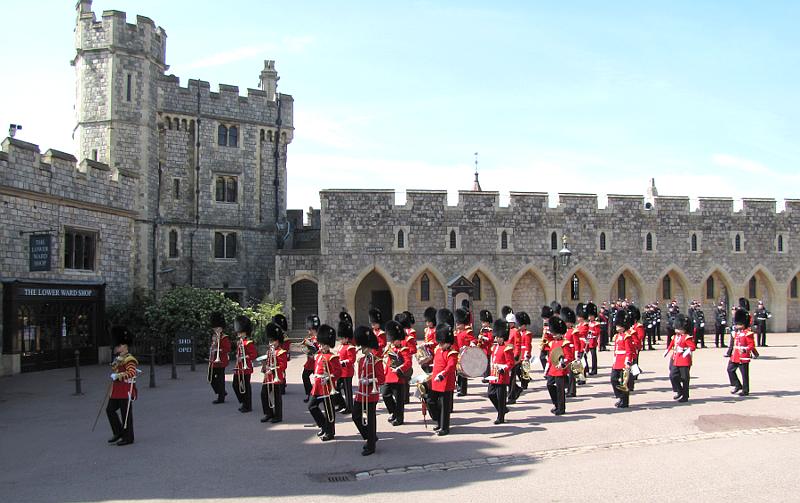 Grenadier band about to pass back through the Windsor Castle Henry VIII Gate and return to Victoria Barracks