Covent Garden &
Le Creperie de Hampstead
April 26, 2010

Visiting the National Gallery and Covent Garden, supper at Porters, watching Mrs. Warren's Profession with Felicity Kendal and a late night snack at Le Creperie de Hampstead.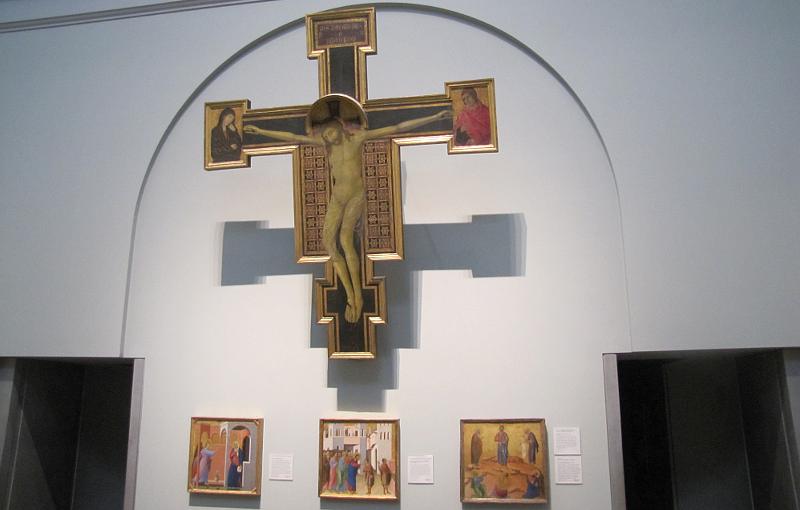 This was the only photo I took in the National Gallery, before learning that photos were not permitted.
Monday - day 3 (continued)
We went on into the National Gallery, which neither of us had visited during our previous trips to London. The National Gallery houses the British national collection of Western European paintings from the 13th to the 19th centuries.
The free art museum is far too large for me to want to do in one visit, so we took a bit over two hours and viewed the Rembrandt & other Dutch paintings, Leonardo da Vinci & northern Italian paintings, and works by Van Gogh and Cézanne.
We walked from the National Gallery to Covent Garden where we checked out the vendors, enjoyed the buskers' performances and enjoyed bottled Kopparberg pear cider from Sweden at Fuel Bar. Kopparberg was my favorite cider during this trip.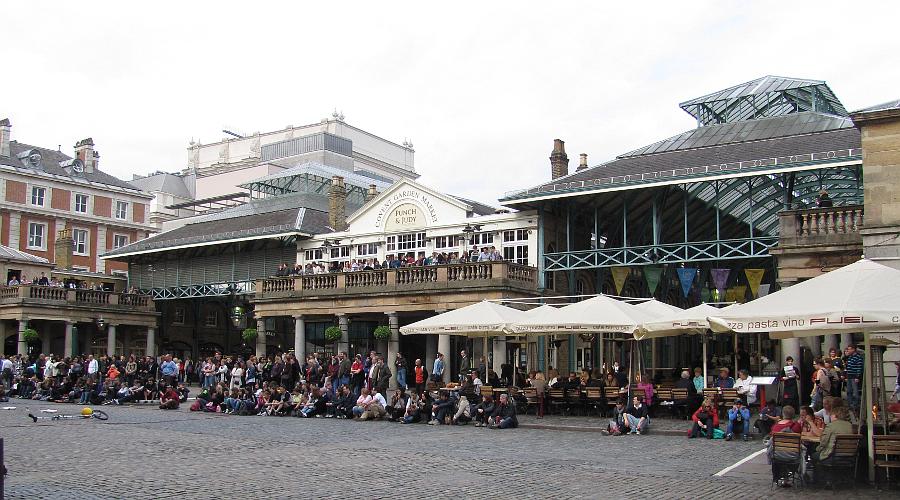 Covent Garden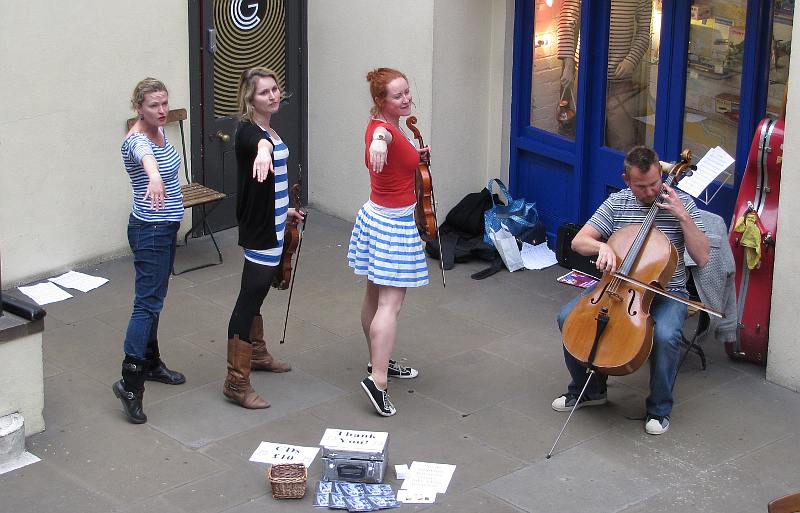 I particularly enjoyed Lotus Classics - a comic quartet which danced as they played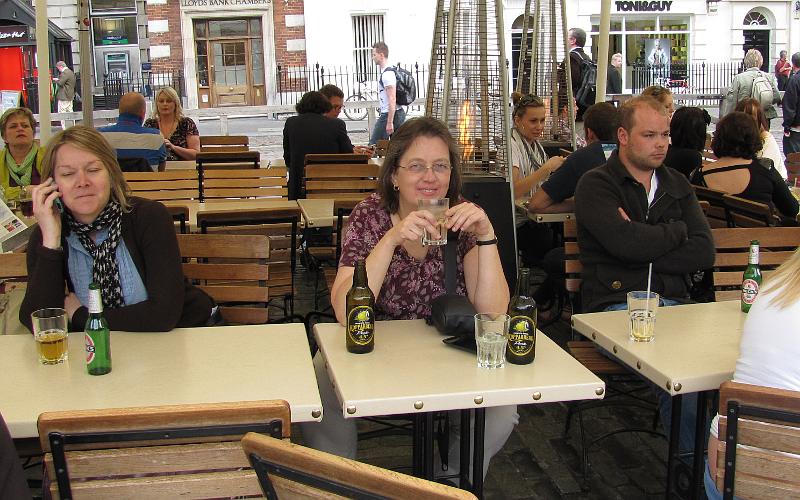 Linda at our table in Fuel Bar at Covent Garden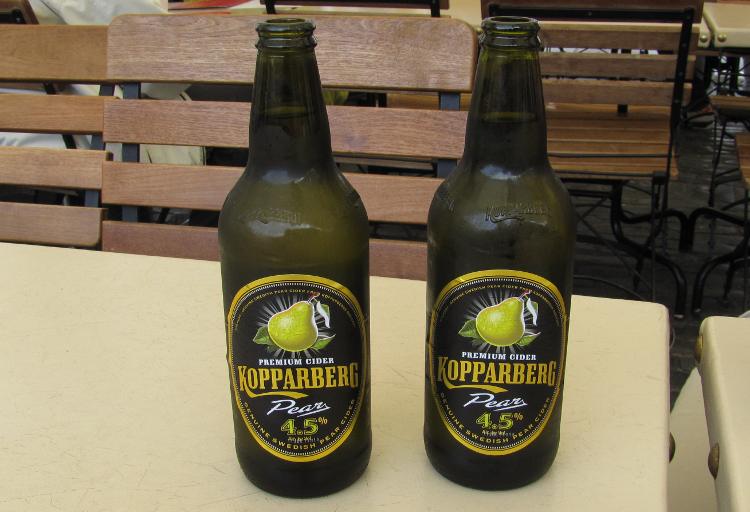 Kopparberg pear cider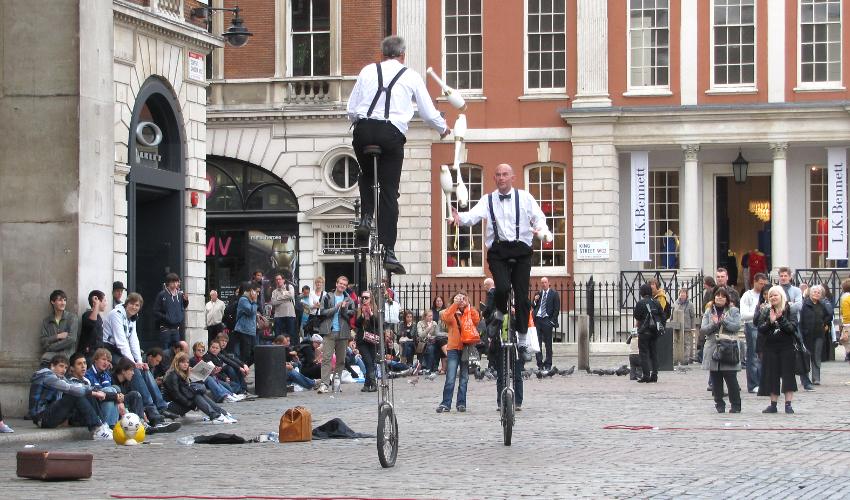 performers at Covent Garden
Porters English Restaurant where we had supper was just a block away.
I selected the £11.50 wild boar & sage sausages with onion & ale gravy and garden vegetables. The sausages were good, but I didn't think the gravy added anything to the meal. The vegetables were uninteresting. Porters says they are known for their pies, so Linda had the £11.95 Shepherd's Pie (minced lamb with red wine, tomatoes, carrots & peas, topped with creamy mashed potatoes). She said it was just OK.
A dark chocolate pudding dessert did go a long way toward redeeming the meal, but other than meals on the planes or trains, it was my least favorite meal of the trip.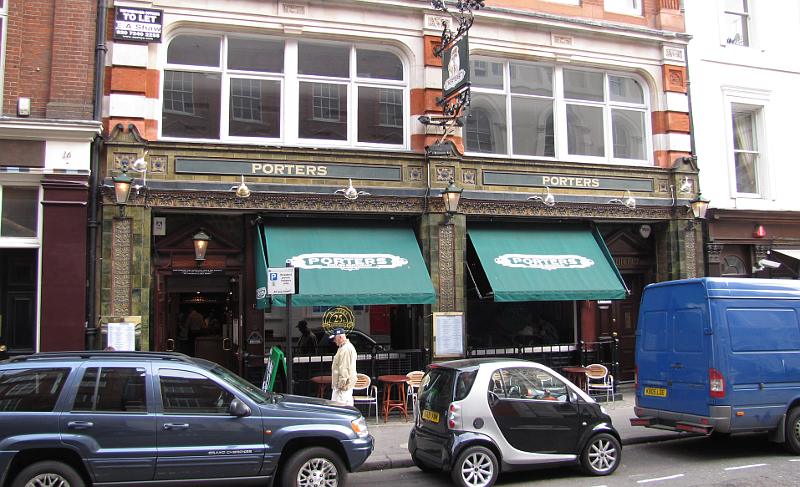 Porters English Restaurant

Porters English Restaurant dining room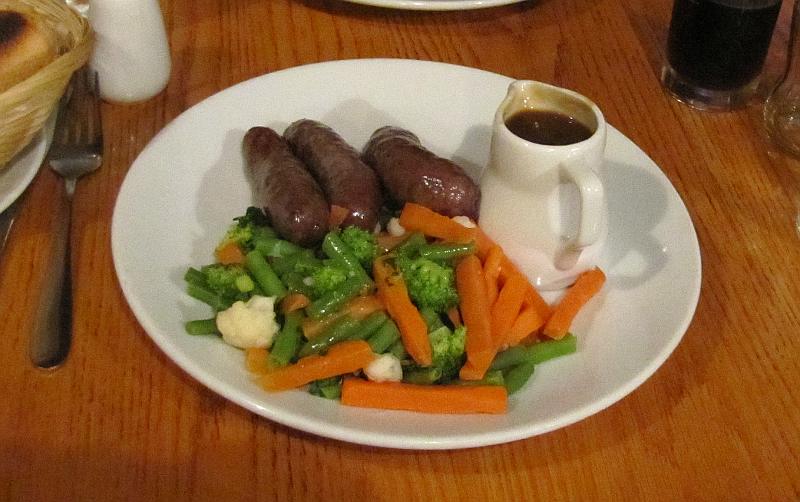 wild boar & sage sausages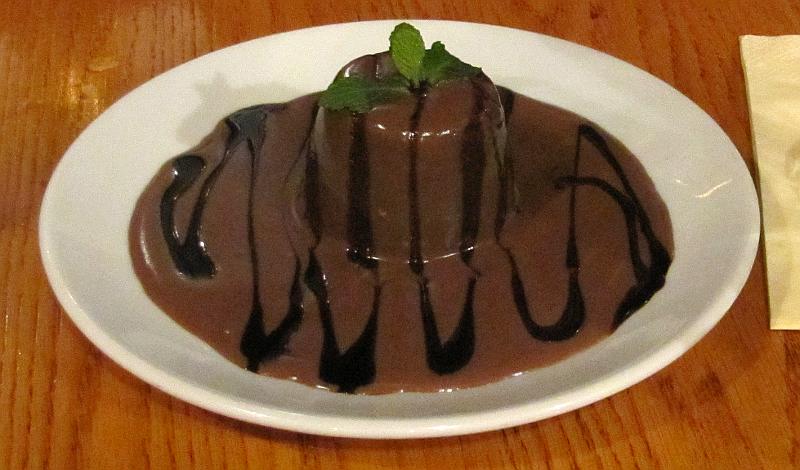 Dark Chocolate Pudding - Rich steamed chocolate sponge; served with chocolate custard.
Leaving Porters English Restaurant, we walked west through Leicester Square, and on to the Comedy Theatre where Mrs. Warren's Profession staring Felicity Kendal was playing.
The performance of the George Bernard Shaw comedy wasn't that impressive, but I did enjoy seeing Felicity Kendal perform. I still have a bit of a crush on her from watching her in the British sitcom the Good Neighbors ( AKA The Good Life) from the 1970s. She is still a handsome woman and projects a strong personality at age 63.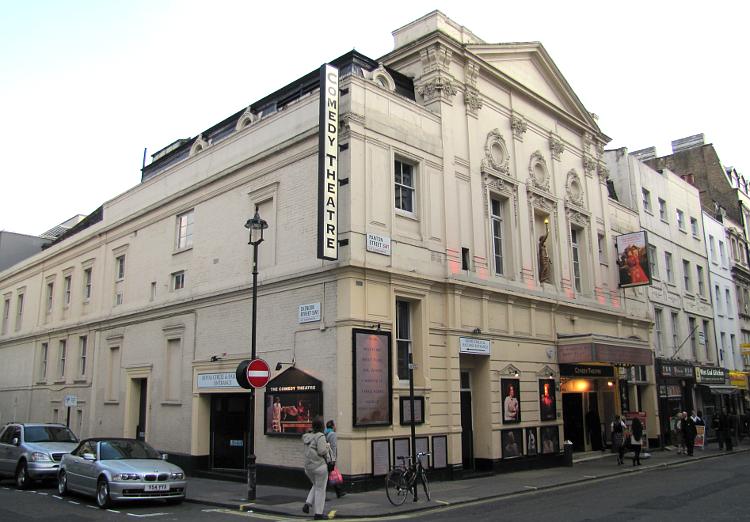 Returning to Hampstead by Tube, on our walk back to the flat, we stopped at the very popular La Creperie De Hampstead (Hampstead Creperie).
After operating at weekend markets for several years, La Creperie De Hampstead moved to this location on High Street next to the King William IV Pub. We passed the Creperie several times during our visit and there was usually a long line of people waiting to order food. With only two parties waiting this evening, it seemed like a good time to give them a try.
La Creperie makes a large variety of crepes, both savoury or sweet, with most of them priced between £3.30 and £4.60. Linda was disappointed that there were no simple fruit crepes. The sweet crepes were flavored more with purees, chocolate, cinnamon or nuts. She tried the compotée de pomme crepe made with sweetened apple purée served on butter. She liked it, but it wasn't a special treat, either.
Trying to limit my carbs, I tried a savoury crepe. My reaction to the mushroom, tarragon cheese and ham crepe was similar to hers. Pleasant, but not worth a special trip. If I were to stop at La Creperie De Hampstead again, I would try one with asparagus.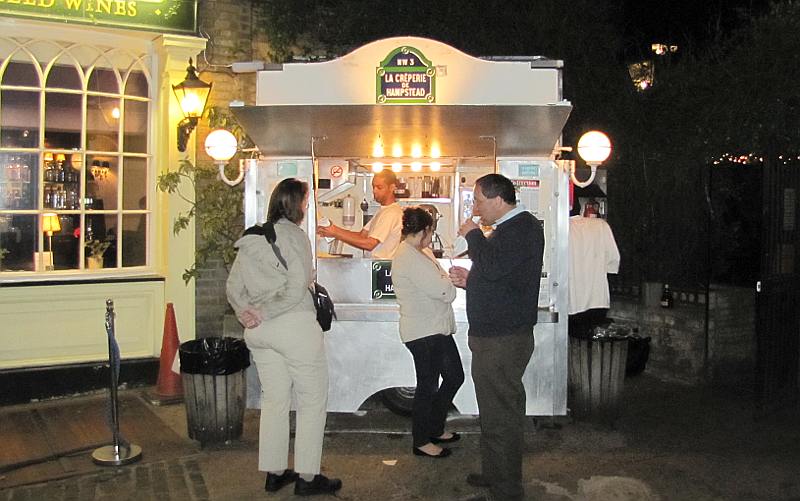 Linda waiting to order crepes at La Creperie De Hampstead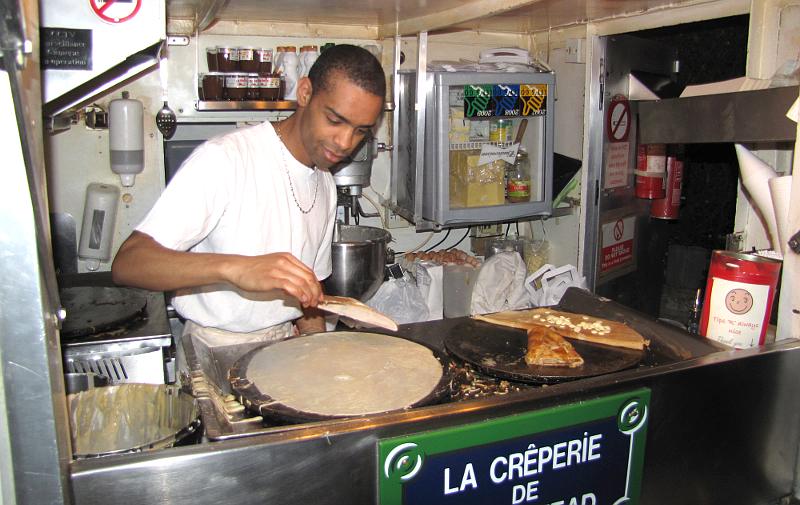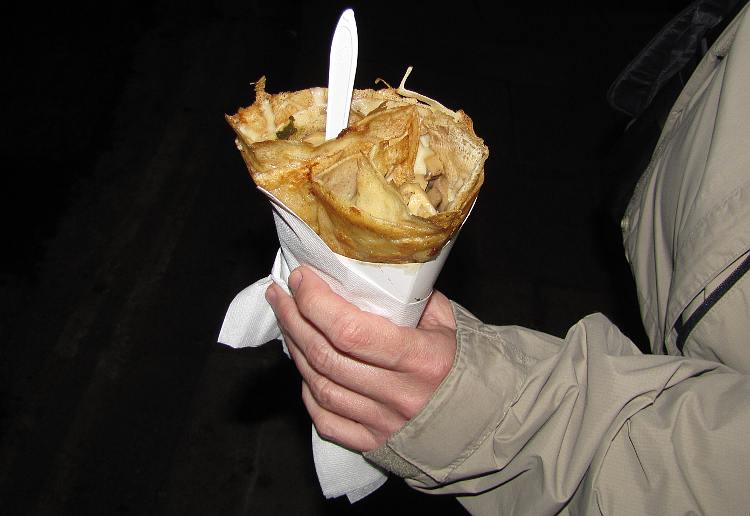 compotée de pomme crepe