Arc de Triomphe & the Avenue des Champs-Élysées
April 30, 2010

Shopping along the Champs-Élysées and dinner at Villa Spicy in Paris.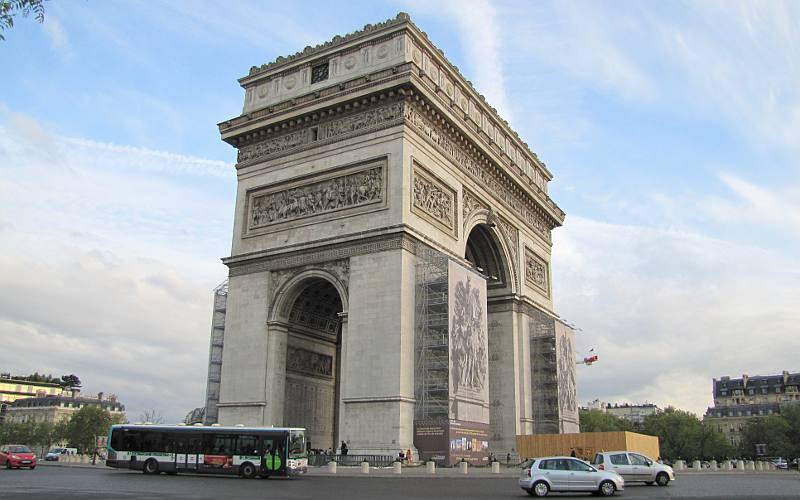 Arc de Triomphe
Friday - day 7 (continued)
We were both interested in seeing a little different side of the city and eventually decided to take the Metro over to the Champs-Élysées.
The Charles de Gaulle Etoile (Metro station) let us out by the Arc de Triomphe. We decided not to cross over to go into the arch, but took photos across the busy Place Charles de Gaulle (AKA Place de l'Étoile) traffic circle. The Arc de Triomphe had construction going on, but the scaffolding had banners which kept it looking reasonably attractive.
From the Arc de Triomphe, we strolled east along the Champs-Élysées. Although we began with visits to several clothing stores, we found that few items were offered in our sizes. I can't imagine how hard it would have been for me to find any clothes at all in Paris if I hadn't lost so much weight in 2009.
The first store that really caught my fancy was the Peugeot showroom. Peugeot was celebrating 200 years of manufacturing and the Champs-Élysées showroom had several displays of Peugeot vehicles from over the years.
We went on to other stores and Linda bought her daughter a lovely sweater in the Massimo Dutti store.
I purchased a light blue linen shirt at Monoprix (a French chain of grocery and department stores) - other than ties and T-shirts, my only clothing purchase on the trip.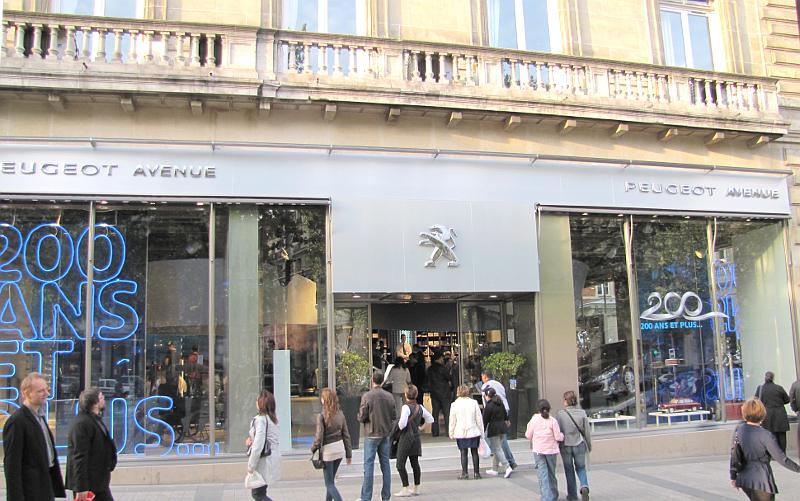 Peugeot showroom on the Champs Elysées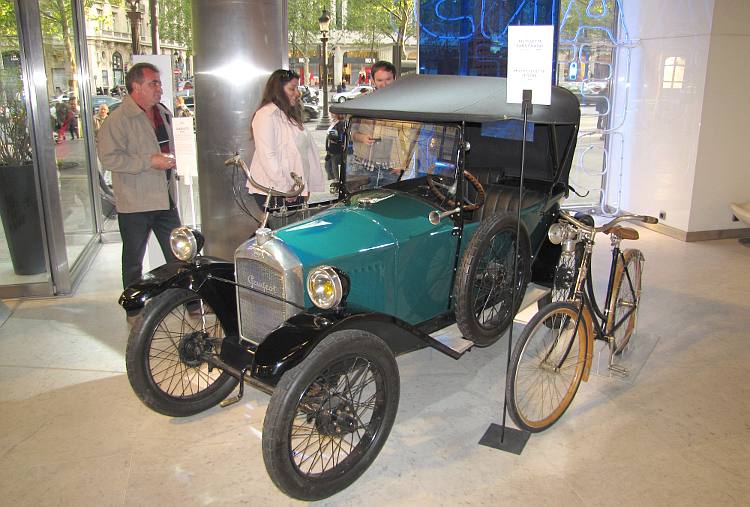 1909 Motocyclette Legere (far side of car), 1923 Peugeot Type 163, 1899 Peugeot bicyclette sans chaine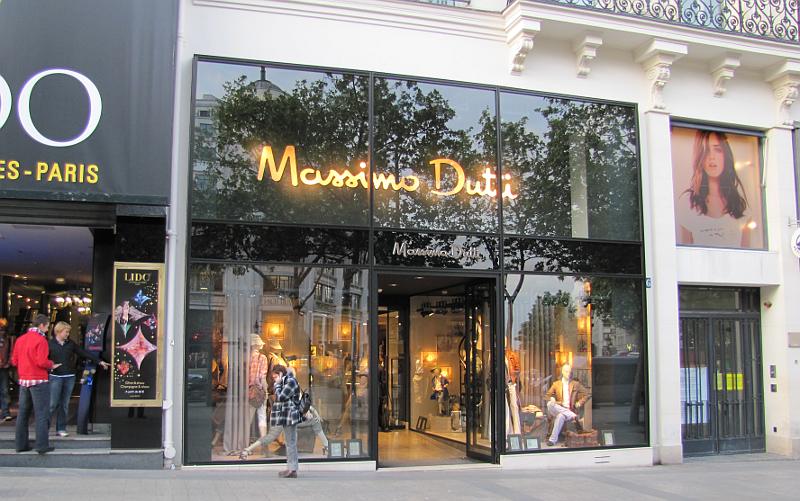 Massimo Dutti is a Spanish clothing manufacturer with shops in 73 countries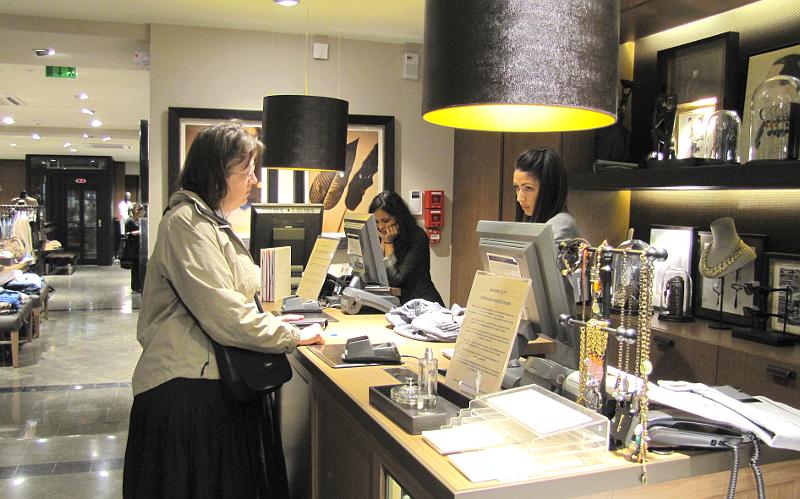 Linda purchasing a gift for her daughter at Massimo Dutti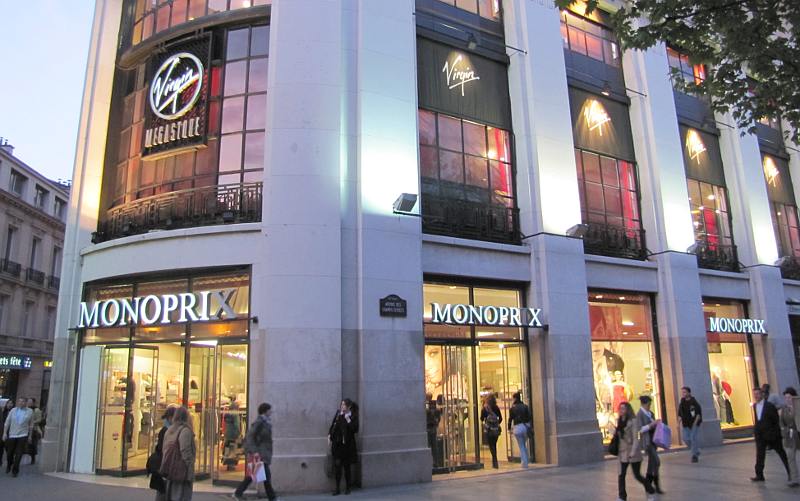 Monoprix
By the time we came to the end of the shopping area along the Champs-Élysées, it was 10 PM and we were ready to have supper. We turned off onto Franklin D. Roosevelt Avenue and read the menus posted in front of several restaurants before settling on Villa Spicy.
The attractive restaurant provided menus which included English translations. A few of those translations left us baffled, but didn't give us much trouble. Linda started with the Emincé de tomate bio et burrata Pugliese au pistou (Organic tomato with "Burrata Pugliese" mozzarella and pesto), and I ordered the Foie gras de canard "Maison" et confiture de tomates vertes (Homemade "Foie gras" with green tomato jam).
Linda's main dish was breast of duck with gingerbread & apples in honey, while I had the medallion of veal with eggplant and parmesan with pepper coulis.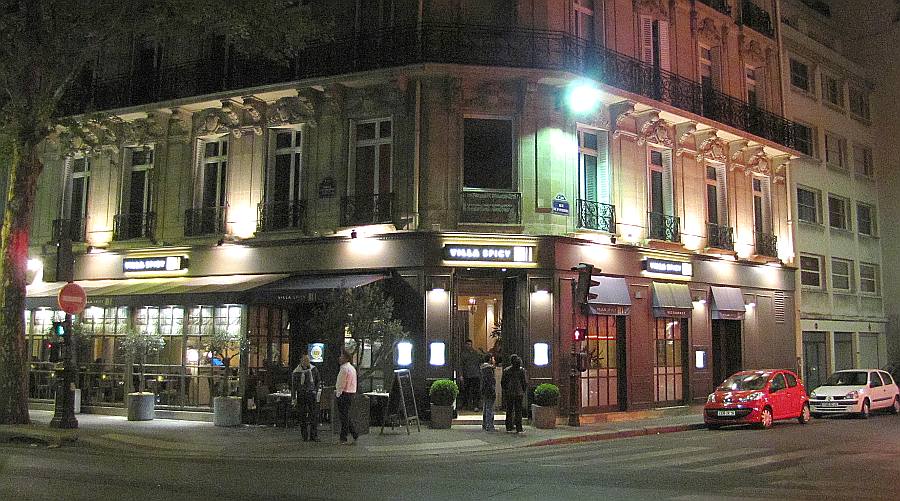 Villa Spicy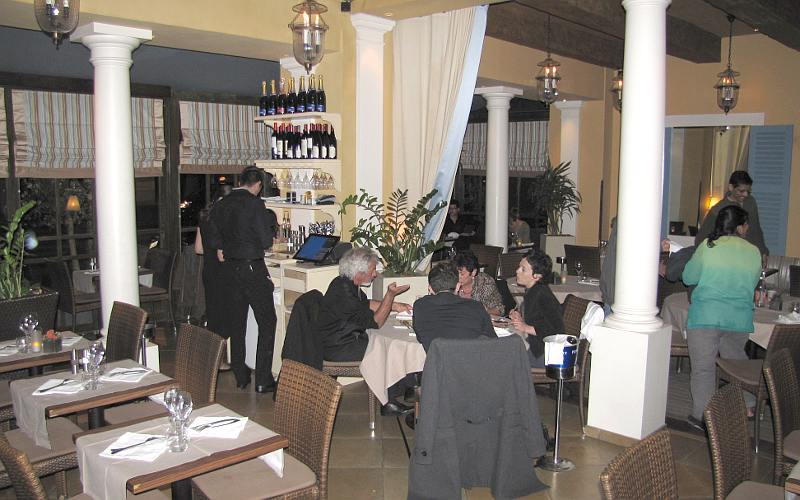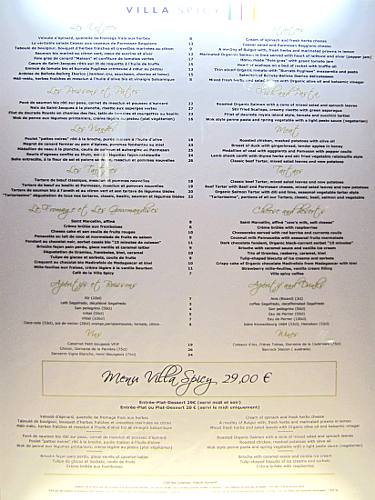 Villa Spicy menu from April 2010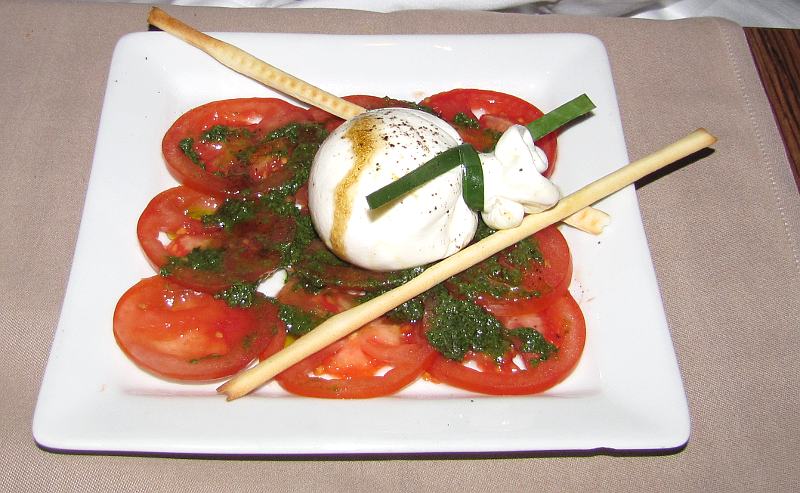 Thin sliced Organic tomato with "Burrata Pugliese" mozzarella and pesto €13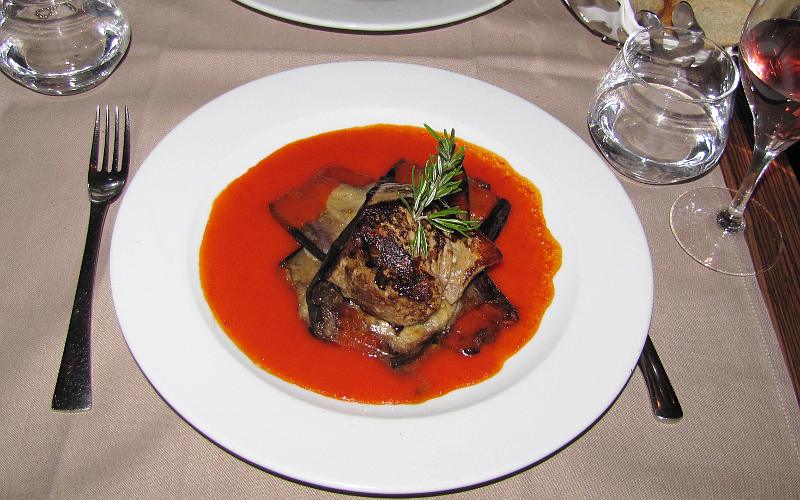 Médaillon de veau à la plancha, coulis de poivron et aubergine au Parmesan
Medallion of veal with eggplant and parmesan with pepper coulis €25