Harrods - London
April 28, 2010

Shopping at Harrods in London and having a seafood lunch in the Harrods Food Halls.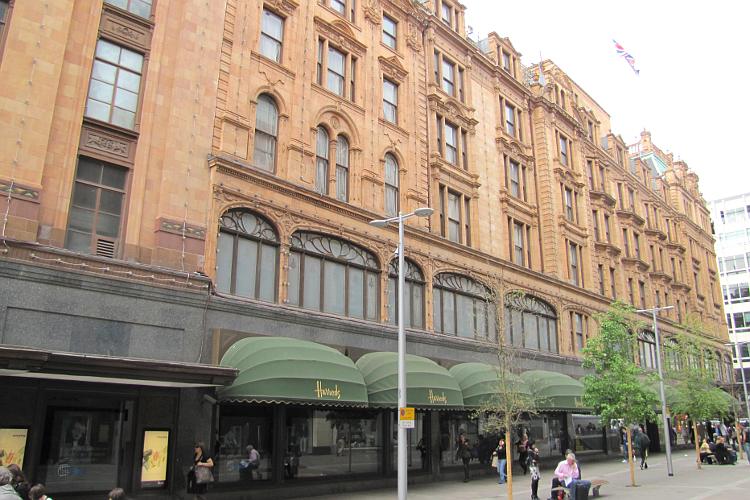 Wednesday - day 5
We got off to another leisurely start today, but finally took the Tube to Knightsbridge Underground Station. One of the exits from the Underground comes up right next to Harrods department store on Brompton Road.
Harrods is the second largest store in London. The store provides over one million square feet of shopping in over 330 departments. The Harrods motto is Omnia Omnibus Ubique - "All Things for All People, Everywhere."
Harrods was established in 1834 in London's East End, but moved into a small shop at this location in 1849. Harrods quickly grew, moving into the adjoining buildings. Following a fire that burned the buildings to the ground in 1980, the current huge store was built.
We began our shopping in the clothing and gift departments, making several purchases. I bought a Harrods' logo wristwatch.
We then moved on to the fabulous food halls with their Edwardian tiled walls, large, elaborate displays, and salespeople in period costumes. My favorite Food Halls are the Meat, Fish & Poultry Hall which was built in 1903 and the Confectionery & Patisserie Hall.
After careful consideration, we decided to have lunch at the Sea Grill in the Meat Hall. There are three seafood bars in the Meat Hall and this one is Harrods take on fresh seafood.
During my trips to Europe, I like to have Fruits de mer at least once. Fruits de mer is a seafood dish traditionally made of raw and cooked shellfish. I decided that the Seafood Tasting Plate for Two would fit that bill for this trip: Lobster, oysters, scallops, crab meat, prawns and steamed mussels. I loved it all, but I think that Linda may have enjoyed the warm garlic & parmesan bread just as much.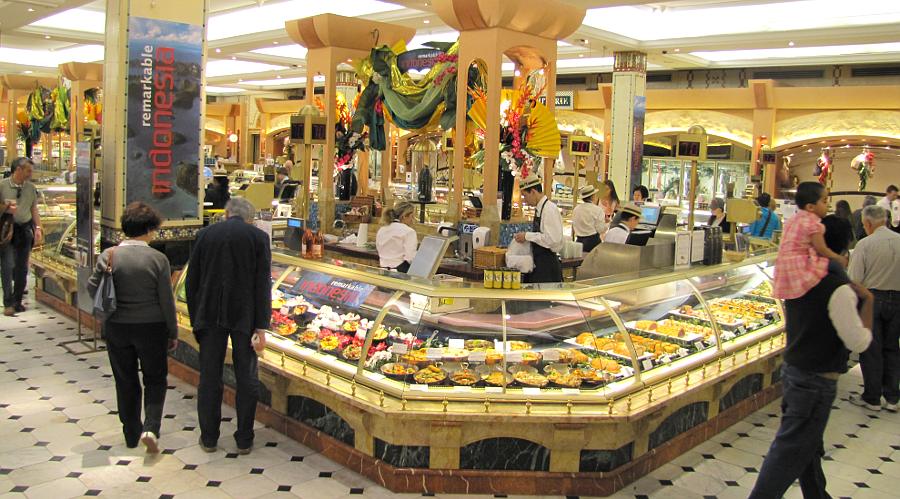 Harrods Food Hall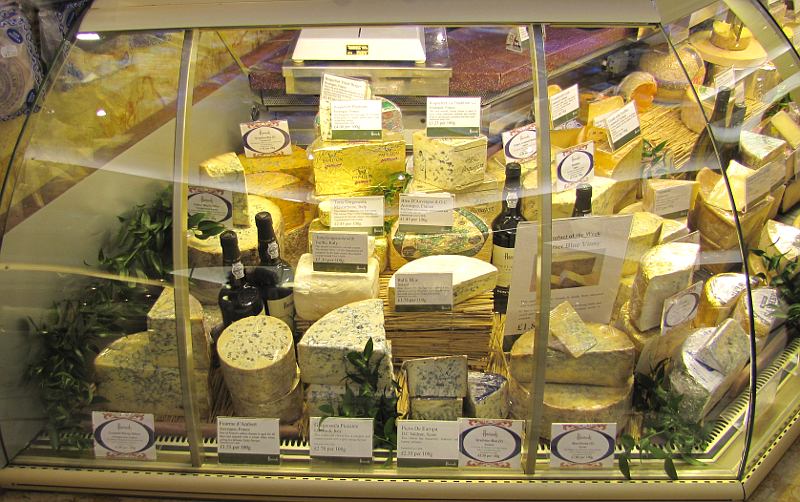 Stilton, Blue and gorgonzola cheeses from the UK, France, Italy, Spain, Holland and Ireland
in the Charcuterie, Fromagerie & Traiteur Hall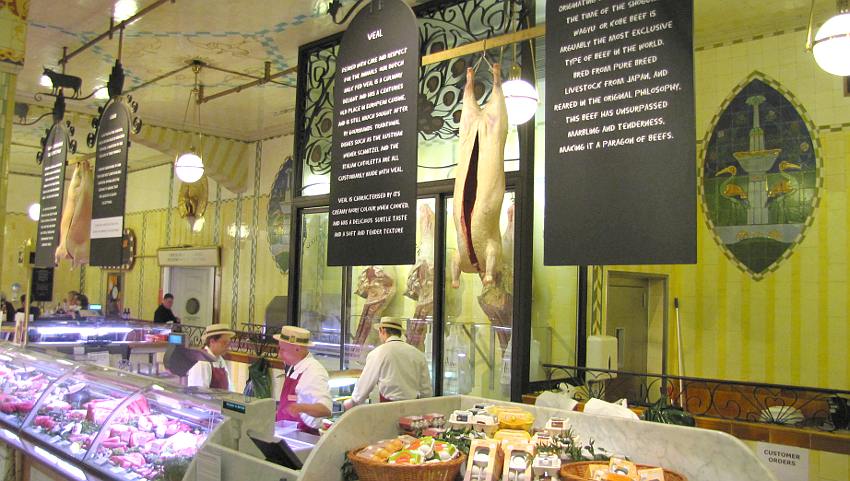 Veal and beef in the Harrods Meat Hall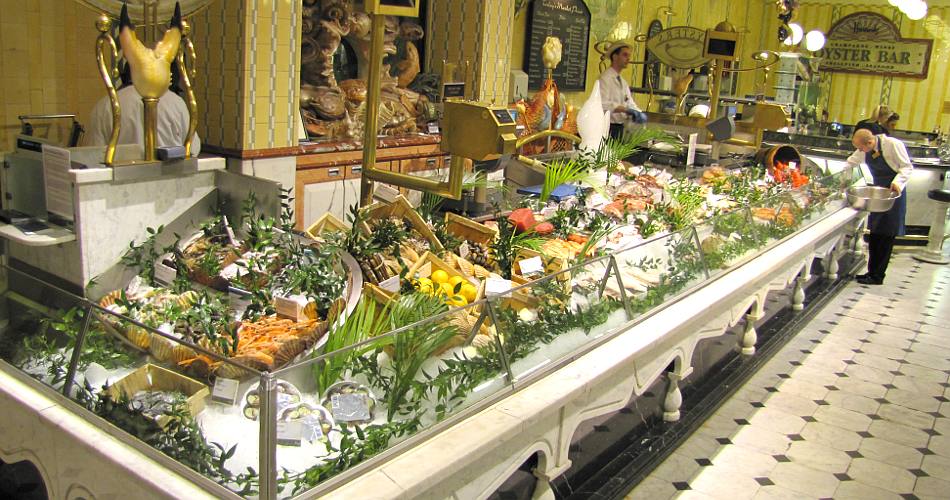 Crustacea Department in the Meat Food Hall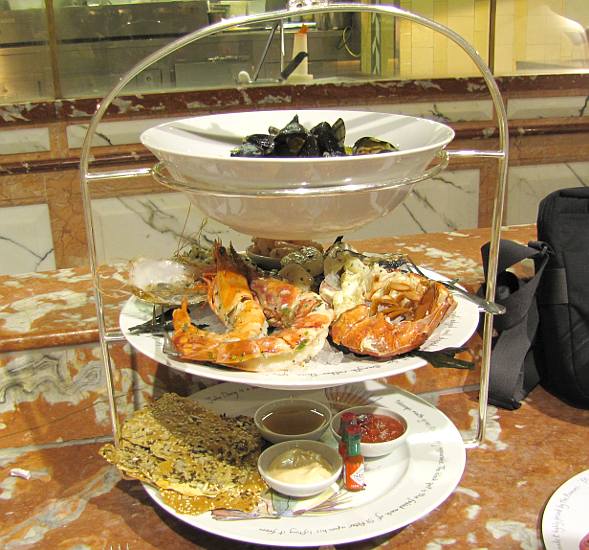 Seafood Tasting Plate for Two
Lobster, oysters, scallops, crab meat, prawns and streamed mussels with cracker flats,
Marie-Rose sauce, mignonette and lemon £75 (£115 with champagne)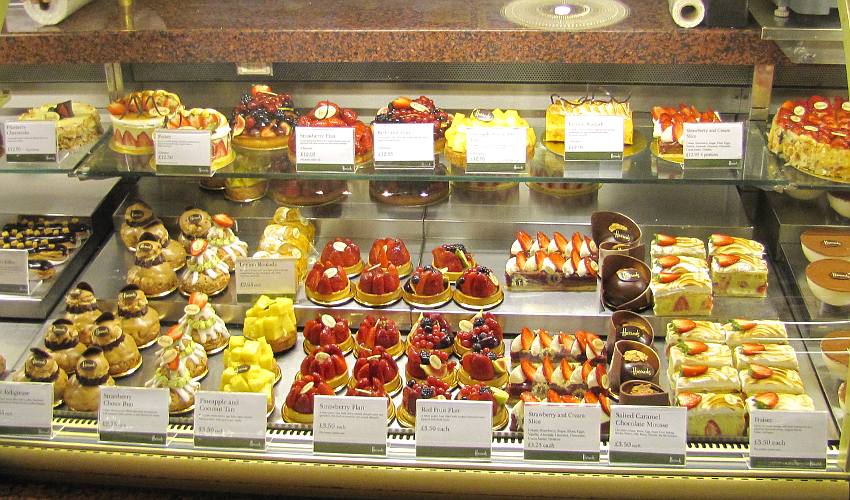 Fruit flans and tarts
At the end of the meal we stopped in the adjacent Confectionery & Patisserie Hall to get a strawberry flan which we enjoyed a little later in the afternoon.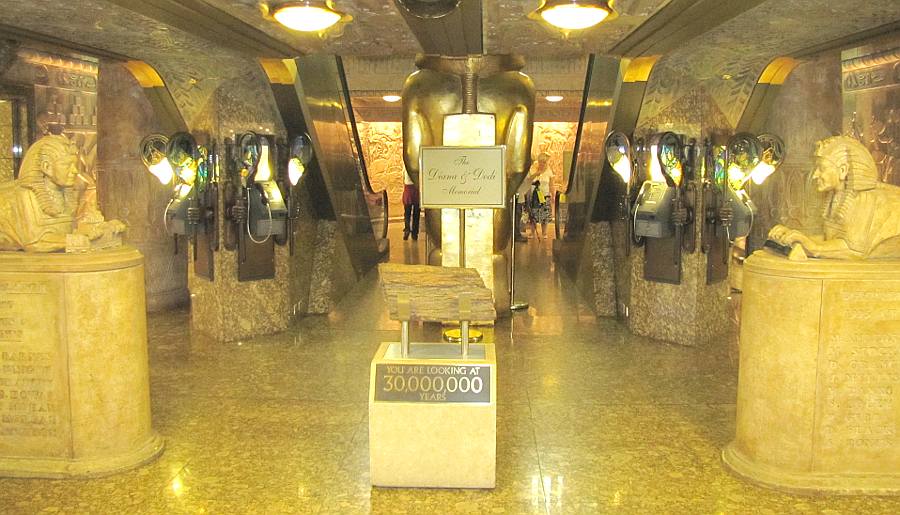 Harrods' Egyptian Escalators are surrounded with petrified wood, pharaoh headed sconces, papyrus lamps, and hieroglyphic balconies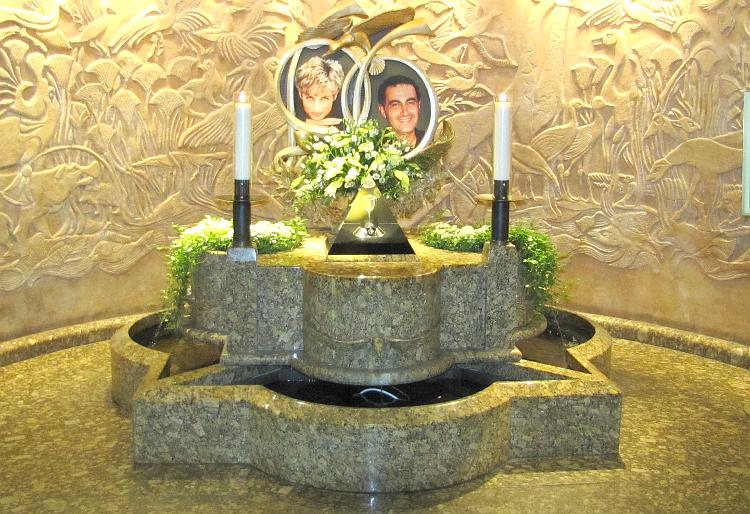 Dodi Fayed and Princess Diana Memorial - inside the clear pyramid is a wine glass from their last dinner
and the engagement ring that Dodi allegedly purchased the day before they died