Musée du Louvre
Paris
April 29, 2010




Touring the Musée du Louvre in Paris.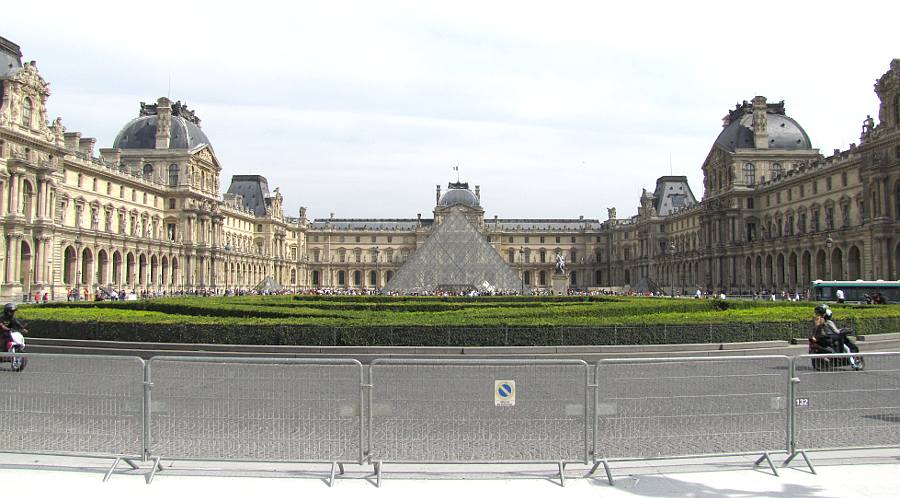 Musée du Louvre across Place du Carrousel
Thursday - day 6 (continued)
We walked east through the Jardin des Tuileries, passing the the Arc de Triomphe du Carrousel and crossing the Place du Carrousel to the glass pyramid that is the main entrance to the musée du Louvre. The enormous sprawling building that houses the Louvre began its existence as a late 12th Century fortress, but was expanded times into the Louvre Palace (Palais du Louvre).
Louis XIV moved his household to the Palace of Versailles in the late 17th century and the building was used by the Académie des Inscriptions et Belles Lettres and the Académie Royale de Peinture et de Sculpture for a century. On August 10, 1793, the Louvre opened as a museum exhibiting 537 paintings. It has since grown to be one of the largest museums in the world and the most visited.
Admission to the Louvre is very reasonable at only €9.50 for a full day of access.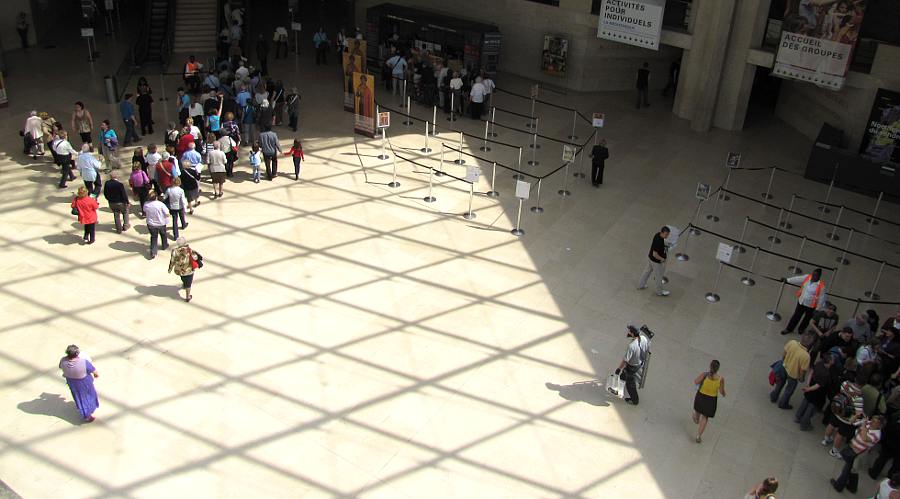 Underground lobby beneath the glass pyramid
Unless they were just walking through the halls and didn't stop to admire the art, no one could see all of the Louvre in an afternoon, so we decided to take a leisurely trip past the three most visited pieces of art, with as many stops as we wanted along the way and a stroll around to the new (2009) display of stained-glass windows by Francois Morellet.
The three most popular pieces of art in the Louvre are the Venus de Milo, Winged Victory and the Mona Lisa. Signs make it easy to go directly to the three works and many visitors to the museum do little more than race to the three and leave. But they miss so much! Not just the tens of thousands of other pieces of art, but the building itself. If all of the art displays were removed, the Palais du Louvre would still be one of the finest displays of art and architecture in the world.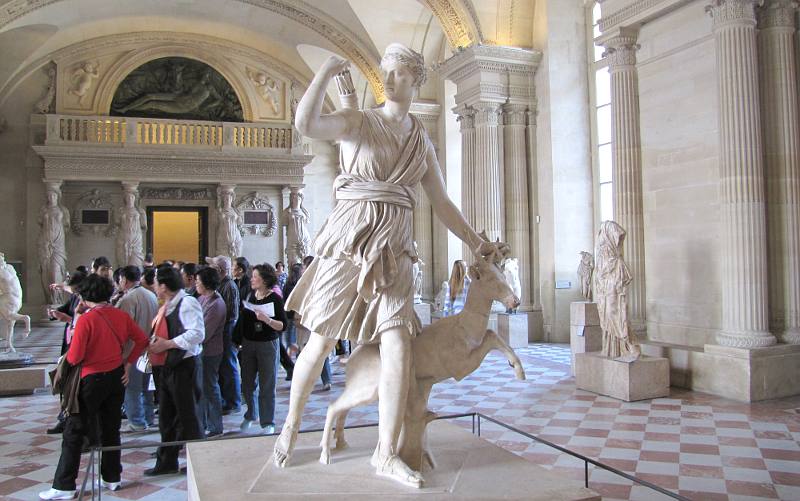 Artémis à la biche, dite "Diane de Versailles" - marble statue of the Greek goddess Artemis with a doe is a
first-second century AD Roman Imperial copy of a Greek statue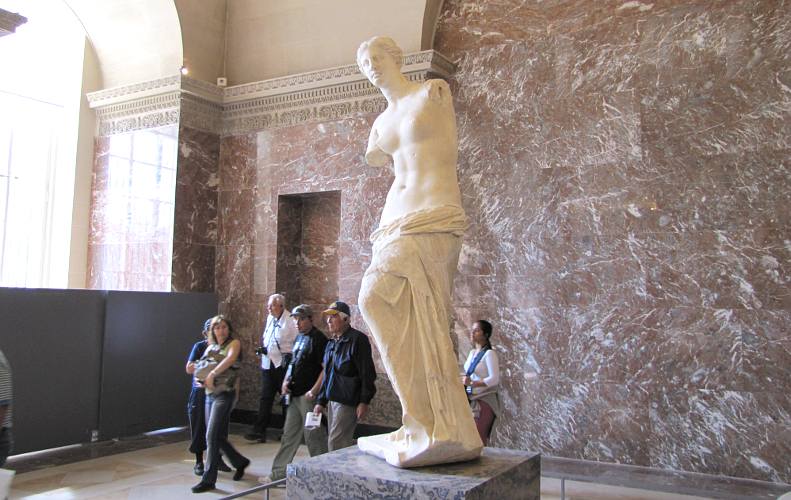 Aphrodite of Milos, better known as the Venus de Milo is believed to date from about 100 BC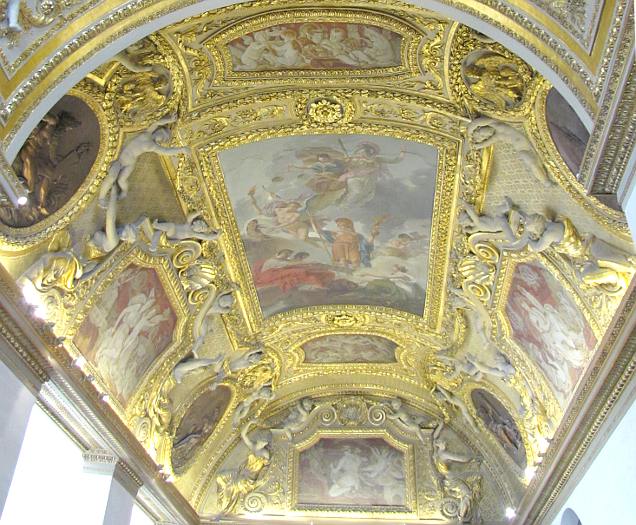 Portion of the first floor ceiling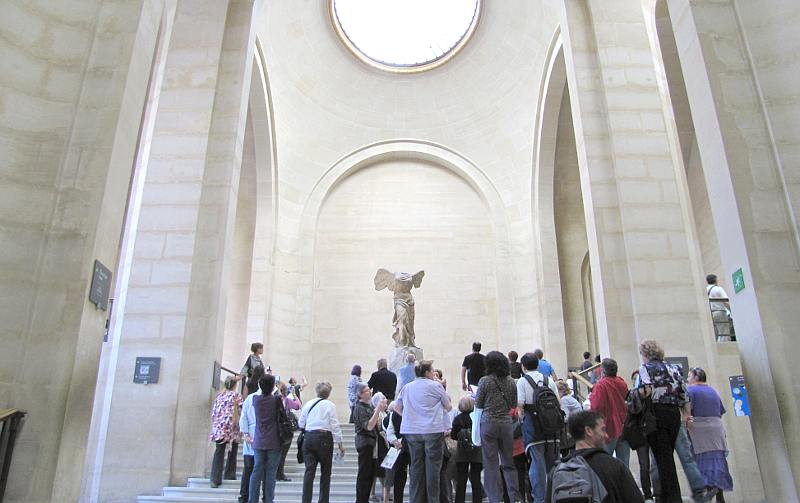 Crowd admiring Winged Victory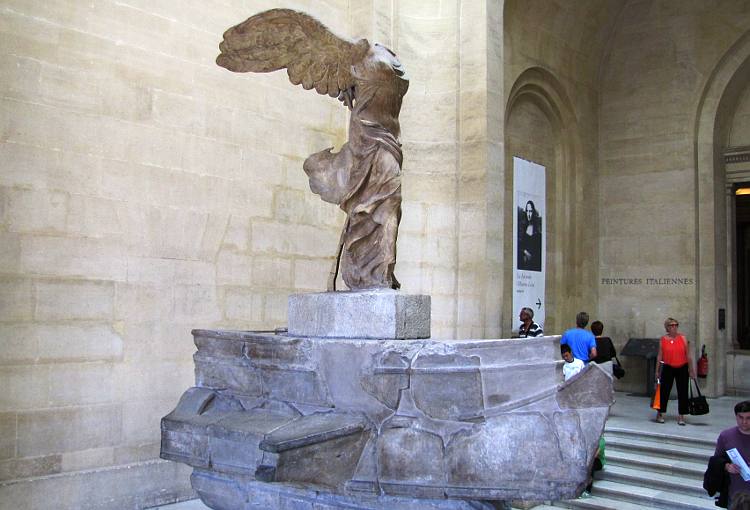 Winged Victory of Samothrace - the winged goddess of Victory standing on the prow of a ship overlooked the
Sanctuary of the Great Gods on the island of Samothrace (early second century BC)