Hampstead and Leicester & Trafalgar Squares
April 26, 2010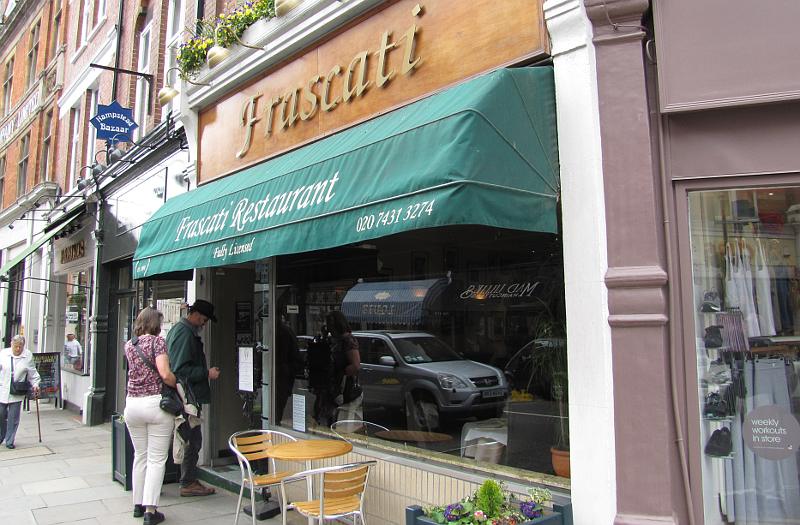 Linda and William entering Frascati Restaurant - Hampstead
Monday - day 3
After the overnight flight and a long, full Sunday, we slept-in on Monday morning, We finally left the flat about lunch time. William came along with us as we walked to Frascati Italian Restaurant, across from the Hampstead Underground Station. The 9 table restaurant has been operated by the Alfano family since 1984.
Linda selected the Pollo alla Milanese (Chicken breast with ham, mozzarella, aubergine & tomato) for £9.50, while William and I had the daily special of sardines in white wine with cherry tomatoes & a touch of garlic for £7.50. I also had the home-made artichoke heart soup for £5.50
After we ordered, I was surprised when the server took away our silverware and brought a different setting. William explained that the slightly differently shaped knives that she brought were for eating fish. During the rest of the time we spent in London, we became aware of the constant changing of our silverware at many different restaurants.
The soup did little for me, but I enjoyed the sardines much more. Linda liked her meal even more than me and said the cauliflower side dish was the best cauliflower she ever had.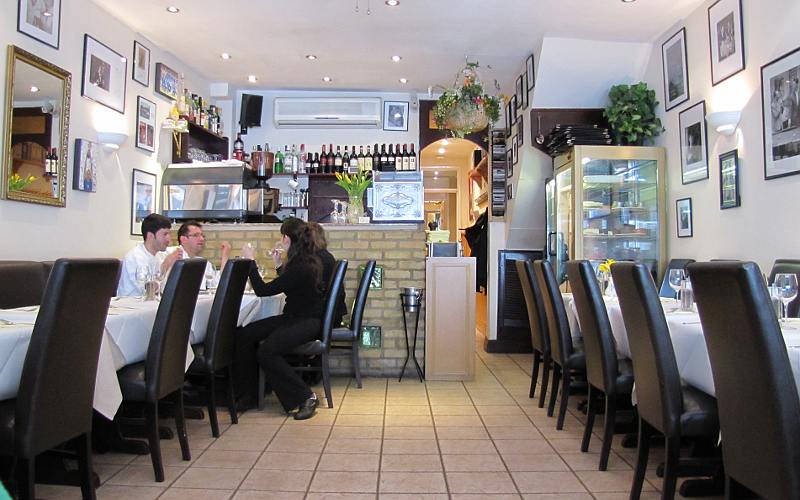 sardines in white wine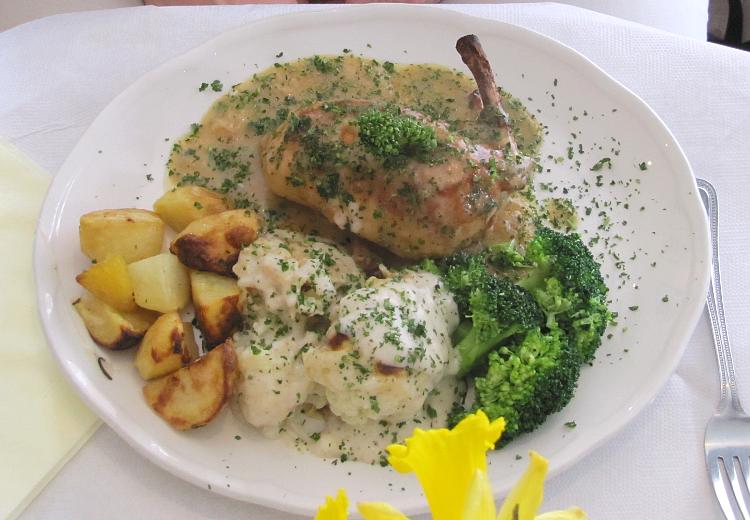 Pollo alla Milanese
After lunch we said good-bye to William and took the Tube south to Leicester Square where we stopped at the TKTS booth to purchase discount theatre tickets for that evening. Although many places between the Underground Station and Leicester Square have signs saying that they are "official half price ticket" outlets, many of them are scams selling poor seats at regular or inflated prices. The TKTS stand is The Official Half Price & Discount Theatre Ticket Booth.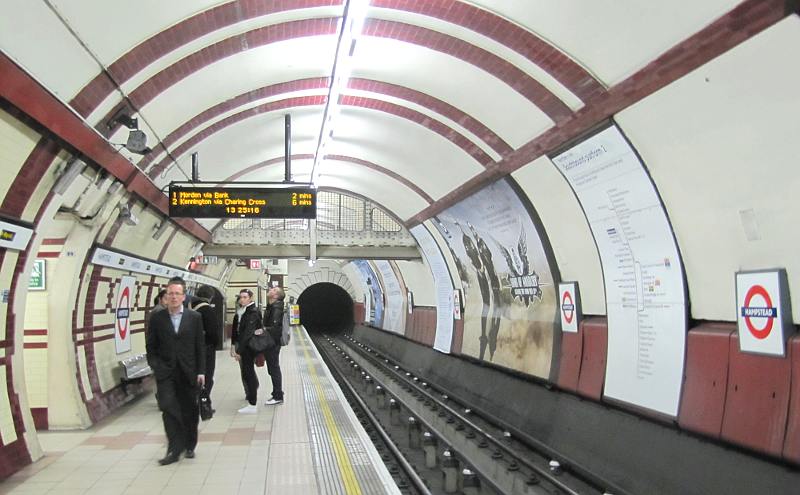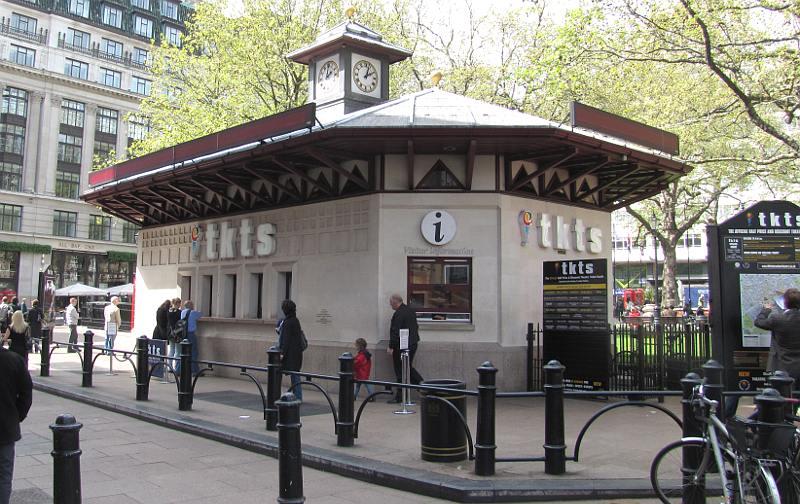 TKTS (The Official Half Price & Discount Theatre Ticket Booth) in Leicester Square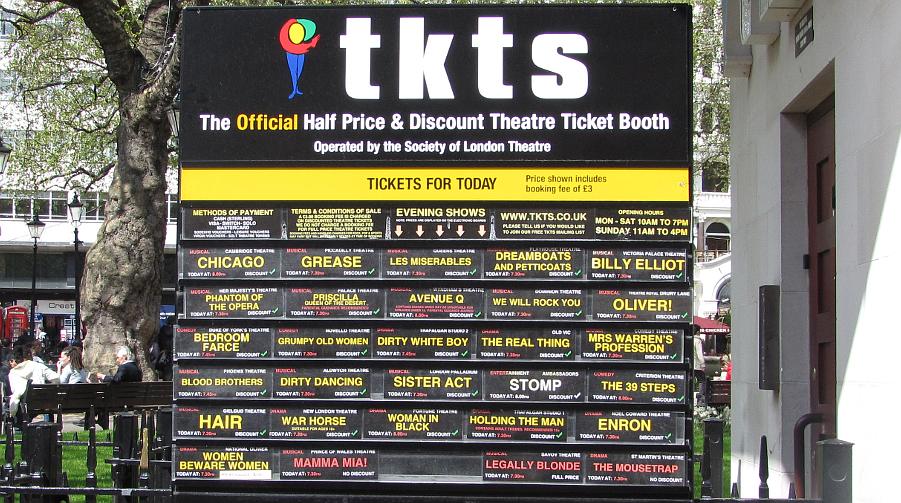 Selection of shows with discounts for this evening. They are typically about 1/2 price plus a £3 booking fee. I plan in advance
to find several shows that would interest me so I can make an easy choice when I see the selection.
Leaving Leicester Square, we walked a few blocks south to Trafalgar Square where we took turns posing with the bronze lions. Sir Edwin Landseer sculpted four lions which surround Admiral Nelson's column.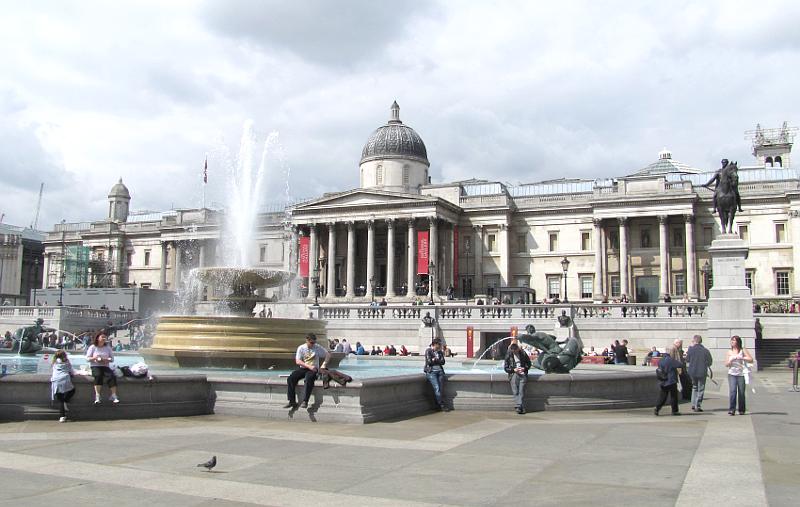 The National Gallery

Me standing next to one of the bronze lions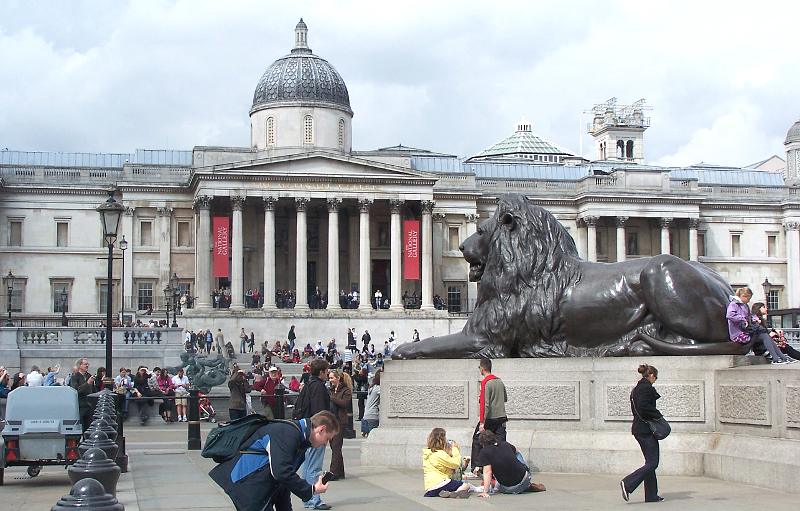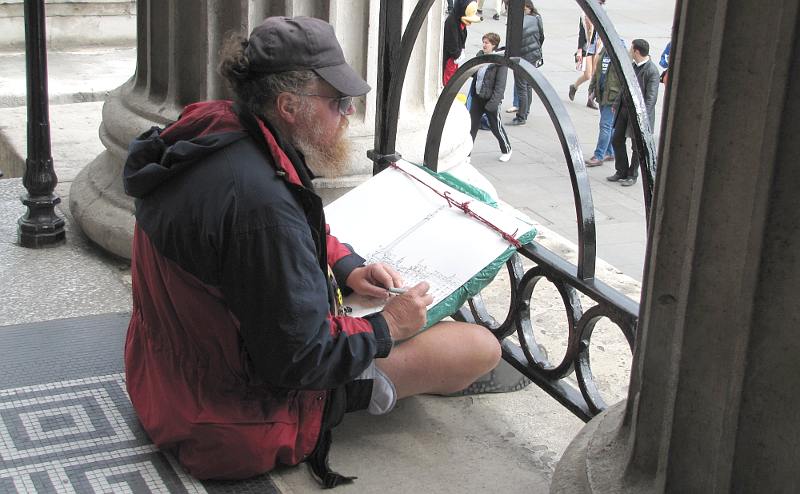 Artist, on the porch of the National Gallery, sketching Trafalgar Square

The view he was sketching