London & Paris Trip
April 24 - May 3, 2010
Saturday - day 1
Linda and I left Kansas City on an American Airlines flight that was over an hour and a half late. We had a nice cushion of time in Chicago, so that was no problem and there was still time for an unappealing supper at O'Brien's Restaurant & Bar in the food court at the base of the "Y" formed by Concourse H and Concourse K.
Sunday - day 2
Between the flight attendants first pass with drinks, supper and the breakfast a few hours later, there was only about 3 1/2 hours during the 7 and 1/2 hour flight to actually attempt to sleep. We were both fully awake over an hour before we were scheduled to arrive at Heathrow, and had a light breakfast on the plane. I wish they would serve pop at breakfast, I normally have a Diet Coke.
There was less than a 15 minute wait to clear the UK immigration. With nothing to declare, we walked through the doorway and into the airport with just a cursory glance from a screener.
Although I usually take public transportation from Heathrow into London, this trip we were met by a driver from Green Tomatoes Cars, who took us to the Hampstead area of London where we were staying with Linda's Brother & Sister in Laws, William and Fay. Fay is on a work assignment and their comfortable flat in located on a quiet residential street, just a few doors from Hampstead Heath. I intended to explore the Heath, but as the trip unfolded, we never saw more than the edge.
After a light lunch at the flat, the four of us set out on our first day in the city.
Our first stop was just around the corner at 2 Willow Road - a unique Modernist home that was designed by architect Ernö Goldfinger in the 1930s. Writer Ian Fleming lived in this same neighborhood. Fleming disliked Goldfinger's tearing down existing cottages and replacing them with this home so much that he named his most famous villain after the architect.
Alas, when we arrived, the building was closed while a tour was taking place and we never made it back during the few weekend hours when the National Trust building was open to the public.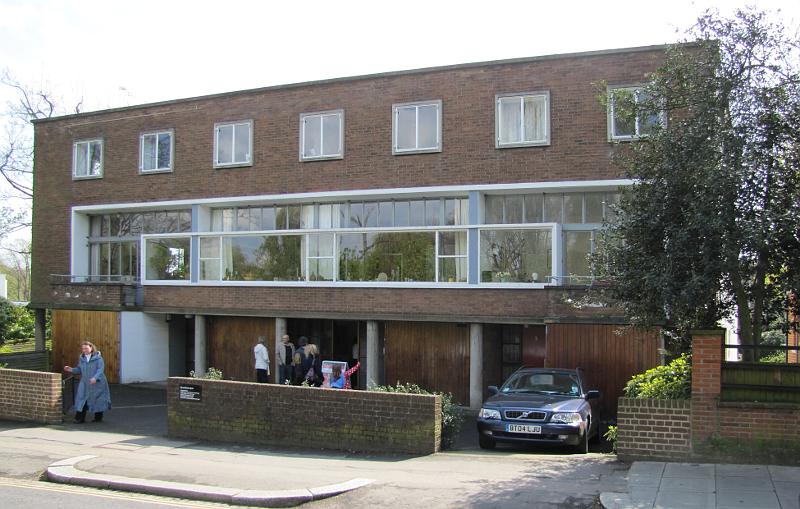 Ernö Goldfinger home - 2 Willow Road
We continued our walk through the neighborhood and went on a few blocks to Keats House, where the poet John Keats lived from 1818 to 1820. The interior of Keats House has been restored to reflect the original decor of the property, creating a living space that Keats would have recognized and providing an authentic example of Regency style.
Admission is £5 and the ticket is good for one year. Free audio guides are provided, but they are awkward to operate.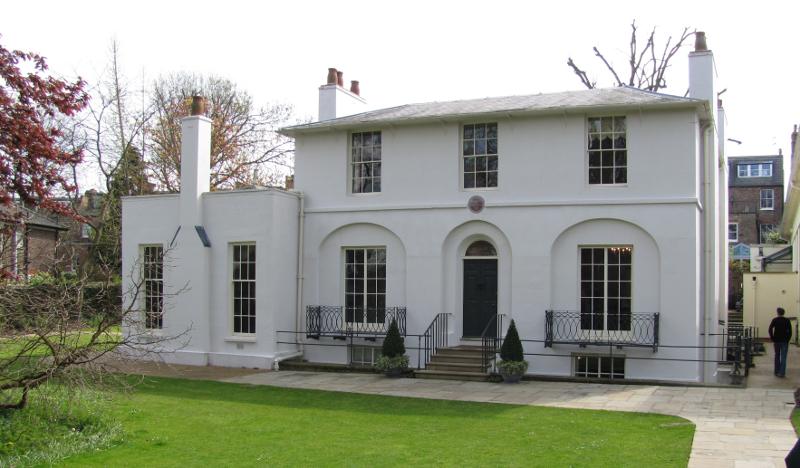 Keats House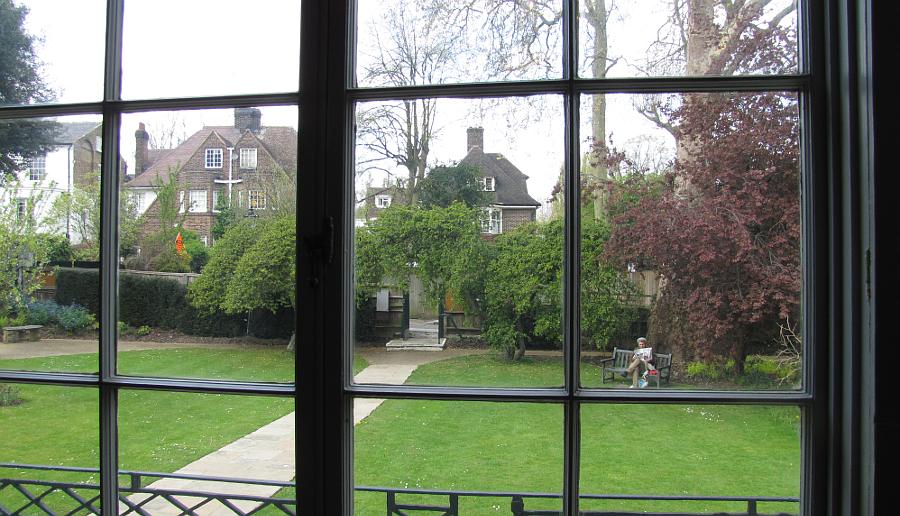 Photography is not permitted inside the Keats House, but they allowed me to take this picture out through the front window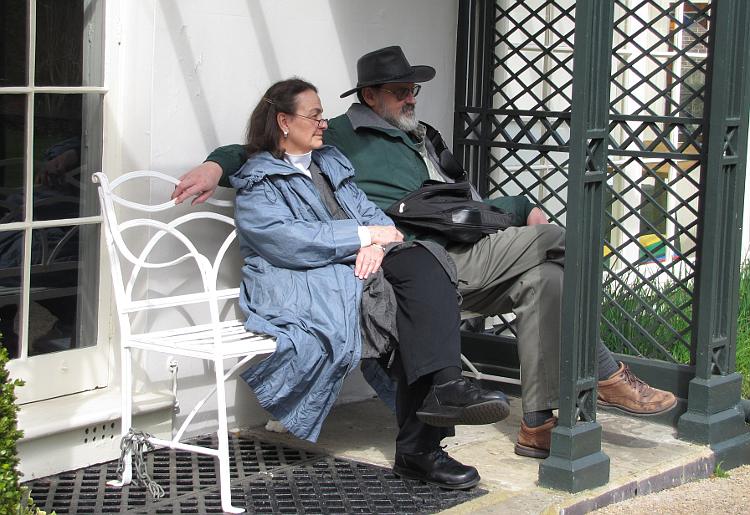 Fay and William waiting in the sun while Linda shops for postcards and books in the Keats House
Following our tour of the Keats House, the neighborhood continued to offer many interesting sights as we went on to a nearby bus stop to catch a number 24 bus into the heart of London.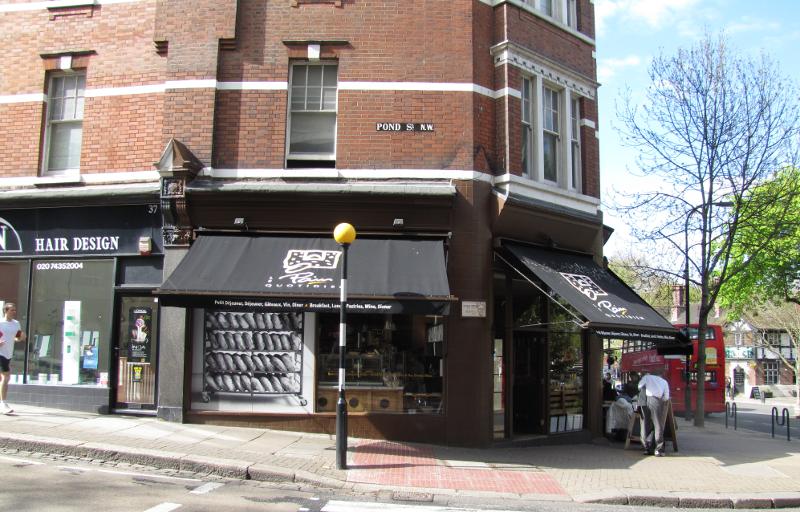 The plaque on this restaurant at the corner of Pond Street and South End Green says:
"GEORGE ORWELL: WRITER - 1903-1950: LIVED AND WORKED IN A BOOKSHOP ON THIS SITE: 1934-1935"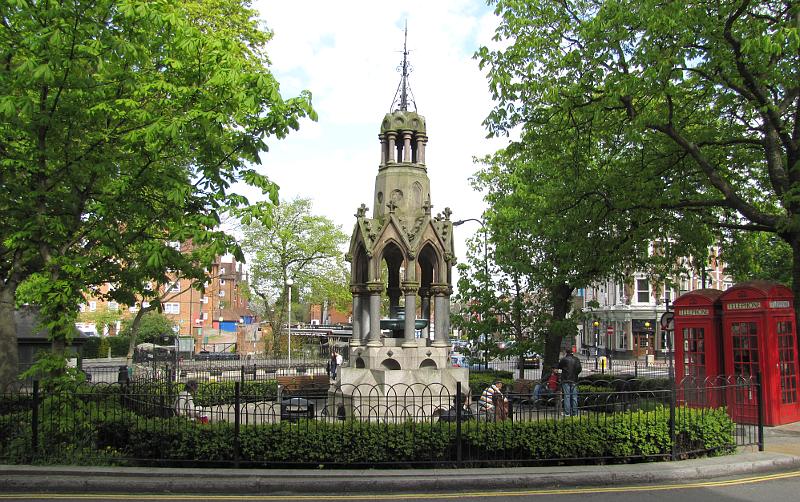 Monument on South End Green near the #24 bus terminus and across from the shop in the previous photo