Saint Helier Jersey - Saturday March 30
My room in the Monterey Hotel in Saint Helier was very small. The bathroom was nearly as big as the rest of the room. The price was reasonable at 30 pounds a night - much less than the convention hotel on the other side of the road. The Monterey staff wasn't very friendly and service at the hotel restaurant was quite poor.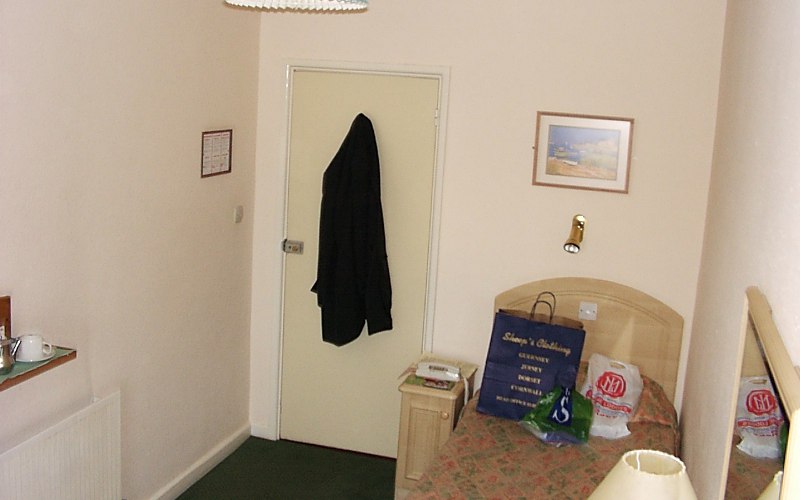 My room in the Monterey Hotel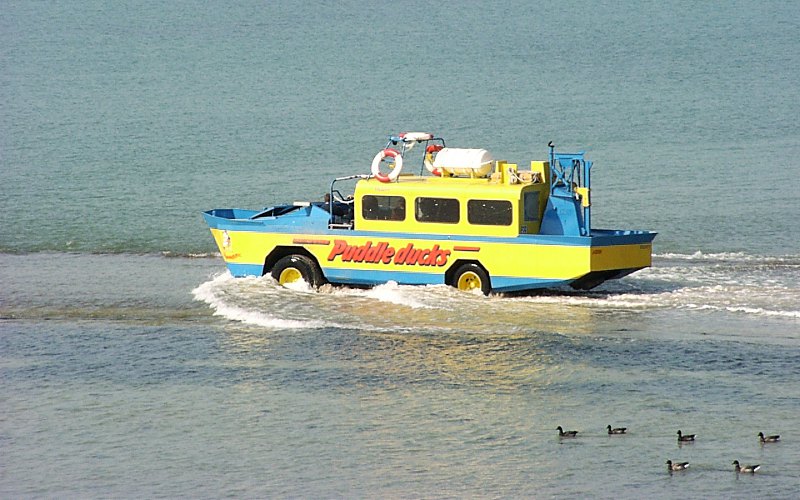 At low tide you can walk over to Elizabeth Castle, otherwise there is the duck.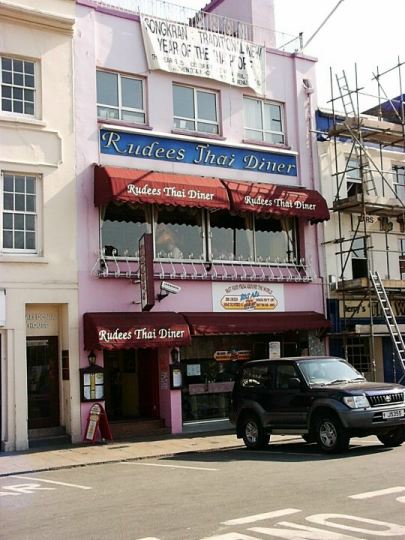 Rudees Thai Diner & Fast Food From Around The World
I intended to eat at Rudees Thai Diner, but accidentally went to her husband's restaurant below - Fast Food From Around The World. The owner and I had a nice conversation about hard ciders, and he treated me to a glass of their Jersey Apple Brandy. I liked it and ended up buying several bottles at a nearby store. To my surprise, when returning to the US, Customs did not require a fee for the excess alcohol - something I now know is common.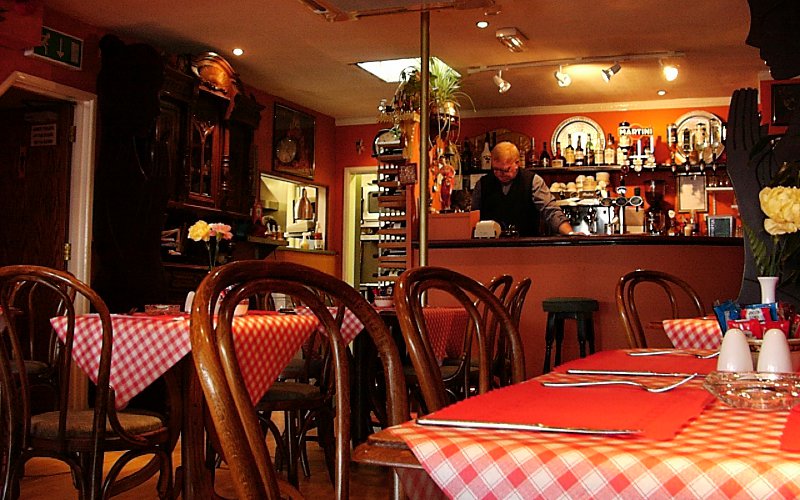 Fast Food From Around The World dining room
Saturday morning was spent sightseeing on Jersey, with the afternoon back at the convention. The dealers room was pretty attractive, but my suitcases were already going to be over full and I resisted temptation. The art show was quite small, few artists had arranged to bring their work over from the rest of the UK.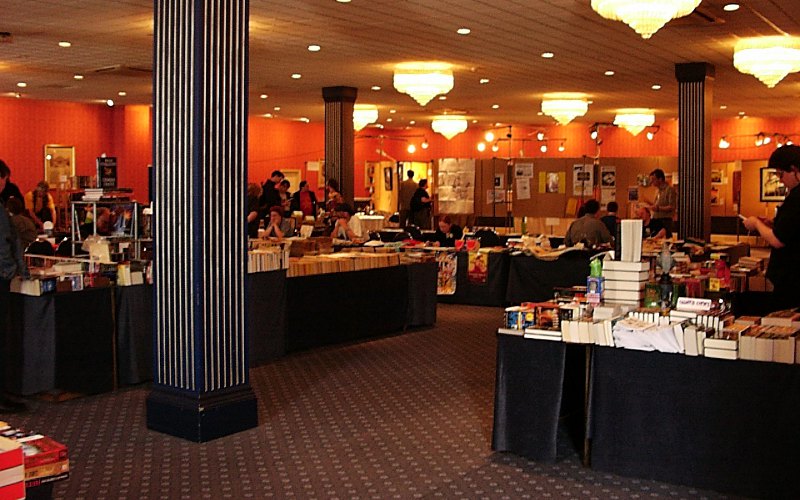 Dealers room with art show in background
My favorite panels were Harry Turtledove's Guest of Honor Interview, and Evaluating Sources with Laura Frankos & a couple of UK authors. I particularly enjoyed the book auction, in which they were selling small groups of books about every 45 seconds. I picked up three UK editions of James Gunn's work, which made my suitcase almost impossible to close.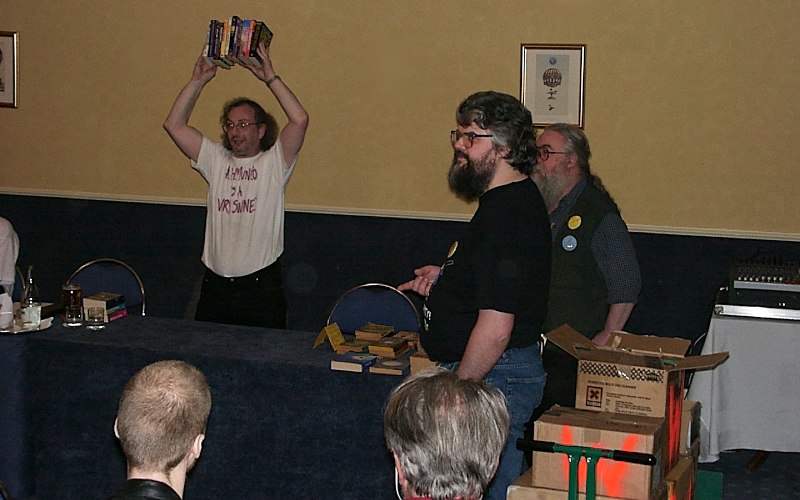 Eastercon Book auction, going through each lot in less than a minute
Convention programming ended fairly early on Saturday, to allow folks to change for the banquet. Most people were dressed very nice for the fine meal which included chicken liver and foie gras parfait, champagne sorbet, braised rump of lamb with navarin vegetables, parmesan mash, chocolate desserts, coffee and truffles. The banquet was noisy enough that it was hard to follow the conversations on the far side of my table, but I got to know a UK fan attending only his second convention, John O'Donnell and his delightful wife, June.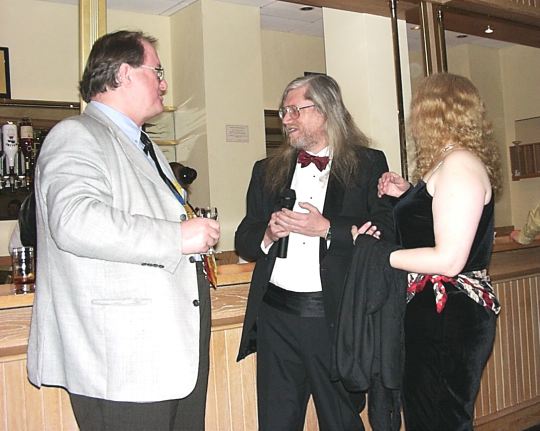 Peter Weston, Martin Hoare Chairman of the convention), Susan Murosako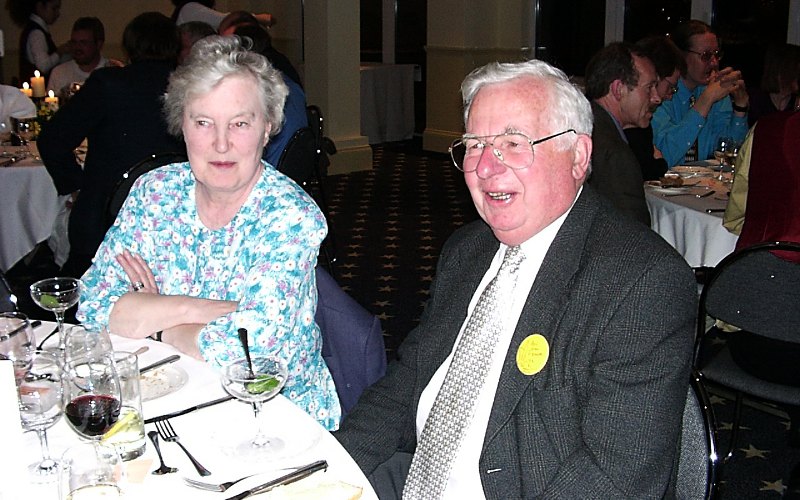 June & John O'Donnell sat next to me at the banquet. This was John's first convention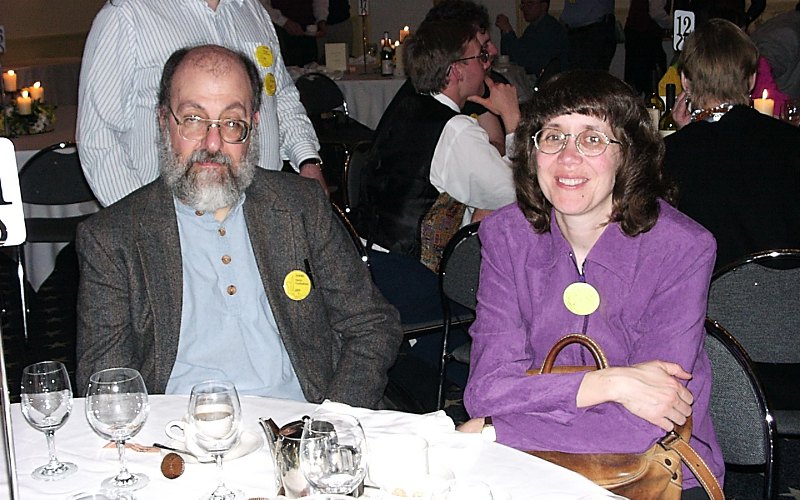 American authors Harry Turtledove & Laura Frankos, Harry was the Guest of Honor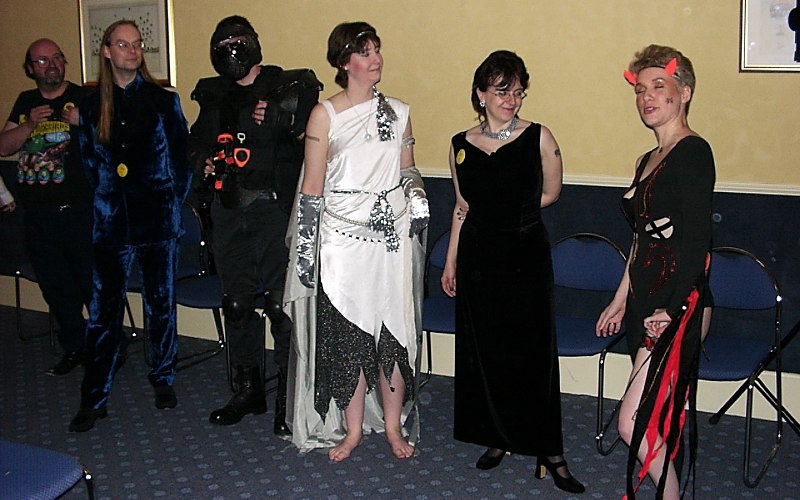 Eastercon Hall costumes
The program included a toast to the Queen Mum, who had passed away earlier in the weekend.
Following the banquet, it was time to return to the convention bar. There were rumors that there would be a party in the wee hours of the night, but with my flight off Jersey to London scheduled for 7AM (6AM after they changed to "summer time" that night!) I needed to quit around midnight. I left the bottle of bourbon that I had brought to share at the party with Jan and headed back to the Hotel Monterey.
I watched the TV for about an hour while I packed. Not surprisingly, the Queen Mum's passing was all that they talked about.
24 25a 25b 26a 26b 27 28
29a 29b 29c 30 31
2004 Trip to London and Blackpool France trip 2003
Keith's other trips Kansas Travel web site Mackinac Bridge & Mackinac Island web site
Visit my home page.
Copyright 2002-2021.