London - Wednesday March 27

My hotel - Park International
Wednesday was my last full day in London. I began by visiting some of the bookstores along Charring Cross Road. With limited space in my suitcase, I limited my purchases to a couple of used science fiction books at Murder One.
I had a good lunch in the crypt beneath St-Martin-in-the-Fields, then went upstairs to listen to the choir practice while I wrote postcards. The choir's practice was followed by a choral Eucharist that was one of the highest points of this great trip.
Coming out of the peace of the church into the heart of London was quite a shock.
I had to hurry across Trafalgar Square to the theater for a matinee performance of Noises Off, a hysterical farce. I enjoyed it, but found the audience very odd. Much of the sudience clearly didn't "get" the show.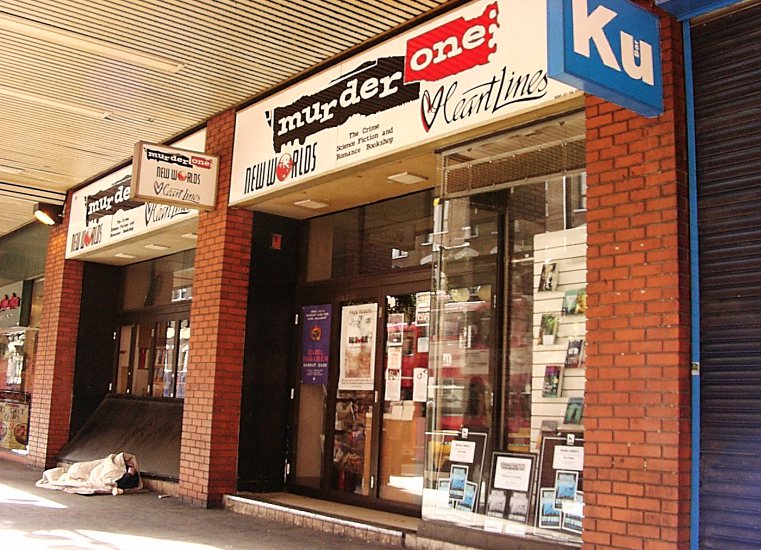 Murder One "The crime Science Fiction and romance bookstore" on Charring Cross Road.
There is a nice used science fiction selection in basement and I bought a couple books including
one by Wilson Tucker.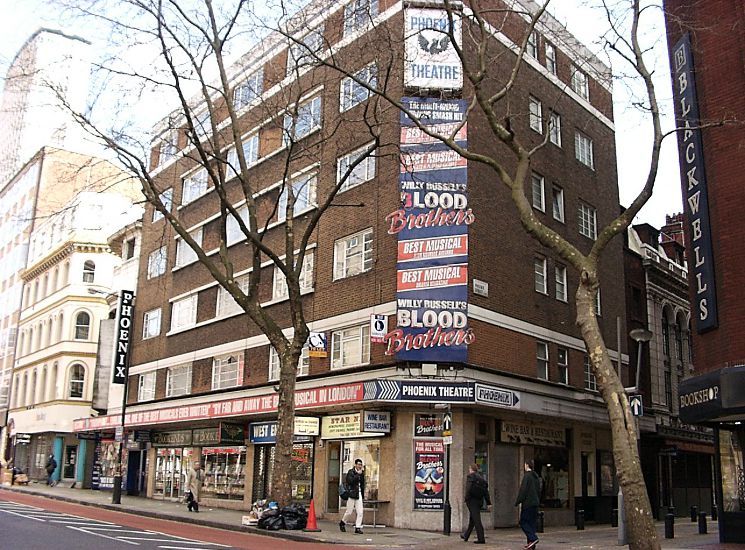 Blood Brothers at the Phoenix theater - musical that has been playing for 14 years.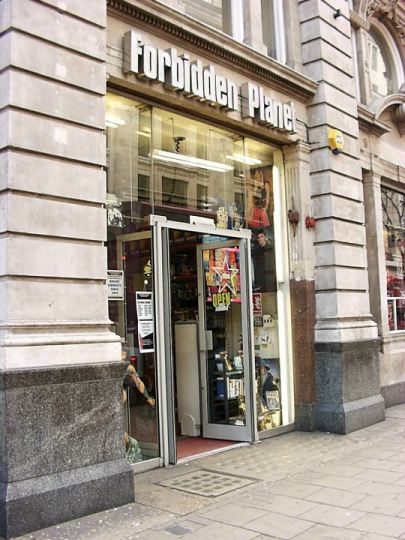 Forbidden Planet - science fiction bookstore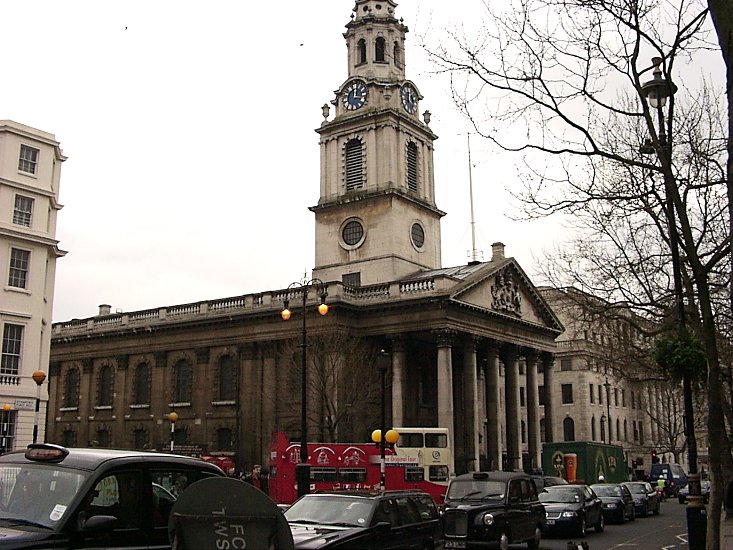 St-Martin-in-the-Fields - I had a nice lunch in the crypt and attend choral eucharist, thought it was
a bit of a shock coming back out into the heart of London after a couple of peaceful hours inside.
After the show, I took the tube across town to the Rising Sun Pub. After supper by myself, folks began to show up for the monthly meeting of the British Science Fiction Association. The attendance was small this month. Many folks had already flown down to Jersey for Eastercon. Also no program had been scheduled since a tube strike had been feared.
Still, I got to meet some British fans and authors, including one author from the US. I was particularly impressed by Molly Brown and have read a couple of her books since meeting her during this trip.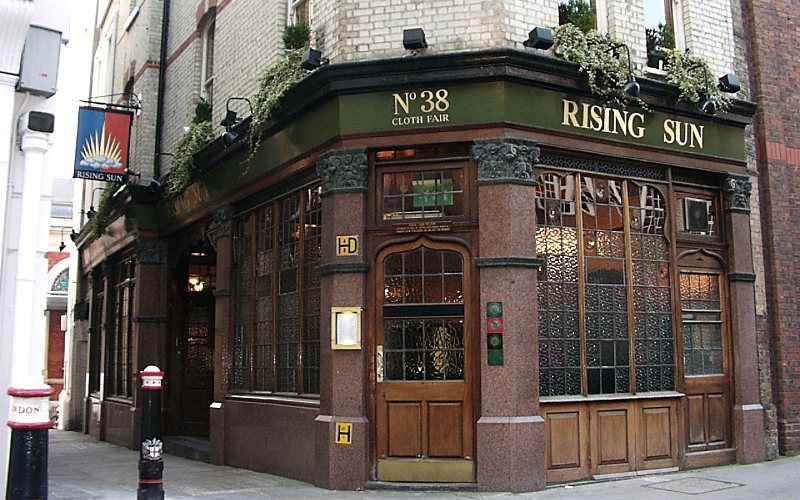 After seeing Noises Off, I went on to the Rising Sun pub for supper
followed by the monthly meetings of the British Science Fiction Society.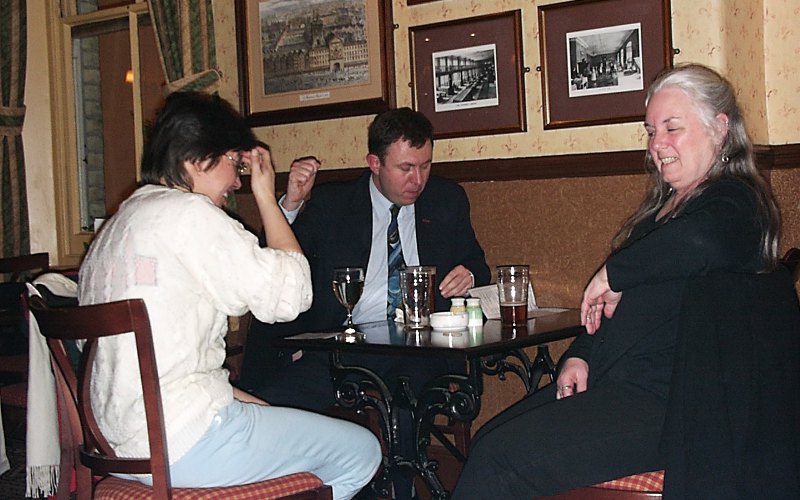 Meredith Macardle - reviewer & editor, Paul Hood - BSFA Treasurer, Bridget McKenna - Seattle author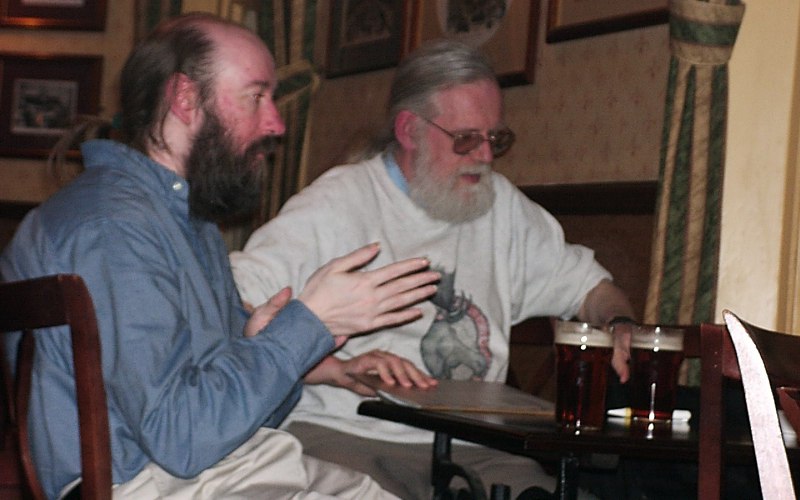 Simon, Roger Robinson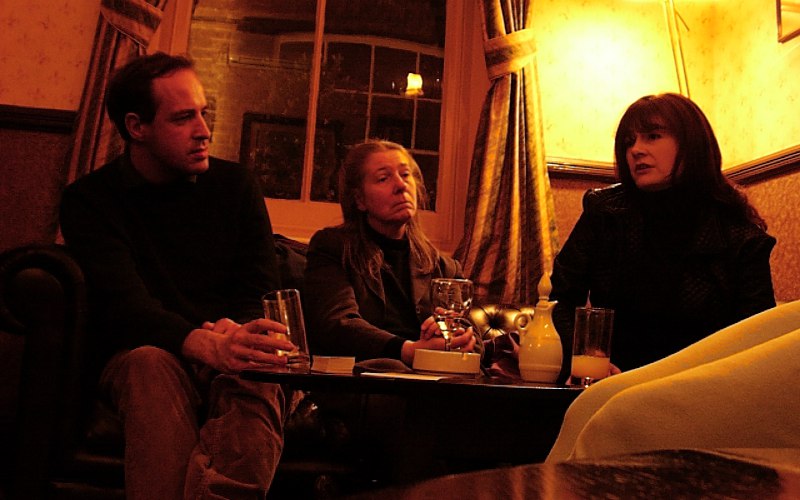 Andrew Osman - journalist, Cherith Baldry - author, Molly Brown - author of Invitation To A Funeral
At 8:30 things were already winding down and I had to leave to get to the Tower of London where at 9:30 PM a small group of tourists were met by a Beefeater and briefed on the Ceremony of the Keys.
The Ceremony of the Keys has been conducted in the same way every night since the 14th Century. Simply, it is the locking up of the Tower of London, though the ritual is quite detailed. Only a few people are allowed to view it each evening and advance tickets are required. I first learned of the ceremony in the Tom Clancy book Patriot Games and had been dying to attend.
24 25a 25b 26a 26b 27 28
29a 29b 29c 30 31
2004 Trip to London and Blackpool France trip 2003
Keith's other trips Kansas Travel web site Mackinac Bridge & Mackinac Island web site
Visit my home page.
Copyright 2002-2021.