London & Jersey
Thursday March 28
I packed early on Thursday morning, then checked out of the Park International Hotel and went to Victoria Station to check my bags. Then on across London to the British Museum.
I took a picture of myself reading the LSSU Laker Log to send to Lake Superior State University (they never used it), then took a tour of some of the British Museum highlights. There was time for another hour of exploring the museum by myself and to visit the gift shop to get some presents, and a tie and a T-shirt for myself.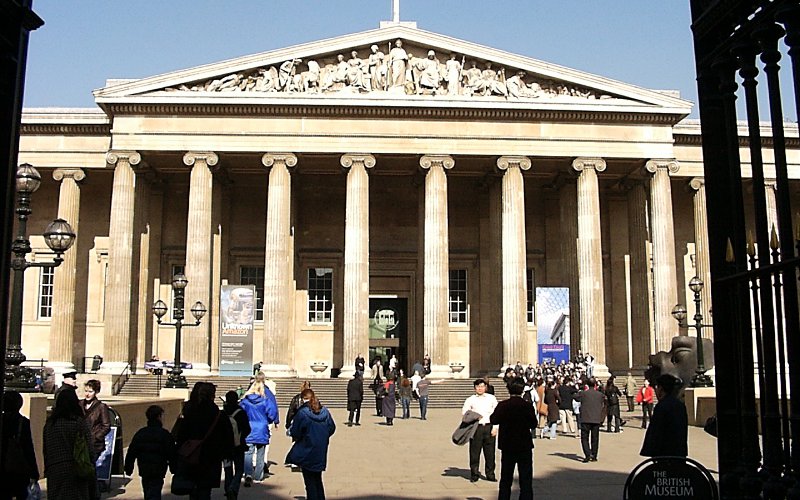 British Museum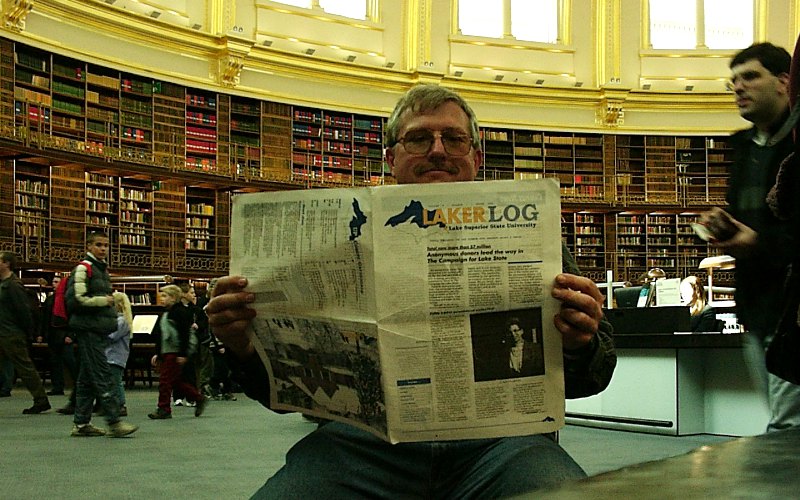 The Reading Room of the British Museum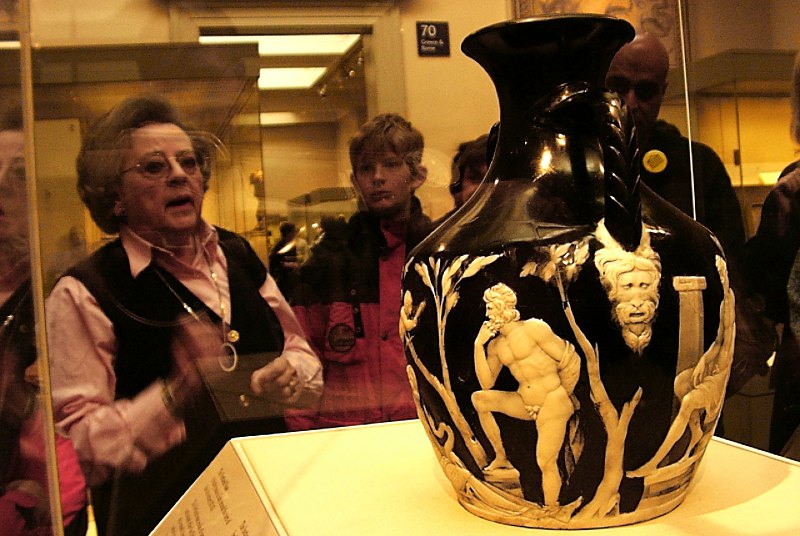 Tour guide with the Portland Vase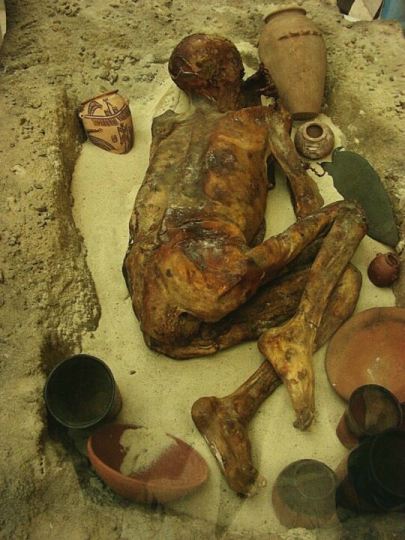 "Ginger" is a natural mummy from around 3,400 BC. She
gets her name fromt eh shade that her bones turned with age.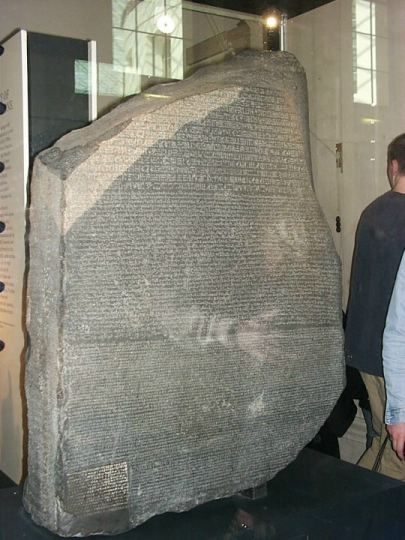 Rosetta Stone
Then back to Victoria Station, stopping for a lunch of fish in chips at the Shakespeare, a pub across from Victoria Station.
After reclaiming my bags, I took the train back to Gatwick to catch the British Airways flight to St. Helier on the Channel SIsland of Jersey. The BA flight had the most cramped airline seats I have ever seen. It was so bad that I will not fly British Airways again!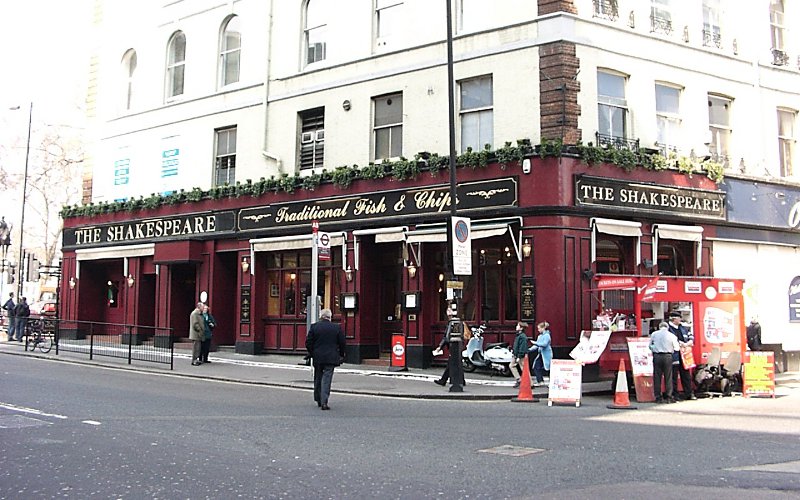 The Shakespeare pub across from Victoria Station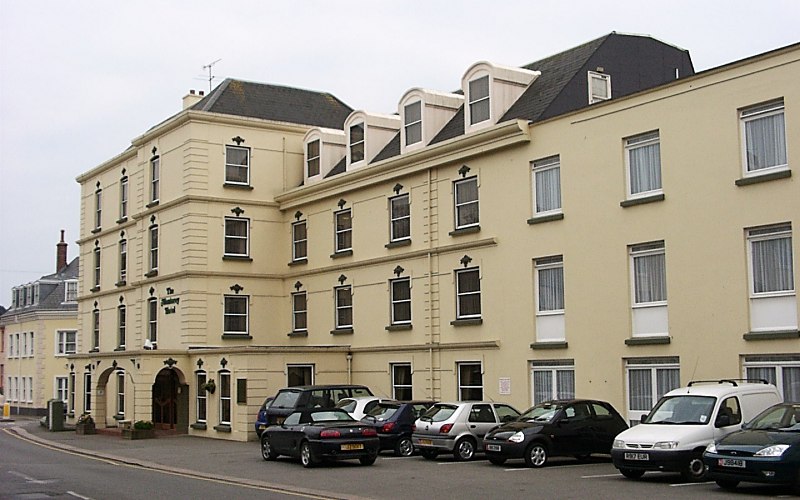 Hotel Monterey in St. Helier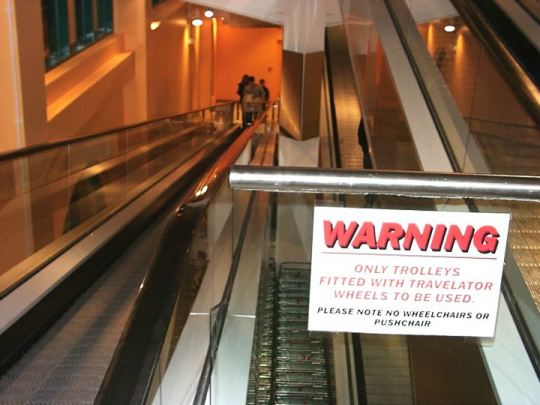 "Travelator" escalator for trolleys (shopping carts) at co-op in St. Helier on Jersey
Date: 28 Mar 2002 18:55:35 GMT:
Checking in at a coop supermarket near my hotel on Jersey. It is a cery odd machine with no mouse, and I think it is actually a phone.
Helicon 2 is the British National Science Fiction Convention for 2002, also known as the Eastercon. The 2002 Eastercon was held in the Hotel de France, just "over the road" from my hotel (the Monterey). I hurried to get to the convention in time to register on Thursday, but after waiting for an hour or so and learning that there would be no chance for a person named "Stokes" (they didn't have enough staff to handle all of the alphabet) to register that night, I headed out to see a bit of St. Helier and have dinner.
The conention looks very unorganized. I don't think people in the last half of the alphabet will be able to register at all tonight.
JI jt came by this supermarket to use the ATM. Jersey accepts British pounds, but also has notes of its own. After 5 days in London, it is odd to see 1£ notes.
Off to find a nice place for dinner. Looking forward to the slower pace after five days in London.

Supper at Restaurant De La Poste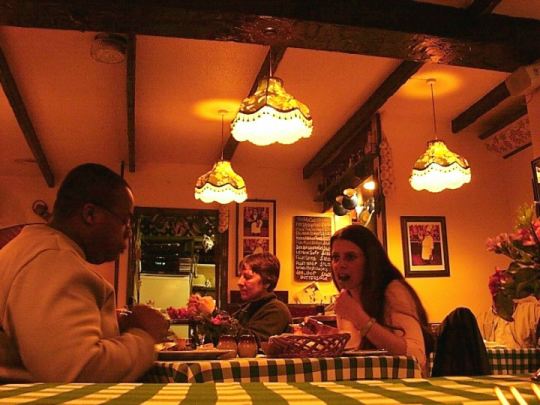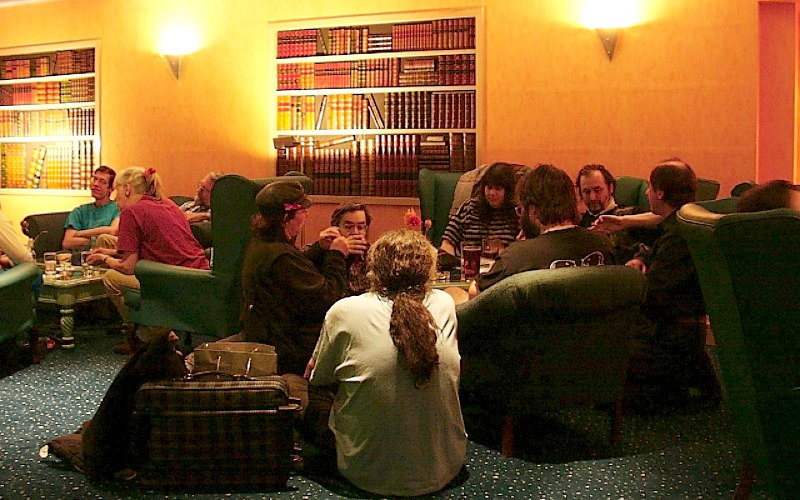 Hotel bar at British National Science Fiction Convention (Eastercon) - Jan van 't ent is in blue T-shirt at left.
Jan sent me a post card from this same convention when it was held in the same hotel in 1993.

24 25a 25b 26a 26b 27 28
29a 29b 29c 30 31
2004 Trip to London and Blackpool France trip 2003
Keith's other trips Kansas Travel web site Mackinac Bridge & Mackinac Island web site
Visit my home page.
Copyright 2002-2021.