Keith Stokes'
2004 UK Trip
The flights to Chicago and London Heathrow were pleasant and uneventful. I like American Airlines' 777s for Transatlantic flights.
--------------------------------
Day 1 Friday April 1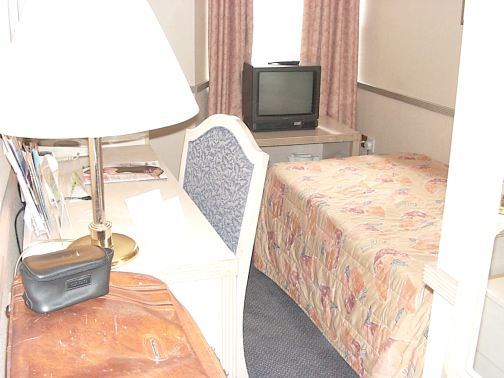 There was a brief hold in the air at London and customs was slow, so I didn't arrive at the Park International Hotel until 11:30AM. But the good news was that I was able to check right into my room to take a much needed shower and change. This visit, I wasn't upgraded to a double, so my room was tiny - perhaps 6 feet wide.
But I am not complaining! The room was inexpensive £41.13/night including tax and has plenty of features: AC, ensuite (that means it has its own bathroom), refrigerator, hairdryer, color TV, coffee pot, trouser press, telephone and safe. The shower is only about 27" square, but at least it has glass walls. Several of the showers, in other European hotels I have used, were exposed and had only a flimsy curtain.
After freshening up, I visited the nearby Sainsbury's (supermarket) to get cash at the ATM and load up on exotic (to me) junk food and drinks. I left the food in my room and it was time to explore.
My afternoon was supposed to start with a tour of the Royal Mews, but somehow my research missed the part where the Mews is closed on Fridays for most of the year.
Oh well! On to Buckingham Palace for some photos and a walk through St. James Park. It was beautiful (this would turn out to be the nicest weather of the trip): mid 50s, sunny and many plants blooming. Every few feet was a photo opportunity. Twice I was drafted to photograph others.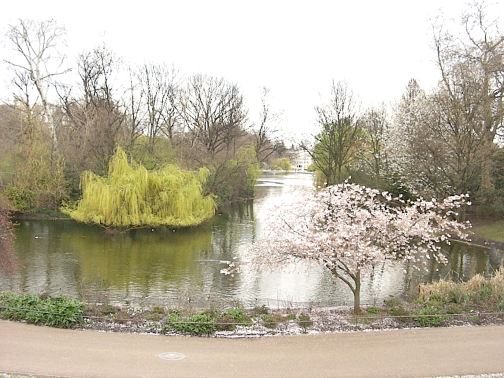 Looking east into St. James Park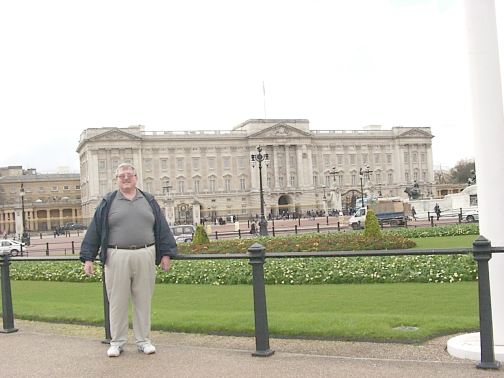 Me in front of Buckingham Palace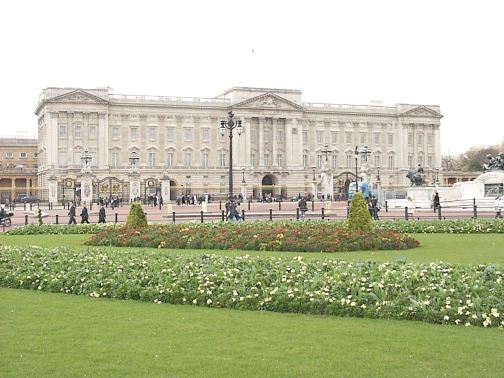 Buckingham Palace without me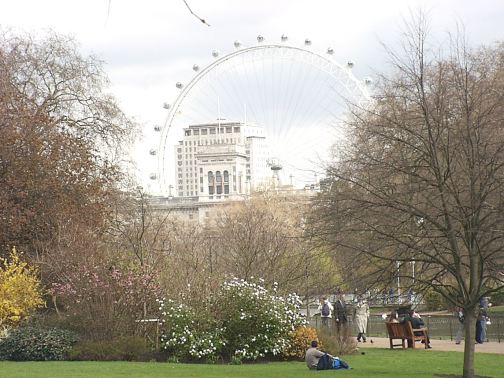 London Eye in distance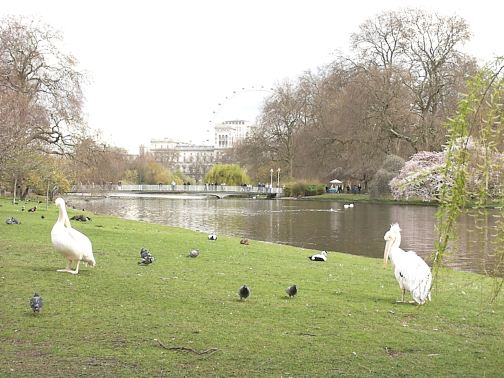 Pelicans have been in St. James Park since the time of Charles the Second
Day 1 - London Day 1 - London Day 3 - London Day 4 - Oxford
Day 5 - Salisbury & Stonehenge Day 6 - London Day 7 - London & Blackpool
Day 8 - Blackpool Day 9 & 10 - Blackpool