Keith Stokes' Wisconsin Trip
Milwaukee, Wisconsin October 1, 2006
Previous Page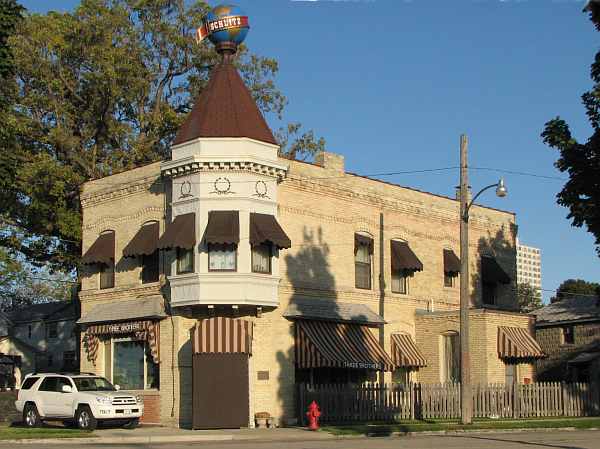 Three Brothers Serbian restaurant
When I arrived at Three Brothers Serbian restaurant at 5:30, I was delighted to discover that it was the interesting old bar that I had noticed from the highway earlier in the day. It was built in 1897 for the Schlitz brewery and is on the National Register of Historic Places. The Serbian restaurant is very highly recommended on the web.
A beat up, plain bar runs the length of the room. Although the back of the bar is lined with liquor, the bar itself is blocked by a row of old metal kitchen style tables. A total of 15 tables are squeezed into the room. Interior of Three Brothers Serbian restaurant is only open for dinner, and diners are urged to make reservations.
I was planning to have a baked dish called burek, but the Interior of Three Brothers menu said it would take 45 minutes to an hour to bake. Since Three Brothers has reputation for being slow, I ordered the roast duck instead.
The meal began with a salad of chopped tomatoes with diced onions & peppers covered by a layer of flavorful Serbian goat cheese. I would like to have that cheese again.
The large half duck came with cooked cabbage, carrots and dressing. At first I was unimpressed by the dressing, but it was perfect if I ate a bit of dressing and duck in the same bite.
The owner, Branko Radiecevich, stopped to speak to me twice, and seemed genuinely friendly and interested. He is about 80, and looks old European with a plaid work vest and beret.
I followed the meal with hot Serbian plum brandy. It was served in a heavy shot glass shaped like a mug. Sweet and wonderful.
There were two miscues at Three Brothers Serbian restaurant. I didn't think they should charge for a refill on iced tea. The other was when the server asking if I wanted change when he picked up my money and check. I was paying a $30 meal with a $100 bill.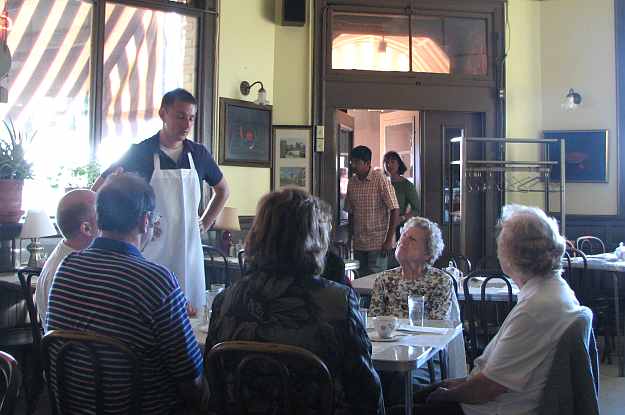 Interior of Three Brothers Serbian restaurant
The last stop before going to the airport was Leon's Frozen Custard Drive-In. I was surprised that Leon's Frozen Custard doesn't serve concretes, a staple at custard stands in KC. So I settled for an inexpensive butter pecan cone. Fine, but nothing special. Leon's Drive-in has been reported as being the original inspiration for Arnold's Drive-In on the Happy Days television show.
Leon's Drive-in was quite busy, but no more than the original Sheridan's Frozen Custard in Overland Park, Kansas.
Then back to the airport to return my rental and catch the 9:45PM flight back to Kansas City. I think I managed to squeeze a lot of Wisconsin touring in this short weekend.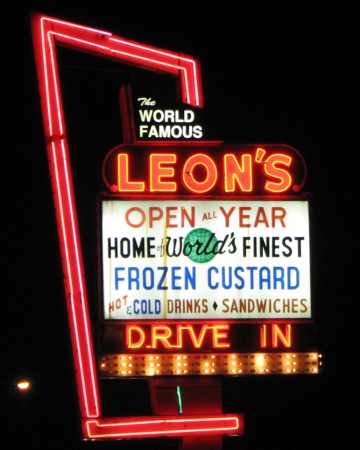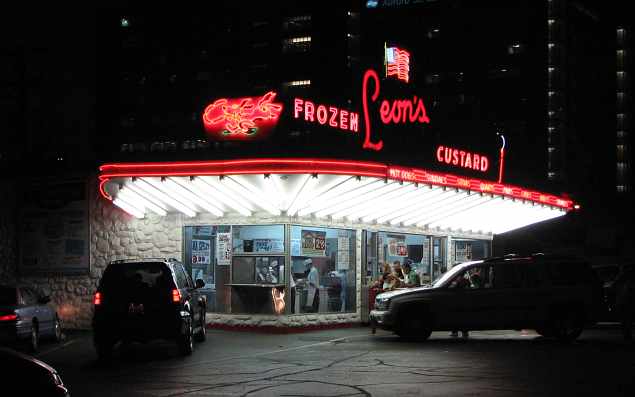 Leon's Frozen Custard Drive-In

Whad'ya Know Wisconsin Maritime Museum Manitowoc Harbor
Sheboygan Harbor Kohler Arts Center Sheboygan Shore
Port Washington Milwaukee Shore Cudahy Grassroots Art
Previous Page
Copyright 2006-2009 by Keith Stokes My other trips.