Whad'ya Know?
Monona Terrace - Madison, Wisconsin September 30, 2006
Previous Page
Next Page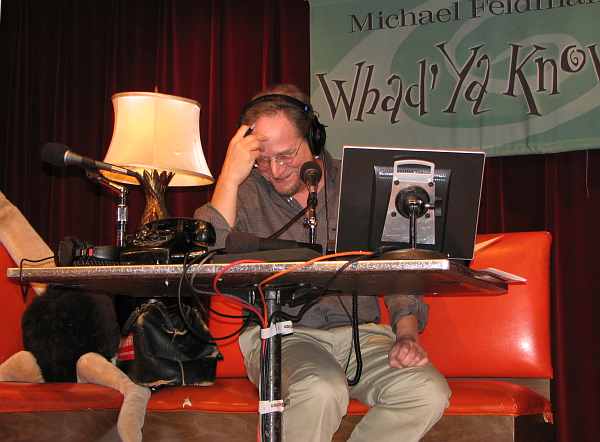 Michael Feldman interviews New York Times Op-Ed Columnist Frank Rich by telephone.
Michael Feldman interviews many of the members of the audience at times during the show. Though he didn't ask my name, he spoke to me on air during the second hour, asking why there were empty seats on both side of me. My 15 seconds of fame!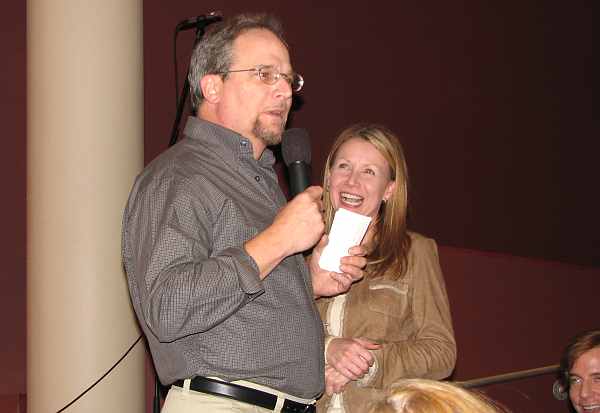 Michael Feldman speaks to Cindy, who has a small title company in Chicago.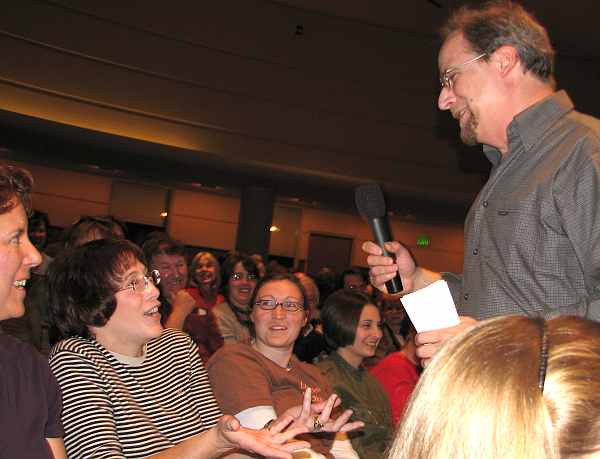 Audience member asking Michael Feldman where to meet the nice, single, Jewish guys.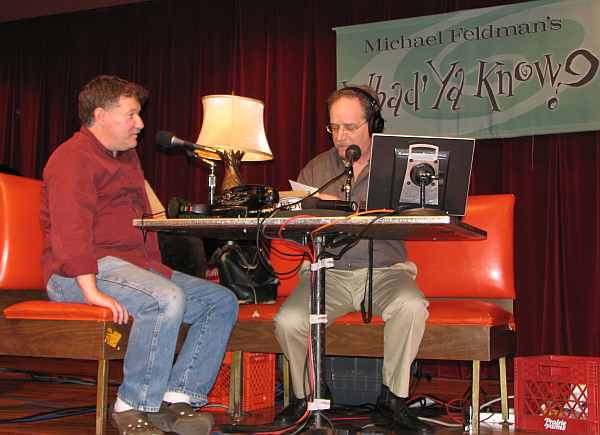 Michael Feldman playing the quiz during hour one of Whad'ya Know with Steve "Scooter."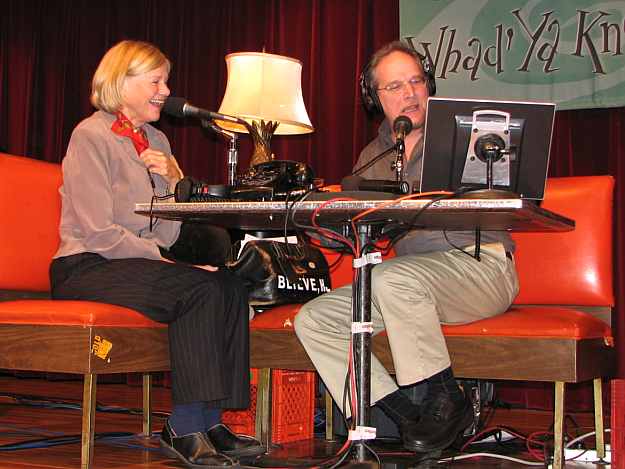 Aunt Rosealie from Kansas City (Leawood) was a big hit on Whad'ya Know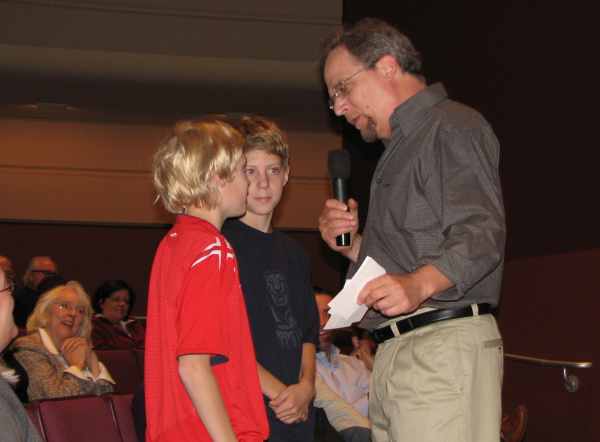 Ethan and Sam were at the show with a group of attorneys from the Wisconsin State Bar.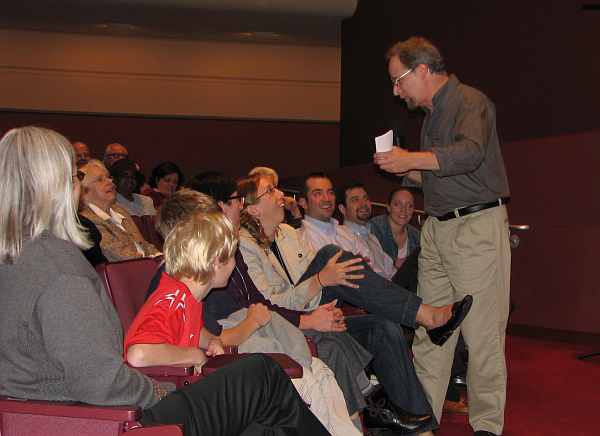 There were also many librarians in the audience, in Madison for the centennial of the University of
Wisconsin-Madison's School of Library and Information Studies.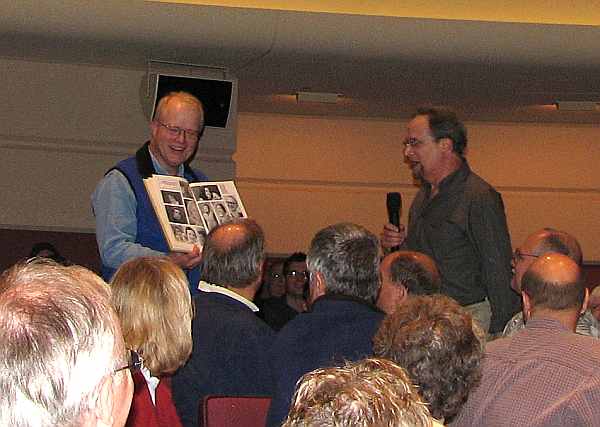 Whad'ya Know audience member showing Michael Feldman his yearbook photo.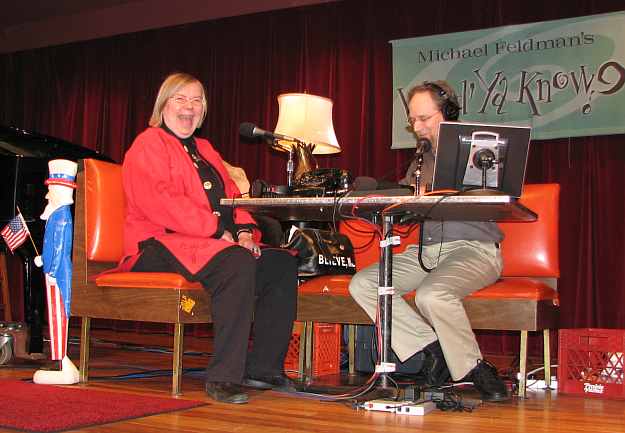 Michael Feldman paying the quiz in hour two of Whad'ya Know, with Maralee, a librarian.
I bought one of Michael's books and a trivia game with a Michael Feldman bobble head from the table outside the auditorium, and took it up to Michael to be signed after the show. All of the cast make themselves accessible to the audience.
After the show, I headed back northwest on 151, stopping before leaving Madison, to have lunch at New Orleans Take-Out. An oyster poor boy and a half order of red beans and rice with double sausage.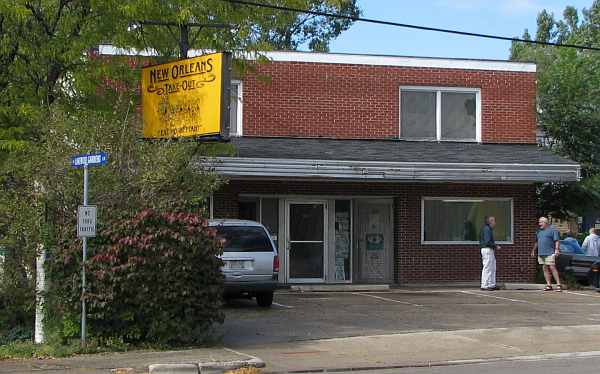 New Orleans Take-Out
Pretty good! I would go there again. The New Orleans Take-Out restaurant is almost a hole in the wall, but its customers have included Wynton Marsalis, Bo Diddley, and Etta James. I nearly bought one of their cool T-shirts, and now wish I had.
Whad'ya Know Wisconsin Maritime Museum Manitowoc Harbor
Sheboygan Harbor Kohler Arts Center Sheboygan Shore
Port Washington Milwaukee Shore Cudahy Grassroots Art
Previous Page Next Page
Copyright 2006-2009 by Keith Stokes My other trips.