After photographing some of the vehicles in the truck show, I continued through St. Ignace to see $36 million hotel & casino that Kewadin opened in June. The only problem is that the 29,000 square foot casino with 800 slot machines and 26 gambling tables has been unable to operate because part of the building was built on land where Indian gambling is not legal.

An unattractive $2.5 million replacement casino is being quickly erected next to the new building.
Then I drove west of St. Ignace to pick up pasties at Lehto's and returned to Mackinaw City to pick up whitefish dinners at Scallywag's for our lunch

Dad tried Lehto's pasties recently and likes them, but the one I split with him did nothing for me. Small, with too much crust and not enough flavor. Looking at the filling, it appears that Lehto's pasties have just meat, onion and potato. An Upper Peninsula pasty should have both beef & pork plus carrot and a touch of rutabaga.

The fish from Scallywag's was excellent,. and the coleslaw & hushpuppies were pretty good, but they need to learn to do a better job on French fries.


Lehto's Pasties on US-2, 5 miles west of St. Ignace.
| | |
| --- | --- |
| "Just a Plain Farm" market with hay rides and a corn maze. | In the afternoon I drove west of Mackinaw, first visiting the slowly developing Old Mackinaw Historic Village. Then farther west to the mouth of the Carp River, circling south past Just a Plain Farm, along Old US-31 through Carp Lake and back up to Mackinaw City. |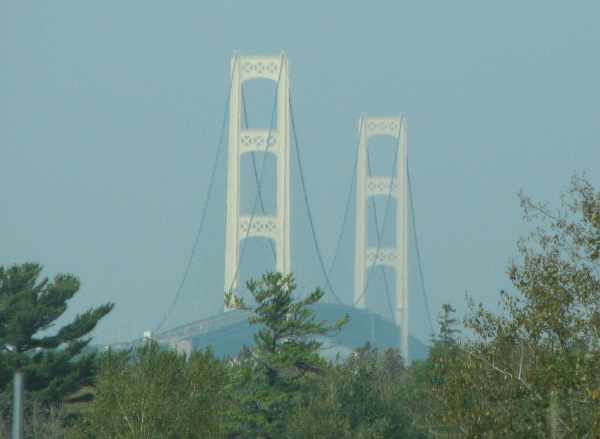 Hazy Mackinac Bridge from the south side of Mackinaw City.
The newly retired Coast Guard icebreaker Mackinaw, is now docked at the old railroad dock in Mackinaw City. They still have quite a bit of work to do, converting the 290' ship into a museum, before visitors will be allowed in the interior areas, but the decks are now open for visitors on weekend afternoons. My pictures from the new Icebreaker Mackinaw Maritime Museum are at www.mightymac.org/mackinawmaritimemuseum.htm.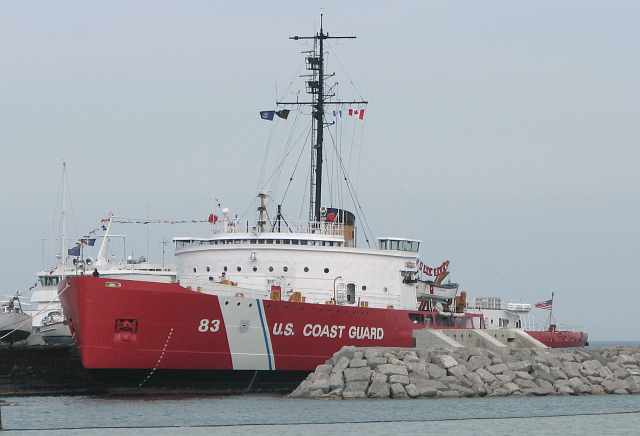 The row of portholes was the Captain's suite.
Last of all, I window shopped some of downtown Mackinaw City's gift shops. Mel Tillis was appearing at Mackinaw Center Stage Theater that evening, but I'm not much of a country music fan.

The exterior work on the replacement for the fire ravaged MaMa Mia's Restaurant is now complete, but there are still weeks or months of interior work before the restaurant will reopen. A new Mackinaw Bridge Museum will follow someday, and the plaque honoring the museum and International Ironworker Festival has been mounted on the front of the building.