My parents (age 92 & 89) have lived in the same house in Mackinaw City, Michigan for almost 69 years. I return to Mackinaw 3 or 4 times a year, and squeeze in a little sightseeing each trip.

Sightseeing this trip began Saturday morning, when I drove down US-23 along the northeast coast of the Lower Peninsula. I hadn't been more than 5 miles east of Cheboygan in the past 35 years.

After a quick stop to photograph Poe Reef Light in the distance, the first real stop was at Ocqueoc Falls. Ocqueoc is the largest falls in the LP, but that just means that all of Michigan's big falls are in the UP. This is more a series of rapids, with the largest single drop only about 5 feet. But it is still beautiful and sounds like a waterfall.

Poe Reef Light (1929, automated in 1974 ) from the scenic lookout opposite the Channel 4 TV tower.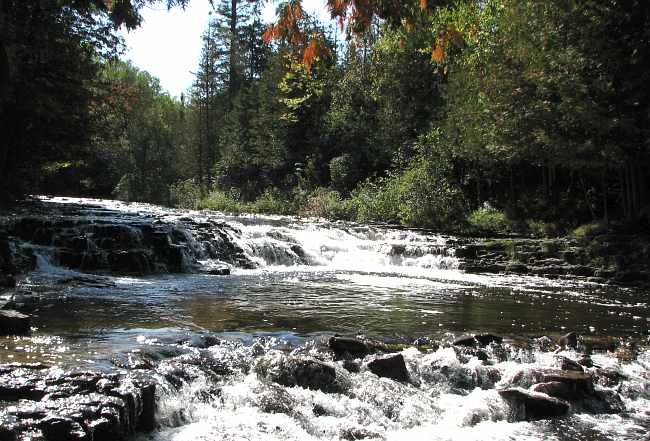 Ocqueoc Falls east of Roger's City
My next stop was supposed to be lunch at the Portage Restaurant near Presque Isle, but in the off season, it is closed until 4 PM on Sunday. Too bad! It has a good reputation and I may never be there again.
So I went on along the shore another half mile to Old Presque Isle light. One of Michigan's oldest lights, the tower was built in 1840. The nearby quarters, which is now a gift shop, was rebuilt in the 1930s. I took a few photos and climbed the tower. No big feat, it is only 45 steps. Old Presque Isle is also one of the shortest lights.

The woman operating the gift shop was very helpful. In addition to telling me about the history of the light station, she suggested some alternate places to have lunch.

Admission to the grounds and buildings is $2.50 for adults.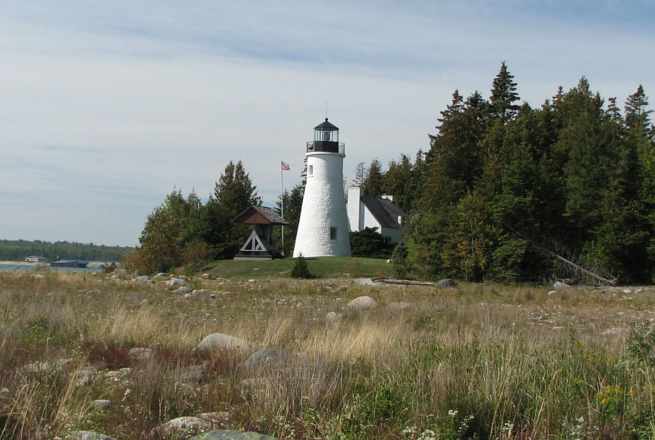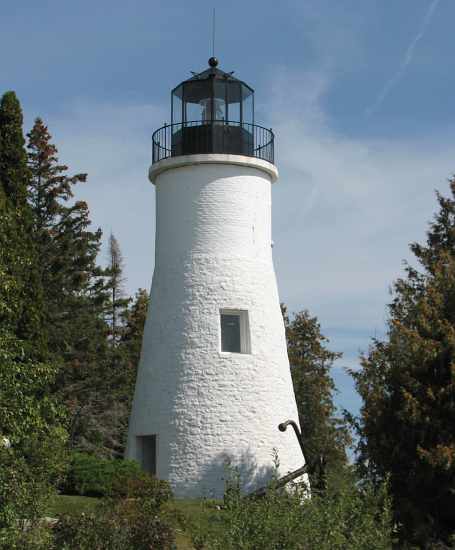 Tower is 30 feet tall, 18 feet in diameter at base & 9 feet in diameter at top.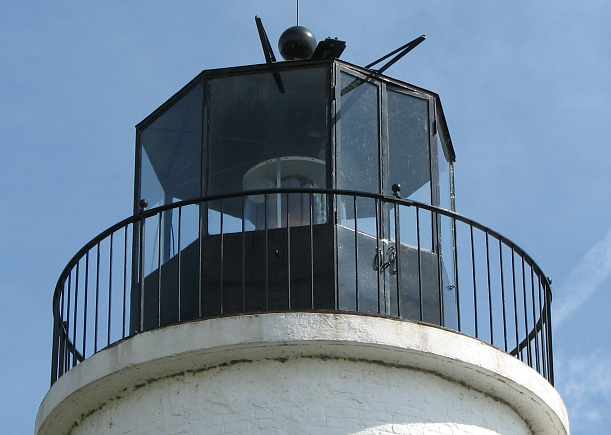 The lantern room is from the South Fox Island lighthouse.