2014 Northern Michigan Trip
Mackinac Island
June 27, 2014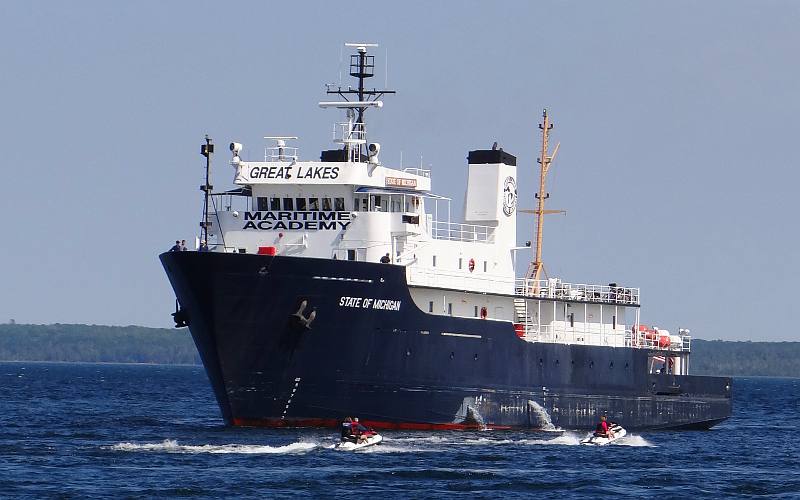 The Great Lakes Maritime Academy's State of Michigan
Friday (continued)
We drove to Shepler's ferry dock in St. Ignace. Although this ferry route doesn't have the same beautiful view of the Mackinac Bridge that the Mackinaw City route does, it knocked 15 minutes off our travel at this time. The next ferry came within a few minutes and we nearly had it to ourselves.
As we approached the Mackinac Island harbor, I saw a ship with an unfamiliar design approaching from the other direction. Using an app on my phone, I learned that it was a 224-foot former Navy submarine surveillance ship, now used as a teaching vessel by the Great Lakes Maritime Academy and named the State of Michigan.
When we left the ferry, we walked out to the end of the dock so I could photograph it. I didn't feel as much like a tourist, when several people who work on the Island came out on the dock to photograph it as well.
For those of you unfamiliar with Mackinac Island, it was the nation's 2nd National Park, after Yellowstone. A couple of decades later it was turned over to the state of Michigan and became Michigan's 1st State Park. Today about 85 % of the Island is park, with the balance consisting of a small resort community. No motor vehicles are permitted on Mackinac Island.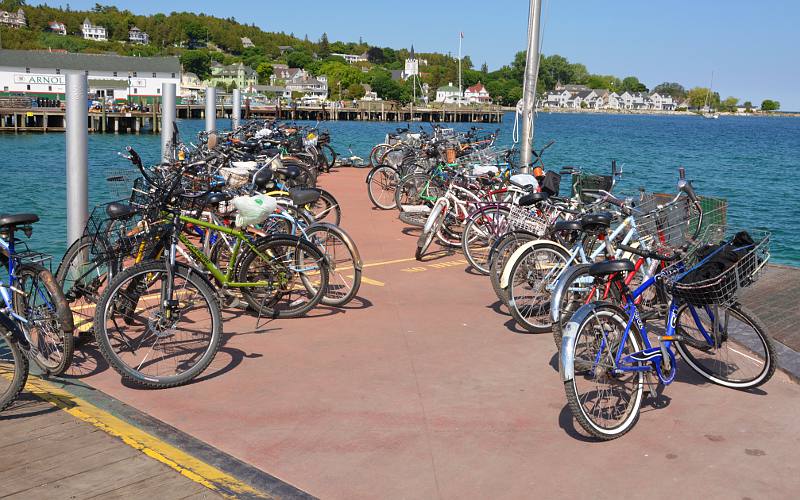 Parking lot on the end of Shepler's ferry dock on Mackinac Island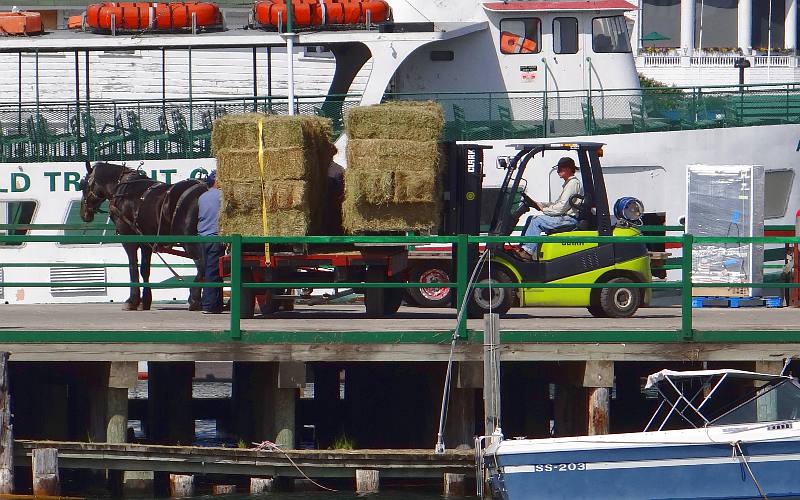 A forklift loading hay onto a dray wagon on the Coal Dock.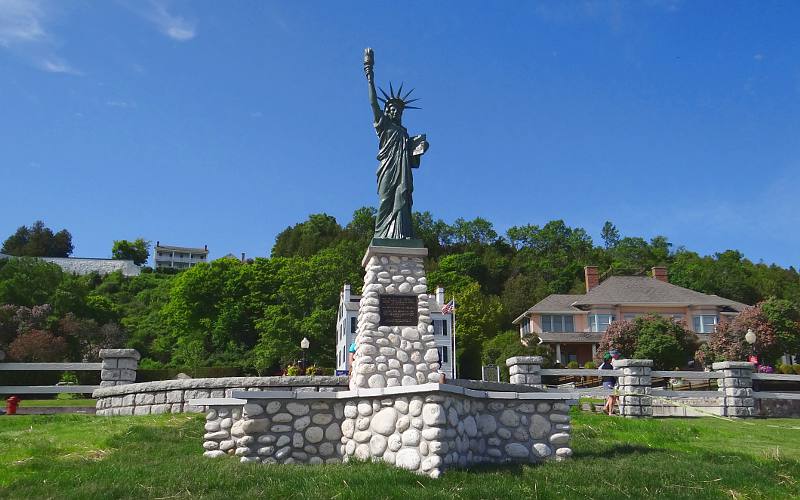 After a 2 year restoration, the 8.5' replica Statue of Liberty has been placed on a new base and rededicated on Mackinac Island.
About 200 of these were donated across the United States by Boy Scouts to celebrate the Scouts 1950 fortieth anniversary.
Since our bags were already on their way to the Grand Hotel, we spent some time exploring the downtown. It wasn't long before we started encountering wedding parties. First one group which was having a wedding the next day, then a bridal party leaving Trinity Church. We enjoyed watching the photography of the party boarding carriages, then saw the photographer hop on a bicycle to race ahead of the bride & groom's carriage to take more photos along the way. We would encounter the same and other wedding parties during the rest of the stay.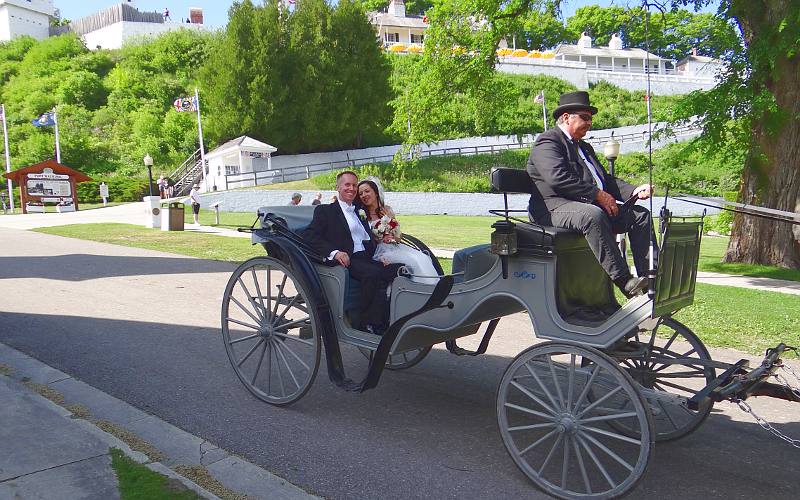 Newlyweds leaving Trinity Church in a carriage with Fort Mackinac in the distance.
We continued to wander more or less toward the hotel, stopping at the post office, some shops and Dr. Beaumont Museum. We also stopped for drinks at the Yankee Rebel Tavern.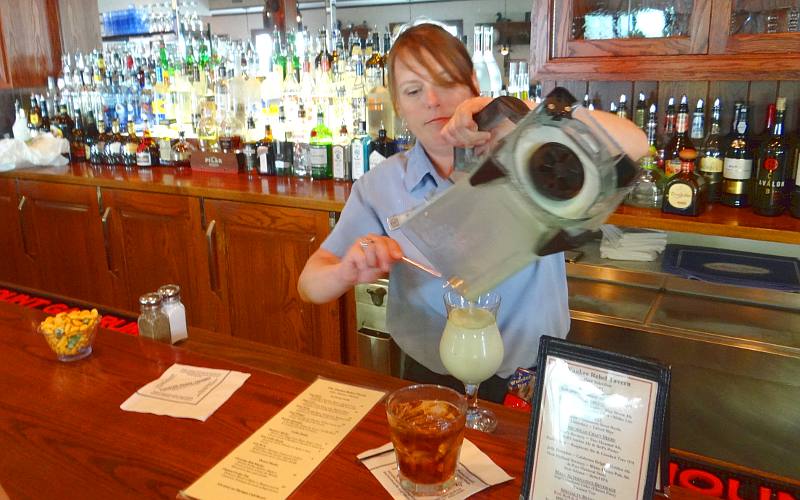 The Yankee Rebel Tavern bartender is making a Grasshopper for Linda.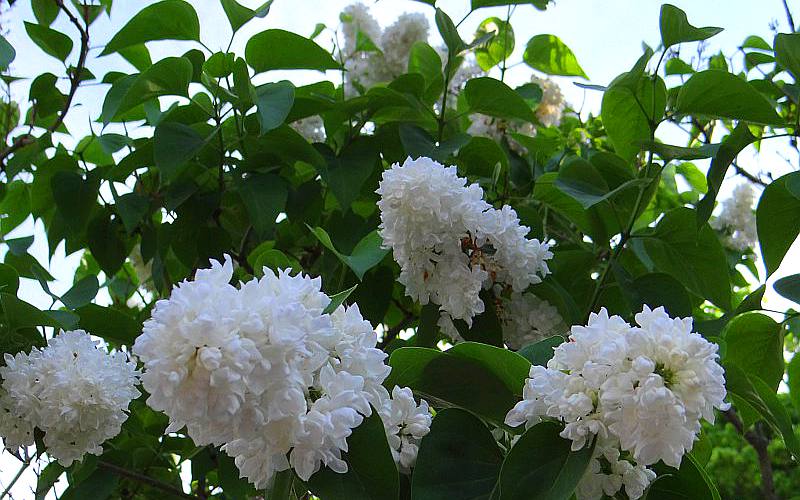 White lilacs - Mackinac Island is famous for the lilacs, some of which are 150 years old.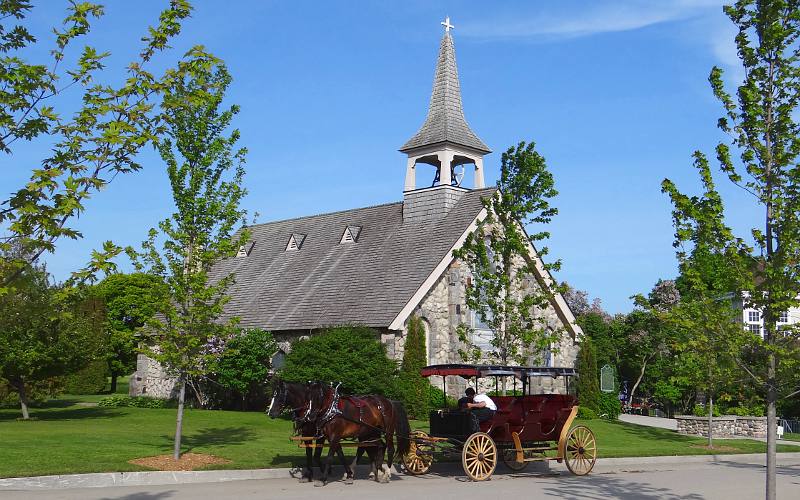 A horse and carriage pauses in front of the 1904 Little Stone Church on Mackinac Island.

Previous Page Next Page
Day 1: Mackinaw City
Day 2: Pictured Rocks, Munising Waterfalls, Lighthouse Cruise
Day 3: Soo Locks Engineers Day, Mackinac Island
Day 4: Mackinac Bike Tour, Carriage Tour, Grand Hotel Evening
Day 5: Fort Mackinac, Fort Michilimackinac
Day 6: Mackinac Mill Creek Park