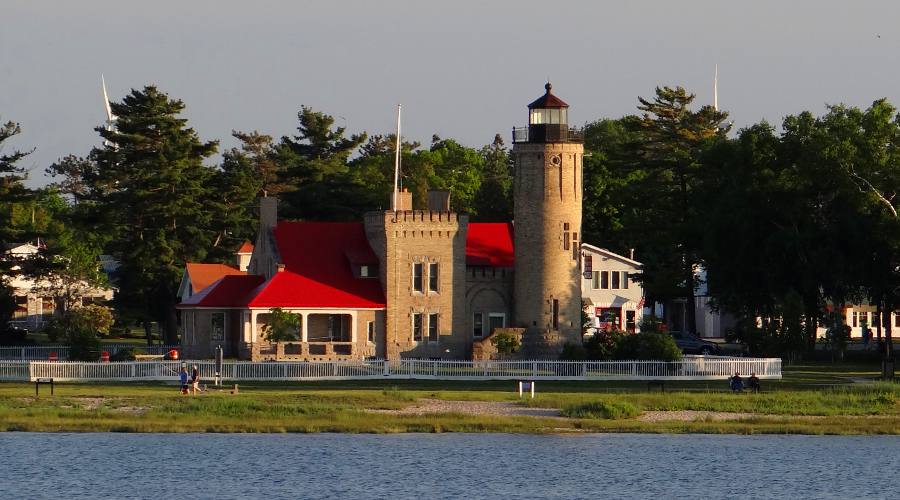 Old Mackinac Point Lighthouse from the Sunset Lighthouse Cruise
Thursday (continued)
I had planned a couple of stops for the drive back to Mackinaw City, but it was getting later in the afternoon than I expected and we drove straight through to have supper at Scalawags Whitefish & Chips, where this time I had the perch and Linda had the whitefish. They did a great job on the fried fish, as always.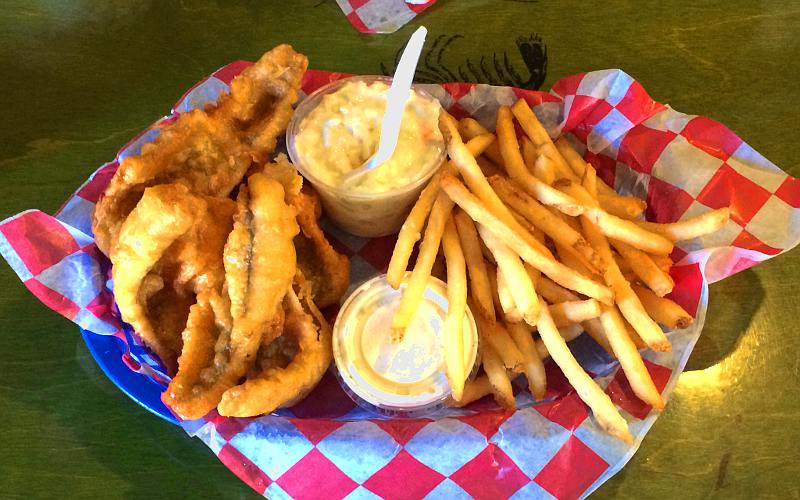 Fried perch, coleslaw and fries
After a little early evening down time at the motel, we went to Shepler's dock's to catch the 8:30PM Lighthouse Cruise. The trips are put on by Shepler's Mackinac Island Ferry and the Great Lakes Lighthouse Keepers Association. Although they have been doing other lighthouse cruises for years, it was their first ever night excursion.
It began with going by Old Mackinac Point Lighthouse and under the Mackinac Bridge, hurrying on to St. Helena Lighthouse where we dropped off a woman and her two children who would be working on the light for the next week and picked up another worker who had finished her week.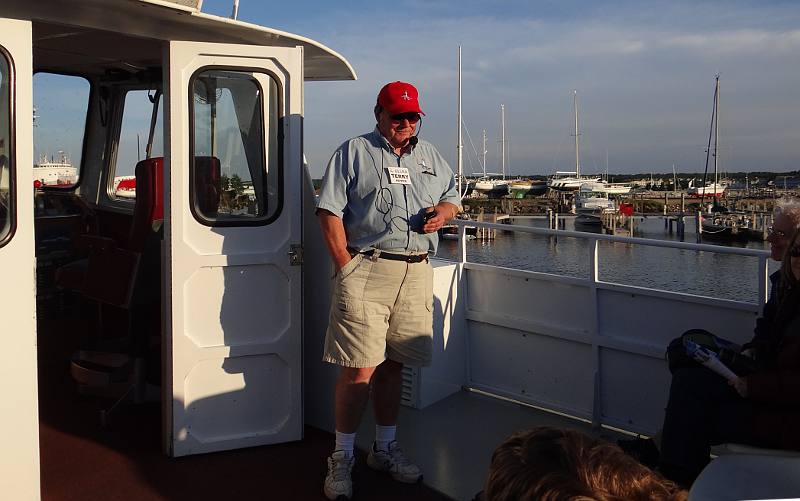 Terry Pepper - Executive Director of the Great Lakes Lighthouse Keepers Association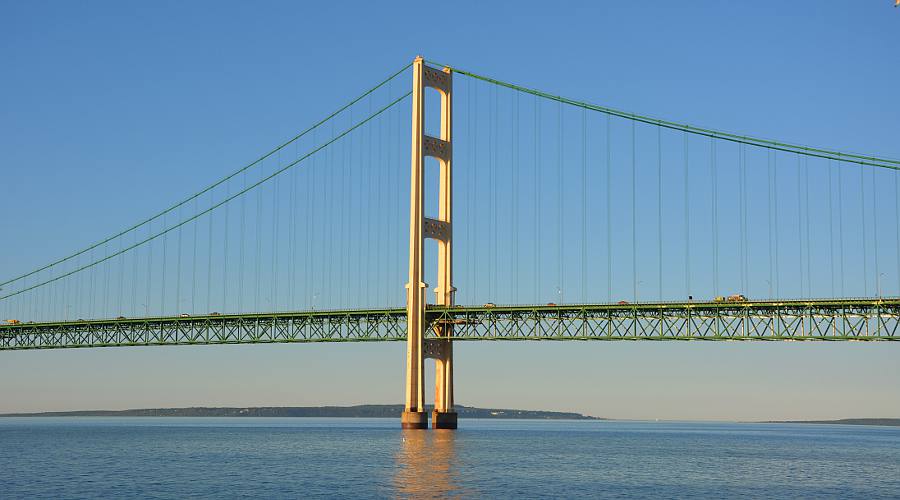 Mackinac Bridge South Tower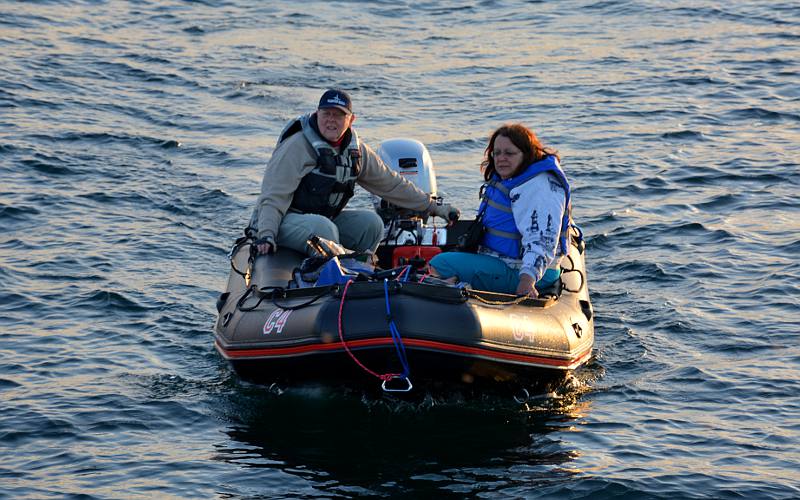 A volunteer being brought off St. Helena Island after a week of service as Lighthouse Keeper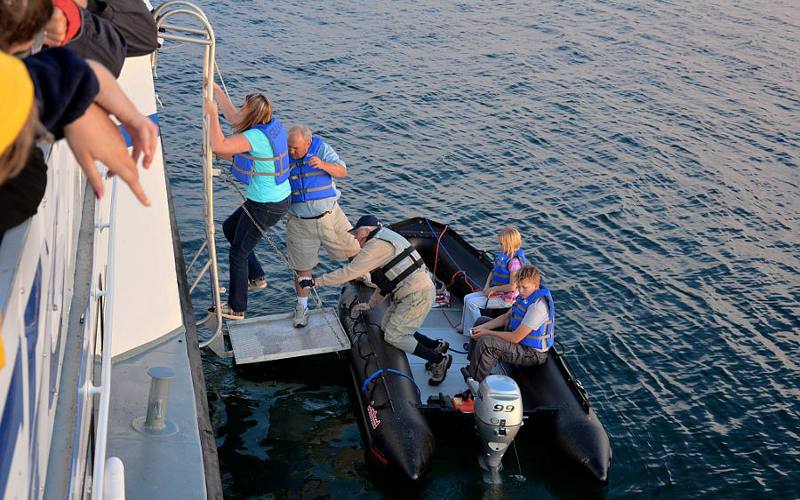 The new week's lighthouse keeper and her children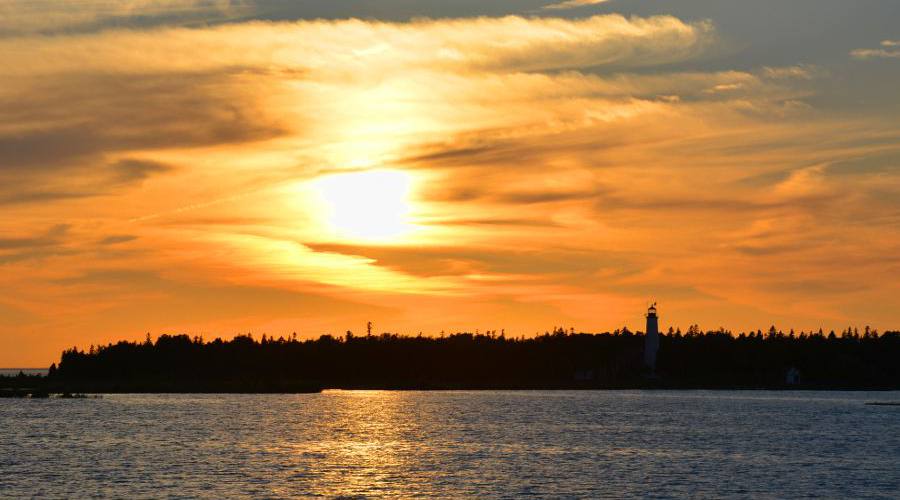 Sun setting behind St. Helena Island
The ferry continued on to the far west end of the Straits of Mackinac to White Shoals Light, a beautiful barber pole striped light in open water. We arrived just before sunset and circled the light while the sun went down, then on to Gray's Reef Lighthouse with Waugoshance Lighthouse visible, but unlit, in the distance.
When I have taken the west tour in the past, the boat circled Waugoshance Lighthouse, which is one the most unusual lights on the Great Lakes. This time, Terry Pepper said that our Captain was not a Shepler (owners of the company) and wouldn't risk taking the boat close to that light.
Gray's Reef light had changed quite a bit since the last time I was there and I hadn't noticed the changes from the air during the lighthouse flights in the past year.
It was now getting quite dark and we headed back towards Mackinaw City, seeing all these lights from a distance in the dark and stopping briefly beneath the Mackinac Bridge before returning to the dock.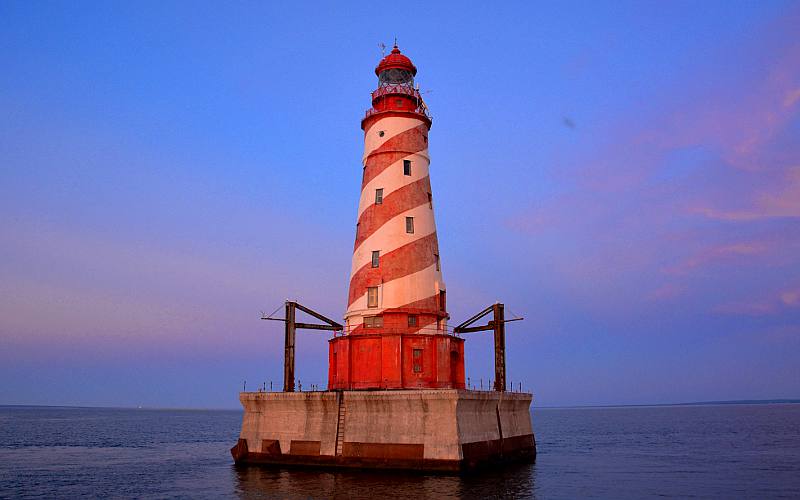 White Shoals Light

Prints & Greeting Cards of this White Shoals Light photo are available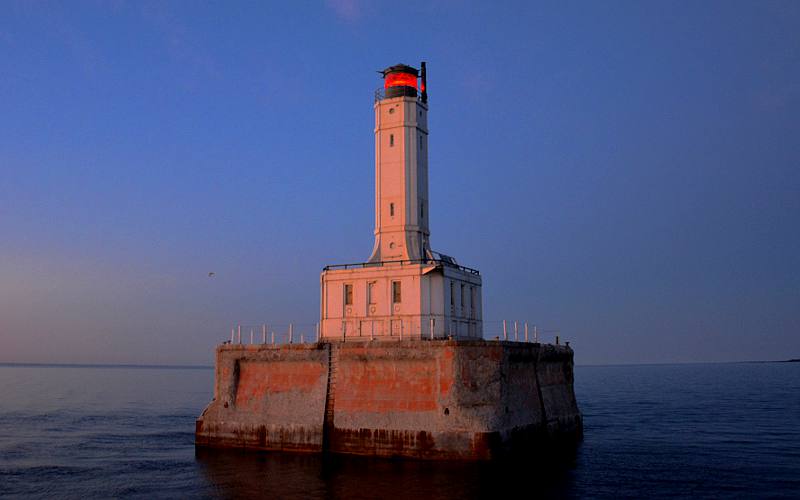 Gray's Reef light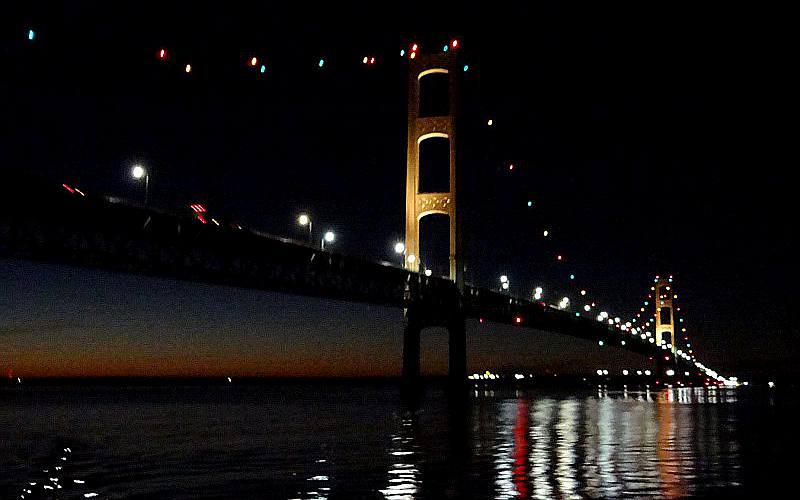 The Mackinac Bridge from our ferry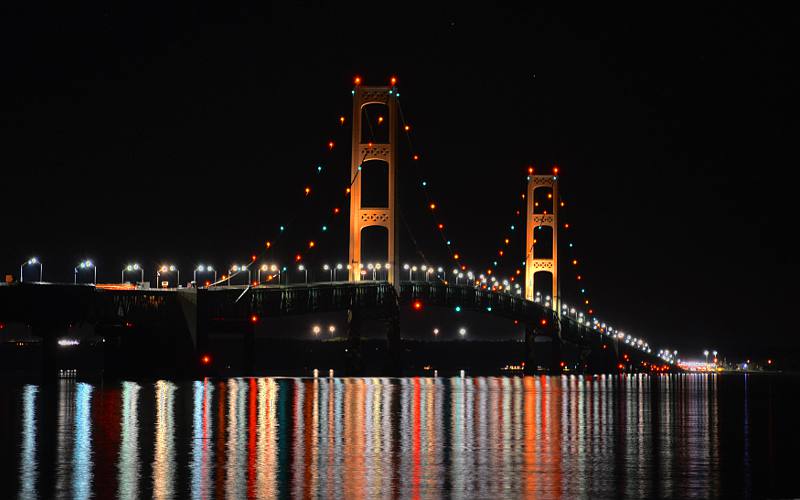 The Mackinac Bridge from the balcony of our motel

Previous Page Next Page
Day 1: Mackinaw City
Day 2: Pictured Rocks, Munising Waterfalls, Lighthouse Cruise
Day 3: Soo Locks Engineers Day, Mackinac Island
Day 4: Mackinac Bike Tour, Carriage Tour, Grand Hotel Evening
Day 5: Fort Mackinac, Fort Michilimackinac
Day 6: Mackinac Mill Creek Park