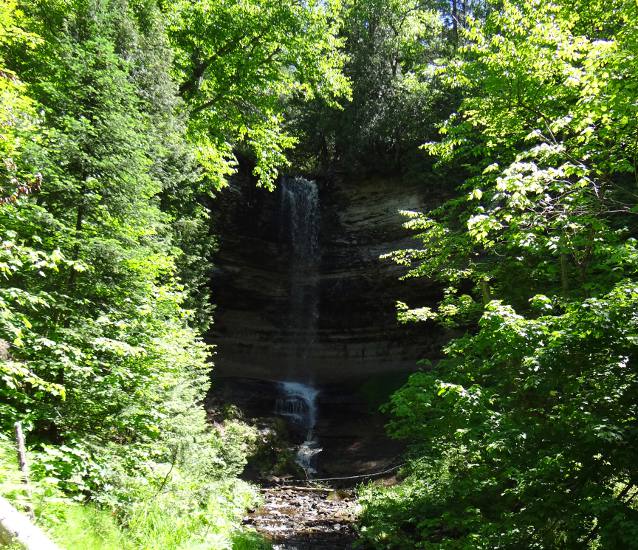 Munising Falls
Thursday (continued)
I had only visited a couple of the Munising waterfalls before and wanted to see and photograph more of them this trip. We had evening plans in Mackinaw City, so we couldn't go to all the Alger County falls, but we could see those which are immediately in and around Munising.
I first saw the 50' tall Munising Falls in March, when they were frozen and the short hike to the falls was snow covered and slippery. This time it was much easier to visit. Though as is true of many of the falls in this part of the Upper Peninsula, while Munising Falls is very beautiful to experience, it is hard to photograph because of the vegetation and nearby cliffs. Later in the day when the sunlight can reach the falls, photography may be better.
There is also a Munising Falls Visitor Center, staffed with a ranger of Pictured Rocks National Lakeshore.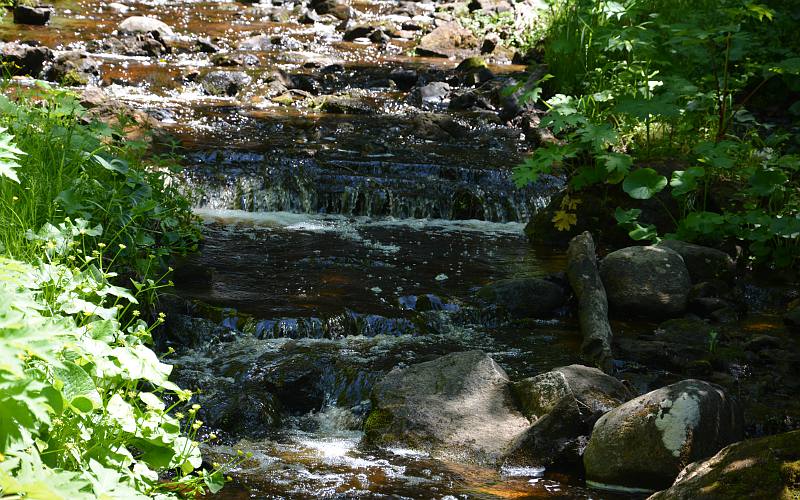 Munising Falls Creek leading away from the falls
The trail to Tannery Falls was more challenging and harder to find. The trail is off of H-58 (E. Munising Avenue), about a mile east of Downtown Munising, but there is no sign on the highway. The trail to the falls is accessed from a staircase that leads east from the highway, across from the Washington Street turnoff for Munising Falls.
The trail does not appear to be heavily used and we saw no one else during our visit. It was about 1000' to the falls. Other than mosquitos, it was very pleasant.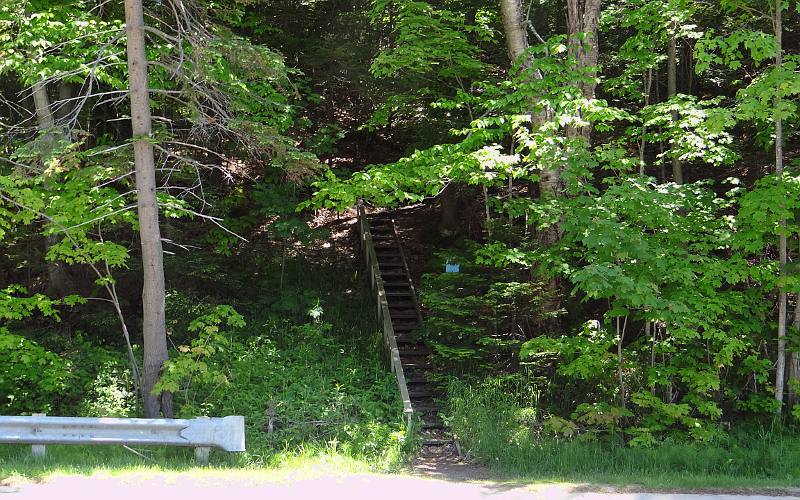 Stairs leading to the trail from H-58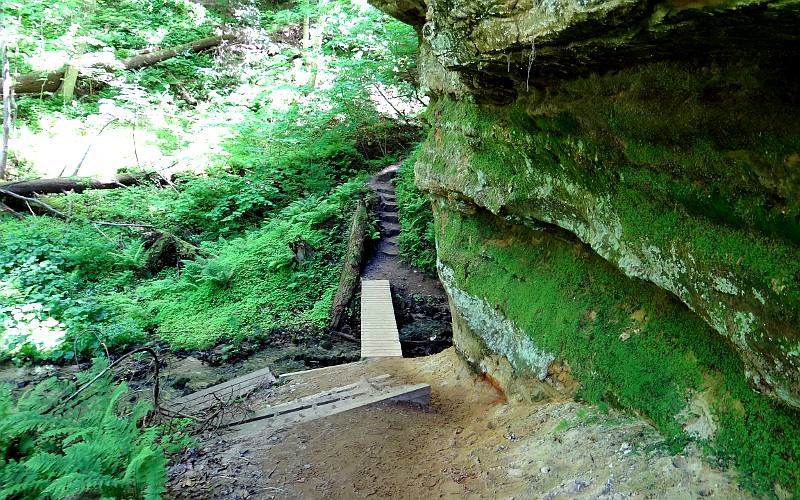 Only a few places along the trail show improvements, but it was reassuring that we were going the correct way.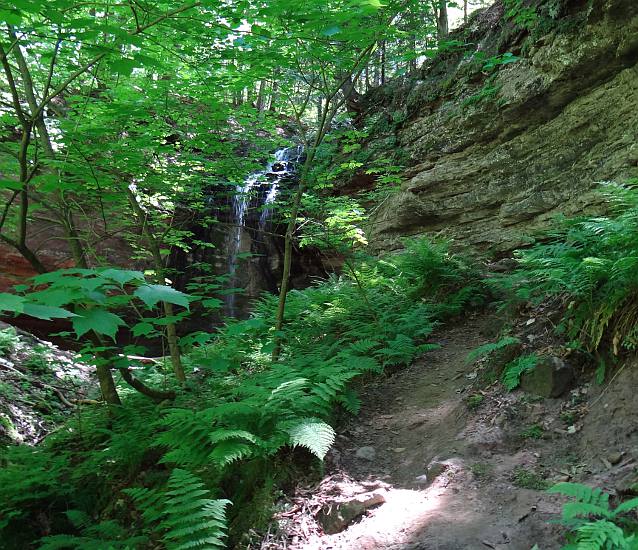 First glimpse of Tannery Falls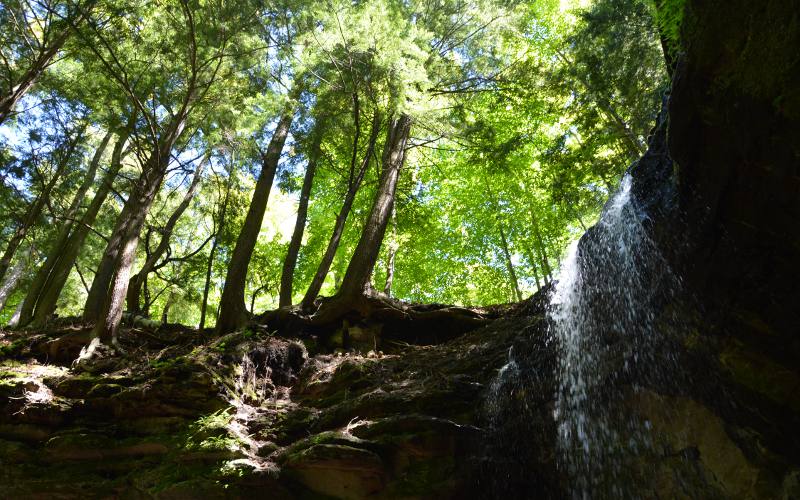 Looking up at the 40' high falls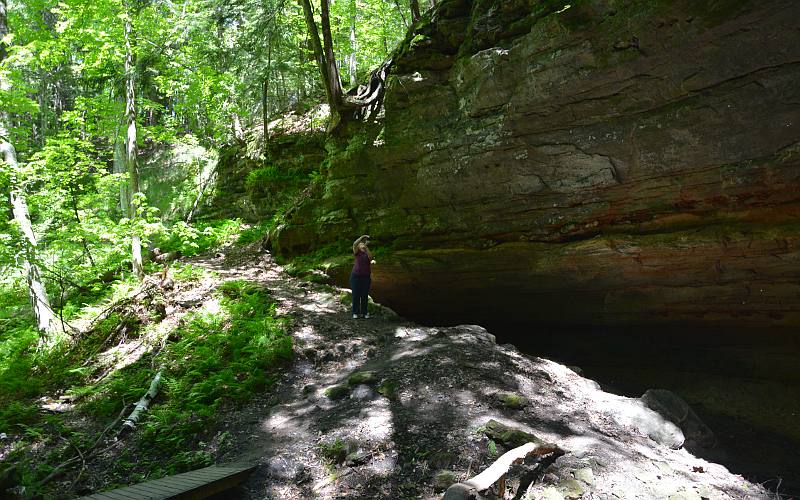 Linda photographing the waterfall and the cliff which is falls over.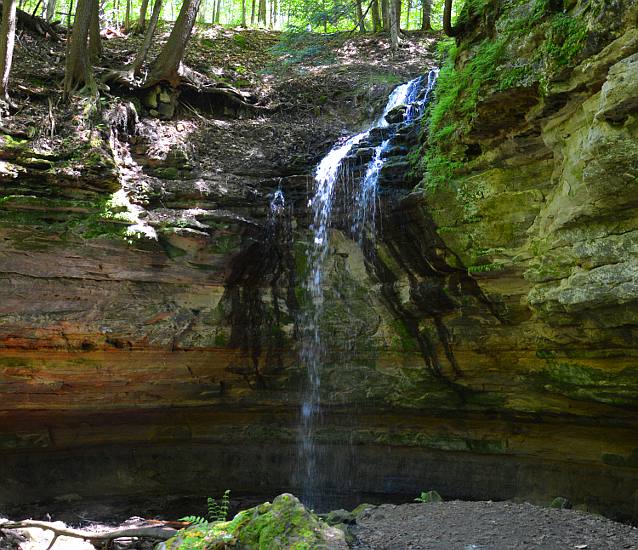 The green moss, ferns and trees surrounding Tannery Falls add a lot to the experience of being there in person.
We returned to our car, drove a few blocks farther northeast on H-58 and turned off on Nestor Street, where we parked next to the sign in the first photo on this page. Both the previous falls and Memorial Falls are on the same Michigan Nature Association sanctuary. The trail and the walk to memorial Falls was much easier, but it led to the top of the falls and was blocked odd, so we could not go around to the base of the falls for better views.
This falls is also about 40' and the setting is similar to Tannery Falls and the sanctuary is called Twin Waterfalls Memorial.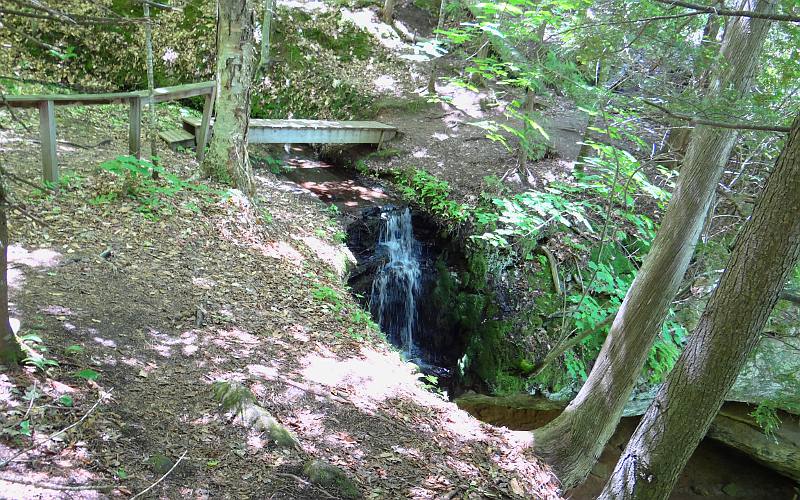 Top of Memorial Falls - the bridge is for the trail leading to the falls.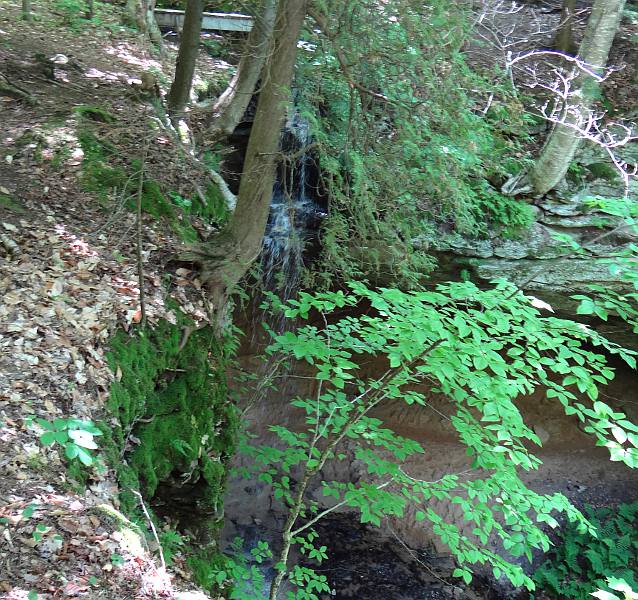 This was our best view down into the gorge to see the rest of the falls.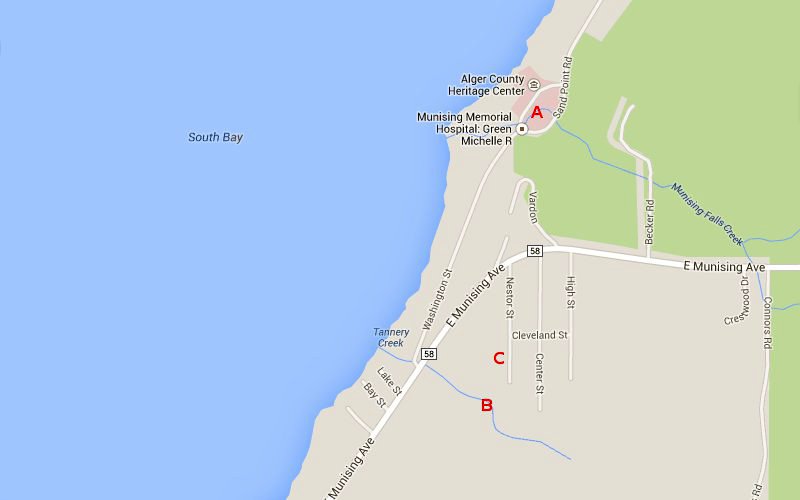 A - Munising Falls, B - Tannery Falls, C- Memorial Falls

Day 1: Mackinaw City
Day 2: Pictured Rocks, Munising Waterfalls, Lighthouse Cruise
Day 3: Soo Locks Engineers Day, Mackinac Island
Day 4: Mackinac Bike Tour, Carriage Tour, Grand Hotel Evening
Day 5: Fort Mackinac, Fort Michilimackinac
Day 6: Mackinac Mill Creek Park