St. Giles Cathedral

Keith Stokes' Scotland Trip
July 30 - August 8, 2005

Day 1 - Edinburgh
Day 2 - Inchcolm Island & Edinburgh Jazz Festival
Day 3 - Rosslyn Chapel, Peebles, Glenkinchie
Distillery & Edinburgh Botanic Garden
Day 4 - Highlands & Loch Ness
Day 5 - Glasgow
Day 6 - Glasgow & the 63rd World Science Fiction
Convention
Day 7 - Stirling & WorldCon
Day 8 - WorldCon Maquerade
Day 9 - Hugo Awards
Day 10 - Trip Home
My Scotland trip began mid afternoon on Friday the 29th. I flew American Airlines to Chicago, where there was nearly a four hour wait in the Admirals Club Lounge.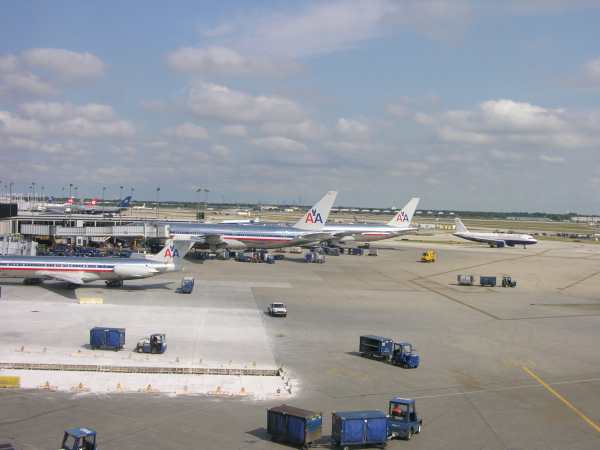 view from the Admirals Club Lounge
I found Melanie and Lyndon Fletcher already settled into the lounge. They were on their way from Texas to London, and would travel up to Glasgow for the convention latter in the week. We had a nice chat for about an hour and a half.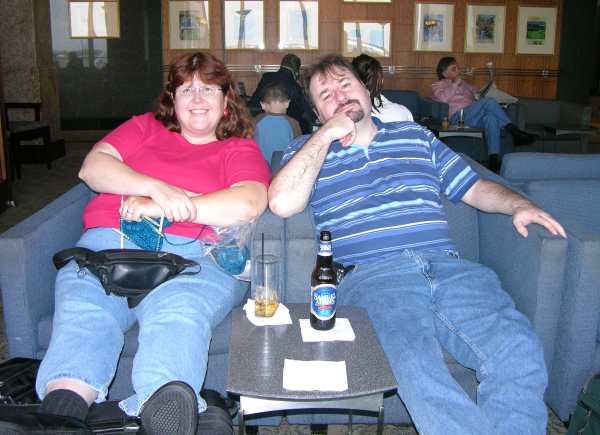 Melanie and Lyndon
My business class flight to Glasgow was uneventful. The 5 course meal was impressive (for a flight). My favorite courses were the smoked salmon, Maine Lobster, herb marinated shrimp appetizer and the hot fudge sundae. The Graham's Vintage Port after the meal settled me down nicely and I more or less slept until less than a hour before our arrival in Glasgow.
The leg rest on the business class chair goes a long ways toward making the 7.5 hour flight more comfortable, but the seats could be a bit wider. Since the seats have rigid sides (they contain the tables), I couldn't take advantage of the empty seat next to me by putting up the arm rest.
Immigration in Glasgow took less than 5 minutes and I hurried out of the airport and took the Citilink bus (£5 open return) to Glasgow Queen Street. The train to Edinburgh was about £8. They depart every 15 minutes and take about an hour.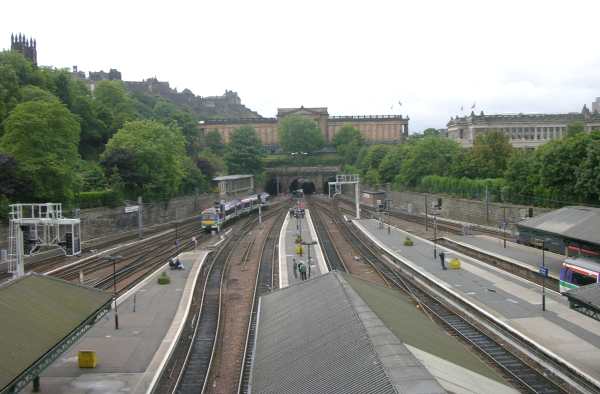 Edinburgh's Waverly station
The walk from Edinburgh's Waverly station to the Relax Guest House was nearly a mile, with a hill in the middle. A hill I grew tired of during the next 4 days. Arriving at the small Guest House, it took about 10 minutes to get someone to answer the door - they were all cleaning.
Since it was just before noon, my room was not ready, but the manager took pity on me. He gave me clean towels and let me use the bathroom in a room that hadn't been cleaned.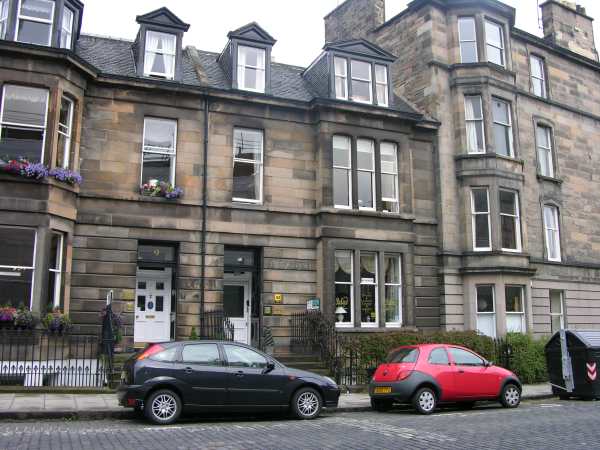 Relax Guest House is the building in the middle