Page 2 - Saturday at Edinburgh Castle

Feeling human again, I had a few minutes to explore before meeting friends. The immediate neighborhood had 3 or 4 restaurants, a small Margiotta market, paperback store (only a few hundred books), bookie, taxi stand and a video rental store with Internet access for only £1 for 30 minutes.
At 12:30 Laurie and Jim Mann met me by the neighborhood Fish & Chips takeaway (L'alba D'oro). It turned out the restaurant is not open for lunch on weekends, so we walked toward the Royal Mile and caught up on our travels.
Laurie picked out a small Turkish restaurant (Nargile) where we each had £7.5 2 course meals. Mine was a starter of shrimp, mushroom, tomato & cheese, with a main course of sweet pepper stuffed with lamb - very good! This one one of the better meal values on the trip.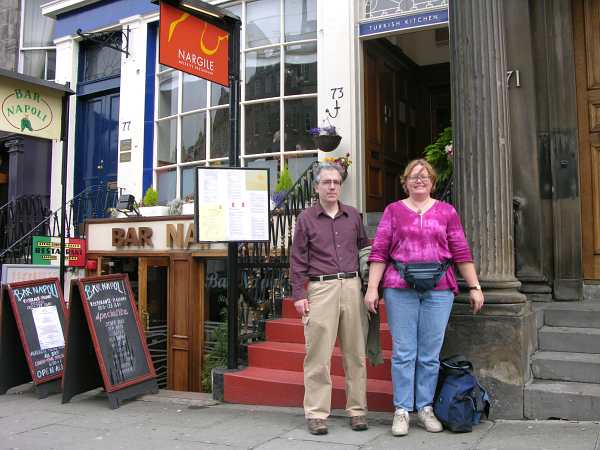 Jim & Laurie Mann in front of Nargile
After lunch we continued up to the Scott Monument before splitting up for sightseeing. A later in the afternoon we briefly ran into each other on the Royal Mile.

200' Sir Walter Scott Monument - built 1844-1846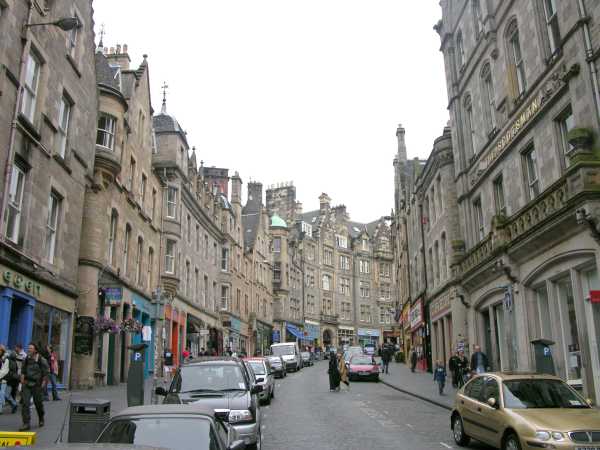 Cockburn Street winding up to the Royal Mile
I explored the Royal Mile from the middle toward the east end. My first stop was at Edinburgh Castle, where after 10 minutes in the ticket queue and a bag inspection, I hurried to the top to take pictures while the weather was clear.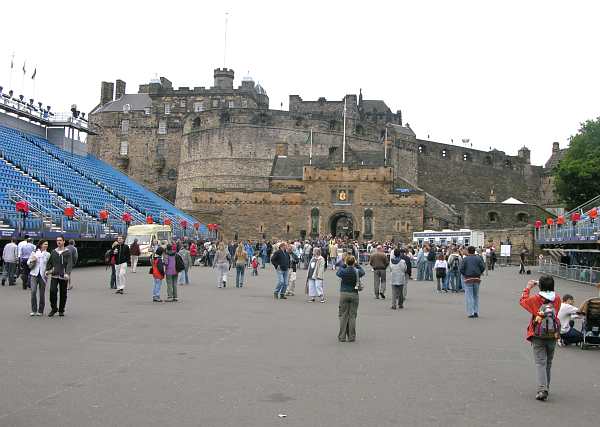 Edinburgh Castle with seating being set up for the Edinburgh Military Tattoo.
Edinburgh Castle is perched on an extinct volcano and has stunning views. It is quite large, with lots of nooks and small to medium buildings. There are many small museums, each with its own (often tacky) gift shop. Somehow I worked my way back down thruogh the castle without finding the Crown Jewels, and I decided not to go back searching for them.
I could have spent more time here, but the rest of Scotland was waiting outside.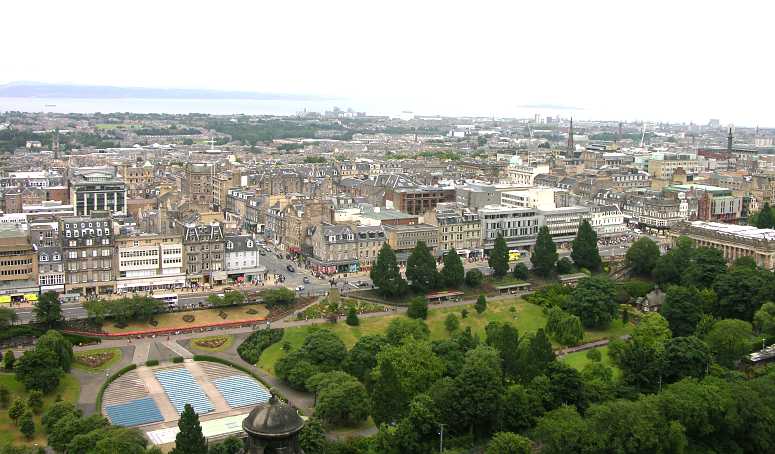 North across Edinburgh with the Firth of Forth in the distance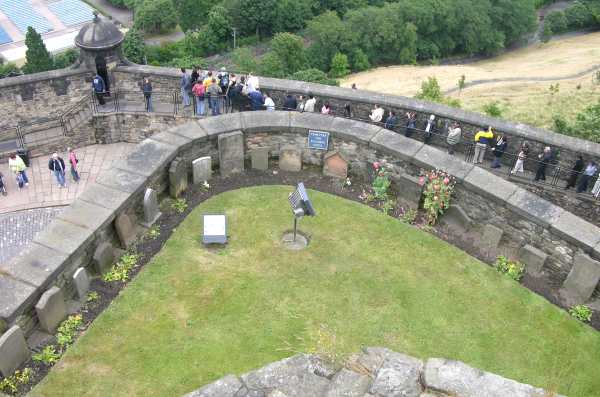 just below the lookout is a cemetery for soldiers' dogs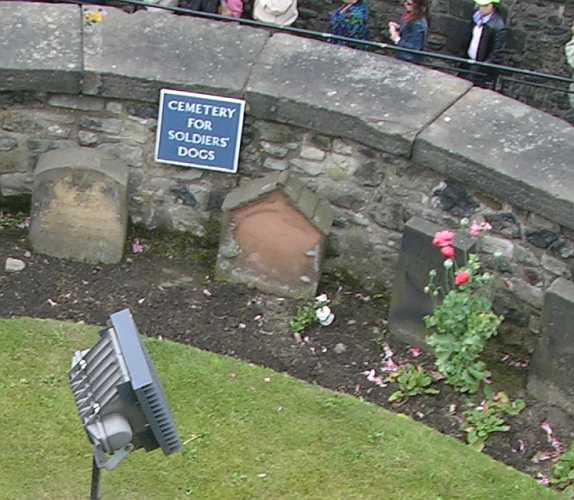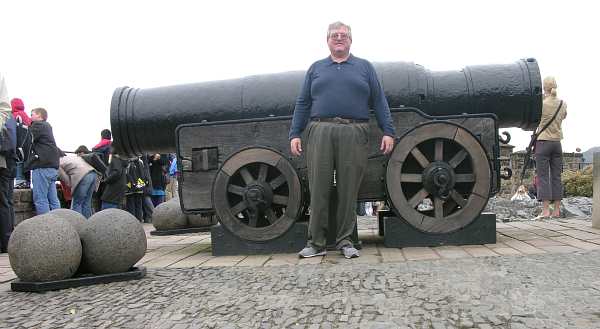 Me - in front of "Mons Meg" cannon which was given to James the 2nd in 1457,
the Mons Meg cannon could throw a 300 pound stone over 2 miles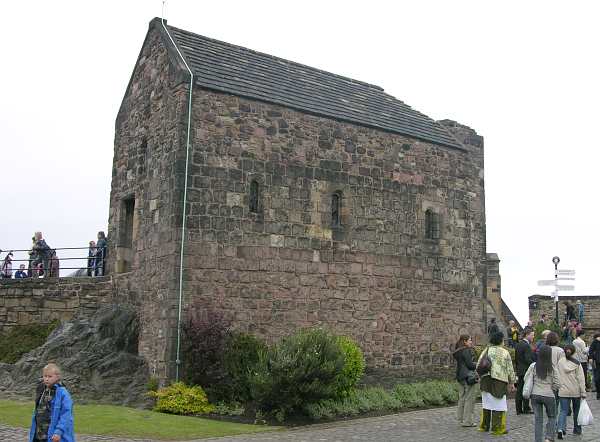 St. Margaret's Chapel dates from the 1100s. Notice the lava outcrop along the foundation at left.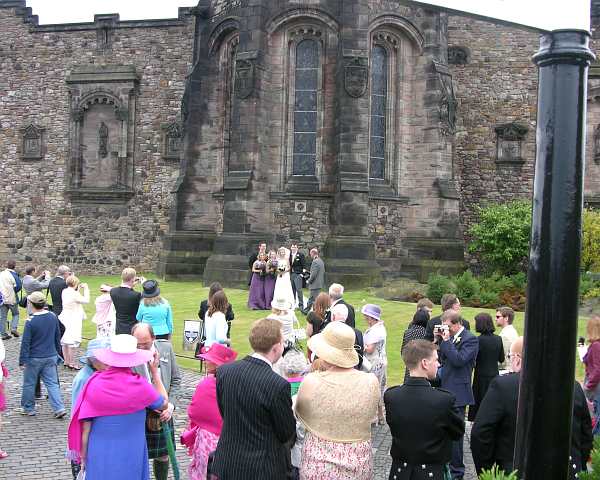 Previous Page Scotland trip Next page