Clyde Auditorium (The Armadillo)

Keith Stokes' Scotland Trip

Day 5 - Glasgow
Wednesday morning I slept in, then packed and checked out of the Relax Guest House. After checking email, I took a taxi to Waverly station to catch the train back to Glasgow.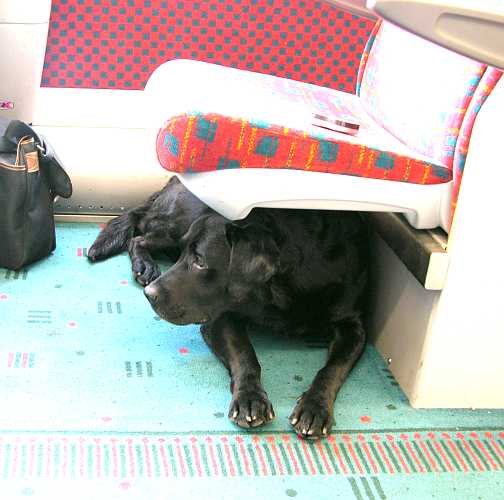 .
another passenger on the train to Glasgow
Arriving at the Glasgow Marriott around noon, I was able to check right in. The room was large (almost US hotel room size) with two double beds, TV with about 15 channels and a large bathroom. The bath towels were larger than some of the bathrooms I have had in Europe.
Only bad things were the high charges for Internet (£3 for 15 minutes) or to place telephone calls (£1.8 for toll free calls).
After unpacking, I took the low train to the Scottish Exhibition and Conference Centre. It was the next stop, and if there was a delay of more than 15 minutes waiting for a train, it was just as fast to walk.
Interaction, the 63rd World Science Fiction Convention, would begin the next day, but registration was available for those that had reregistered. I picked up my badge and publications, then stopped by the press center for by press ribbon. There were several hundred people in the convention center and I ran into many friends.
I returned to the area near the hotel and was looking for a restaurant when I ran into friends Tom & Jan Hise from Iowa. We made plans to get together for dinner later in the week.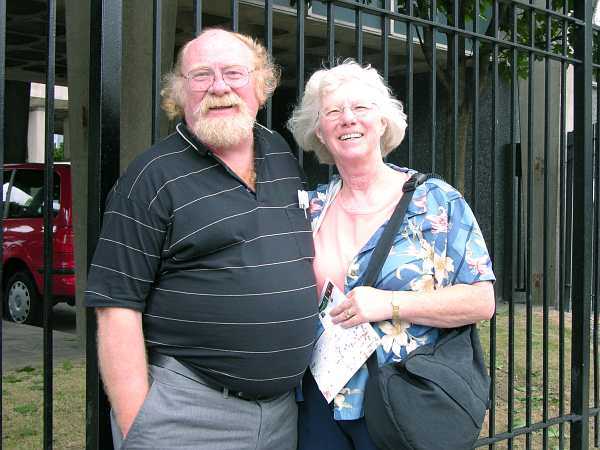 Tom Hise, Jan Hise
After truly forgettable fish & chips at a nearby pub, I hurried back to the Marriott, because I was afraid my roommate might have trouble checking in. The hotel had everything listed as Mr. & Mrs. Stokes. I had given the desk person the correction, but still didn't trust them.
I unwound and watched cricket on TV while waiting at the room. We ended up watching several hours of the game during the trip, but never did learn the rules. The rugby that was on latter looked much more interesting.
Tim Miller from Texas was my roommate. A mutual friend had put us in touch and we had only met briefly at a convention in Tulsa in July. Tim flew in directly to the convention, saving his sightseeing for afterward. He arrived at the hotel late in afternoon with uneventful flights.
Wednesday evening we went to Babbity Bowster to meet a group of friends - most of them from Kansas City. The restaurant had been recommended by folks on Fodors.com.
My reservation was for 13, but Babbity Bowster was accommodating when I told them there would be 14 (and later 15) as people arrived. Another party of 21 had the rest of the small restaurant. We were not an easy group, but the restaurant staff were very patient. People arrived at different times and left at different ones.
We had a nice leisurely meal, catching up on everyone else's reconvention travels. Folks had been to London, Dublin and the Highlands, with most arriving in Glasgow only that afternoon. The menu was chalked on a large board. There were about 15 choices and I settled on a starter of goat cheese & blood pudding, and main of sautéed Red Deer (elk). The meat was quite mild, almost like beef - not as sweet as the elk I have eaten in Kansas. For desert, I had crème brulee. It was served in a larger shallow dish so there was a lot of caramelized top.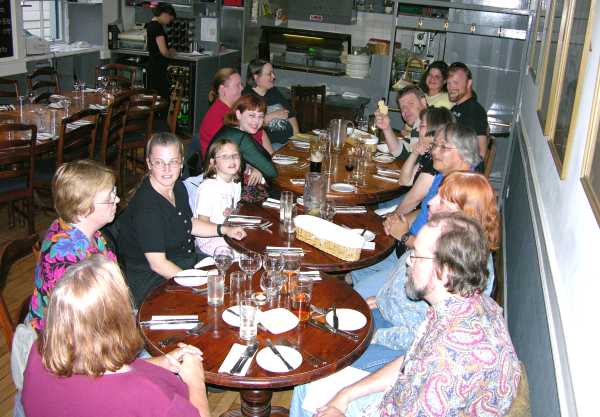 Kansas City WorldCon bid committee at Babbity Bowster in Glasgow
Previous Page Scotland trip Next page