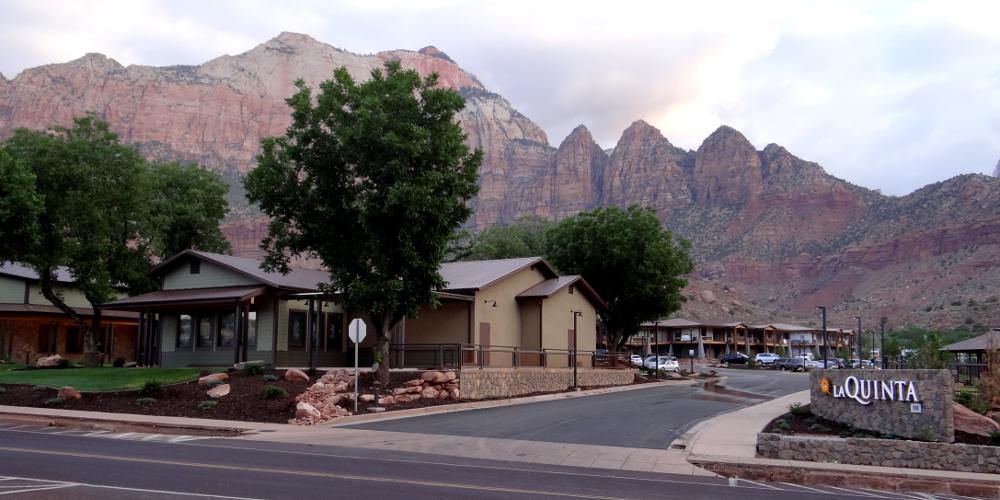 La Quinta Inn and Suites
Thursday - day 1
Mary, Linda & I flew out on Thursday afternoon (the 11th) flying a non stop with Southwest Airlines to Las Vegas. Our plane was met at the gate by Linda's late husband's sister, Nancy, who had arrived a couple of hours earlier on a flight from St. Louis.
When we left the secure area to get luggage, Nancy's bag was nowhere to be found. It would be 24 hours before it was located. This resulted in a lot of lost time leaving the airport on Thursday, remaining where we could send and receive phone calls with the airline at various times, and shopping for clothes on Thursday night & again on Friday when we learned how much longer her luggage would take. That meant we were very late getting to our motels on the first two nights of the trip and were a bit exhausted going on through the trip.
Our supper was at a Eureka Casino Resort, just off I-15 in Mesquite, Utah. We did the buffet, where I found a couple of dishes which I really enjoyed (particularly the stromboli), but the others were less impressed with the meal and it was our least favorite of the trip. We drove on to the La Quinta Inn & Suites in Springdale, Utah for the night. The La Quinta Inn looks nice and is new with comfortable, well laid out rooms. My only real complaint was that the Internet was out when we arrived and still out when I got up the next morning.
The section of I-15 going through Arizona looked like it may have been spectacular, but the Southwest Airlines caused delays meant that we passed through there in the dark.

Friday - day 2
I was up before anyone else and went out to take some photos. As I left the room at 6:50AM, there was construction of new buildings and landscaping taking place right outside the room. They were already working, but weren't as noisy as they might have been.
Springdale is surrounded by Zion National Park and there were good views in every direction, I walked up the street a few blocks to get sight lines without power lines and found myself within about 20 feet of a young mule deer, which was in front of one of the other businesses. It didn't seem at all afraid of me.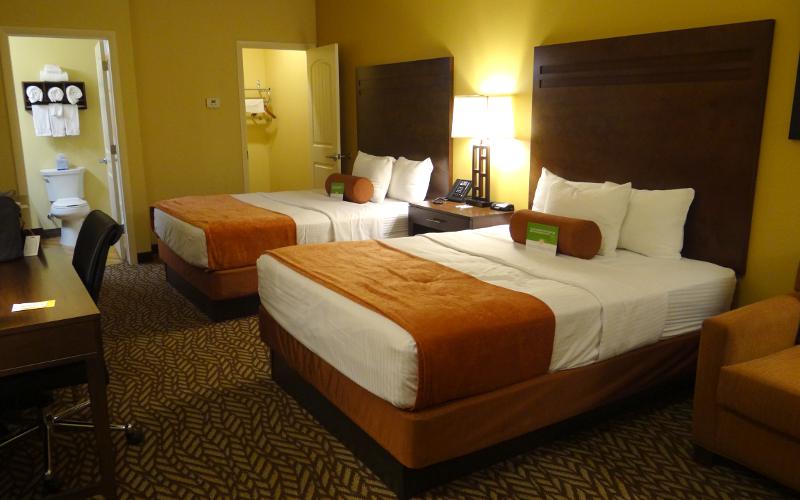 The La Quinta Inn rooms had unusually large closets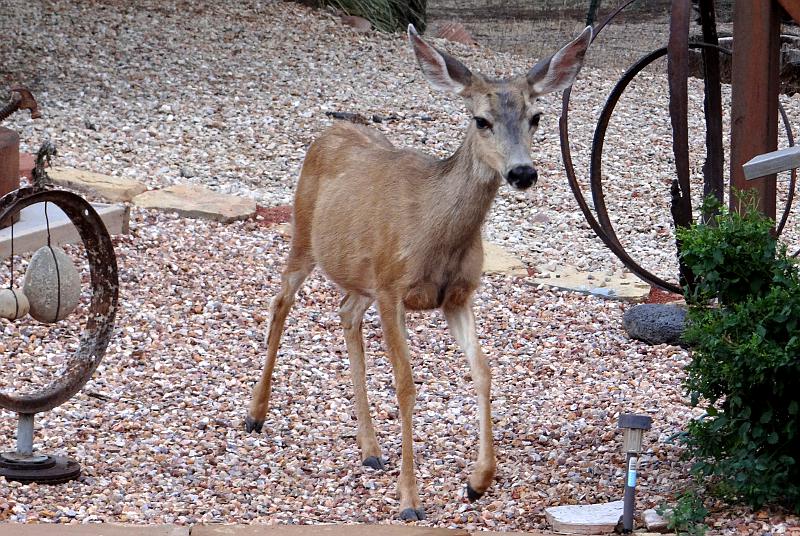 Young mule deer (Odocoileus hemionus)
Back at the motel, the breakfast was fairly good, with someone behind a counter preparing waffles and making up breakfast sandwiches.
We spent the morning at Zion National Park, parking at the Visitor's Center and using the shuttle bus to visit several locations in the park. Part of the route is not available to private vehicles in summer.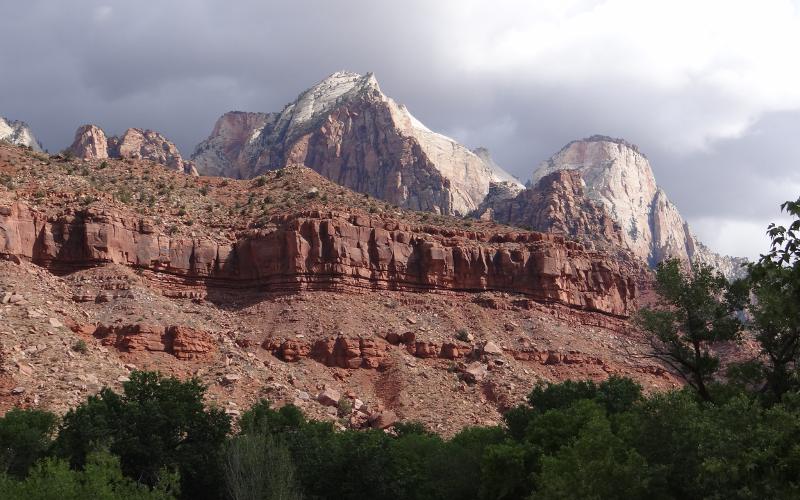 The view of Zion National Park from the motel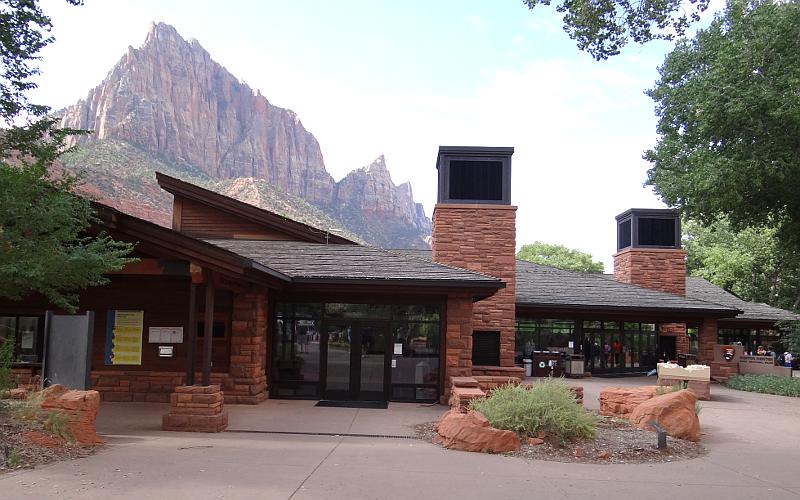 Zion National Park Visitor Center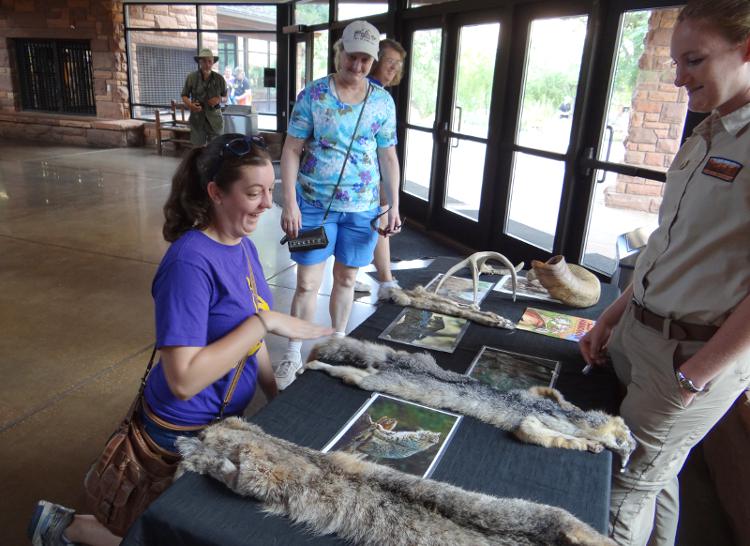 This display was labeled as being for children, so we asked Mary to be our child.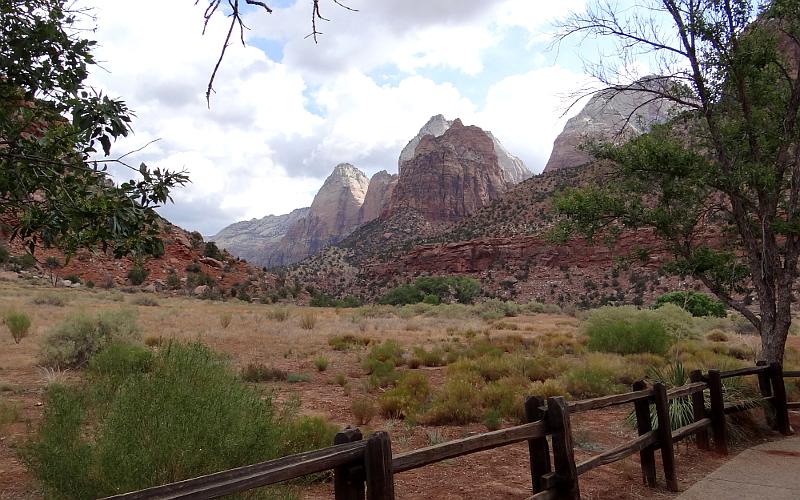 Meadow next to the Zion Human History Museum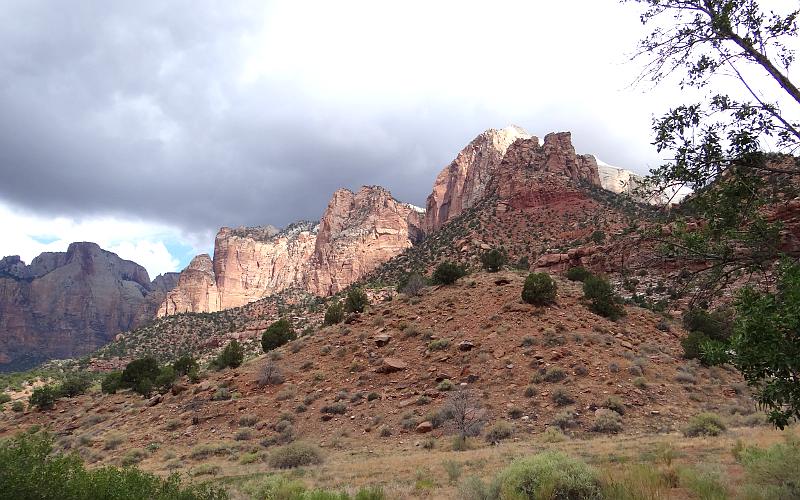 The peak in shadow at the left is named the Altar of Sacrifice (7,505')