San Miguel del Cozumel waterfront

San Miguel del Cozumel & Playa del Carmen
February 10, 2006

Day 1 - Cozumel
Day 2 - Tulum, Coba & Playa del Carmen
Day 3 - Isla Cozumel, Coconuts & San Gervasio
Day 4 - San Miguel, El Mercado & presentation of
Carnival Royal Court
Day 5 - Atlantis submarine dive
Wilma damage
Previous page
Next Page
Day two...
I was up before my alarm. If with the air-conditioning running, the trucks on the road running past the hotel woke me sometime after 6 AM.
I caught the 8 AM ferry to Playa del Carmen. There are two ferry companies. Each has one ferry and they alternate the hours. Their ticket booths are next to each other and you get a one way ticket ($10 or 110 pesos) for the one that is leaving next. The crew couldn't tell me how long the boat I road was, but it holds 450 passengers. It had little trouble with the 8-10 feet swells , but did keep making small changes in heading as it went up or down the waves. The crossing took about 35 minutes.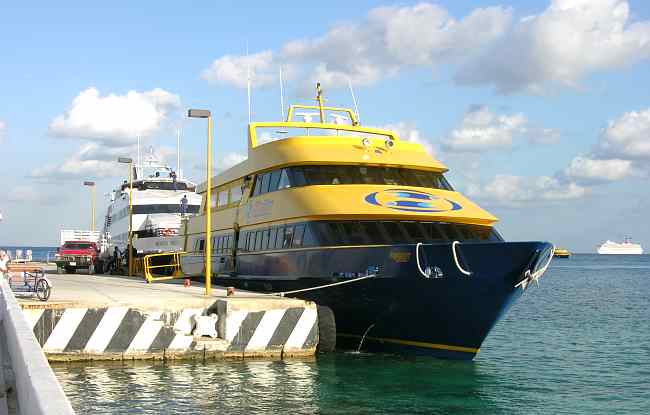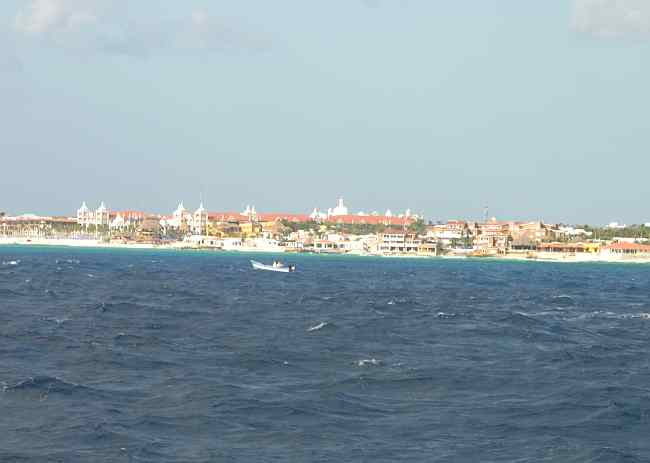 The waves do not look large here, but I had to time the swells so the small boat was even visible,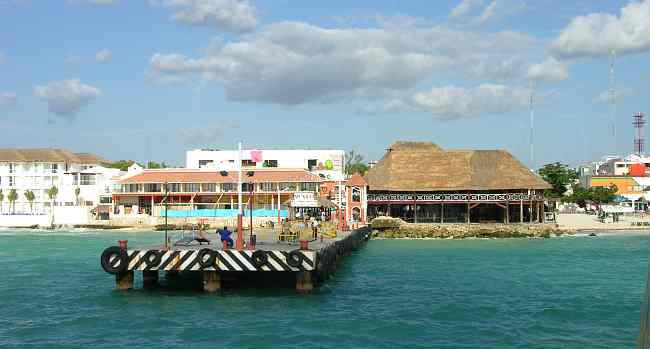 Arriving at the pier at Playa del Carmen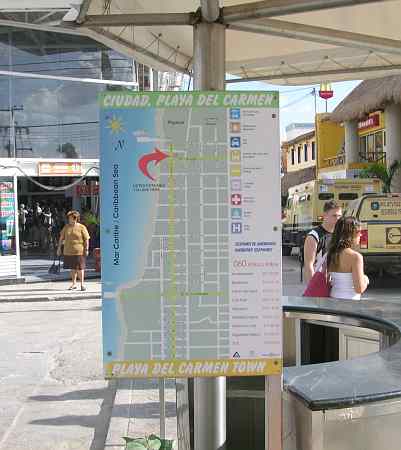 Playa has many maps on corners along the pedestrian walkway
I walked to the Playa del Carmen Avis office, about 8 short blocks from the ferry dock and picked up a Ford Fiesta. Manual transmission & air conditioning for $67/day with every insurance available. It drove fine, and was a luxury car compared to my rental on the following day.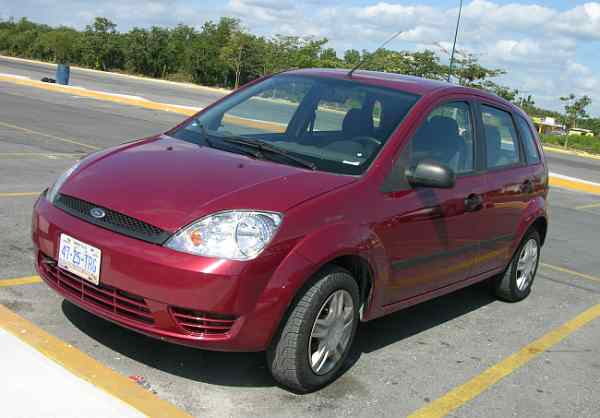 Getting out of town wasn't bad and I headed south on Highway 307. It is a wide two lane road with paved shoulders. Traffic runs about 90-110 kilometers/hour. Sometimes vehicles drive on the shoulder while being passed, and smaller vehicles can pass without crossing the center line. With bigger vehicles, at least part of the passing vehicle would be over the line, sometimes close to oncoming traffic. The passing vehicle would have its left turn signal on.
I wasn't comfortable with the arrangement, but never felt in danger.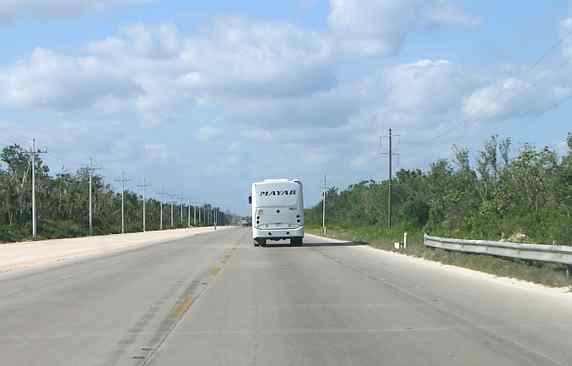 Highway 307 heading toward Tulum, Mexico