My first view from my room at Hotel Caribe Blu

Keith Stokes' Cozumel & Riviera Maya Trip
February 9-13, 2006

Day 1 - Cozumel
Day 2 - Tulum, Coba & Playa del Carmen
Day 3 - Isla Cozumel, Coconuts & San Gervasio
Day 4 - San Miguel, El Mercado & presentation of
Carnival Royal Court
Day 5 - Atlantis submarine dive
Wilma damage

The flights down were packed, but otherwise fine. The most noticeable thing approaching Cozumel from the air is the row of cruise ships floating of shore. Their docks were destroyed in October and they shuttle passengers ashore in smaller boats.
Immigration and customs were a breeze. I handed over my papers and they stamped and returned my entrance form with no questions. Even though I got the red light and had to open my bags for inspection, all I did was unzip them and the agent glanced in.
The area right outside the airport looked pretty rough from damage, but the downtown shows none to my eyes. Here along the shore in the south hotel zone was about the hardest hit. The North zone was much lighter. Many trees and some of the buildings are still beat up. The worst I saw was the naval base where only a shell of a building remains.
The Hotel Caribe Blu was what I expected. Nothing fancy, but clean and well maintained.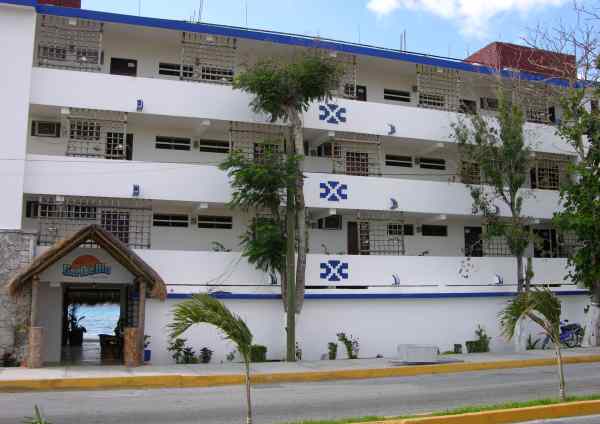 Caribe Blu
I am on my balcony about 40 feet from the water and connected to the internet. I am happy:-)
Hotel Caribe Blu has 22 rooms, all facing the water. There is a pool next to the ocean. Work is continuing along the edge of the property where a dive operation usually docks. The hotel's registration and lobby are open to the weather.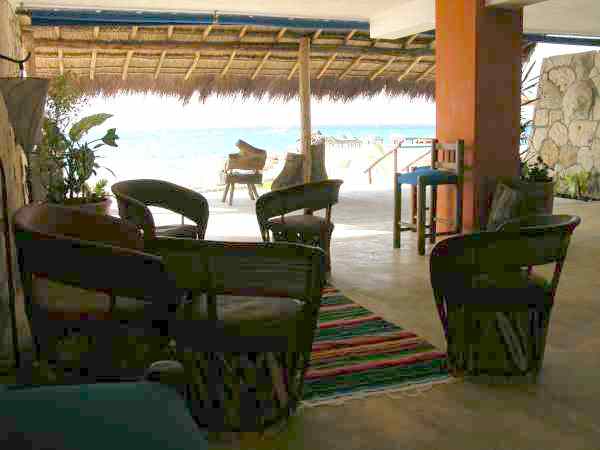 Caribe Blu lobby
I didn't have luck getting a refrigerator, but at least the hotel provides a bottled water cooler at the end of each floor. There is no place handy for food and drink, other than the adjacent Rendez Blu restaurant, but it is only open until mid afternoon.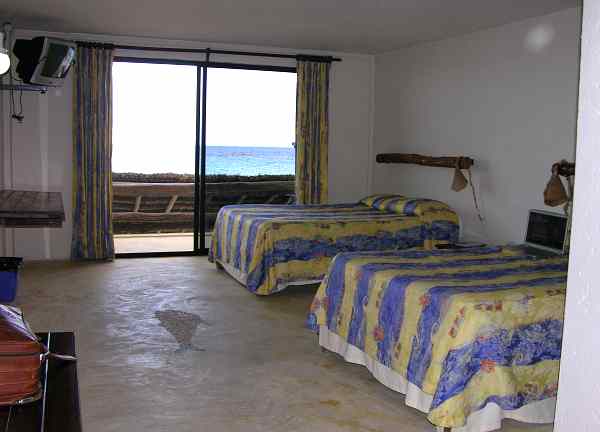 Notice the stone "fish" in the floor. The TV is satellite with many channels. Almost all are in Spanish,
though there are usually a couple of movies or TV shows that are in English with Spanish subtitles.
The poles above the beds look nice, but make it hard to sit up in bed - the only chairs are on the balcony.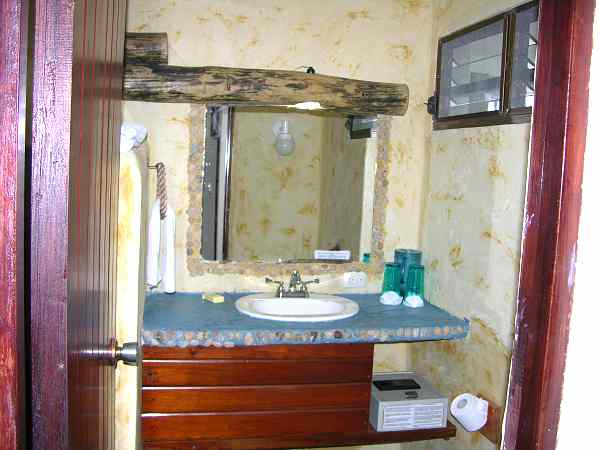 Both handles have hot water at both the sink and shower. You learn to showere real quick -
before the water gets too hot to stay under.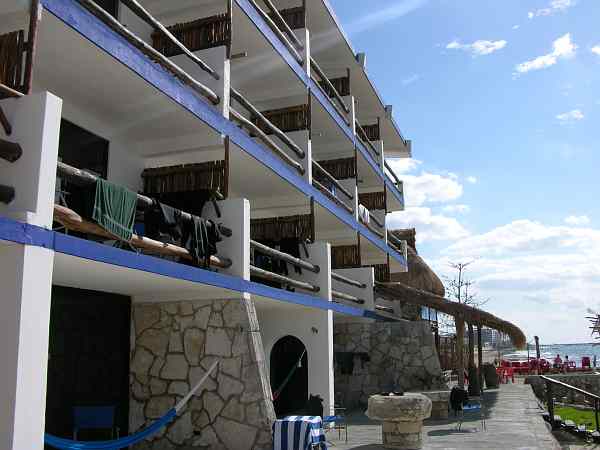 My room is on the second floor where the thatch roof starts