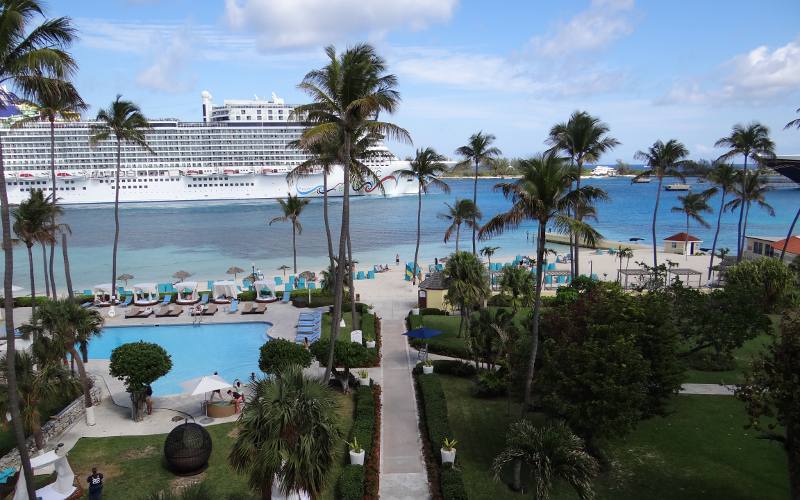 Norwegian Epic cruise ship passing the hotel (prints & greeting cards of this photograph)
Friday - day 2
Linda & I were both recovering from colds and made a lazy start to the day. We went downstairs about 10AM and when we were seated in the hotel dining room, the server said that the kitchen was closed and that the only option was the $20 breakfast buffet. The buffet was large and attractive, but the food had clearly been sitting a long time. I had to repeatedly request both our original beverages and beverage refills.
Leaving the hotel, we took a taxi to the Queen's Staircase. It turned out to be only about 7 blocks away. I could have saved the $12 taxi fare.
Queen's Staircase was carved out of solid limestone by slaves between 1793 and 1794. The staircase has been named in honor of the 65 years of Queen's Victoria's reign. It was a nice cool spot on a humid day.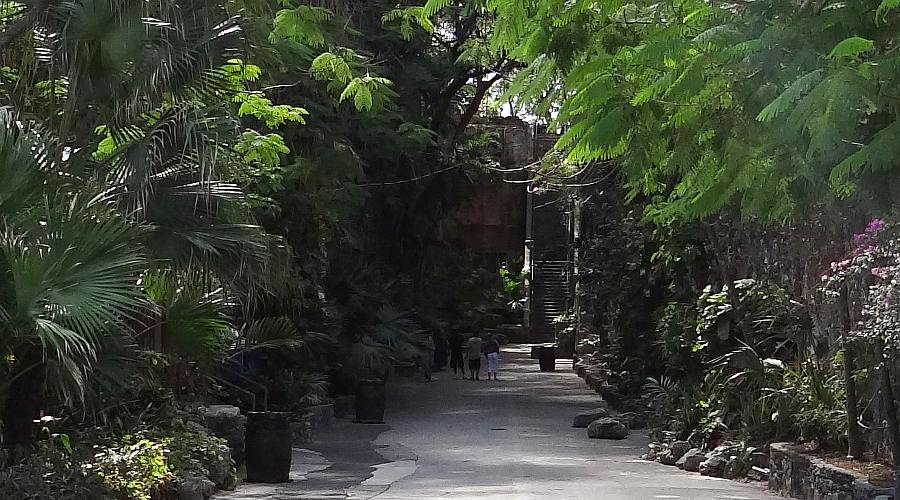 Queen's Staircase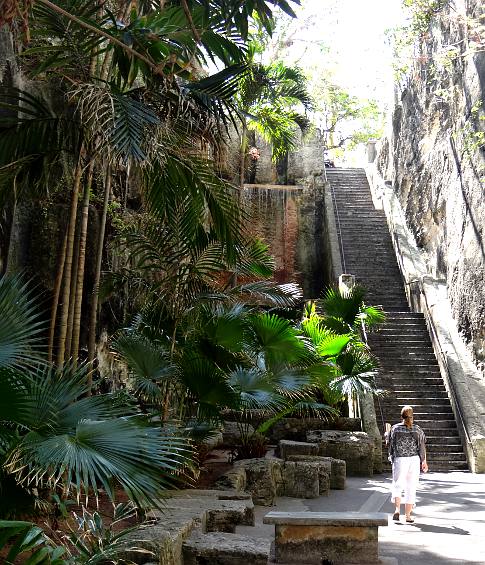 Fountain waterfall next to Queen's Staircase
Queen's Staircase leads up to Bennett's Hill, which is topped with Fort Fincastle and the Nassau Water Tower. The water tower is the highest point on the island and doubles as a lighthouse. At times it has been open to the public, but it is closed at this time.
Fort Fincastle was built in 1793 by the Royal Governor of the islands, Lord Dunsmore, the Viscount Fincastle, to protect the island from invaders. It was built after a period when there were battles in Nassau, so perhaps its presence was effective in keeping invaders away from the Bahamian capital. The admission was $1 and a pleasant young woman gave us a 10 minute tour of the small fort and offered to take our picture with my camera (the photo at the top of this page).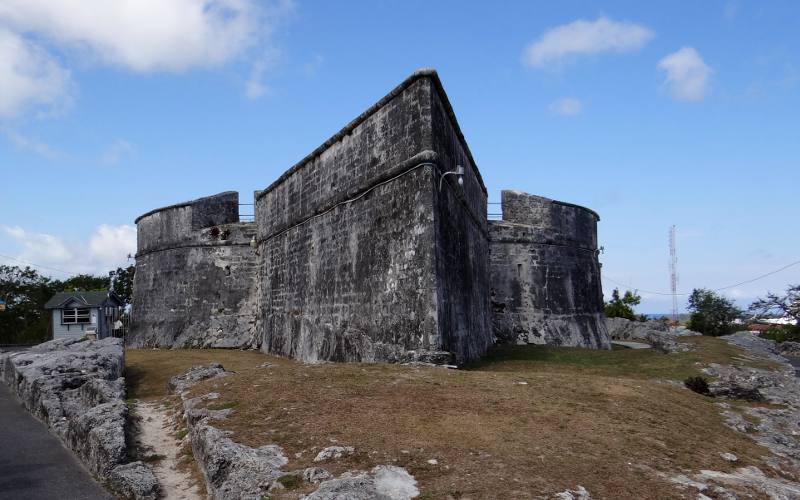 Fort Fincastle is shaped like a paddle wheeled ship (Prints & greeting cards of this photograph)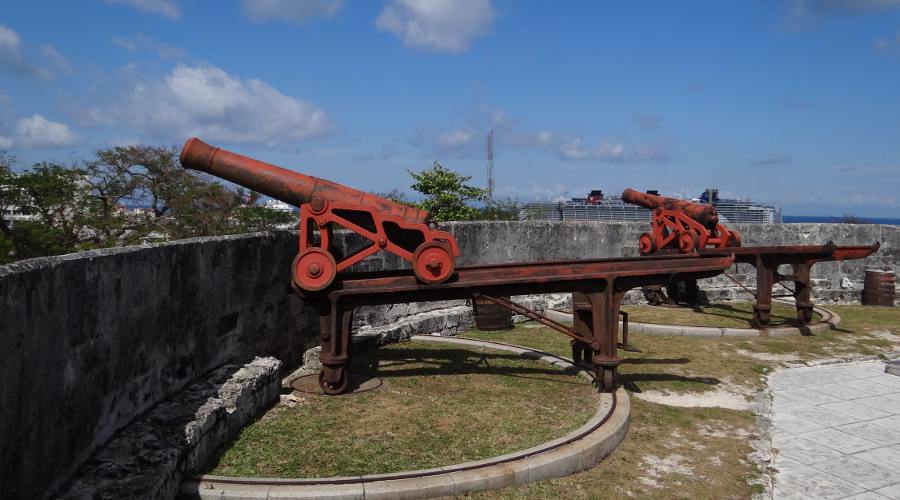 The original bronze cannons were returned to England and replaced with these steel cannons

Howitzer, Fort Fincastle and the Nassau Water Tower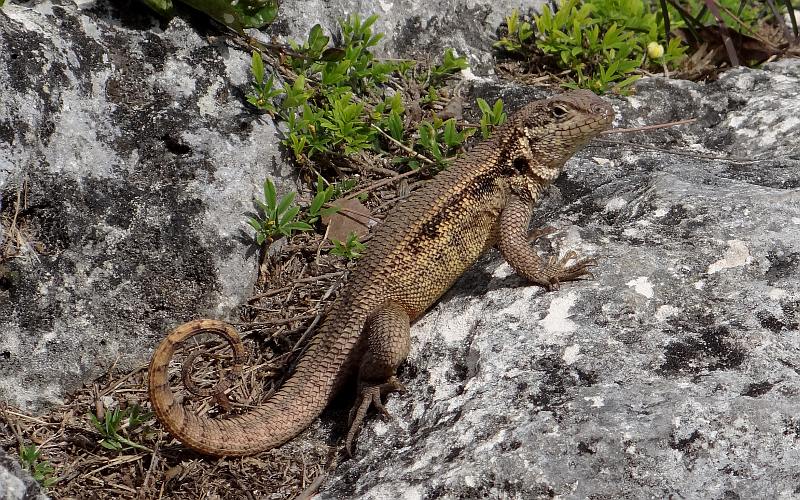 We saw several Curly Tailed Lizards (Leiocephalus carinatus) in and near Fort Fincastle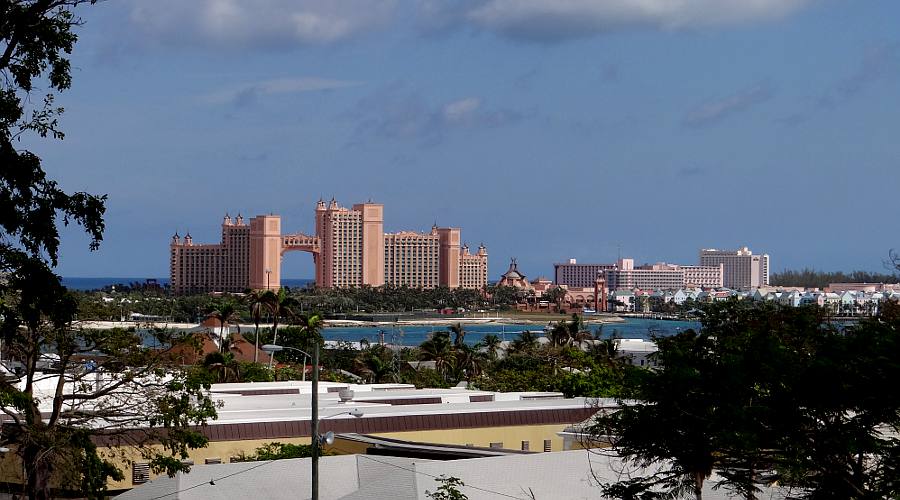 Atlantic Paradise Island (close up of the Atlantis)
Previous page Next page