Singing and Dancing waiters at Carlos & Charlie's

San Miguel del Cozumel
February 12, 2006

Day 1 - Cozumel
Day 2 - Tulum, Coba & Playa del Carmen
Day 3 - Isla Cozumel, Coconuts & San Gervasio
Day 4 - San Miguel, El Mercado & presentation of
Carnival Royal Court
Day 5 - Atlantis submarine dive
Wilma damage
Previous page
Next Page
I'd planned to have lunch at the Cozumel Island Museum's restaurant, but 15-20 mph winds coming on off the ocean took the fun out of that idea.
So I visited a place that caught my eye the day before, the All Sports Bar, back inland a few blocks near the San Miguel town square. The interior of the All Sports Bar was smoky, so I sat at one of the few outdoor tables. The chips and salsa were average, but my coconut shrimp was very good. So were the French fries.
There were Americans at the all of the other outdoor tables and I enjoyed the conversations taking place at tables across the patio with folks from California, Texas and Minnesota.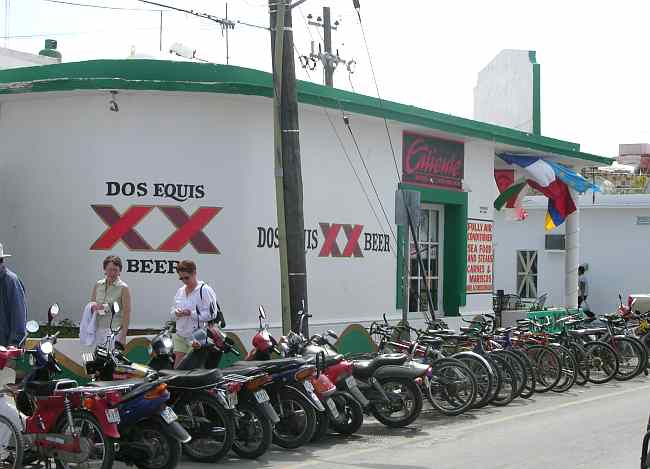 All Sports Bar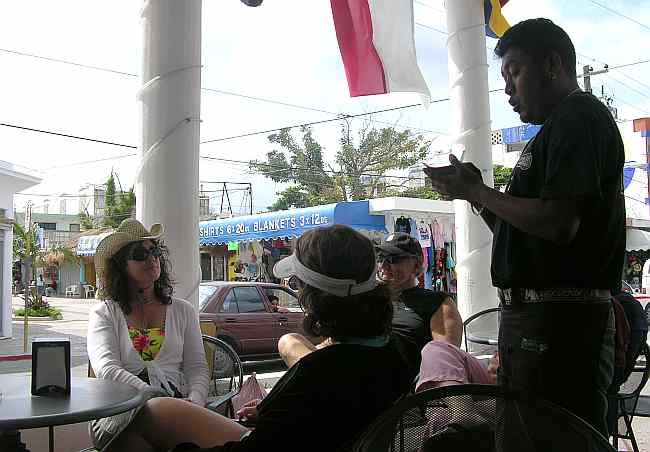 Group from California at All Sports Bar
After lunch I explored a bit more, but the Cozumel weather was turning getting darker and colder, so I returned to Hotel Caribe Blu at mid afternoon.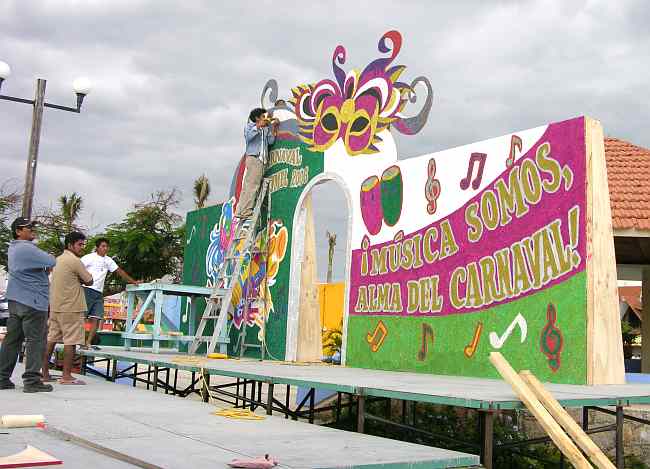 Preparing the stage for that night's program in the Plaza
Since it turns out that the place I was planning to have my last dinner (la Lobsteria) was closed on Sunday, I was going to check on-line for a nice place for supper. But the internet was out.
I settled for doing more work on photos and web pages for this trip while looking out at the stormy ocean.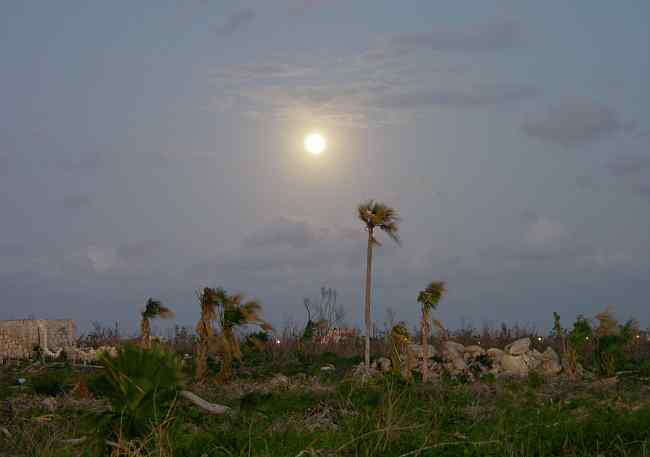 Moon rising over the island near the Hotel Caribe Blu.
And worked too long. By the time I changed to warm clothes and headed toward town, it was already past 6 PM. Wanting someplace fast, I asked the taxi driver to take me to Carlos and Charlie's. Turns out it is underneath the Senior Frog's restaurant where I ate the night before. I couldn't find it on my own, because there is no sign!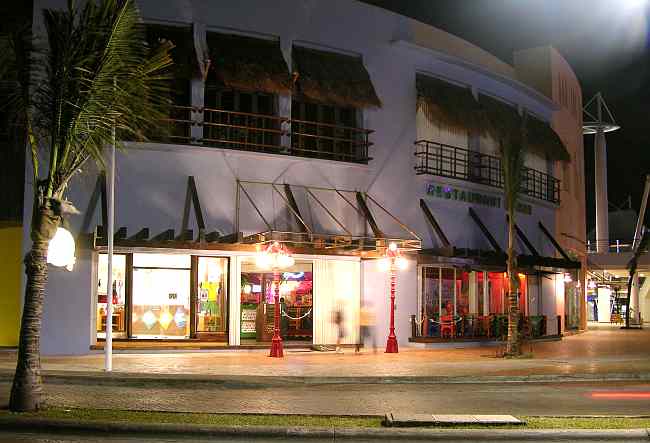 Carlos & Charlie's is downstairs. The dark restaurant above is Senior Frogs.
Cozumel's Carlos & Charlie's is loud and fun. The waiters sang and danced. They brought an appetizer that looked like raw french fries, but was some other root. It came with a mild hot mustard for dipping. When I ordered chicken fajitas, the waiter asked if I wanted cheese. I assumed he meant on the side and said yes, but it came with the cheese melted on the meat. I think it would have been a lot better without the cheese.
With a long evening ahead, I skipped the yard long drinks. I wanted to get a T-shirt, but the only one they had in XXL didn't appeal. The meal was fast and fairly inexpensive, and I was out of there by 7 PM.

Carlos & Charlie's