Kansas State Fair & Medicine Lodge Museums

September 15, 2007


Hot and cold water towers in Pratt, Kansas
Sunday morning I headed southwest toward Medicine Lodge. I had been looking for something to do on a Sunday morning, and it turns out the museums there open at 10:30AM everyday.
I pulled up at 10:30 and was dismayed to see how much of a tourist trap the Stockade museum appears to be. But I had just driven 90 miles, what was I going to do:-)
I took a couple of exterior photos then went on in. Admission was $5, which seems steep for the level of attraction, but I admire their even being open. There was only one entry in the guest registry for Saturday, the day before. And still it is open 10:30-4, 7 days a week.
The museum is small and mostly a collection of whatever people in town decided to donate. The only things that really interested me in the museum were some Carry A. Nation souvenirs and a display of fossils. Out back (within the stockade), there are two small buildings - a furnished log cabin and the 1886 jail which was originally installed in the courthouse basement. The jail was actually rather interesting.

Medicine Lodge Stockade Museum
Back in the museum, the docent locked up that building and took me (and another party that had arrived while I was out back) next door to Carry Nation's home. She lived in Medicine Lodge from 1889 until the early 1900s and this was where she began her hatchet assaults on saloons. The furnished home isn't that interesting for itself, but there are many Carry Nation photos and other memorabilia. Those and the docent's descriptions of Carry's life were worth the price of admission.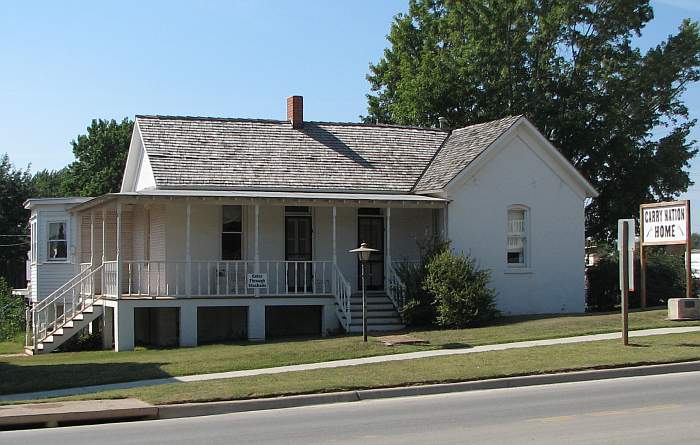 Carry Nation Home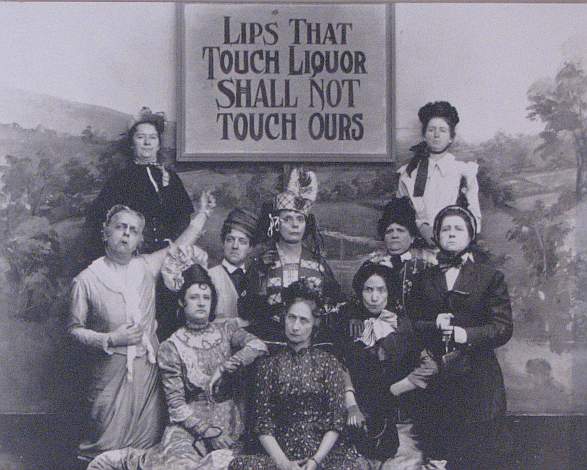 I think this Carry Nation temperance poster would have been more likely to start men drinking
Altogether I spent about 40 minutes at the museums, then headed north through Pratt on roads new to me, then on to Hutchinson to visit the Kansas State Fair.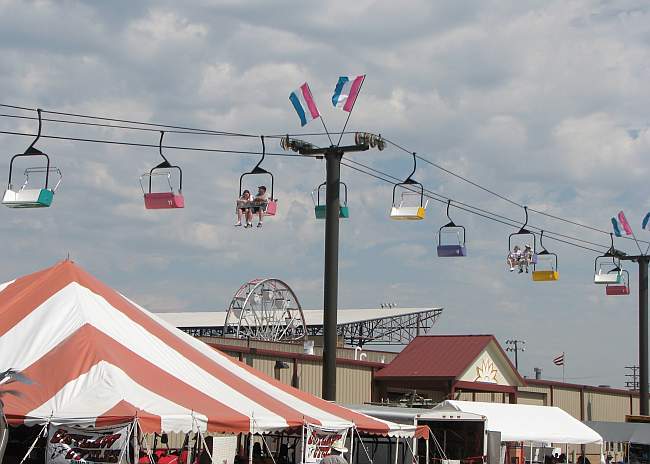 2002 Sky Ride at the Kansas State Fair took 5 months and $800,000 to build.
This was the first time I have been to the Kansas Fair, and the first state fair I have visited in about 10 years. Admission is only $7 and free parking can be found in the residential neighborhoods near the Fair Grounds. The large Fair has all the usual things you would expect: farm animals, food displays, midway, many booths selling crap. Sunday's main event was modified and Sprint Car racing, which I didn't visit, but the roar could be heard everywhere on the grounds.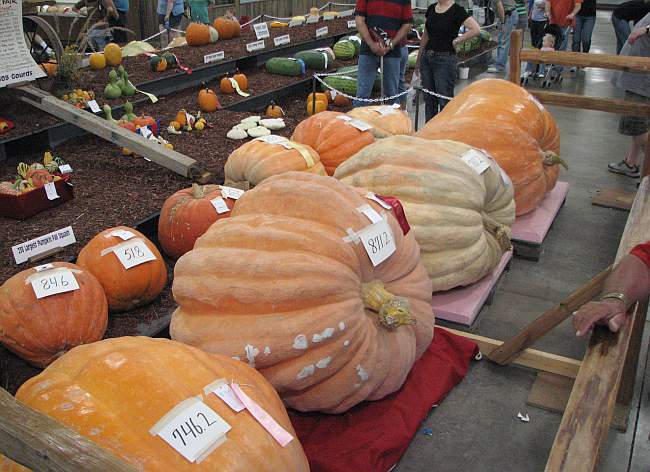 The second pumpkin weights 871.2 pounds.

Children admiring roaches at the Kansas State Fair

Kansas State Fair Midway
The activity that interested me the most was the cowboy mounted shooting, where riders raced a timed course while shooting balloons with six shooters. With their speed and the low light, I didn't get the quality of pictures that I would like. Despite better light and slower speed, the packed crowd made it difficult to get photos of the pig races later in the afternoon.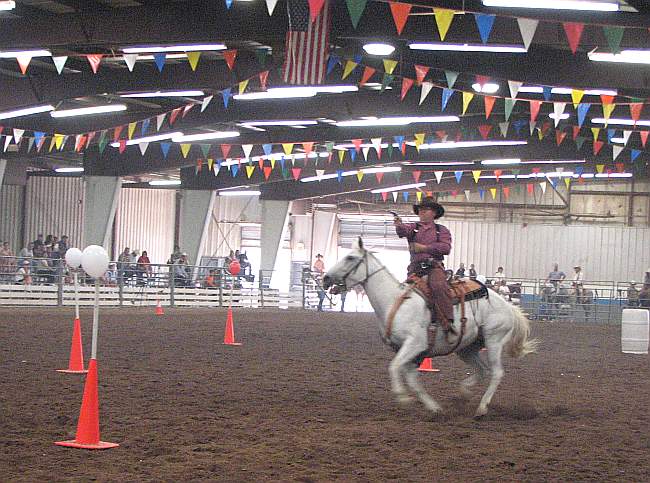 "Cowboy Mounted Shooting"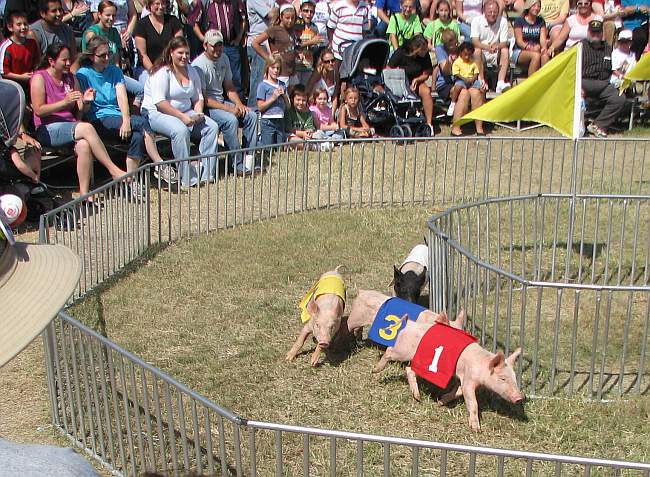 Pig Races
Sunday was much warmer, and as the temperature reached 90, I decided to call it a day - stopping just for lunch at Hogs Wild, a BBQ restaurant near where I had parked. It is part of a Wichita restaurant chain, and based on this one visit, rather average.