Walnut Valley Festival
Winfield, Kansas

September 145 2007


Tommy Emmanuel on Stage #1 at Winfield's Walnut Valley Festival
Following lunch, I drove to the edge of town to the Walnut Valley Festival. This the 36th year of the bluegrass festival which includes international acts and national championships for music such as bluegrass banjo & old time fiddle. My friend, Science Fiction fan Steve Roberts attends every year and met me at the entrance. He had been out there camping since Wednesday.
He showed me the rough layout, then we split up.
There are 4 official stages and several less official, ranging from Stage 1 with a grandstand, to Stage 5 on a flatbed truck in one of the campgrounds, to stage 7 without even power farther into the campground. But there is music everywhere. It was unusual to walk more than 50 paces and not hear music coming from somewhere. Saturday was expected to be the biggest day with 20,000 people. Perhaps 8,000 are camped at the festival and the activities run late into the night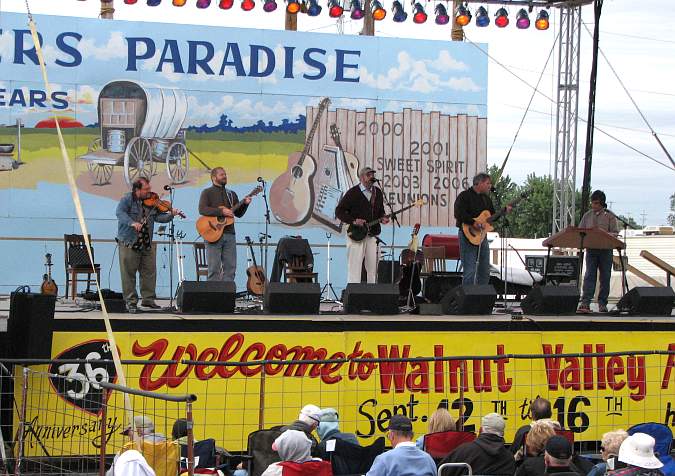 Vermont based folk group, Woods Tea Co on Stage 1.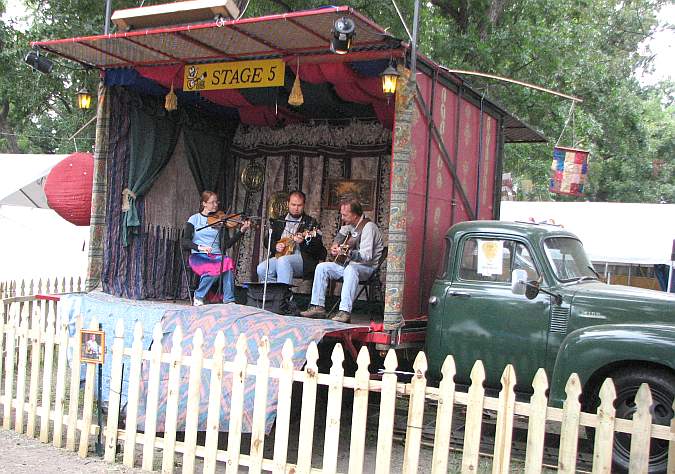 Lawrence, Kansas' "Three Bean Salad" playing on Stage 5 - Dayle Dryer Black, Mike Black, Mike Yoder
I sampled a little of the music at each stage, then settled in at the National Guitar Flat Pick Championship. Although I arrived too late to hear all of the contestants, when the top 3 were announced, each played one more number.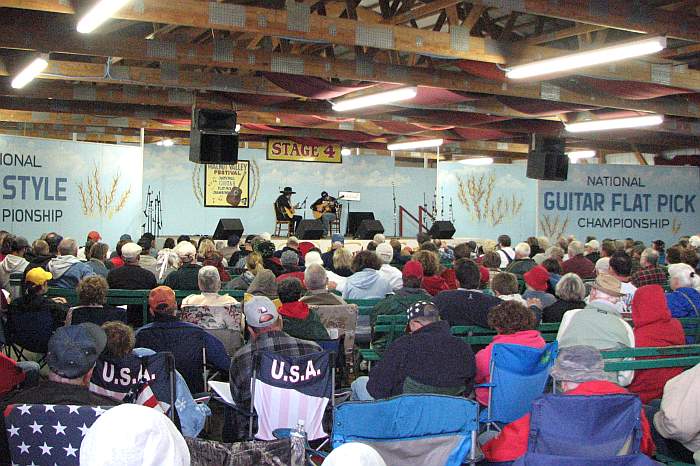 National Guitar Flat Pick Championship - Pat Van Gorder of Rockvale, Tennessee performing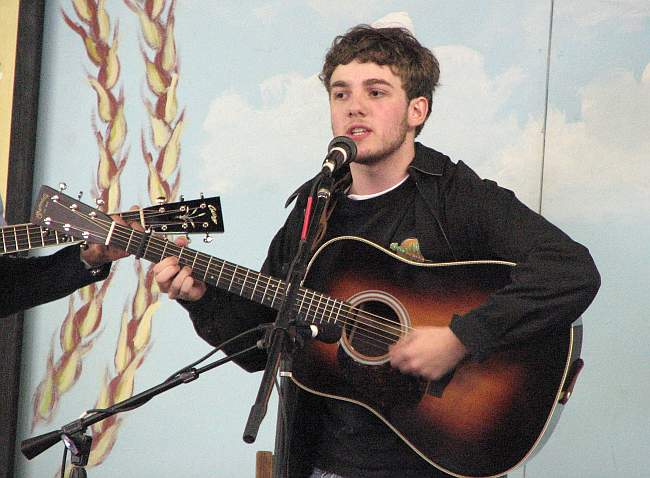 This year, Dillon Hodges became the second youngest player and the first left-handed player in the 36 years
of the event to win the National Flat Pick Guitar Championship at Winfield's Walnut Valley Festival
Just as it was ending, Steve called on my cell phone, he had borrowed one of the golf carts from his camp and was ready to show me through the campgrounds.
There are a wide variety of camps, from a single tent to very elaborate combinations of RVs and other equipment. Some of the camps are decorated to great lengths and there is a competition. Steve's camp was "Doyagotta Reservation Casino / Game Room, Lounge & Grill." In the evenings, they ran a variety of casino games with play money in 15x30' tent and finished 2nd place in the competition."
When we stopped back at that camp, pork rib slabs were coming off a smoker and we enjoyed ribs and rum & coke, while Steve introduced me to some of his friends. The center of the camp is teepee and a kitchen with smaller cooking arrangements and huge smoker. There is room for recreation and the camp even has its own shower trailer with on demand hot water.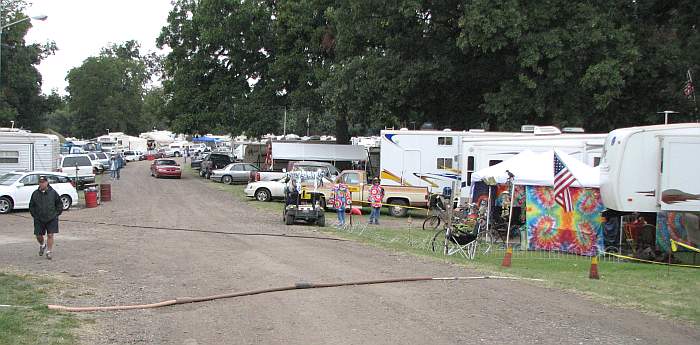 Small part of Pecan Grove Campground at Walnut Valley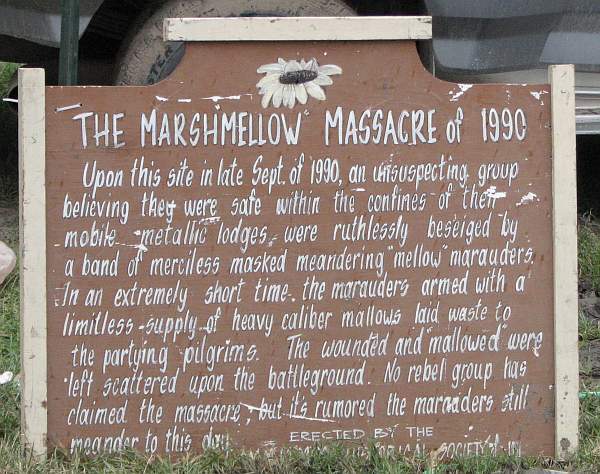 "The Marshmellow Massacre of 1990 historical marker... it's rumored that maraiders still meander to this day"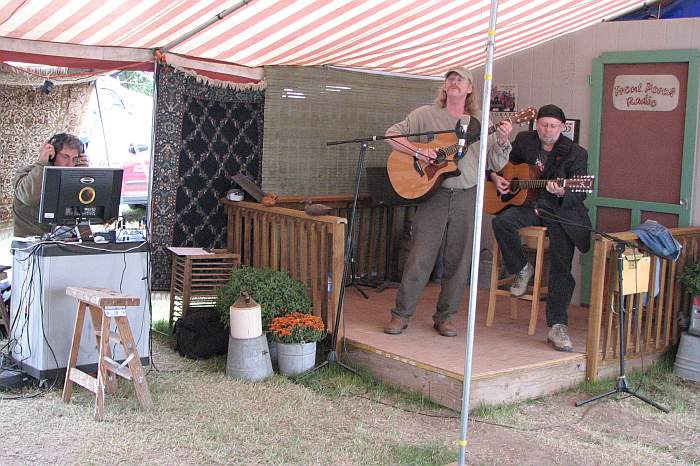 Front Porch Radio internet broadcasts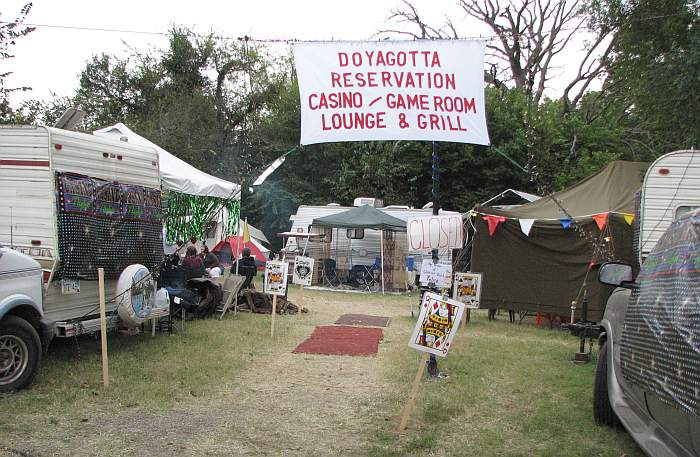 Doyagotta Reservation Casino / Game Room, Lounge & Grill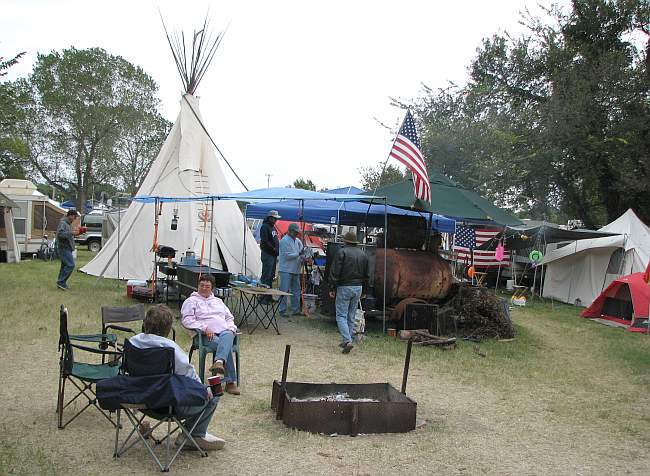 "Doyagotta Reservation Casino" kitchen area
Most of the camp went to Stage 5 late in the afternoon, because a couple of members of their group were performing. When that was over, I went off on my own, ending up at the National hammer dulcimer competition. I saw the last third of the first round of the competition and all of the final round, but left before the winners were announced.
My review of the the Walnut Valley Festival with 2 additional pages of photos is at KansasTravel.org.
On the way back to Wichita, I passed through the small community of Oxford, and stopped to check on an old mill which housed a restaurant for several years. The restaurant is no more, but the 1874 mill is still very photogenic. It should be spectacular when the leaves change for the Fall.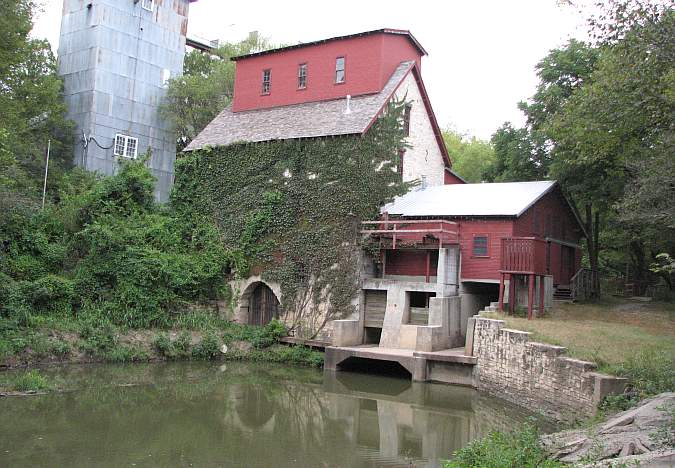 The Old Mill at Oxford, built in 1874, was a water powered flour mill
Supper was a revisit of the Stroud's Restaurant in Wichita. There was an hour's wait for a table, so I ate at the bar. Gizzards and cottage style fries. The platter of gizzards would have been generous for 4 people. Through the meal, I had a pleasant conversation with the couple next to me They are retired and live in Arizona, but spent most of their working life in KC, MO. They were on their way to KC to visit family.