Walnut Valley Festival &
Kansas State Fair Trip

September 14-16, 2007

Sign honoring baseball players Walter Johnson & George Sweatt
Friday, I worked through lunch and left work at 4PM, driving down by some of the back ways. I made 4 interesting stops along the way.
The first stop the birthplace of Walter P. Johnson just north of Humboldt, Kansas. Known as the Big Train, Johnson played Baseball from 1907-1927 and was one of the best pitchers of all time. He won 417 games, winning 30 games twice and 20 games 12 times. There are signs honoring at the entrance to town the sports field is named for him, and their is a small memorial to him at the location of his birth.
Humboldt was the birthplace of another baseball player, George Alexander Sweatt, a Negro Leagues player who played for the Kansas City Monarchs and other teams. A sign at the enterence to town honors both players.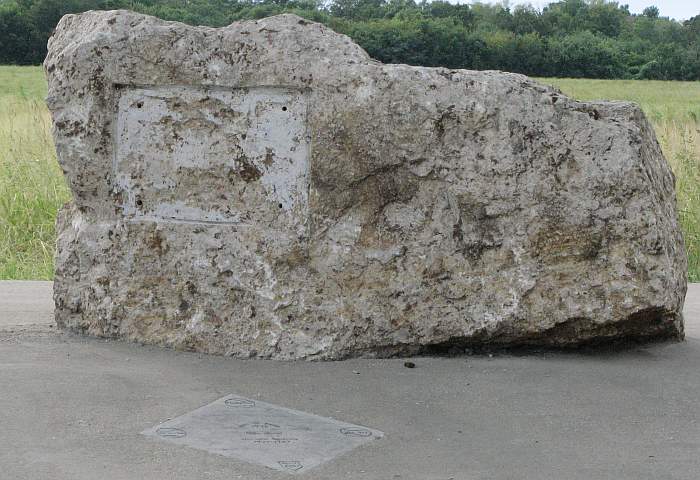 Memorial at Walter P. Johnson's birthplace
Next stop was the Prairie Nut Hut in Altoona. The little hole in the wall is known for throwing peanut shells on the floor and for mountain oysters. I think I was the only one in the pace that didn't know everyone else. About half of the customers were having mountain oysters, with the other half having hamburgers.
The mountian oysters were good. A basket with fries and pickles is about $8. Iced tea was only 75 cents!
I also bought a great "I had a ball at the Prairie Nut Hut" T-shirt.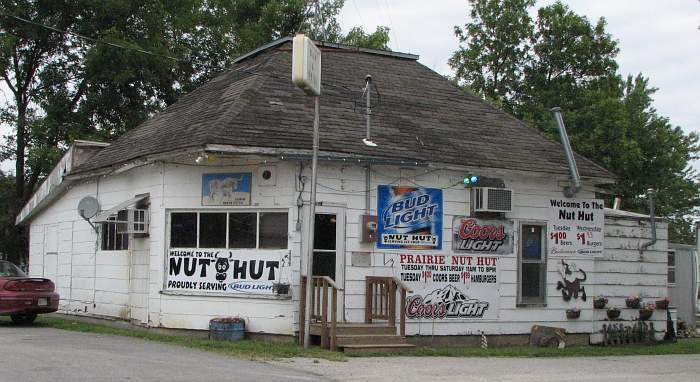 Prairie Nut Hut - My review is at KansasTravel.org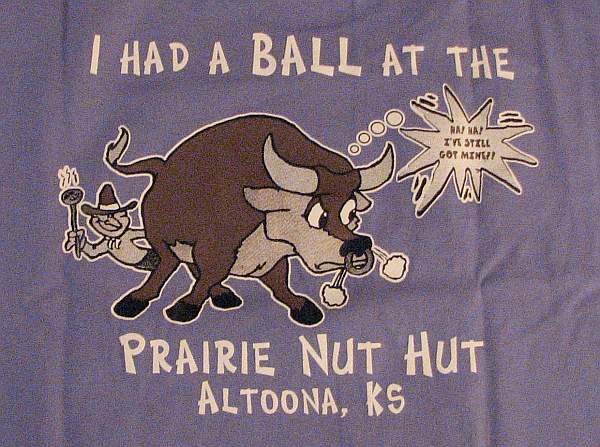 "I had a BALL at the Prairie Nut Hut" T-shirt
Then across to Fredonia, where I photographed a lovely old linseed oil mill and dam. The last part of the road leading to the mill is rocky and rough. I would probably park and walk the last hundred yards the next time. Otto's Mill was originally built in 1891, burned in 1898, and was rebuilt in 1900.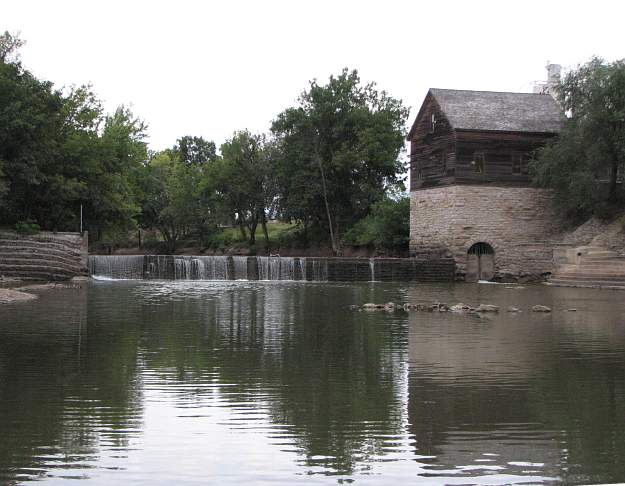 Fall River Dam & Otto's Mill, just south of Fredonia, Kansas
Before leaving town, I stopped at the Tri-Mee Drive In (the other reason I skipped lunch). I was told that they serve loose meat burgers in the style of Nu-way or Maid-Rite.
But their product is a little different. Their beefburgers are more like a pate. Regardless, they tasted pretty good. A sign said "best beefburgers in town." I don't know if that as ironic or if there are other places serving them.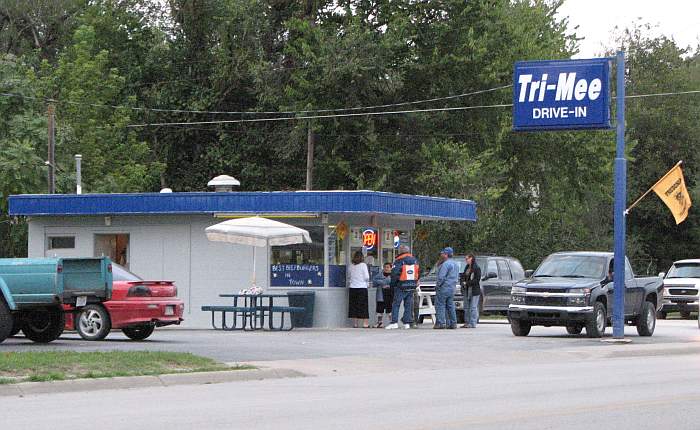 Tri-Mee Drive-In
There were no other stops unitl I checked in to the Comfort Inn south in Wichita about 9:30 PM.