Walnut Valley Festival &
Kansas State Fair Trip

September 14-16 2007

Boy and dog statue in Mulvane's Cobb Park
Saturday morning I started out driving southeast, driving through Derby, and arriving at Mulvane at 10 AM. Mulvane has an attractive old downtown, with a wide street with parking down the center, old street lights, and a railroad depot at the end.
The depot houses the Mulvane Historical Museum and there is an historical park with another building, fountain and statue next door. Although I had confirmed the 10 AM opening time in advance, there was no one around. I sat in the car and read a book until 10:15, then gave up, leaving my card and a note on their door. (Vicki Lee, the nice lady who runs the museum, called a couple of days later. She was ill that day, but she gave me her home number and invited me to visit in the future, even on a day that the museum is closed.)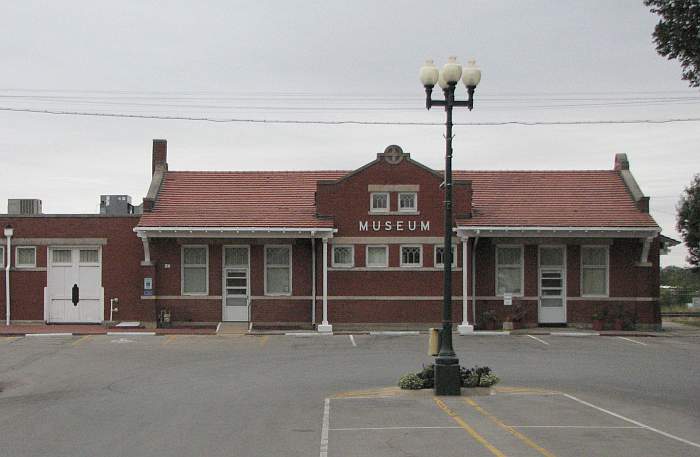 Mulvane Historical Museum
I continued south on K-15 to Winfield. Driving down the main street, the interior of an unmarked building with large windows caught my eye, and I pulled over to take some photos through the glass. What was once some type of showroom, is a reproduction of a 50s Texaco gas station. There is the office and two garage doors across the back. Out front there is a pair of old gasoline pumps, air pump, Coke machine, old Corvettes, an early Ford Thunderbird (I think), and an old British motorcycle. All with no explanation.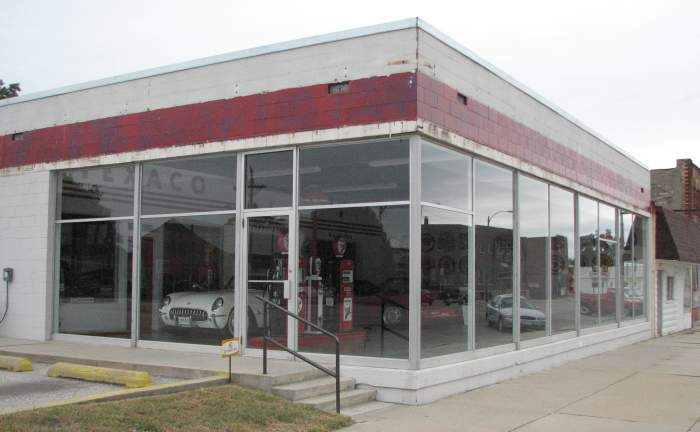 Just around the corner is Burger Station, a tiny carry out restaurant that has operated out of this location since 1952. The menu consists of only hamburgers, cheeseburgers, chile hamburgers, chile cheeseburgers, fries, and chile. Each of the burgers is also available in doubles or triples. The burger prices range from $1.60 to $4.80. The cheeseburger was pretty good, the fries just above average.
I asked the man at the counter about the faux Texaco station. He couldn't tell me much beyond it being the hobby of the owner of Husky Liner, and not being open to the public.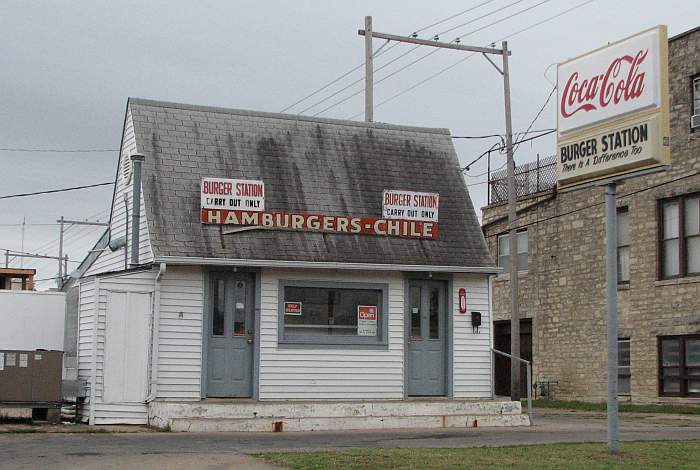 Burger Station "There is a difference too."