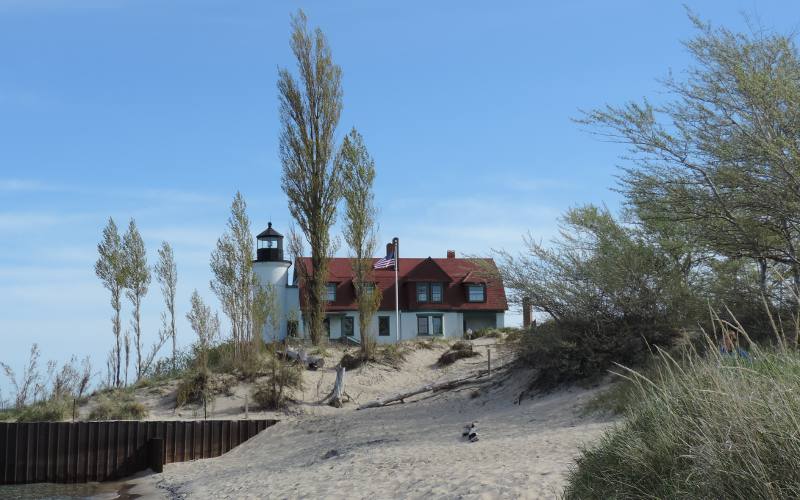 Point Betsie Lighthouse
Monday - day 6
Monday was our travel day, but after breakfast at the hotel, we drove across the base of the Leelanau Peninsula and picked up M-22 again, heading south through part of Sleeping Bear Dunes National Lakeshore and on down the Lake Michigan shore.
Our first stop was north of Frankfort at Point Betsie Lighthouse. We were there before the restored lighthouse museum opened for the day, but took photos of the light and the adjacent Fog horn building. The 1858 building is the oldest standing structure in Benzie County and is at least quite attractive from the outside.
Friends of Point Betsie Lighthouse offers weekly rentals of the two bedroom Assistant Lighthouse Keeper's quarters.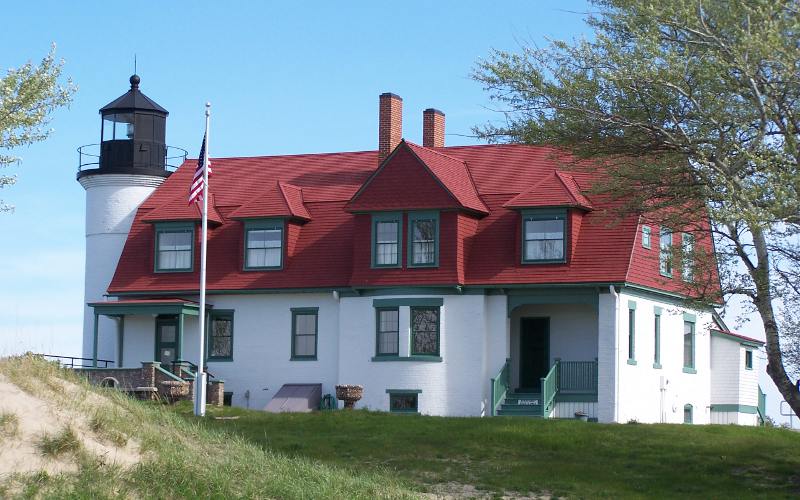 Point Betsie Lighthouse is a half mile west of Crystal Lake
We continued south, staying close to the Lake Michigan shore, stopping for photos and finally making our way into Manistee to see one final pair of lights. As we drove into town on US-31, I was surprised to round a curve and see an old railroad ferry docked in Lake Manistee. We stopped and discovered that it was the 354 foot SS City of Milwaukee, which was launched in 1930 and operated until 1982.
The City of Milwaukee is a national historic landmark, being operated as a museum and event space, along with the 180 foot seagoing tug, the United States Coast Guard Cutter Acadia, which is docked nearby. It was open for tours, and I hope to return someday, but we were starting to run short on time.
We returned to the car and drove on through town to the mouth of the Manistee River to photograph Coast Guard Station Manistee and the two pierhead lights. As we drove into the parking area, there was so much drifting sand, that it was hard to find parking spots. The walkway to the 1927 Manistee North Pierhead Lighthouse was covered with several feet of sand.
We stayed only a few minutes to take pictures and did not take the time to walk out to the lights.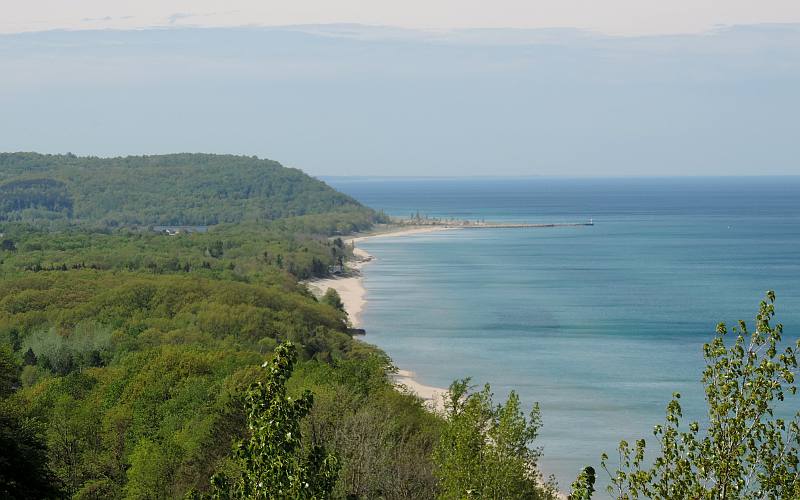 Lake Michigan Shore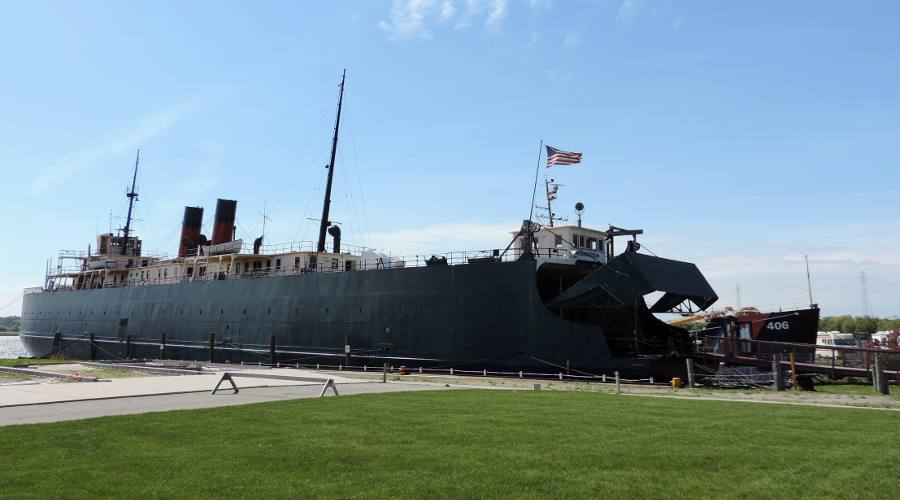 SS City of Milwaukee and the bow of the USCGC Acadia (99 Arthur Street, Manistee, Michigan 49660)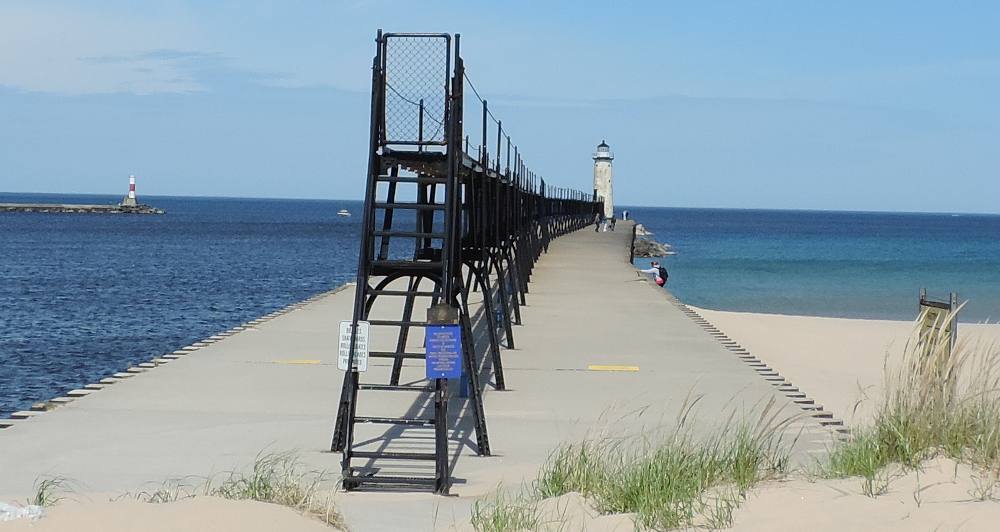 Manistee North Pierhead Lighthouse
We were worried about the Memorial Day traffic, so we took a less traveled route to Grand Rapids, US-10 east, and then south on M-37. As we got farther south, we felt safer about time and looked for a place to eat.
We first stopped at Government Lake Lodge, north of Baldwin, but after about 10 minutes we still hadn't had an opportunity to order. We overheard other diners talking about having been waiting for a much longer time so we returned to the car and drove on through Baldwin where we found the All Seasons Restaurant in Baldwin.
The family style restaurant was fine for our purposes. I had chili and an OK hamburger, while Linda had the cod strips. The best part of our experience was the feisty waitress who had a comment or joke every time that she came to a table.
The rest of the drive to Gerald R. Ford International Airport went smoothly and our return flight from Grand Rapids to Cleveland and then home was uneventful.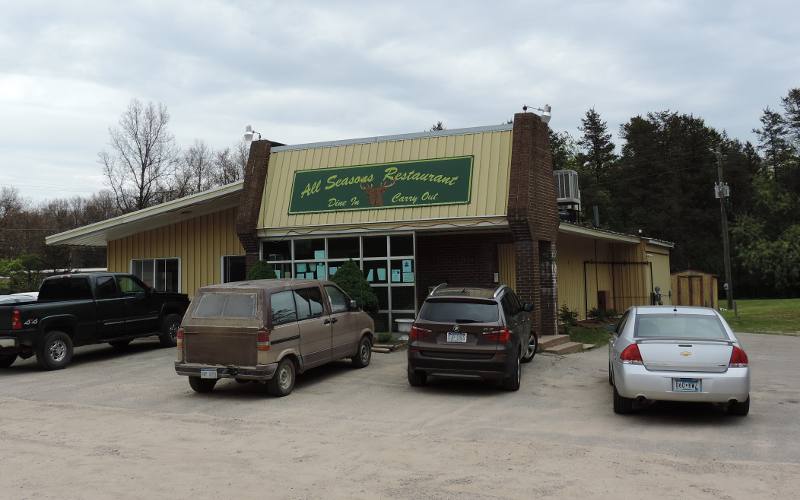 All Seasons Restaurant