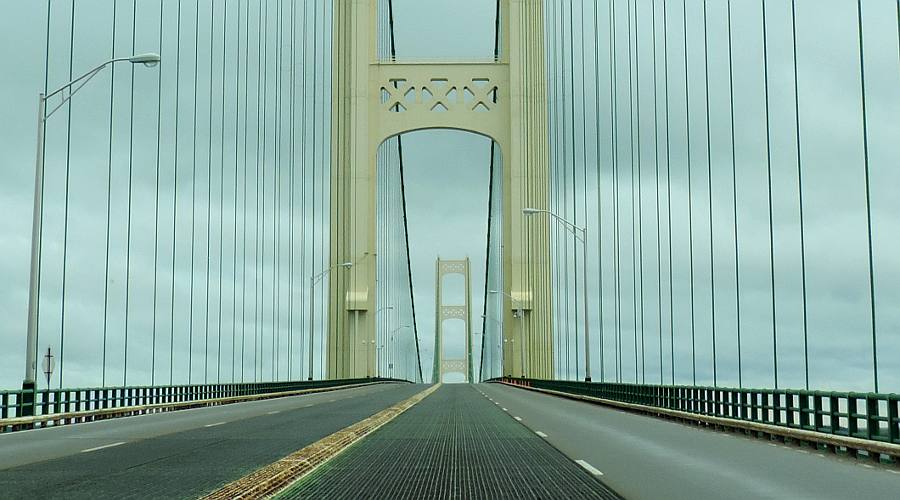 Crossing the 5 mile long Mackinac Bridge
Wednesday - day 1
Our trip got off to a rough start, but we did everything I hoped to do.
Weather delays earlier in the day left us stranded at O'Hare Airport in Chicago with no seats available to anywhere in Michigan. Since the problems were caused by weather, United Airlines customer service made a point of not having to do anything to accommodate us. Our checked luggage would go on to Grand Rapids on the next flight at 7:30PM and we had to pick it up there.
So we picked up a rental car, drove around Chicago and the south side of Lake Michigan and on to the Grand Rapids airport, arriving about 11:30PM.
That 7:30 flight still hadn't left Chicago and the later flight was also delayed, but was due in a little after midnight. We waited for the flight to arrive and checked the luggage coming off that flight. When we didn't see Linda's bag, we got in the line at the now open counter. The man working there was much more helpful. The bad news was that the bag was still in Chicago. It hadn't been put on either flight. At least now that we had tried in Grand Rapids they would bring the bag to us, eventually.
It was now 1AM and we needed to be in St. Ignace by 10AM. It was another 4 hour drive, and we stopped for 4 hours sleep in Big Rapids on our way north.

Thursday - day 2
We made it to the Straits of Mackinac on time. Our first stop was at the Mackinac Bridge Authority offices on the north side of the Bridge, where I met and interviewed Kim Nowack, Chief Engineer for the 5 mile long, 55 year old suspension bridge. I had requested a chance to go up in a tower for photos, which was declined, but this interview was generously offered. We talked about the history and future of the Mackinac Bridge for about 30 minutes. The Bridge fares fund all of the maintenance and repair of the Mackinac Bridge and they operate on a 20 year timeline to allow for major expenses.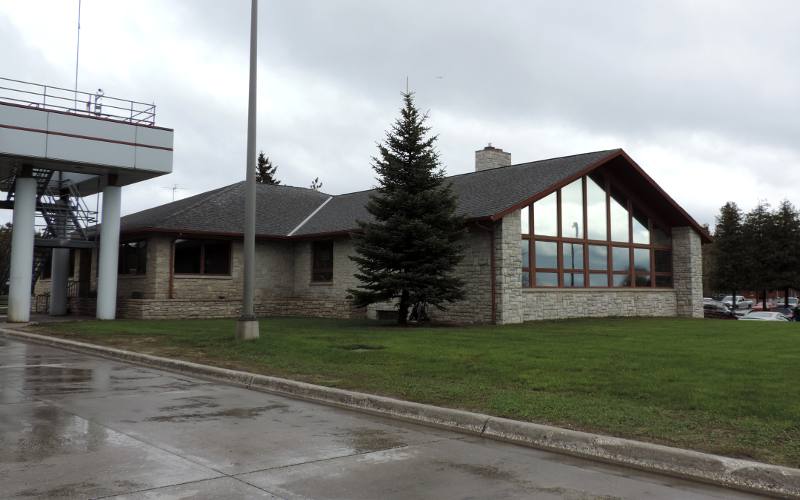 Mackinac Bridge Authority Offices - the popular Mackinac Bridge web cam is behind that large window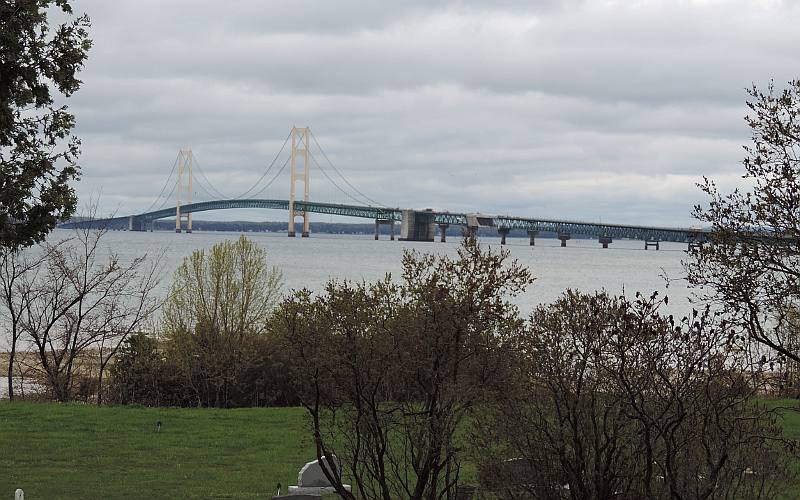 The Mackinac Bridge from Lakeside Cemetery in St. Ignace
After taking some photographs along the shore, the next stop was the USCGC Biscayne Bay, where the Coast Guard 9th District Office had arranged a private tour of the 140 foot ice breaking tug. The Executive Officer, LT Andrew P. Perodeau, took us through the entire ship, letting us see and photograph everything. He was very patient and interesting.
The Biscayne Bay came to St. Ignace in 1979, the year that I moved away from Mackinaw City, so I haven't known a lot about this ship. It is really quite impressive and a new page devoted to its mission will be added to www.Mightymac.org.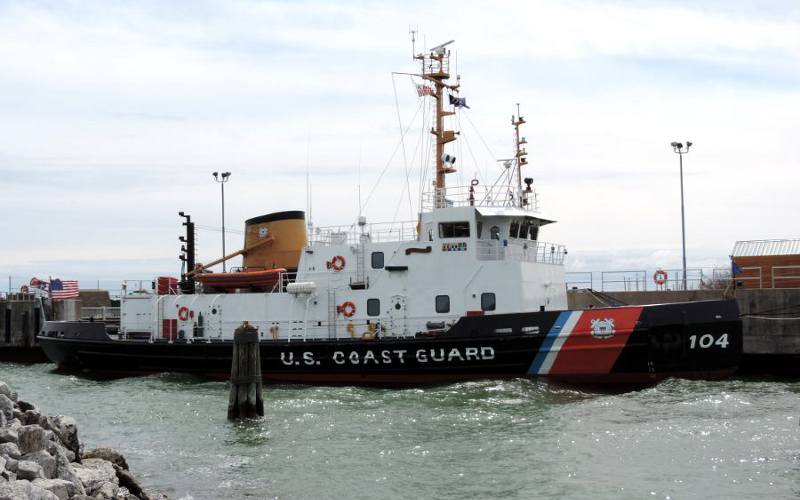 The Biscayne Bay at its home port in St. Ignace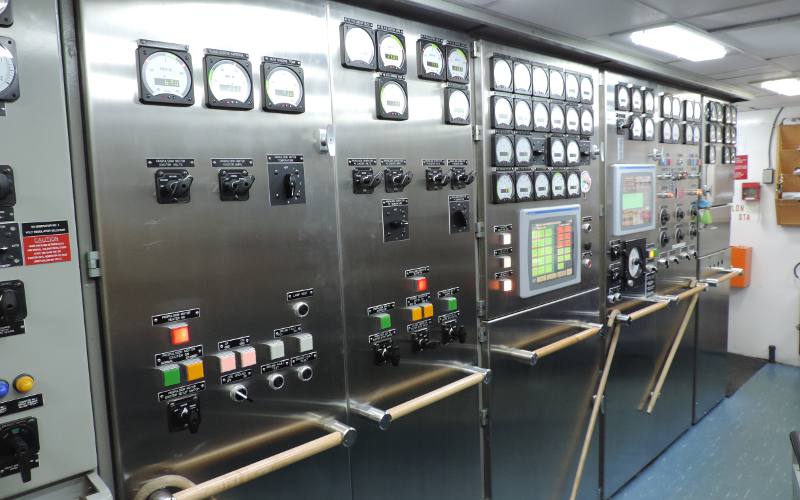 Biscayne Bay Engineering Room -
the wooden canes would be used to pull someone away from the equipment if they were receiving an electric shock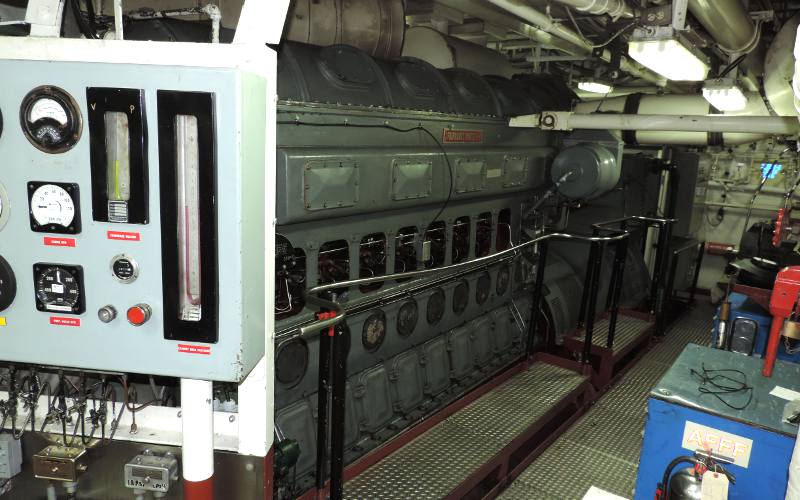 One of the two 1,426 horsepower Fairbanks Morse 10 cylinder diesel engines
The Biscayne Bay tour was followed by a tour of the adjacent Coast Guard Station St. Ignace. It is a separate command. The Executive Petty Officer, Chief Boatswain's Mate Hilary Dold, gave us a tour of that base, but many of the things I would have liked to photograph were off limits. We did take photos of the boats, their mascot (a dog named Onyx which is featured in a series of children's books), and a rare visit of a Coast Guard helicopter.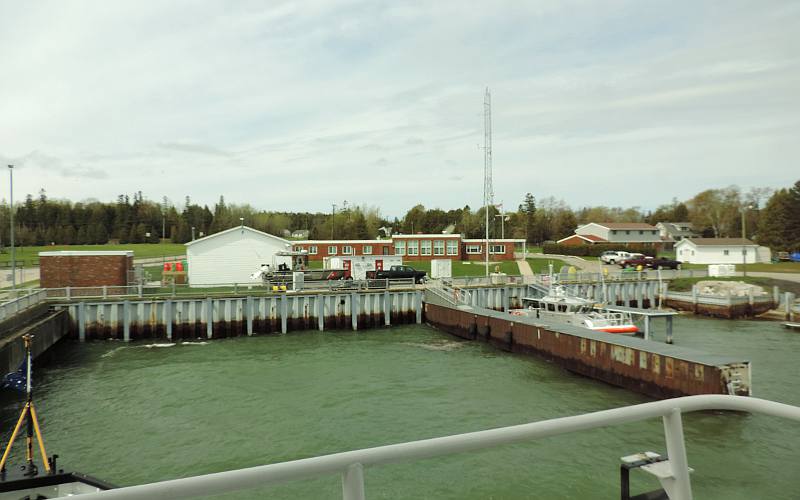 Coast Guard Station St. Ignace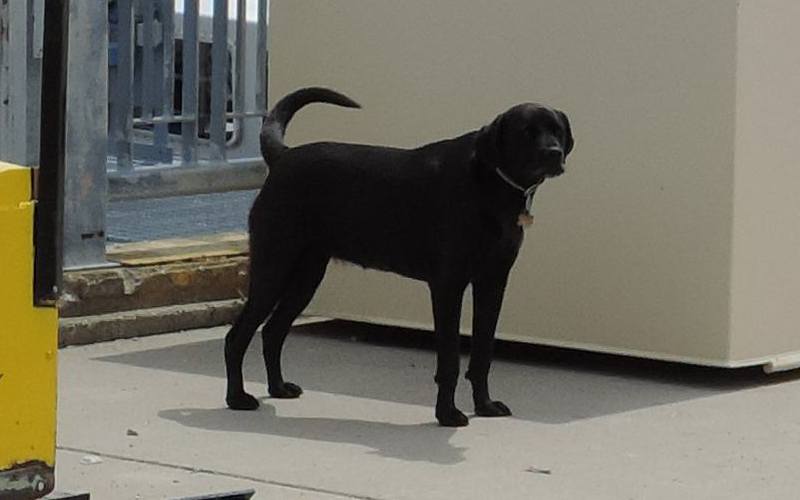 Onyx, the morale dog, is featured in the Adventures of Onyx, which begins with The Guardians of the Straits children's book
We returned to Mackinaw City to check into the Lighthouse View Motel and follow up on our missing luggage. We had lunch at Darrow's Family Restaurant, where I have enjoyed the food since it was a drive in restaurant in the 1960s. They are particularly known for their soups, salads and pies, but when I am in Mackinaw City, most meals are fish.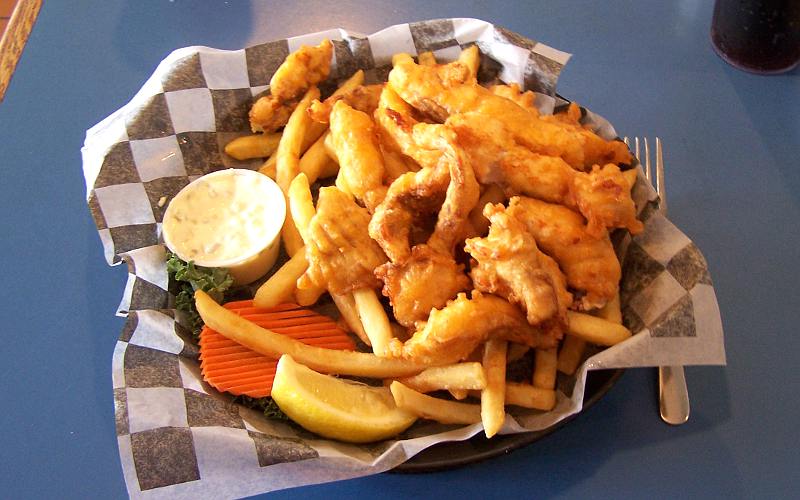 Whitefish Finger Basket at Darrow's Family Restaurant - $11.99
Page 2